By Yasha Levine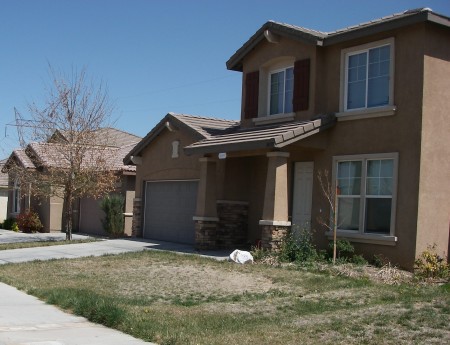 My name is Yasha and I live in a McMansion. As far as I can tell, I have three bedrooms and a master bathroom with a Jacuzzi tub, which I'm now filling up for a bubble bath. But life wasn't always like this—I had a real struggling journalist's life, once. No real job and lived in a cramped apartment with my friend and his girlfriend. Then one day my life took a turn for the best. I packed everything I own—a couple of couches, a desk, two guns, some books and a few garbage bags worth of clothes—into an orange U-haul truck and drove the rig at a top speed to a suburban blob called Victorville, in the middle of the desert 100 miles away from Los Angeles. And I stepped right into the American Dream. It wasn't my dream; I'm here undercover.
Victorville is what they call an "exurb," one of thousands of new sub-suburban sprawls all around the country built for poor Americans. To flocking homeowners, Victorville must have seemed like a glorious reaffirmation about everything good and right about American values, a place where the poor could finally afford a home of their own. Instead, it turned into just one more slaughtering ground in the the biggest scam of the century, a place where tens of thousands were lured to be ripped off and set adrift.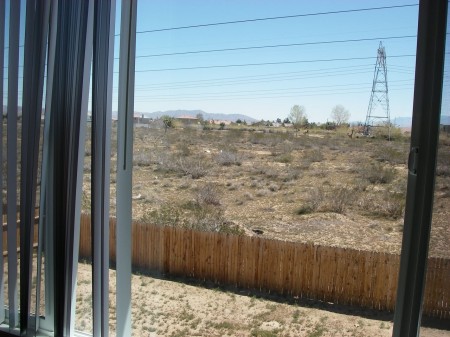 View from the master bedroom: Tiny backyard, huge high-voltage tower and a whole lotta undeveloped land.
It was somewhere past 2 a.m. when I finally pulled up to my new home sitting in a cul-de-sac at the very edge of town. The neighborhood was dark and deserted. Boxy homes with plastered-on facades and cheesy nine-foot arches spookily towered over me. A couple of Joshua trees could be seen just beyond the street. The houses here looked like they had been vacant for months. There were too many dark windows to feel at ease, and I started getting paranoid that someone was watching me as I was unloading my truck.
Victorville was never meant for the world of the living. Out on the horizon,  you could make outlines of lofty snow-capped mountains. But under your feet, it's nothing but a patch of dried-out dirt. These houses were built here at the whim of WaMu and Countrywide Financial executive types just so they could have a product to push, a part of a complicated system of speculator fraud meant to do only one thing: transfer money from the lower-class suckers straight into executive bonuses. For that they needed a constant supply of fresh meat, and Victorville performed exceedingly well. In 2007, a year in which five million Americans migrated to shitholes just like this, Victorville was the second-fastest growing one of them.
When I looked at the house two weeks ago, the real estate agent couldn't tell me much about its history. All she knew was that it had one previous owner, a family that moved here from somewhere south of LA. They didn't get to enjoy the American splendor of their new digs for long, though.  One year is all they had before the bank seized their home and flipped it to someone insane enough to invest in this city's toxic real estate market.
The house itself is about as standard as they come in Victorville. Even by McMansion standards, most of them are low-quality, but they do come with luxury-class features. You won't find a house without a master bedroom and bathroom complete with his-and-hers sinks. On top of the master suite, my house is equipped with a huge laundry room big enough for a servant to live in, central heating/AC, a center-island counter in the kitchen, a living room with a recessed wall for a huge flat-panel TV and entertainment system, and a fake fireplace that fires up with a light switch. And it was mine to rent for just $1,150 a month, the price for a studio in Los Angeles. It was budget-minded opulence, like a Hyundai. The landlord even threw in a hi-tech security system, equipped with motion-tracking sensors in every room, at no extra charge.
"Safety, I think, is a major part of feeling comfortable. It can get pretty deserted out here sometimes," the real estate agent said. "And you are going to be living alone, are you not?"
She was right about the need for extra security, I thought as I sat in my upstairs office, overlooking the darkness of the mile-long stretch of desert separating me from the next neighborhood. Four days here and I still can't get used to the emptiness. I don't even trust the one neighbor I have. Luckily I have those guns with me . . . I loaded the 357 magnum with hollow-points as soon as I moved in, and plan on keeping it that way. In fact, it sits right here on my desk, shiny and clean.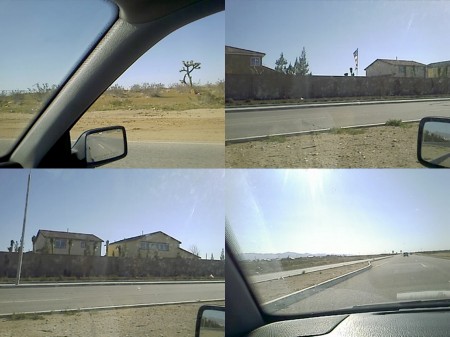 Taking a drive through the neighborhood. Don't it make you feel cozy?
Victorville is the embodiment of the housing bubble. In 2007, its population grew by 9.5%, and nearly doubled in the past eight years. Now there are just over 100,000 people living here. The growth wasn't related to anything tangible; no KIA auto-plant opened up. The Air Force base here, which employed thousands of civilians, closed down more than a decade ago. There were barely enough jobs to support the pre-boom population. But the people didn't move here for the jobs. Victorville was a commuter development and proud of it. According to official city data, most of the adults here commute at least two hours each way—some make the 100-mile trip out to Los Angeles, others trek 200 miles east all the way out to Las Vegas.
Read more: exurbs, foreclosures, housing bubble, suburbs, the American Dream, victorville, Yasha Levine, Dispatch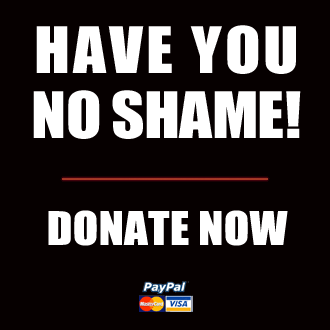 Got something to say to us? Then send us a letter.
Want us to stick around? Donate to The eXiled.
Twitter twerps can follow us at twitter.com/exiledonline