By Yasha Levine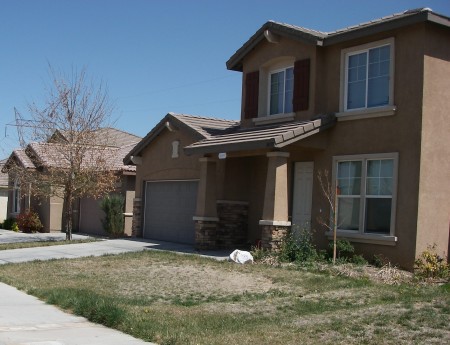 My name is Yasha and I live in a McMansion. As far as I can tell, I have three bedrooms and a master bathroom with a Jacuzzi tub, which I'm now filling up for a bubble bath. But life wasn't always like this—I had a real struggling journalist's life, once. No real job and lived in a cramped apartment with my friend and his girlfriend. Then one day my life took a turn for the best. I packed everything I own—a couple of couches, a desk, two guns, some books and a few garbage bags worth of clothes—into an orange U-haul truck and drove the rig at a top speed to a suburban blob called Victorville, in the middle of the desert 100 miles away from Los Angeles. And I stepped right into the American Dream. It wasn't my dream; I'm here undercover.
Victorville is what they call an "exurb," one of thousands of new sub-suburban sprawls all around the country built for poor Americans. To flocking homeowners, Victorville must have seemed like a glorious reaffirmation about everything good and right about American values, a place where the poor could finally afford a home of their own. Instead, it turned into just one more slaughtering ground in the the biggest scam of the century, a place where tens of thousands were lured to be ripped off and set adrift.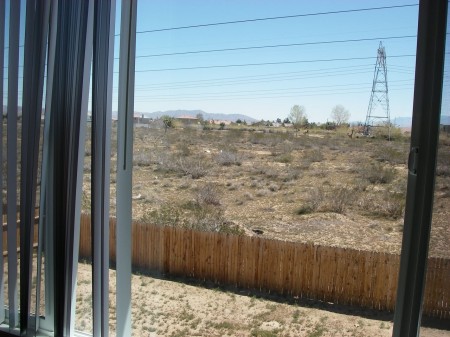 View from the master bedroom: Tiny backyard, huge high-voltage tower and a whole lotta undeveloped land.
It was somewhere past 2 a.m. when I finally pulled up to my new home sitting in a cul-de-sac at the very edge of town. The neighborhood was dark and deserted. Boxy homes with plastered-on facades and cheesy nine-foot arches spookily towered over me. A couple of Joshua trees could be seen just beyond the street. The houses here looked like they had been vacant for months. There were too many dark windows to feel at ease, and I started getting paranoid that someone was watching me as I was unloading my truck.
Victorville was never meant for the world of the living. Out on the horizon,  you could make outlines of lofty snow-capped mountains. But under your feet, it's nothing but a patch of dried-out dirt. These houses were built here at the whim of WaMu and Countrywide Financial executive types just so they could have a product to push, a part of a complicated system of speculator fraud meant to do only one thing: transfer money from the lower-class suckers straight into executive bonuses. For that they needed a constant supply of fresh meat, and Victorville performed exceedingly well. In 2007, a year in which five million Americans migrated to shitholes just like this, Victorville was the second-fastest growing one of them.
When I looked at the house two weeks ago, the real estate agent couldn't tell me much about its history. All she knew was that it had one previous owner, a family that moved here from somewhere south of LA. They didn't get to enjoy the American splendor of their new digs for long, though.  One year is all they had before the bank seized their home and flipped it to someone insane enough to invest in this city's toxic real estate market.
The house itself is about as standard as they come in Victorville. Even by McMansion standards, most of them are low-quality, but they do come with luxury-class features. You won't find a house without a master bedroom and bathroom complete with his-and-hers sinks. On top of the master suite, my house is equipped with a huge laundry room big enough for a servant to live in, central heating/AC, a center-island counter in the kitchen, a living room with a recessed wall for a huge flat-panel TV and entertainment system, and a fake fireplace that fires up with a light switch. And it was mine to rent for just $1,150 a month, the price for a studio in Los Angeles. It was budget-minded opulence, like a Hyundai. The landlord even threw in a hi-tech security system, equipped with motion-tracking sensors in every room, at no extra charge.
"Safety, I think, is a major part of feeling comfortable. It can get pretty deserted out here sometimes," the real estate agent said. "And you are going to be living alone, are you not?"
She was right about the need for extra security, I thought as I sat in my upstairs office, overlooking the darkness of the mile-long stretch of desert separating me from the next neighborhood. Four days here and I still can't get used to the emptiness. I don't even trust the one neighbor I have. Luckily I have those guns with me . . . I loaded the 357 magnum with hollow-points as soon as I moved in, and plan on keeping it that way. In fact, it sits right here on my desk, shiny and clean.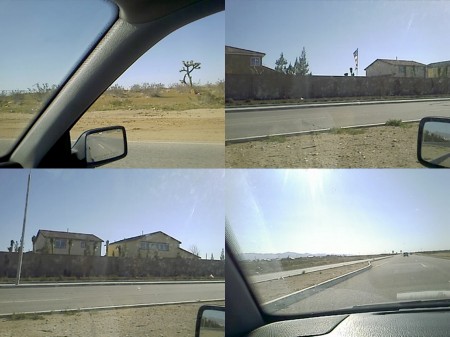 Taking a drive through the neighborhood. Don't it make you feel cozy?
Victorville is the embodiment of the housing bubble. In 2007, its population grew by 9.5%, and nearly doubled in the past eight years. Now there are just over 100,000 people living here. The growth wasn't related to anything tangible; no KIA auto-plant opened up. The Air Force base here, which employed thousands of civilians, closed down more than a decade ago. There were barely enough jobs to support the pre-boom population. But the people didn't move here for the jobs. Victorville was a commuter development and proud of it. According to official city data, most of the adults here commute at least two hours each way—some make the 100-mile trip out to Los Angeles, others trek 200 miles east all the way out to Las Vegas.
Victorville's location puts it in class all its own. It's the most barren, most remote commuter city in the whole of Southern California, a lifeless wasteland an hour's drive from the farthest reaches of the Inland Empire. To get here, you need to scale a huge mountain range that acts like the Shield Wall of Arrakis, a natural barricade separating civilization from the desert. Commuters burned gallons of gas climbing 4,000 ft. each way.
Until the housing boom, Victorville had been known in Southern California, to the extent that it was known at all, for its total detachment from civilization. In 1940, Orson Welles sent his boozing screenwriter to a Victorville ranch to pen the first draft of Citizen Kane. Welles sent him here because there was no easy access to drink, women, or card halls without getting in an automobile and driving an hour each way. From time to time, Hollywood depends on Victorville as a ready-made desert backdrop, free of any sign of civilization. Unlike in Palm Springs, there'd be no gay partiers ruining the shot with their colorful shirts and Piña Coladas, and there would sure as hell be no annoying Burning-Man-techno-hippie-ravers dropping E in Death Valley or Joshua tree, trying to score some water from the catering trailer.
Even though it sits right on Interstate 15, about two-fifths of the way from Los Angeles to Las Vegas, this everybody-drives-by location hasn't raised Victorville's profile. When Hunter S. Thompson barreled through these parts with a head full of acid in Fear and Loathing in Las Vegas, he didn't notice it existed. Barstow, Victorville's closest neighbor, was honored with a mention in just about every one of that book's desert highway scenes.
"I moved here in the '80s, and this whole area you see around the restaurant was open desert as far as the eye could see," a waitress working at an old-school country steakhouse/line dancing joint told me when I was in Victorville shopping for a rental. "Even ten years ago, most of this stuff wasn't here," she said, sweeping her hand across a McDonalds, Del Taco and the huge strip mall across the street. Victorville was home to a hardcore Wild West crowd: desert-loving cowboys, poor hicks living in trailers and anti-government-types who'd shoot first and ask questions later. "There was nothing here. I'm not even sure we had a gas station in town back then."
But times have changed. Now Barstow looks like Flint, and Victorville is the new regional power.
"Victorville is home to the largest enclosed regional shopping center between San Bernardino and Las Vegas. The Mall of Victor Valley is anchored by major department stores such as the Gottschalks, J.C. Penney, Mervyns, and Sears. Kohl's Department Store has also located to Victorville within the past couple of years, making it the newest retailer in the City," boasts Victorville's official website.
"Approximately 60,000 Victor Valley residents commute out of the area, creating an eager, ready workforce for new local companies," the site adds, all but pleading for businesses to relocate here. Until they do, career choices will be limited to dead-end gigs like Taco Bell, Shell or Chevron. If you're lucky, you'll work your way up to manager one day.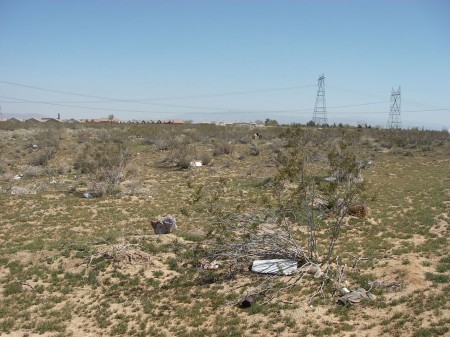 Our McMansion tour continues! Look at this close-up of the pristine wilderness just beyond my property
Looking at the stats, you'd think Victorville rose out of the desert as the Mecca of Homeownership, a testament to the infinite possibilities open to every American. It's true, Victorville is more ethnically diverse than Los Angeles, but it's way below the state average in just about every other category, including income and education. But because at the height of the boom an average Victorville home could be snapped up for $300,000, or half of California's median home value, everyone was a winner out here,  at least for a short time. The banks have been kind enough to give people a year or two before busting in with the sheriff.
The low-class suckers caught up in the dream of home ownership at the height of Victorville's housing orgy got burned pretty badly. There's just no way a sane person would keep paying a hyper-inflated mortgage even if they had the money to do it. In 2007, even as the housing market roared, Victorville started collapsing. Property values dropped to way below 2001 levels as people started fleeing their toxic investments, giving Victorville some of the highest foreclosure rates in the state.
But strangely enough, the newcomers weren't retreating back to familiar territory. They came for the cheap land, but were ready to stay without it, going back to renting without so much as a grumble. That's what the real estate lady told me. And Wall Street Journal backed her claim up, saying it was a nation-wide phenomenon. How depressing!
These people were baited out here to invest in worthless land, which raised the overall value of local real estate. That, in turn,  resulted in instant payoffs for the developers, outrageous executive pay for bank executives, and further profits for banks from various mortgage-backed securities schemes. But with all the obscene, in-your-face money-making going on, the poor saps that enabled it all got their investment taken away from them and watched it being sold off to their future landlords at half the price. It was a scam of proportions too massive to think about without regressing to some sort of primal state of vicious, random violence.
But there was no sign of anger or outrage, or even a hint of bitching. Everyone I ran into seemed completely oblivious to the class rape that's sweeping this town. Smoking outside a pizza joint, I chatted up a crusty old hick about Victorville's economic woes. It was only the beginning, he said. Yep, it's going to get much worse. He instructed me to never go to the west side of town: "That's where the drugs and hookers are." I was grateful for the tip, and in solidarity, started rattling on about the foreclosures, saying something about the rich swine who ripped off American homeowners needing to have their assets seized, and the rest of them needed a nice high tax like they had in Hoover's time. He didn't like that one bit. "I don't know who you voted for," the old hick said, dropping his cigarette on the ground and getting into his brand new Ford truck.
The next day, a Vietnamese guy who runs a Vietnamese restaurant here likened Victorville to his country, circa 1975. "This place reminds me of Vietnam. In the '60s, there were bases everywhere, a lot of people, Americans, soldiers, business. When Americans left, everything disappeared. Just empty buildings left," he told me as I was finishing up a kickass steak pho. He moved here in 2001 and still lost money on his home. Even so, he doesn't think anyone is about to start organizing a Victorville Airlift to get people as far out of here as possible. "They can't afford to live anywhere else. They'll carpool. People will figure something out."
This is Yasha Levine's first dispatch from Victorville. He plans to be out there for at least a few months, so look out for weekly updates from the American Dream War Zone.
You can contact him at levine@exiledonline.com.
Read more: exurbs, foreclosures, housing bubble, suburbs, the American Dream, victorville, Yasha Levine, Dispatch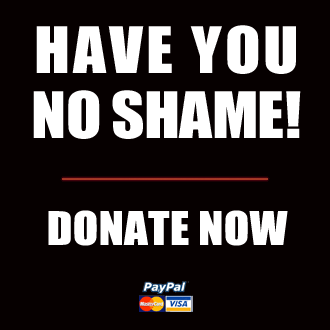 Got something to say to us? Then send us a letter.
Want us to stick around? Donate to The eXiled.
Twitter twerps can follow us at twitter.com/exiledonline