By Gary Brecher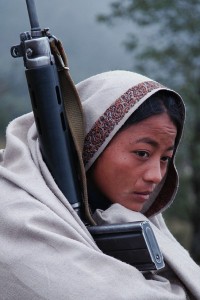 This article was first published in The eXile on November 27, 2002
Ever wanna go to Kathmandu? Not me. I was never a hippie. The hippie types always talked about heading off to Nepal for spiritual enlightenment, but it sounded like my idea of Hell: a bunch of grimy beggars grabbing at you, yelling gibberish, trying to sell you yak dung as prime-grade hash. Some of the old acid casualties in my community college classes had been there and always said it was a real deep experience, but it didn't seem to've done those zombie trolls much good. Most of them were on SSI, paid by the State of California to watch reruns of Gilligan's Island and not bother anybody with their acid flashbacks.
The first sign most people had that things weren't so peace'n'lovey in Nepal was June 2001, when the whole Nepalese royal family got wiped out over dinner. Turned out to be the old story: bratty son wants to marry a local slut, Dad says no, bratty son has a tantrum. Except this little prince had his tantrum with an automatic rifle. One of those classic dinner-table arguments, like in American Beauty or something. "Dad, can I marry Devi?" "No, no, no. Now eat your curry." "'Scuse me…gotta, um, wash my hands." And before Daddy and Mummy and sisters and brothers can dig into their chicken koorma, the li'l prince is back, peppering the whole dining room with lead. The whole family wiped out before the entree, just like King Ralph.
You gotta hand it to the Prince, though. I mean, that's love. "Honey, I shot the folks." I bet his girlfriend was real touched. Nothing says "I love you" like wiping out your entire family.
Still want to go to Kathmandu? Well, it gets worse. Way worse. That hot-tempered prince wasn't the only person in Nepal sayin' it with automatic rifles these days. Turns out there's a big, bloody, serious Maoist revolution going on there right now. Man, Bob Seger is gonna be bummed. I still can't really believe it myself. Maoists in Kathmandu? Nepal is where rich liberal assholes like Dianne Feinstein go "trekking." It's not where you expect to find Charlie, up there at 20,000 feet with the Gurkhas and the Sherpas.
But it's a fact: they've got a Maoist insurrection, and a big one too. Been going on since 1996. It started out in the classic way: the local Communist Party split between the peaceniks who just want to go handing out leaflets, and the hotheads who want to start fighting now. The hotheads won out, the Nepalese commies split up, and the two or three dozen university types who always dreamed of being the local Che Guevara headed for the hills to radicalize the Nepalese peasants.
They found the peasants already pissed off, in the mood to go off and kill some landlords. You don't think of Nepal as having masses of oppressed peasants, but some of the stuff I've been reading is pretty gross: people selling themselves and their whole families to the local landlord just to get malaria medication. Seriously: a peasant gets sick, figures anything's better than dying, and uses his family as collateral for the money he needs to get malaria medication. When he gets better, he and his wife and kids are the property of the local loanshark.
Slavery was actually legal in Nepal till a couple of years ago. You could buy whole families if you needed household help. Sometimes the debts were a hundred years old: because granddad had bad luck with the dice, all his kids, for ever and ever, were slaves. Little kids working 18-hour days, every day, for no money, for life. Hell, with a life like that, Ashcroft'd turn into a Maoist.
So if you're living a miserable life as a Nepalese slave, and a nice clean-cut Maoist recruiter sneaks into the village one night and tells you it's all gonna change and all you have to do is learn a few of Mao's little inspirational haiku and hack your landlord to death…well, I have to say, I'd join up myself. And these recruiters were university types, all clean-cut and inspiring. The peasants must've been dazzled just to see'em, Nepal's finest, paying attention to them and their grubby villages. They joined up, and the revolution started cranking.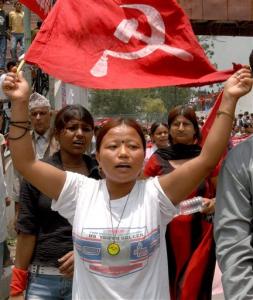 Mao's battle-plan is simple. It can be adapted to almost any country as long as you've got the basic ingredients: mean landlords, hungry peasants, educated city people who couldn't care less what's happening in the countryside. In other words: if you've got a really fucked-up agricultural country. Nepal had that.Mao's plan doesn't take military geniuses to make it work. What it does take is lots and lots of discipline and patience, because you must avoid battle until the odds are overwhelmingly in your favor. So the first rule is: No Hotheads Need Apply.
Step one is to work the villages. The university-trained commie recruiters fan out into the villages and radicalize the locals — which isn't too hard when the landlords have been buying and selling peasants like mules.
The next part is harder: you set up a shadow government. You don't attack the local police or army at this stage — you try to make them irrelevant. Instead of taking complaints to the cops, peasants take their quarrels to a People's court that meets in a shed at night. Instead of paying regular taxes, you pay people's taxes to a guy who comes around at night with a notebook and a bag. The idea is to isolate the cops, tax collectors and other informers — to "put out the eyes" of the government in the area, so that by the time you're ready to attack, they won't have any intelligence system worth the name and you'll take them completely by surprise.
Of course, it's never as neat as the way Mao laid it out in the little red book. People talk, the cops know something's going on. And in Nepal, "cops" doesn't mean a squadcar with two guys in it. The Nepalese police are organized in paramilitary units dispersed in barracks across the countryside, with dozens or even hundreds of men armed with automatic rifles, heavy machineguns, light armored vehicles and air cover on request. These cops know that if they lose their grip on the villages, they'll wake up some night to find their barracks overrun. They start bringing in likely suspects and working out on them, using whatever form of torture is traditional in these parts.
There are 90,000 cops/soldiers fighting for the new King, up against at least 10,000 guerrillas. That's not good odds for the government. Conventional wisdom says you need at least 10 soldiers for every guerrilla, but that's assuming your troops are as good, man for man, as the guerrillas. The Nepalese cops/soldiers aren't very good. The leader of the rebels (who's from the upper class himself, naturally) said recently "The King's army will not fight for very long." He's probably right.
The landlords know it too. They can feel their grip on the locals getting weaker. Scary grafitti on the walls, people not bowing and scraping the way they used to….They start calling their cousins in Kathmandu, begging them to send more troops. It all starts heating up.
Read more: mao, nepal, Gary Brecher, eXile Classic, The War Nerd, What You Should Hate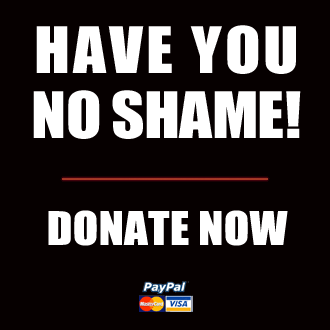 Got something to say to us? Then send us a letter.
Want us to stick around? Donate to The eXiled.
Twitter twerps can follow us at twitter.com/exiledonline