By Mr. Walker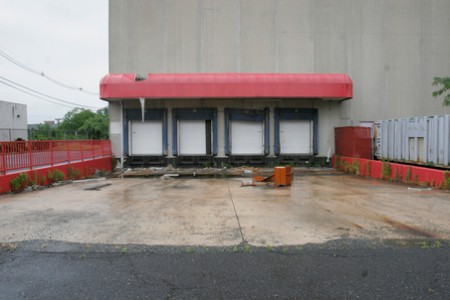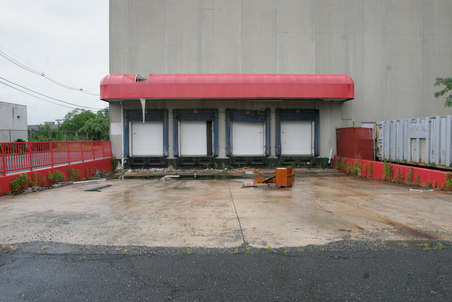 News about the economy has gone from apocalyptic to merely bad. Stock indexes and commodity prices have been on a five month tear. Hints are showing up that at least the worst of the home mortgage disaster might be over. Unemployment is still at scary levels, but at least the rate of its increase is slowing.
All in all, it would seem that maybe the Fed printing a stack of dollars one trillion high and throwing it at the banks might actually be working, if by "working" one means a long-term debasing of the currency to get a short-term boost in the economy, though I doubt B. Bernanke would explain it in precisely those terms. However, there is another major jolt on the way for credit markets, banks, and, by extension, the rest of the economy: commercial real estate.
It's not too tough to find out that there is something amiss with commercial real estate. A quick walk around Manhattan does the trick, seeing the amount of prime first floor retail space currently seeking offers. The same is true when reserving a room in a hotel more expensive than a Super 8. I was in Boston for work a month ago and stayed in the hotel I usually use and the room that cost me (or rather, my employer) $375 two years ago was going for $149 and the parent company of the hotel was offering a "stay 3 days get one free" deal. However, the anecdotal evidence is nothing like a chart of hard numbers. Here's one: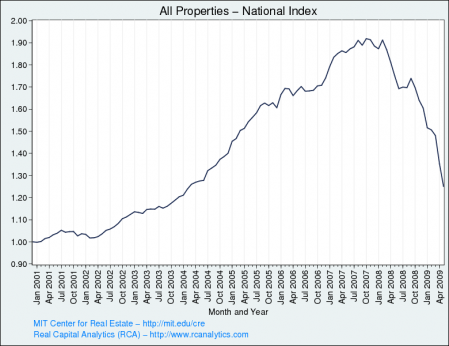 Now that, friends and neighbors, is a steel-toe-boot-to-the-gonads chart if I've ever seen one. The word "freefall" comes to mind. Also, the text below the chart states matter of factly "July 22 , 2009 update: The latest results of the Moodys/REAL CPPI show a return of negative 7.6% in May for the all properties national index." Probably a better way to write that would be "HOLY SHIT!" but I guess that's not really MIT's style. In addition—and I downloaded the spreadsheets to check this—that number is not annualized or year-on-year rate of decline, which is the way many top down economic numbers are reported. For example, when you hear that GDP "contracted 2% in the last quarter" what that means is that GDP contracted at a rate that would generate a 2% decline over a full year, or roughly .5%. The MIT/Moodys number is 7.6% down for the month of May alone, which seems really awful until one looks one cell up in that spreadsheet. Said cell cheerfully informs us that April was down 8.6%, meaning that two months in 2009 wiped out the same percentage of value that go-go 2005 was able to add. Put another way, if you were foolish enough to by a $100 million office tower on March 31, 2009, you now own a property worth about $84.5 million, which is a pretty rough couple of months in my book.
Making these glaringly awful numbers far, far worse is the way commercial real estate is financed. Most of the loans us civilians are familiar with a fairly long term. Home mortgages are usually for 20-30 years, while most commercial real estate is financed on a shorter note that we take out to buy a car. 3-year and shorter financing is common in the commercial real estate world, and banks were as eager to loan money to dicey commercial borrowers as they were to dicey home buyers and home speculators.
To get an idea why this is so crucial, here is how a more or less average real estate deal works, with very rough, back-of-the-envelope numbers. Using the $100 million office tower mentioned above, let's assume that building is 85% leased and is generating $7 million of rent per year from tenants. The person/group/institution buying the building puts up 20% of the value and borrows the rest (a pretty conservative amount of leverage for 2000 era deals), taking on a four year note at 5.5%, meaning the borrower has to pay $4.4 million per year and in four years pay off the principal as well. What the real estate investor is hoping to do is lease up the rest of the building, maybe make some improvements to it to attract higher paying tenants, thereby increasing the cash flow servicing the debt. In an ideal world a combination of rising real estate values, increased cash flow, and longer leases will make the building itself worth more, so when the four year note is up the building might be worth $115 million while generating half again as much cash flow in rent. When that note is refinanced a nice chunk of it can go into the pockets of the investor for all of his hard work.
That's the ideal scenario, repeated thousands of times during the run up in real estate from 2000 until last year. When the getting was good, refinancing meant a chance to take some equity out of an asset that was accumulating value, but the leverage knife cuts both ways. If the asset loses value the bank still wants their money in four years, and they're not likely to want to loan you money to refinance something losing north of 7% per freaking month. It's like Paulie in Goodfellas, "Fuck you, pay me." Negative equity for a homeowner certainly sucks, but on a longer time frame that home will probably appreciate in value and as long as the owner can afford the payments the loan is fine. With the shorter term financing used on the commercial real estate world, Paulie needs his principal back a lot sooner.
While every deal is different, and every submarket has its own dynamics for price (you might not want to own a mostly leased office tower in Brooklyn, but you'd take that over a half finished condo tower in Miami), looking at the MIT/Moodys numbers it would seem that even the more conservative, non-insane commercial real estate deals done between early 2005 and early 2008 almost have to be in some degree of trouble at least on paper, with a lot less value to prop up the debt. This is to say nothing of all of the "wild and crazy guy" deals done by insane people and insane banks.
So we have a few frothy years of loans on commercial properties that have to be at least suspect, how much is that? The answer is a whole fucking lot, though nobody seems to want to publish exactly how much. The best story I could find was from the Wharton School at Penn (http://knowledge.wharton.upenn.edu/article.cfm?articleid=2296). That article states that $400 billion of such loans are coming due in 2009 and that between now and 2012 the total will be $1.8 trillion, roughly half of which are owned by banks. Delinquency rates have doubled in the past year and the values of the underlying properties are, obviously, in freefall. It's hard to put a hard number value on how much of this will actually have to be written off, partially because the banks have an incentive to put off the pain as long as possible by refinancing even when they shouldn't, but it doesn't take a particularly huge chunk of $900 billion going bad to put some serious hurt on our already stumbling banks.
Piled on to this is the fact that Wall Street was just as eager to slice and dice commercial real estate loans into mortgage backed securities, CDOs, CLOs, CDO squareds (love that name, it's complete shit, to the second power!), and probably some other science lab stuff I'm forgetting now. Swimming in the ocean of securitized real estate debt are some very sick fish in the form of bad commercial real estate.
And what are the good gentlemen in Washington D.C. doing about this problem? Mostly nothing though some are covering their ears and screaming "I CAN'T HEAR YOU NAH NAH NAH." Considering the job they did avoiding this mess, that's probably the best thing anyway. However, the original TALF program was modified to allow its use when buying existing mortgage backed securities. In its first form it could only buy new loans. What followed was perhaps the funniest event in the world of finance I can ever remember. On July 14th Standard + Poors downgraded a whole class of 2007 vintage CMBS from AAA (the highest rating, what institutions like Harvard and the Treasury get) to BBB-, the lowest grade for something considered "investment grade," i.e. not speculative. Bond nerds nationwide thought for a second that Standard + Poors might actually be doing their job for the first time in years. However, one week later they changed their minds and re-rated the bonds back at AAA again, prompting everyone where I work to refer to S&P as "Laurel & Hardy." In a Bloomberg article about the "revision" Christopher Sullivan, chief investment officer (and budding standup comic) at United Nations Federal Credit Union in New York, said"
"It is a stunning reversal and certainly raises questions concerning the robustness of their revised model, it may engender further uncertainty with respect to ratings outlooks."
Really? Ya think the 'revised model' might be of dubious robustness? The real reason, one has to guess, is that only AAA securities are eligible for TALF funding. So, thanks to the new Laurel & Hardy ratings the gubment will be loaning money on highly generous terms to the same sharpies who cooked those securities up, so that said sharpies can buy them back cheaper while risking very little of their own capital. In other words, we're backstopping them as tax paying citizens.
Is this a great country or what?
Read more: Commercial Real Estate, crash, CRE, Fed, TALF, Mr. Walker, Banking Porn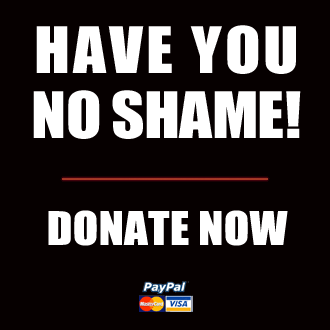 Got something to say to us? Then send us a letter.
Want us to stick around? Donate to The eXiled.
Twitter twerps can follow us at twitter.com/exiledonline