By Eileen Jones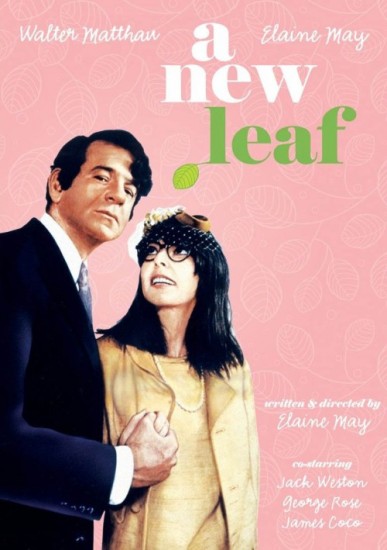 A New Leaf, a 1971 screwball comedy written and directed by Elaine May, is a great genre film made by a women. You know how many great genre films were ever made by women? Well, lessee, there was…oh, how about…no, that one was a genre film made by a woman, but it was rotten…hmmm…
Given enough time you'll come up with something (Ida Lupino, The Hitch-Hiker), but it isn't really worth the effort. Too depressing.
But A New Leaf—ah! Now we're talking! This overlooked beaut has been hard to get ahold of for decades, but now it's finally out on Bluray. It's worthy of being considered a true addendum to the finest 1930s-'40s American screwball comedies, so hilarious and insightful you can spend the rest of your life citing scenes from it, quoting lines to illustrate what you encounter yourself in your own blasted existence every day: "Carbon on the valves." "What about this check?" "You have managed to keep traditions alive that were dead before you were born." "Are you by any chance related to the Boston Hitlers?" "If you can't be immortal, why bother?" "Have you ever tasted Mogen-David extra heavy malaga wine with soda water and lime juice?" "Did I say she was primitive? I retract that, she's feral!" "You've got your head through the arm-hole, we have to get your head through the head-hole." "I've lost my Ascophyllis Grahami!"
Quoting from the movie is a little tough because almost nobody's seen it, so I have to provide several paragraphs of explanatory footnotes to make clear what I'm talking about, and that tends to defeat the purpose. That's why it's so important to get a much wider audience for the film, so it won't be a kind of solitary soundtrack playing only in my head.
Those few people who know and like A New Leaf, comprising a small cult following, tend to call it wholly inadequate things like "charming." That's no help; that makes it sound twee and quaint, which is not right at all! So, to make clear why the movie's so exceptional, I'll explain what the lines quoted above mean in the movie, and how expansively they can be applied in life.
"Carbon on the valves."
The movie opens on what seems like a delicate surgical operation, with a man waiting anxiously for the outcome and refusing to leave the patient's side. You assume it's his wife giving birth and having difficulties, but it turns out to be his Ferrari getting worked on at a high-end auto mechanic shop.
This seems like a weak gag as gags go, but when you watch the whole film and mull it over, it gains considerable significance. The man is a rich git named Henry Grahame (Walter Matthau), and he obsesses over his Ferrari's chronic ailments that cause it to break down every time he drives it. He insists "the car is well worth it" and is outraged when a fellow rich git suggests he turn it in for a Bentley more suitable to city driving.
Henry's reaction: "How dare you!"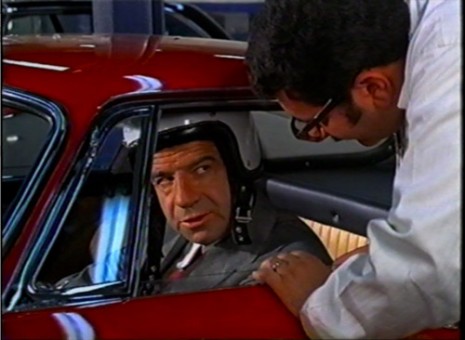 In the film we see yet another rich git named Bo (Grahame Jarvis) similarly obsessing over the health of something unlikely, in this case, his apple trees, which have long suffered from a condition called "crowngall" (or something like that). Bo announces with damp pleasure that his trees have finally responded to treatment and are cured of "crowngall," only to announce with equally damp pleasure that they've contracted something else: "Sooty blotch!"
Henry's pro forma response: "You must be going mad, Bo."
The rich themselves are being diagnosed here, you see. Their natures are so warped by unnatural ease and isolation, they fixate, like animals in zoos that pace by the hour or chew their own fur down to the skin. Here the unwholesomeness of the rich focuses itself on the nurturing of a random-seeming thing. All their cold narcissism and misanthropy is shored up by their concentration of all benevolent impulses on one piece of property, favoring it with absurd, over-solicitous, highly selective tending.
Henry's Ferrari is diagnosed with "carbon on the valves," the automotive equivalent of "crowngall" or "sooty blotch." It's an intractable condition seemingly inherent to the car's functions, but there's a kind of stoic pleasure in identifying it repeatedly as "carbon on the valves."
Life Application: Obviously, this applies to many situations. Any persistent problem with machinery or technology or bodily health that doesn't readily respond to treatment can be chalked up with soothing finality to "carbon on the valves."
A Note About Casting: It should be mentioned that Walter Matthau is spectacularly miscast as Henry Grahame, but because it's Walter Matthau, it doesn't matter. In fact, he turns it into a triumph of casting against type. No actor was ever able to form a more immediate bond of trust and affection with an audience than Matthau in comedy. It's as if he turned to us, muttering, "Okay, here I'm playing a wealthy bastard who went to all the right schools and dresses in bespoke-tailor-made suits and knows about fine wines and garbage like that, which goes against my whole star persona of a rumpled big-nosed baggy-faced working class Lower East Side cynical mensch. Just go with it."
And the audience, as always, says, "Carry on, Walter, we're with you one thousand percent, which isn't even  mathematically possible!"
"What about this check?"
This might be my favorite line, or at any rate, the one I get the most use out of.
At the beginning of the film Henry Grahame is engaged in avoiding his lawyer's increasingly urgent telephone calls with an implacable determination that is never explained. Most likely it represents just one facet of the utter rigid bastardliness of Henry Grahame's character, but it might also be due to some premonition on Henry's part that he's going to be told something he doesn't want to hear. It's the ultimate bad news, the fate worse than death: he's lost, or rather spent, all his money.
As Henry's valet Harold later clarifies the disaster that has befallen the Grahame household, "You will be poor, poor in the only sense of the word that matters, in that you will not be rich."
It takes the lawyer, named Beckett (William Redfield), quite a while to convey this dreadful news to Henry Grahame, because no matter how he phrases it, Henry refuses to get the gist. He just keeps waving or tapping or otherwise indicating the bounced check in his hand and saying some version of the line, "Yes, yes, I understand all that, now what about this check? This check must be paid."
Finally the lawyer is reduced to treating this as a diverting rhetorical problem he's mulling over: "Hm, I wish there some other way to say it. 'You've lost all your money, you've exhausted your capital and therefore your income, you…' No, no, that's it, that the only way to, it's money, you've lost all your money, you have no money!"
Henry: "Come to the point, Mr. Beckett."
Life Application: Maybe it's because I teach and hold office hours, but I find myself in "what about this check" conversations continually, explaining what seem like straightforward concepts in a dozen different ways with no success and finally running out of language to cover them and trailing off, "Hm, I wish there were some other way to say it…"
But the true deaf-adder will always win by simply waiting for you to stop making elaborate noises with your vocal apparatus, so he/she can repeat, "Yes, yes, I understand all that, now what about this check?"
A Note About Casting: William Redfield enacts his lawyer role with unshowy genius. A New Leaf is loaded up with homely, idiosyncratic character actors of a kind that were everywhere in classical Hollywood films and reached a fine froth of ubiquitous brilliance by the 1970s, before fading out as a major force in Hollywood films in the '80s (like so many good things did).  Here we find Doris Roberts, Jack Weston, James Coco, George Rose, Renee Taylor, Grahame Jarvis, and David Doyle, all engaged in splendidly competitive attempts at scene-stealing against the likes of Elaine May and Walter Matthau.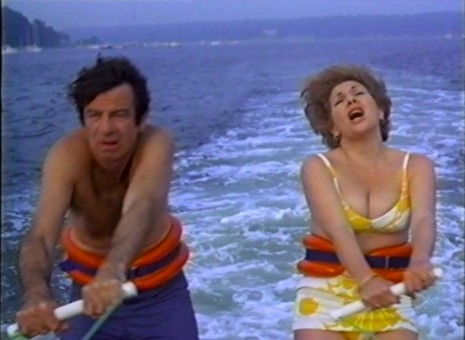 "You have managed to keep traditions alive, Mr. Grahame, that were dead before you were born."
Desolate, Henry returns to his ultra-modernist home to find unexpected consolation from his valet, Harold (George Rose), in the form of some constructive advice:
You must marry, sir. It's the only way to gain property without labor. Of course there is also inheritance, but your uncle has assured me he intends to leave all his money to Radio Free Europe.
Harold admit that he's concerned for his own sake, for only if Henry Grahame remains rich can he can continue to be employed by a man who truly requires and appreciates the services of a gentleman's personal gentleman. "How many men have your devotion to form, sir?" says Harold as he does an exquisite, ritualistic folding of Henry's pocket-handkerchief.
Life Application: Admittedly this line about keeping dead traditions alive long past the sell-by date requires a particular set of friends and acquaintances. I used to know a lot of people who were living as if trying to recreate aspects of the world dreamed up by P.G. Wodehouse—all the arcane formality, that is, but unfortunately none of the benevolence.  Still, almost everyone knows at least one person who prides himself or herself on ridiculous olde-worlde affectations. I once had an upper-class twit tell me with a straight face, "I just can't imagine eating dinner without lit candles on the table."
"Are you by any chance related to the Boston Hitlers?"
I hadn't paid attention to this line the first several times I saw the movie, but now it's a great favorite of mine. It's said in the background, as Henry meets an affluent couple, Jean and Daryl Hitler, at an afternoon tea. Trolling for a rich wife, Henry forces himself to attend various social events he wouldn't otherwise endure, but so far they've all ended disastrously and now he's really up against his deadline, with about a week left to meet, court, and marry "Miss Right" before complete financial disaster occurs.
It is then Henry's secret intention—that is, he doesn't tell his valet— to murder her and inherit her fortune.
Of course, Henry does meet Miss Right: Henrietta Lowell, played by Elaine May, a meek, mild, sweet-tempered, painfully awkward, bespectacled botanist of almost incredible physical clumsiness. Though superficially opposed and at odds in almost every way, from the beginning the two are joined through their names (Henry and Henrietta) and their estrangement from this dreadful social stratum they inhabit. Henrietta sits alone clutching her teacup and staring fixedly at the ceiling with a rictus half-smile on her face. As for Henry, he pauses in the doorway upon arriving and, looking the room over, very nearly turns and bolts before his hostess intercepts him.
Henry seems to find almost everyone repulsive except properly trained servants and underlings (his valet, his tailor, the maître d' of his favorite restaurant). But still, he's an arrogant snob and in his own way enjoys being a wealthy person among other wealthy people. So he consents to merge with this ghastly tea-drinking group, and asks smoothly, "Excuse me, are you by any chance related to the Boston Hitlers?"
Still, in order to land Henrietta, he's going to wind up rejecting this group again, and it will be the first of many ways that dealing with Henrietta benefits Henry.
Henrietta drops her teacup, of course, spilling tea all over the expensive carpet. A beautifully done physical comedy routine follows as the hostess hastens to assist Henrietta in a condescending manner, and Henrietta compounds the problem by dropping her gloves, and then her glasses fall off, and soon all the objects are in complex play, teacup, gloves, glasses. Seeing his opportunity, Henry moves forward, still smooth, to meet her, and Henrietta rears up at the wrong moment and upends HIS teacup. Now the hostess' rote politeness evaporates and she becomes rather vicious, providing Henry with the best opportunity yet: he gets to do ostentatious gallantry by pouring the offending hostess' beverage on the carpet as well, and rebuking her "erotic obsession" with her floor covering ("you're more to be scorned than pitied") before escorting Henrietta out in magnificent style.
Life Application: In any closed social circle or insular professional field, people constantly say things that would be shocking to any decent-minded outsider, things that group members are unaware are shocking because everyone within the closed circle is accustomed to their own appalling codes, beliefs, and practices. I can attest that mentally repeating to yourself "Excuse me, are you by any chance related to the Boston Hitlers?" will provide welcome balm during innumerable interactions at office staff meetings, family reunions, film industry parties, and academic conferences.
A Note About Casting: Elaine May seems so absolutely contemporary in her unsparing approach to comedic acting because so many female comedians today seem to be her direct descendants. Tina Fey, especially, in her performances of female awkwardness taken to fearless, eccentric, outlandish extremes that she scripted herself, seems like she must be some blood relation to May—a grand-niece, perhaps.
In A New Leaf, May is a most plaintive creature, maddeningly defenseless, pathologically shy and unworldly, pathetically bedraggled in appearance and spectacularly uncoordinated. Apparently this performance represents May's savage mockery of some of her own attributes. This is discussed in a recent Vanity Fair interview with Elaine May and her former improv-comedy partner Mike Nicholls:
Like Henrietta, Elaine was famously disheveled, wearing mismatched clothes generously sprinkled with the ashes from her cigarettes. Like Henrietta, she was brilliant in some academic and artistic fields, but clueless in others. As one wag pointed out, "She knew about theater and psychoanalysis. She didn't know about anything else. She didn't know if Eisenhower was a Republican or a Democrat."
"If you can't be immortal, why bother?"
Henry drives Henrietta home to her rural estate in his Ferrari, which soon breaks down on a rural road in deep Connecticut woods. As they sit there all night waiting for a tow-truck, Henry forces himself through the courtship ritual of asking Henrietta to tell him all about "your work, your hopes, your dreams." While she obediently explains her botanical ambition to discover a "true species" of fern never before classified, his hand is visible outside the car with the fingers drumming impatiently on the roof.
Henrietta: "…that's my hope. I don't know what my dream is—do you think it could be the same as my hope?"
Though Henry's preserving a vaguely attentive demeanor he's not actually listening to that last part, so he only stares at her impassively. Deflated, she concludes: "Anyway, that is my work, and my hope, but not my dream, which I'm not certain of."
Rousing himself to further effort, Henry asks what would happen if she discovered a true species. For the first time he perks up with real interest when she says that the species is named for the discoverer, granting a modest level of immortality to him or her. Does that seem presumptuous, asks ever-humble Henrietta, to desire immortality?
"Not to me, " says Henry matter-of-factly. "If you can't be immortal, why bother?"
Henry's arrogance about the idea of achieving something so noteworthy it transcends your death as if it were as easy as rolling out of bed in the morning will give Henrietta the confidence she needs to realize her great hope—which might also be her dream.
Life Application: It's a great encourager, this line—Henrietta isn't wrong about that. "If you can't be immortal, why bother?" is an excellent goad to the ambition, for those who have it, and you know who you are. Every time you hesitate at the next bit of daring, pause at the next challenge that perhaps looks so apparently minor to the untutored eye that it only seems daunting to you, or perhaps looks so immense and dangerous it appears daunting to everyone and they're all begging you not to do anything crazy—when anything in that range of challenges happens, say to yourself, "If you can't be immortal, why bother?" and see how heartening it is.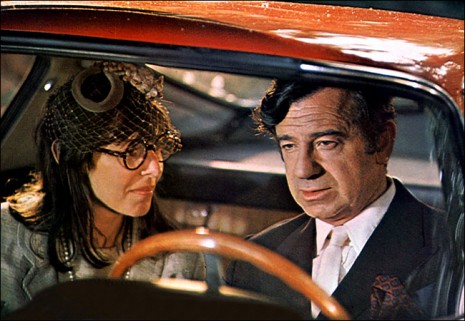 "Have you ever tasted Mogen-David extra heavy malaga wine with soda water and lime juice?"
In courting Henrietta, Henry Grahame tries to follow the upper-class playbook by taking her out for a fine dining experience at his favorite restaurant. He is just telling her about the wine they're drinking, that the 1955 vintage was better than the 1953, when he is thwarted by Henrietta's eagerness to contribute something to the feast of reason and flow of soul. So she asks this question, all earnest intent to put Henry onto a good thing, this delicious drink she's discovered that's called a "Malaga Wine Cooler."
Life Application:
This one is for every time someone recommends something to you that you know you'd find appalling. These recommendations are almost always kindly meant, with a real desire to benefit you, and therefore it's imperative that you hang onto your pleased, interested smile and don't allow it to curdle toward a grimace of horror as Henry Grahame does.
"Did I say she was primitive? I retract that, she's feral!"
With time pressing, Henry orders in a supply of ingredients to make Malaga Wine Coolers and prepares himself to propose to Henrietta. The Proposal Scene is probably the funniest in the movie; it achieves that wonderful build-up of cumulative physical disasters that used to be the province of the best silent slapstick comedy, and was inherited by screwball comedy, which added rhythmically syncopated dialogue for even more dizzying effects.
The scene is set in Henry's stark ultra-modern living room where an expensive white alpaca carpet lays awaiting destruction. There can be no doubt that immense amounts of dark red Malaga Wine Cooler will end up on this carpet, but the broken glass that Henry winds up kneeling on in order to propose will be a lively unforeseen factor.  Finally, after several fortifying gulps of the terrible wine cooler, Henry succeeds in getting out his supremely reluctant proposal ("…you are a woman and I am a man, but we need not let that interfere if we are reasonably careful"), and he is accepted by Henrietta with disconcerting full-heartedness.
Henrietta: "This was my dream, Henry!"
Later, as his valet picks shards of broken glass out of his leg, Henry seethes over the events of the evening: "I never spent a more physically destructive evening in my life! I limp, I am nauseated, I will taste those disgusting Malaga Wine Coolers forever…! How's the carpet?"
It is here that he rages, "Did I say she was primitive? I retract that, she's feral!"
And concludes, "She's not fit to live!"
Life Application: So, so many graceless, uncivilized people in the world doing all sorts of damage—though there are days when you have to admit, you're one of them.
"You've got your head through the arm-hole, we have to get your head through the head-hole."
On the honeymoon night, Henrietta presents herself in a "Grecian-style" one-shouldered nightgown that appears to fit very oddly. Henry realizes the arm-hole/head-hole problem and tries to extract and rearrange Henrietta within her increasingly tangled draperies. He achieves a remarkable Zen patience during this interlude, which is probably due to his practical concerns—he's not looking forward to the dutiful sex he's presumably about to have, and this wardrobe problem stalls it off a bit. But it's also the beginning of the New Henry, who displays a wider range of qualities and talents in his struggles with Henrietta than were ever indicated when he was a perpetually irritated rich bastard obsessed with his Ferrari.
Once returned from the honeymoon, Henry thinks he's focusing on the problem of how to murder Henrietta and get away with it, so he doesn't consciously realize that he's in an ever-expanding arm-hole/head-hole situation with the maddeningly helpless Henrietta that's going to change his life while he's making other plans. He find himself taking over and straightening out Henrietta's finances, doing her taxes, firing her crooked incompetent servants and hiring new ones. All this on top of helping Henrietta with her always-deteriorating personal appearance by "dusting" her for crumbs and mopping spilled beverages off her after every meal.
Life Application: The "arm-hole/head-hole" quote fits any care-taking duty you are stuck with and getting through as patiently as possible. It also works for any protracted entanglement that takes an absurd length of time to get extracted from.
"I've lost my Ascophyllis Grahami!"
In the end, the fern that Henrietta discovers on their honeymoon—while Henry's busy studying up on toxicology, looking for poisons to kill her with—turns out to be a true species.
She names it "Ascophyllis Grahami" (pronounced "Gray-hammy").
At first Henry is incensed that she would make such a career blunder, putting her discovery under Grahame when all of her published works are under her maiden name of Lowell. ("You idiot, can't you do anything right?") But when she tells him the fern is named after HIM, he is startled into an unfamiliar reaction.
You see, he really isn't so casual about immortality after all. He begins to be impressed that his name will be cross-referenced in all the botony textbooks under G.
But trying to hang onto his usual cavalier attitude, he mocks the bit of frond in the plastic "token" she's had made into a pendant-necklace for him: "It's quite a conversation piece. 'What's that frond you have in your token,'" people will say. 'Why, it's my own frond.'"
Henrietta (utterly oblivious to mockery, fortunately for her): "Are you pleased, Henry?"
Henry (still somewhat surprised by his own reaction, and mulling it over): "Why, yes, Henrietta. Yes, I believe I am pleased."
But in the meantime, Henry has also found an effective way to get rid of Henrietta forever, and even his valet, who strongly suspects what Henry is planning, can't dissuade him. (Harold, pleadingly: "Isn't it fortunate, sir, that Mrs. Grahame has turned out to be such a good-natured lady?")
By going with her on her annual field trip, this time to the Adirondack Mountains, Henry contrives to have his wife drown in a fast-rushing river. Conveniently, Henrietta can't swim. Relying on her utter trust in him, Henry instructs her to hang onto the log she's clutching till he tells her to let go. When she does as directed, squeezing her eyes shut and holding her nose, expecting him to intercept her and fish her out, he walks away into the woods.
As he's striding away reciting the account of Henrietta's accidental death that he plans to tell the police, Henry comes across a large fern and stops. "Oh, look, Henrietta," he says, so pleased he forgets she's busy drowning, "it's an Ascophyllis Grahami. Way out here in the north woods." He hurries to pull out his "token" to compare the fronds, and realizes that it's gone, lost in the churning waters.
"My Aschophyllis Grahami!" he panics, rooting under his jacket and shirt collars. "I've lost my Ascophyllis Grahami!"
And then he knows he has to go get Henrietta, and curses fate as he races off to save her: "Damn, damn, damn, you work, you plan, nothing ever turns out the way you want it!"
Life Application: "I've lost my Ascophyllis Grahami!" refers to the loss of anything of vital importance to you, that leaves you bereft.  It may be something you didn't know mattered to you till you lost it. Sad how many life applications there are for this one!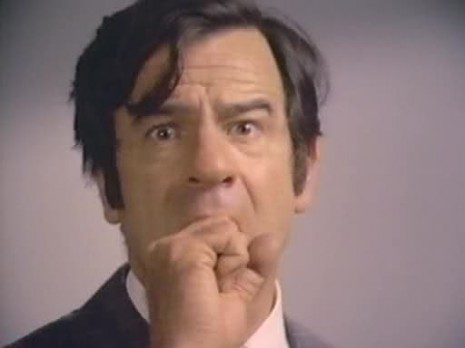 It's ironic that Elaine May did her best to disown her wonderful directorial debut after she went way over schedule and Paramount producers took A New Leaf away from her and recut it. Apparently she was hiding film reels under her mattress in order to preserve her own, much darker, three-hour version of A New Leaf. Someday that immense black comedy epic might see the light of day, though it's hard to imagine how it could be better than the swift 102-minute version we have.  May's Ishtar tendencies toward vastly overrunning the schedule and the budget in maddening fussiness over every detail were in evidence long before she actually made that career-ending disaster that few people have ever seen.
I've never seen it, just like I've never seen her other two films, The Heartbreak Kid and Mikey and Nicky. I love A New Leaf so much, I have an irrational dread of seeing her other work, which I feel can't possibly measure up. I want nothing to interfere with my admiration for a woman who made a great genre film and, on that basis, achieved immortality.
Read more: black comedy, directorial debut, Elaine May, genre film, movies, screwball comedy, Walter Matthou, women directors, Eileen Jones, movies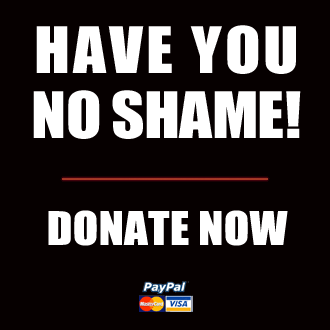 Got something to say to us? Then send us a letter.
Want us to stick around? Donate to The eXiled.
Twitter twerps can follow us at twitter.com/exiledonline