By Yasha Levine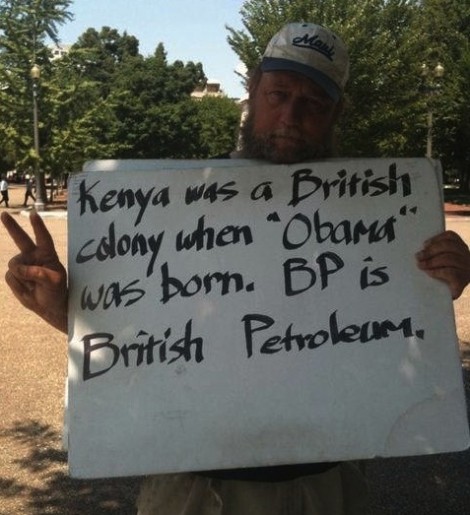 The price of oil hit $125 today, a 33-percent increase since the start of the year, and will most likely keep going up.
For those wondering "why," there's a new theory that explains everything.
You've probably heard of "peak oil," a theory that explains the spike in oil prices in terms of dwindling world oil reserves, and predicts a total collapse of civilization as we know it sometime in the near future unless we all move to Montana and live off the grid. But did you know that there's a newer, better, more commonsense theory that unravels the mysteries of the oil market while staying friendly to oil companies and praising speculators? Well, there is. It's called "teabagger oil" and comes courtesy of the same liberty-lovin' freedom fighters who brought us the Tea Party Movement.
Just like peak-oil types, teabagger oil researchers claim to know the answer. They have unravelled the hidden Truth about Oil and why gasoline prices are so high. They know our fossil fuel-dependent society is in decline and understand the dire, apocalyptic consequences if we don't take drastic steps to change our ways. But that's where the similarities with peak-oilers end, and the teabagger-oil schism begins. Because unlike peakers, 'baggers aren't worried about scarcity or dwindling world oil reserves at all. Quite the opposite: 'baggers are supply-optimists, hardcore believers in bottomless American oil reserves (and other fossil fuels, too), which can be extracted in a perfectly safe manner, providing cheap energy, fueling the economy, and keeping this country energy independent for a long, long time.
But there is only one thing standing in the way of this bagger-oil utopia: A grand conspiracy hatched by our Kenyan-born President Obama to purposefully strangle America's domestic oil production and push up the price of oil. Why would Obama want to do that? Because this way, he and his radical left-wing cronies could push forward with their green-leninist energy plan that will ultimately result in collectivizing private property and forcing every American at gunpoint to put a government-subsidized windmill/solar farm in his yard.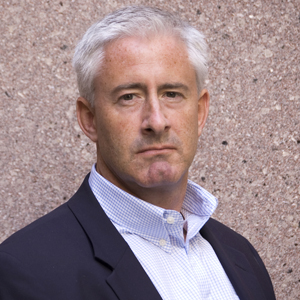 Meet Chris "Hornee for Freemarket" Horner: The Founding Father of Teabagger Oil?

Christopher C. Horner is quite possibly one of the leading luminaries in the field of teabagger oil. Horner helped lay the foundation of the teabagger oil school of thought in the research labs of the Competitive Enterprise Institute, where he holds the position of Senior Whore-Fellow. Horner's groundbreaking conspiracy theory is outlined in his recent book, Power Grab: How Obama's Green Policies Will Steal Your Freedom and Bankrupt America.
Power Grab got glowing reviews from fellow conspiracy theorist/subsidy-queen Michele Bachmann, as well as Koch-groveling Wall Street editorial page editor Stephen Moore, who praised Horner for proving "that the green agenda isn't so much about a clean  environment as it is about redistributing income from us to them."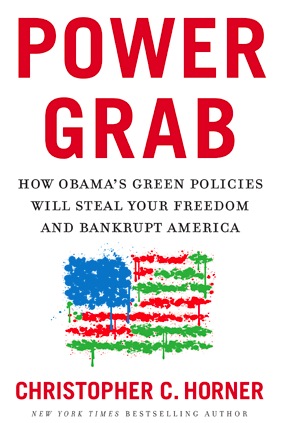 Here's a blurb from the front flap of the hardcover edition:

If Obama and his "green" coalition get their way, we're headed for blackouts, skyrocketing energy prices designed to bankrupt disfavored industries, and even greater government control of our economy.

Obama's green jobs agenda masks a declaration of war against America's most reliable sources of energy—coal, oil, and natural gas. He seeks to shut them down and convert America to green energy—mostly wind and solar—in an irresponsible experiment that will guarantee an energy crisis and drive America from recession to depression. The Obama administration, working in collusion with green groups allegedly protecting the environment, unions protecting their paychecks, and local elites protecting their ocean views, is putting the special interests ahead of your interests.
And it only gets better… Here's another bit from
Power Grab
, an excerpt from the first chapter:
Under Obama's economic and energy plans, conventional energy is punished by government policy in order to force the adoption of new, Obama-favored technologies. These plans will force us into energy poverty, a return to government-inspired uncompetitiveness, and a surrender of individual and economic liberties.

Modern environmentalism in a nutshell sounds something like this: impose energy taxes that serve as a rationing scheme (the "cap"), along with mandates of what sort of energy people can use, and in what amount. Environmentalists seek to use the state to create scarcity in order to further impose their will over our lives.
That's right folks, America's oil "crisis" does not exist. It's just a ruse concocted by Obama and his One World Government co-conspirators, including leftist billionaire George Soros, fanatically wedded to their "government-inspired" jackboot fantasies of redistributing wealth and oppressing red-blooded Americans' rights to have as much toxic sludge dumped in their front yards as they durned well please!

Harry, a happy teabagger-oil-theory customer from Ohio, who snapped these photos of land he's leasing to an oil drilling outfit, had this to say: "I done didn't let Obama tread on my rights, and neither should you!"
Oklahoma Senator Jim Inhofe, the ranking Republican on the Senate's Environment and Public Works Committee, is another big supporter of teabagger oil. Here he is explaining it to a used car salesman on Newsmax.com:
[Energy Secretary Steven Chu] speaking on behalf of the president, said somehow we have to figure out how to boost the price of gasoline to the levels in Europe — I checked today and it's $7.80 a gallon — so we won't buy as much and then all this wonderful green energy is going to come in.

We have more recoverable reserves in oil, gas and coal than any nation in the world. We have enough natural gas to run our country for 110 years. The problem is, the liberals, the Democrats won't allow us to exploit our own resources. They are intentionally stopping us from doing it.

This administration is admittedly trying to raise the price of gas so they can accomplish their green goals.

What really bugs me is when I hear the John Kerrys or the Barbara Boxers saying we've got to develop green energy so we can stop our dependence on the Middle East. We could stop our dependence on the Middle East for our energy if we just develop our own resources here.
Yes sir! Those damn liberals! Clearly, the skyrocketing price oil is all about over-regulation, over-taxation and lack of offshore oil drilling.
And anyone who tells you otherwise—especially if they blame it on rampant oil speculation or try to prove that domestic oil production peaked under Nixon—is giving himself away as a dangerous subversive Islamofascist, who should immediately be reported to the nearest Cato Institute, Americans for Prosperity or Heritage Foundation branch.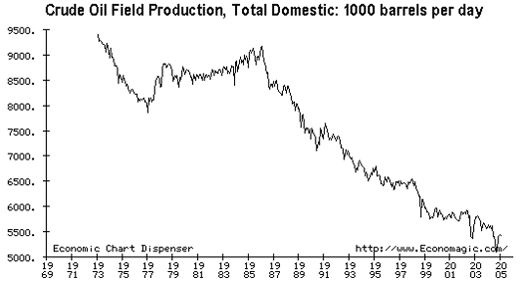 Obama's been trying to strangle domestic oil producers since before he grew his first pubes!

Teabagger oil theorists have also uncovered a conspiracy in the mainstream media to keep this vital information under wraps. The Business & Media Institute, a media watchdog looking out for the interests of America's small, family owned energy companies like Koch Industries, recently blew the scandal wide open:
Rising Gas Prices Linked to Obama Drilling Ban in Just 1% of Evening News Stories
Since BP spill, anti-oil policy has been cited in only 3 network gasoline price reports.
By Julia A. Seymour Tuesday, April 19, 2011 4:43 PM EDT

Main Findings:

– Gas prices have risen almost $1-a-gallon since the Deepwater Horizon oil spill, yet President Obama's drilling moratorium and other anti-oil policies have barely been mentioned by the networks in that time span.

– Only 1 percent (3 out of 280) of oil price stories since the spill has made any connection between the administration's anti-oil actions and the jump in gasoline prices.

Full Report:

On April 20, 2010, a horrific oil spill took place in the Gulf of Mexico on British Petroleum's (BP) Deepwater Horizon rig. Since that day, gas prices have risen nearly $1-a-gallon to $3.83 per gallon. President Barack Obama's anti-oil policies, including a drilling moratorium are at least part of the reason for that dramatic spike. But you will rarely hear that from the mainstream media.

It certainly isn't the story the network evening news shows have told their viewers since the oil spill. Out of 280 oil price stories since the disastrous pill, just 1 percent (3 out of 280) mentioned any connection between Obama's anti-oil efforts, such as the drilling moratorium, and rapidly rising gas prices.

Instead of asking whether Obama's anti-oil policies could be increasing the cost of gas, the networks blamed other factors such as Mideast turmoil or the "money game" played by speculators. Certainly, the turmoil in Libya, Egypt and surrounding nations has increased worries about oil production and can influence the price. But the networks also should have looked for explanations much closer to home.
Yes, "home," as in the "home invasion" that's being perpetrated on the American people by…you guessed it, a black President.
Yasha Levine is a founding editor of The eXiled. You can reach him at levine [at] exiledonline.com. Want to know more? Check out some of his other stories…
Read more: cei, Christopher C. Horner, gas prices, michele bachmann, Obama, oil, peak oil, rightwing, Tea Party, teabagger oil, theory, Yasha Levine, Class War For Idiots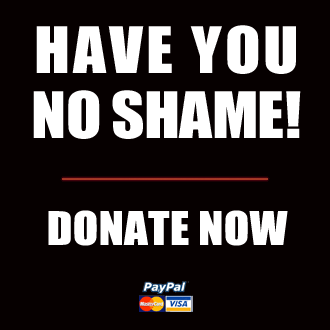 Got something to say to us? Then send us a letter.
Want us to stick around? Donate to The eXiled.
Twitter twerps can follow us at twitter.com/exiledonline