By Eileen Jones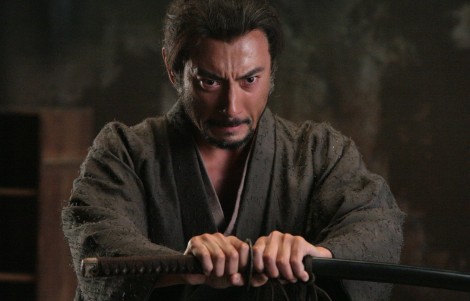 I was feeling pretty low, so I watched Takeshi Miike's Hara-kiri: Death of a Samurai. A movie about ritual self-disembowelment was a fitting end to the week I had. So I was more than happy to sit there drinking in the whole slow, stately, highly composed meditation on samurai codes punctuated with carefully placed scenes of bloody agonizing seppuku. In these troublous times, it's just what the doctor ordered.
You eXiled regulars know all about seppuku, of course. But for any stray visitors who don't, it's the honorable death available to samurai warriors who can't manage to be killed in combat. Samurai in peacetime, or wandering masterless samurai, i.e., ronin, scraping for a livelihood and often starving in the streets, could always count on hara-kiri to get them out of a hopelessly dishonorable existence. The long samurai sword gets a lot of attention for being so beautiful, such a work of art in itself, and of course for bringing all the glorious slicing death in battle. But the short sword, not nearly so beautiful (though good for close-quarters fighting) is equally evocative—at least in samurai films—because it's for samurai suicide.  It's as much a constant reminder of the warrior code as it is a weapon, because if the samurai disgraces himself, he's honor-bound to slit himself open. In a ceremoniously resplendent way, of course.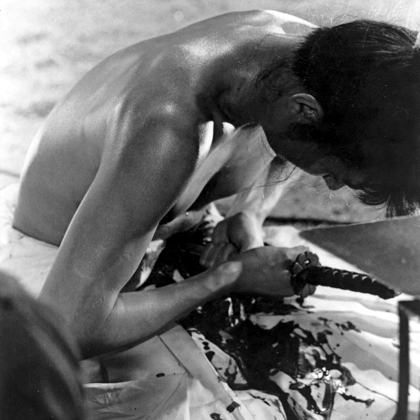 The kicker in Hara-kiri is it involves a poverty-stricken samurai who has to kill himself with a bamboo sword, which is all he's got left after selling his real swords, the final act of desperation for a samurai. Nice moment in the movie when a shopkeeper tries to persuade the poor young samurai, who's more a scholar than a warrior anyway, to sell his swords, and the samurai mutters, less in indignation than in total shock, "How dare you…"
It's hard enough to imagine being able to disembowel yourself at all, even with a blade honed to maximum sharpness. Now contemplate doing it with what's basically a pointy wooden stick. Yeah. Kind of fills the imagination.
Takeshi Miike clearly understands the outsized fascination of this, and of how his own reputation for "extreme cinema" makes you want to see, and dread to see, what he's going to do with such a scene of horror.
Even if you don't know the plot of Hara-kiri from the legendary 1962 film version directed by Masaki Kobayashi of the Samurai Trilogy, or the short story, Yasuhiko Takiguchi's "Ibun Roninki," the title tells you what you're in for. Plus the movie is structured to present us with the nightmare of seppuku-with-wooden-stick early on, so it'll resonate through everything else we see—flashbacks to all that led up to the horrible, clumsy, protracted, gouging, hacking, suffering, sickening travesty of a suicide—then flash-forwards to all that follows from it.
First a ronin named Hanshiro (Ebizo Ichikawa) shows up at a prosperous lord's estate, asking to commit seppuku there, claiming that the great reputation of the House of Ii lends increased honor to the act. The response on the part of the lord's head retainer Kageyu (played by Koji Yakusho, the great lead actor in Takeshi Miike's 13 Assassins) is interesting:
"Another one?" he says wearily.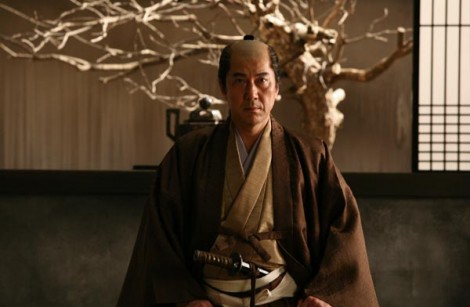 See, there have been a rash of "suicide bluffs" in that region, as starving samurai arrive at estates with similar requests and thus put local lords in an awkward position.  They have to honor the samurai code and all, but even fellow samurai aren't so crazy about hosting ritual suicides. Think of the clean-up! It's easier to send the poor samurai away with a little money. But the thing has started to get out of hand.
So Kageyu, who seems like a nice reasonable guy at first, with an aging, melancholy face, goes to Hanshiro and says, "Let me tell you a story."
And flashback, we get the story of the last samurai who came to the House of Ii attempting the "suicide bluff." He's a heartbreakingly young samurai named Motome (played by Eita), and he's clearly been cast to look especially individual and vivid and awkward and alive. He has huge ears, and a thin body not yet developed into full manhood—the samurai guards make him change into funeral-wear, so we see him at his most naked and youthful just as he's realizing they're really going to make him kill himself. And he's only got a bamboo sword.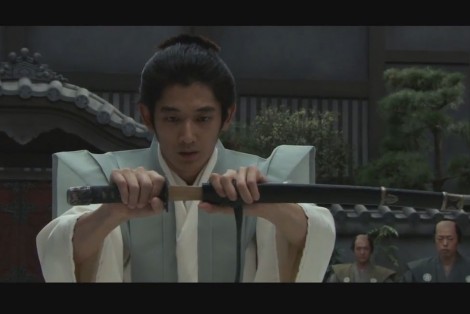 It's at this point that you know you have to watch it, but you kind of don't want to watch it. There he is, the big-eared kid, kneeling in the center of the courtyard surrounded by samurai, with the head retainer up on the veranda of the great house, presiding. You know it's all going to take awhile.
First, the begging. Just let him go home for one day, even a few hours, he swears he'll come back and kill himself properly. Then, the last request, for money—three ryo—for the ailing wife and baby back home. "Pathetic," says the samurai appointed as his "second," who stand over him with a sword, ready to chop his head off—an act of mercy—once the disemboweling takes place.
The word "pathetic" decides it for the young samurai. He strips off, feels for a point in his gut where he might have the best chance of fatally stabbing a vital organ, and plunges in the dull wooden sword. Or tries to. It won't go in very far, even leaning into it. So he has to try again, and again, groaning with effort, with the blood gushing and the wood splintering. Finally hoping the gory mess in his hands is good enough, he appeals to his second.
"Twist it," says the second. "Twist it around."
And it continues like that till true nausea sets in. He can't die, the second keeps goading him on, the assembled samurai watch impassively, the retainer doesn't intercede, and it would take a better person than I am not to start reading this allegorically in the most personal, present-day kind of way.
Yep, that's about how it goes, all right. What a world!
The bright side is contemplating the revenge on these evil samurai that's going to happen next. Because of course, the ronin listening to the retainer's cautionary tale isn't just any ronin, he's the father-in-law of the dead Motome, and the father to Motome's ailing wife Miho (Hikari Mitsushima), now also dead by her own hand, and the grandfather to Motome's ailing baby, deceased as well. So here is a ronin with nothing left to lose and a soul on fire and a mastery of swordsmanship, and we know how that's going to go.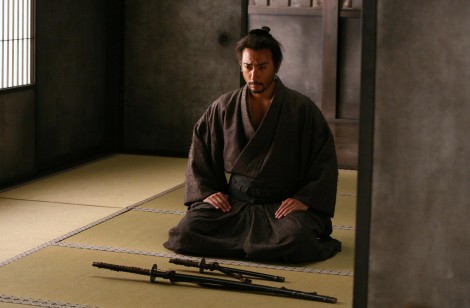 Though it doesn't go nearly as violently as Takeshi Miike fans may be hoping. I myself was surprised, and not entirely pleased, by his restraint at the end. Critics who've been praising the film have also expressed astonishment at how restrained Miike has been lately, not nearly as violent as the films that earned him his international reputation for mayhem (Audition, Ichi the Killer). They're calling this film "old-fashioned" in its pace and effects, and I supposed you could call it that. But it seems to me somewhat new-fashioned, Miike's artiness and messing with genre conventions in the climactic scene.
So, spoiler alert, sure, there's a big one-against-a-hundred battle, and Miike even doubles-down on the impossible odds by having Hanshiro armed only with a wooden sword throughout, in honor of Motome. This makes Hanshiro's ability to fight all those samurai, uh, totally impossible, but he's supposed to be just so good he can actually turn their swords against them. Even with that incredible heroism going on, Miike seems to want to emphasize Hanshiro's self-sacrifice more than his righteous revenge. What's awesome here is how long Hanshiro can stay on his feet while getting stabbed, not how many of the hundred samurai he kills. That, and the beauty of falling snow on the masses of fighting men, against the deep reds and browns of the backdrop. This movie is color-schemed and production designed to a stupefying degree.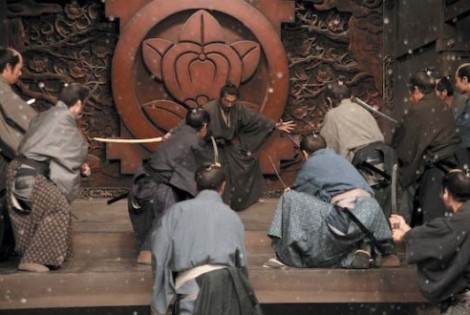 As in 13 Assassins, Miike is working hard to critique the samurai myth—not exactly a new project—in such a way as to make it stick. But there's no way to do the basic Hara-Kiri narrative without both undercutting samurai-worship and re-establishing it at the same time, because Hanshiro is the true samurai spirit embodied and wreaking vengeance on those who've corrupted it.  There's no doubt of this in the 1962 version, with larger-than-life Tatsuya Nakadai blasting through the film. But in this new version, Ebizo Ichikawa takes a pensive approach that changes the effect considerably.
A word about this Ebizo Ichikawa, who plays the vengeful ronin. He's Ebizo Ichikawa XI, the scion of a revered Kabuki theater family—he's the 11th generation Ebizo Ichikawa—you can inherit the name or earn it through acting skill—you must be worthy of the name, see—and he's so handsome and celebrated, he's revived interest in Kabuki theater in Japan and beyond. There was a big scandal back in 2010 when he got in a drunken bar fight with a reputed member of a motorcycle gang, and had his face bashed in. Supposedly Ebizo Ichikawa XI blood was smeared on the walls and floors of multiple rooms in this particular establishment. Then he crept home with a busted eye socket among other injuries, and was seemingly prepared to hide out in shame, like a samurai with his topknot cut off, only his wife called an ambulance. He made a public apology for disgracing the great name of Ebizo Ichikawa, and there was vast public concern over whether he'd be able to continue in Kabuki theater with his eye injury, because one of his family's specialties is the ability to do the "nirami," the cross-eyed glare you've no doubt seen represented in Japanese art.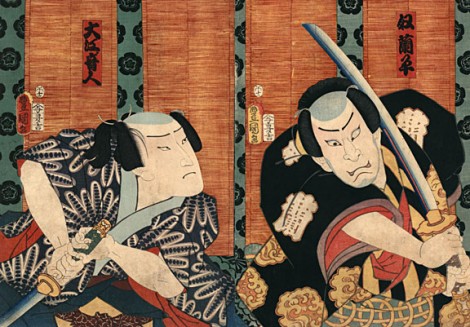 Really gotta go see a Kabuki play sometime.
You'd think his theater training would make Ebizo Ichikawa go for the role of the vengeful ronin with immense brio, but he plays the whole thing very quietly and naturalistically. His Hanshiro seems quite at home making parasols for a living, which is what he does to support his family after the dissolution of the house he served casts him out as a ronin. Right up to the climactic battle it's hard to imagine him in a samurai swordfight scene. It's a certain amount of work to remember that Hanshiro is one of the rare battle-hardened samurai around, and that when he wields his sword again he'll do real damage, presumably because Miike wants to avoid valorizing the samurai warrior.
Instead, there's a valorization here of regular life that regular life has done very little to deserve. But Miike makes it look gorgeous in the flashbacks when the little family is happy. When misfortune sets in, the whole world takes on the coloration of the House of Ii, where corrupt samurai dwell with their sick, sadistic warrior code—all dried-blood reds and leprous greens.
But, quibbling aside, the film is all of a piece. You may not like exactly what Miike's doing, but what's fantastic about him is, you don't doubt that he KNOWS what he's doing. That kind of control is getting to be a rarer and rarer thing at the movies, and when you do run across it these days, it's a huge pleasure in and of itself.  If Miike wants to make a film so deliberately composed, so aggressively painterly you could take each individual image and frame it and walk it right over to any given art museum and hang it on the wall, then by God, that's what he's going to do. And he does it here. And he makes you ponder it by holding each shot for ages, so you can think, "This stands as an individual work of art. It might be called 'Still Life with Samurai.'"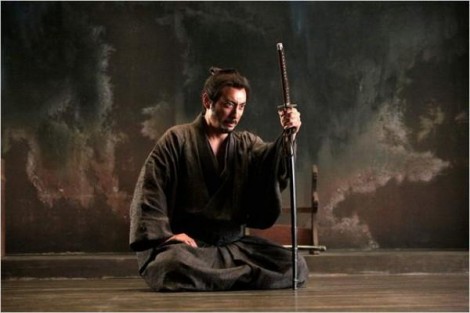 As a rule I wouldn't be on board with this.  As I may have hinted at times, I like movies to move. I think the whole whatcha-call raison d'etre of movies is right there in the name. But you have to make exceptions for the idiosyncrasies of real talent.
Plus Hara-kiri was just what I needed at this difficult time. After a whole week of loud incompetence, quiet museum-quality artistry was looking pretty good.
Read more: Audition, Ebizo Ichikawa, genre film, Hara-kiri, Ichi the KIller, Kabuki theater, Samurai, Takeshi Miike, violence, Eileen Jones, movies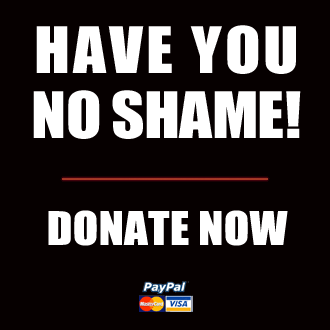 Got something to say to us? Then send us a letter.
Want us to stick around? Donate to The eXiled.
Twitter twerps can follow us at twitter.com/exiledonline