By Mark Ames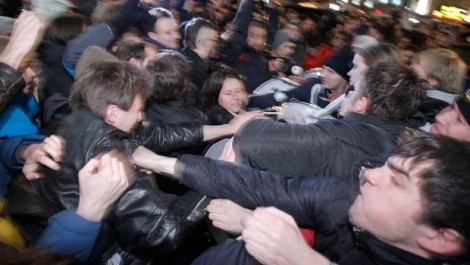 There are a lot of reasons why Russians–young Russians, young Muscovites in particular–poured out into the streets last Saturday to protest rampant election fraud in the Duma vote. For the past couple of decades, young Muscovites couldn't be bothered with politics of any sort–they've been dealing with fraud-riddled elections going back to 1996, or 1993–take your pick of post-Soviet elections. 
It's all pretty complicated, and it's been building for awhile from what I've been hearing from friends over the past 18 months or so, but anyway here are a few sample videos that should give you a better, closer-up sense what's going on there, and demonstrate in a more immediate way why so many Generation-Putin Muscovites are turning on to the adrenaline buzz of political action and fighting power face-to-face. Even for the normally jaded, impossible-to-shock Muscovites, being jaded and cynical has gotten boring.
Before getting to those vids, keep in mind a couple of things here: 1) Russians tend to be tougher and more anarchic by nature than Americans and other Westerners–it's a special kind of anarchism that comes with controlling 1/6 of the world's land mass but only 1/10th of neighboring China's population (and falling);  2) to quote Dr. Limonov, "The fundamental difference between the Russian character and the American: Maximalism"; 3) recent historical memory: In the 1990's, younger Muscovites didn't take to the streets in big numbers because Communism sucked so badly; Under Putin, younger Muscovites didn't take to the streets because Yeltsin sucked so badly; under Putin's second-banana, Medvedev, the sucking stagnated along with the faces and storylines–it became repetitive, and the blame belonged to the current elite. There's no recent-bad-memory to blame present-tense misery on. 4) Muscovites are fanatical vacationers, and they tend to vacation in places that suck less than Moscow. When you have all these young travel-junkies from Moscow dreaming only of their next vacation, and meantime comparing the corruption, high prices, and the in-your-face elite that doesn't even have the decency to pretend to put on a pretend-democratic election, it doesn't take long for that to get converted into resentment and the urge to sucker-punch back.
So here are a few samples:
1. Medvedev vs. Kudrin (dubbed): This was the smackdown that got smacked down, and whatever else you say about this clip, it's some of the best Raw Power-Politics I've seen in awhile. (To compare, in this country, folks can't even handle it if some uppity hillbilly barks "Liar!" at a president who, let's be honest here–lies. I was annoyed by the collective squealing when that "Liar!" shout happened, and seeing this Medvedev-Kudrin clip only reminds me what sorry excuses for human-plankton Democrats are on this score.) In this clip, President Dmitry Medvedev is doing his best to pimp-slap his "liberal" Finance Minister, Alexei Kudrin, before the TV cameras…but as it goes on, you realize that it's President Medvedev who's getting dick-slapped harder. Watch Kudrin's snide expression, his barely-contained smirk that nearly breaks out into full mocking giggles.
Background: This failed attempt at a dressing-down took place a few months ago, in late September. Putin has just announced that he's going to switch seats with Medvedev–Putin will take the presidency back, and hand the prime minister's job to his favorite second-banana. That leaves Medvedev looking even more like Putin's monkey than ever before, when people could at least sort of lie to themselves; and it left Alexei Kudrin, the Finance Minister and the favorite of Western bankers, spurned and bitter. Kudrin thought Putin was going to name him as the new prime minister, not Medvedev. (The same thing happened to Kudrin in late 2007–most people thought Putin would anoint Kudrin as his successor, but in the crazy intra-FSB war that went on in 2007, one siloviki faction that didn't want a President Kudrin arrested his deputy in the finance ministry, Sergei Storchak, jailed him, and squeezed him hard, until Putin surprised all factions by anointing Dmitry Medvedev as the new president instead.) Point being, this is the second time Kudrin got stood up for one of the two top spots in Russia. So the day before this video clip, Kudrin was in Washington DC meeting with all the World Bank and IMF austerity-whores, wherein he started bad-mouthing Medvedev as some kind of deficit-spending Big Government bogeyman. What you'll see here was Medvedev's attempt at restoring his credibility:
COMMENT: What was supposed to be a dressing-down turned out to be humiliating open defiance: "Yeah, sure Dima, put that in an email to me, meanwhile I'll talk this over with the guy who's holding your leash."
2. "You are Surkov [Kremlin] propagandists!": This was supposed to be a major FoxNews-style "ambush" by a pro-Kremlin TV station, NTV, meant to embarrass and discredit a Western-backed polling organization called "Golos." Until recently, Russians would lap up a TV attack-hit on an American-backed "liberal" election polling outfit like this, if only out of a knee-jerk patriotism and resentment over how the West screwed Russia in the 1990s and in Kosovo. Most Russians had about as much fondness for a "liberal" outfit like "Golos" as FoxNews zombies have for anything "liberal" in this country. But as you'll see, the "Golos" guy, Grigory Melkonyants is no pussy. Melkonyants pretty much invents the ultimate anti-oligarch-media-ambush killer by repeating 84 times, over and over, "You are Surkov's propagandists" ["Vii–surkovskaya propaganda!"]. By "Surkov" he means "The Kremlin"–as in, "You are Kremlin propagandists."
Vladislav Surkov is the Kremlin's Wizard of Oz, Putin's psyops chessmaster and PR spin-doctor–Surkov has almost singlehandedly shaped and framed political reality in the Putin-era, going back to 1999. [Read the excellent Wall Street Journal profile on Surkov by Gregory White and Alan Cullison that you can dowload here in this pdf.] You don't need to understand Russian to understand how deeply satisfying and funny this video is–you just need to have watched some old Bugs Bunny or one of those old John Cleese "how to annoy" clips to grasp the comedy here, as the pro-Kremlin "ambush" TV crew gets angrier and angrier, burning red with steam boiling out of their ears like Yosemite Sam as their "ambush questions like, "Do you work for the CIA?" and "Who pays you your money" are answered with the exact same "You are Surkov's propagandists" over and over and over. Eighty-four (84) times, folks. That's how you shove a spiny bug up Power's ass, Russia-style. Russians are no strangers to Bugs Bunny, or to the art of annoying smug, powerful servants of the state (see under: Gogol, etc).
WATCH (this video was cam-filmed by a Golos colleague–just listen for: "Vii Surkovskaya propaganda"):
3. "Nashi" Putin Youth: Early last week, the Kremlin bused in hordes of non-Muscovites into Moscow to work out some of their latent resentment against the snotty Muscovites; Moscow is a kind of city-state fortress of European-level wealth barricaded within 11-time-zones of Third World decay. So often all it takes to get a non-Muscovite to come to Moscow and show their support for Putin is a free bus ride, a place to sleep, and the promise that Moscow cops won't harass them, and you can raise your "Nashi" army.
First up, and probably most famously last week, is "Sveta from Ivanovo." Ivanovo used to be known as the "city of brides" in Soviet times, because the textile industry there employed largely female workers. This video is short, so you don't need to know Russian to get the gist of what's happening here. "Sveta" can't answer a simple question: What has United Russia done for her? In the middle of her stumbling, she weakly suggests, "There are more vegetables":
And here is another popular clip last week showing  out-of-towners in the center of Moscow hiding their faces as they chant "Medvedev! Victory!" This is the first time supporters of the Kremlin have felt compelled to hide their faces, out of shame perhaps–or more likely, out of fear. Whatever resentments they harbor against rich Moscow, there's also the hick outsider's instinctive awe and fear of Moscow, of the capital's awesome wealth and its inhabitants' sophistication. So these "Nashisti" kids must have sensed that they were being used, that this wasn't the usual Putin rally, and that the same Muscovites from the Kremlin who brought them here could easily throw them under that bus if the situation demanded:
Obviously this is just scratching the surface, but it's a start.
Anyway, in the upcoming days, we're hoping to publish a more in-depth piece by a former contributor to The eXile. We're also working on getting something soon from former eXile columnist Edward Limonov, who just submitted his application to run against Vladimir Putin in next year's presidential elections–and against billionaire New Jersey Nets owner Mikhail Prokhorov, the guy who owns the magazine SNOB. Not exactly a 99-percenter type, Misha Prokhorov. My oh my, I could tell you stories, good stories, funny stories…I better not, better save it for some other time–.
Would you like to know more? Read "Over 10,000 in Moscow Protest Election Fraud…The 99-Percent Everywhere Is Sick of Oligarchy" by Mark Ames, and "How The West Helped Invent Russia's Election Fraud: OSCE Whistleblower Exposes 1996 Whitewash" by Alexander Zaitchik and Mark Ames."
Buy The eXile: Sex, Drugs and Libel in the New Russia co-authored by Mark Ames and Matt Taibbi (Grove Press).
Click the cover & buy the book!
Read more: alexei kudrin, ambush, andrew breitbart, breitbart, dmitry medvedev, edward limonov, foxnews, james o'keefe, kremlin, limonov, new jersey nets, ntv, prokhorov, putin, snobs, storchak, the exile, vladimir putin, vladislav surkov, Mark Ames, Russia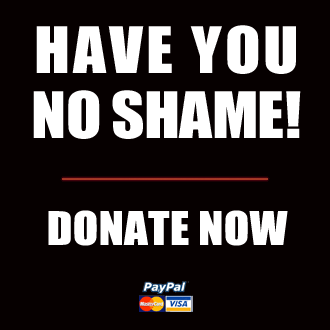 Got something to say to us? Then send us a letter.
Want us to stick around? Donate to The eXiled.
Twitter twerps can follow us at twitter.com/exiledonline