By Eileen Jones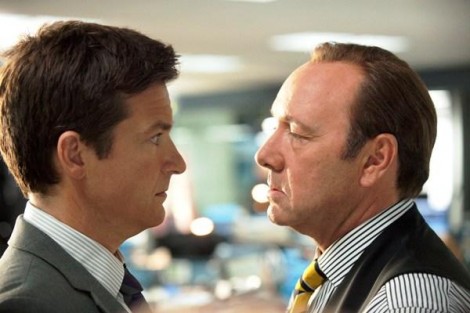 American movies are dead and I'm attending the funeral. It'll be a long-running funeral, I expect, with services that go on for years and years and years, and I'll be there for most of 'em. My beloved movies! After so many years of devotion, it's the least I can do—go look at the embalmed corpses at the cineplex. This week's cadaver: Horrible Bosses.
Horrible Bosses is a weak, slack, sloppy, lazy mess of a movie about three middle-class white guys (played by Jason Bateman, Jason Sudeikis, and Charlie Day) who decide to kill their monstrous employers. Technically and aesthetically, it's so blah it doesn't really need to be a movie at all, really. It could be a series of Saturday Night Live skits, or a community theater comedy, or a comic strip. It just happens to be a movie, that's all. Written by TV guys, as it happens: Michael Markowitz, (producer of Becker), John Francis Daley (actor on House and Freaks and Geeks), and Jonathan Goldstein (writer/producer of Shit my Dad Says). And directed by some shmoe named Seth Gordon (Four Christmases plus a lot of TV) who knows enough to say "Action," and "Cut" and laugh appreciatively at his actors' ad-libbing, but no more. I assume the DP took care of keeping the camera pointed at the actors while they said lines, more or less. That's the kind of movie it is.
But regardless, we're desperate for a laugh—we're like that character from a great old film called Sweet Smell of Success, who says with a jaded, queasy smile, "I'd walk a mile for a slight chuckle." And some definite laughs seep through the mess of Horrible Bosses. This movie might do pretty well in our current humor-deprived environment. It was a fairly full house when I saw it, and the audience seemed hell-bent on finding it entertaining. A lot of straining for laughs, in general, on all sides of this project.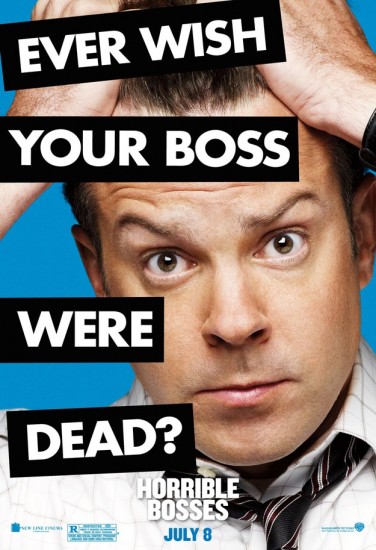 Horrible Bosses is doggedly topical, one of these "recession movies" we're getting now that are topical but toothless. (Larry Crowne is clearly one of those, too.) In a crude, tone-deaf way, the movie spells out the premise to us: our three protagonists can't quit their miserable jobs because there are no other jobs to be had, so everyone's hanging onto whatever employment they've got no matter how foul. This makes it a boss-overlords' paradise, because they can be as abusive as they want. Therefore, violent revolt in some form—in this case, murder—becomes the only answer. Otherwise, it's all impotent suffering from here on out.
We all know this already, so it really is strange the way the movie labors to establish it: for example, a third of the way into the movie, when the guys are still considering quitting their jobs or at least defying their bosses, they meet an old friend who used to work for Lehman Brothers, a nerdy, plump, bespectacled fellow suited only to soft white-collar jobs, who has been reduced to panhandling and inept attempts at whoredom. (Tons of rape, impotence, sex-slave, and forced-prostitution jokes in this film.) It takes that level of belaboring the obvious to get the narrative gears of the film in motion.
And even then, the movie displays a strange timidity about the murders. The guys have recurring moral qualms, though their bosses are absurdly, loudly, openly, clownishly evil, way beyond even the bold malevolence one actually encounters in the world. I mean, we're all experts here, we've all had horrible bosses; in many cases, outright sociopathic bosses. There are whole websites devoted to "Sociopathic Bosses"—g'head, look 'em up, they make for very informative reading. Such as the studies that suggest sociopaths do very well getting into management positions and ascending on upward, indicating that corporate and other institutional hierarchies are designed to favor sociopaths. The thing about sociopaths is, they're excellent liars, and though they feel no empathy and have no sense of justice, most know enough to mimic respectable behavior. They tend not to prance around wearing devil's horns like they do in Horrible Bosses, in which each boss announces a specific manifesto of evil.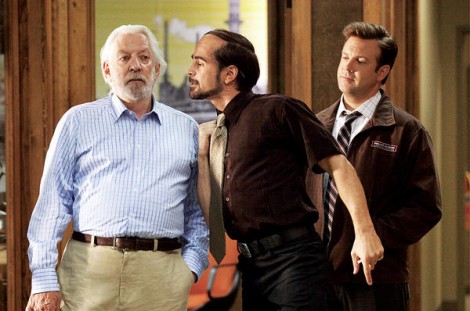 The Kevin Spacey boss gets right in the face of Justin Bateman's typically hesitant, rational-but-ineffectual character, and says, "You're my bitch, I own you," and declares his intention of enslaving him for life. The Jennifer Anniston boss is that in-your-dreams fantasy about the hot dominant female who sexually harasses her male employee (a lot of the film's publicity centered on her supposedly surprising, raunchy turn, which is nothing to write home about), and who tells her whipping boy (Charlie Day) her plans to destroy him and his impossibly sugar-sweet fiancee. And ditto for the Colin Farrell boss—this character's more a make-up stunt than anything, featuring a terrible bald-man's comb-over and artful padding to make Farrell almost unrecognizable as a coke-head creep and sexual deviant who fancies himself a martial arts expert and brags to his shocked underling (Jason Sudeikis) that he intends to bankrupt the company by using it as his personal ATM.
This is a particular outrage because the company, before the Farrell-boss arrives, is a big corny symbol of lost American decency, a productive, blue-collar place featuring secure, happy workers and a nice boss played by Donald Sutherland with a big white mane of admirable-old-man hair. Sutherland kicks the bucket after two scenes, and his coke-hookers-and-nunchucks son takes over. If the son could just die, see, everything would be great again at the company (and in America).
Except it's a chemical company, which blurs the wholesome image considerably. They really should've made it an ice cream factory. And such a nice old man having such a vile son suggests something wrong at a deeper level than individually horrible bosses whose deaths would solve everything. But never mind.
The movie only really gets traction in the brief period when the guys are acting on their decision to commit the murders, and are faced with the complex logistical problems involved. Just how do you go about murdering someone and getting away with it? How, for example, do you hire a hit man when you don't generally travel in those social circles? First they try to get one using the internet, which doesn't go well, and their next clueless-white-guy solution is to locate a dive bar in a terrible "urban" neighborhood; in other words, they figure on hiring a poor black man off the mean streets who they think will necessarily know all about killing. Jamie Foxx plays the guy they find, named Motherfucker Jones. (An excuse for lots of lines like "I'm sorry, but that's not okay, Motherfucker.") He quickly takes advantage of their idiocy and becomes their highly-paid "murder consultant," basically by telling them the premise of the old Hitchcock film, Strangers on a Train.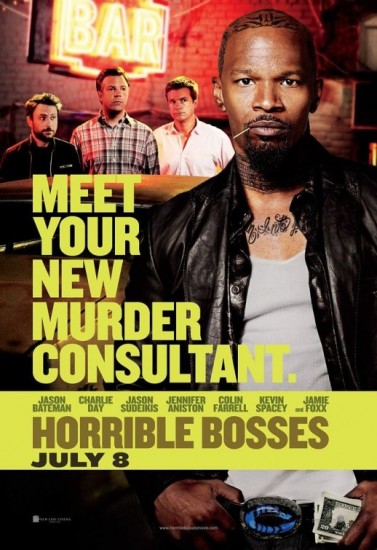 That part is pretty funny.
It's the first and third acts where all the dispiriting mushiness really gets you down: there's such nervousness about getting the action going, and then in the end the movie ties itself in knots making sure the guys don't actually commit these murders. Circumstances conspire to solve their problems for them while they stumble around haplessly—or actually, BECAUSE they stumble around haplessly, that being a virtue the comedy gods traditionally reward. The movie displays tremendous, depressing eagerness to return the protagonists to the delusional status quo, nothing changed, just the bad bosses conveniently gone so everything can go on the same in this, the best of all possible worlds. Couldn't ONE of them at least have turned permanent outlaw vigilante by the end?
Only the Jason Bateman character gets the denouement we're half-expecting: his old horrible Kevin Spacey boss is replaced by a new one just as horrible, or perhaps even more horrible, because he's played by a famous old comedian in a cameo role representing, once again, old-time American decency. It's supposed to be funny, but the scene dies with a sad gurgle. It just makes you feel tired and defeated. Bateman's character is the protagonist who's working in the generic corporate world we all know is evil, and that the movies have represented as evil for decades, since the 1960s at least with The Apartment and Point Blank and all those.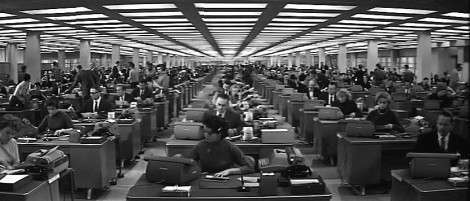 Or even since the 1920s and '30s if you want to go back to industrial-mass-production-based evil like Metropolis and A Nous la Liberte and Modern Times. But still we can't work up the courage and resolve to attack it all-out, we don't know how to get at it, we don't know what to try to replace it with, and it's hard to laugh at that.
It's a little too fitting, maybe, that Horrible Bosses goes all vague and mushy and out-of-focus in trying to represent what a happy ending would even look like. What WOULD it look like? As always, we'd strongly recommend torch-bearing mobs for starters—but after that, what?
American movies, being dead, have no suggestions or visuals aids to offer on the subject.
Read more: American movies, Charlie Day, Colin Farrell, comedy, Horrible Bosses, Jason Bateman, Jason Sudeikis, Jennifer Aniston, Kevin Spacey, recession, Eileen Jones, movies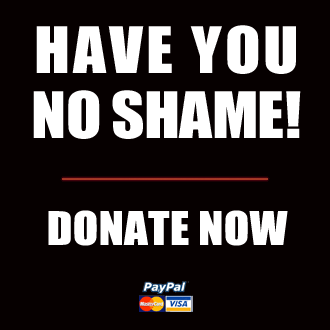 Got something to say to us? Then send us a letter.
Want us to stick around? Donate to The eXiled.
Twitter twerps can follow us at twitter.com/exiledonline