By Ramon Glazov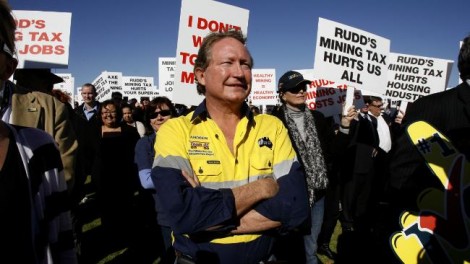 The mining oligarch and his libertarian toadies
From The eXiled's Special Australasia Correspondent
PERTH, AUSTRALIA–My blood's boiling as I write this: Roebourne (the town where I grew up) is under attack by Australia's richest man, a West Australian oligarch named Andrew "Twiggy" Forrest, the country's richest executive, said to be worth over $6 billion.
The reason why this vampire-billionaire wants my hometown: Roebourne's resident Aborigines, the Yindjibarndi people, are sitting on $280 billion dollars worth of iron ore deposits. And Forrest's mining company, Fortescue Metals Group (FMG), wants what the Yindjibarndi have.
"Why doesn't he just take it, Koch brothers' style?" you might ask. Unfortunately for oligarchs like Andrew Forrest, Australia has native title laws which require FMG to give royalties from all those minerals to Aboriginal land owners. You can see why most of Perth's resident libertards – yep, we have libertarians here too, guys like Ron Manners, a Board member at the Atlas Economic Research Foundation – hate these native title laws with a vengeance.
Forrest has been pushing the Yindjibarndi to sign a devil's contract that's like something straight out of the 19th century, a contract that would net them only $4 million a year in cash for the iron ore, plus a $500,000 signing fee. As The Age reports, this is in contrast to a much better native title settlement between mining giant Rio Tinto and the Kuruma people of Ashburton, who got a 0.5% uncapped royalty deal.
Now four million dollars per year might seem like a lot of money, until you remember that there are about a thousand Yindjibarndi living in Roebourne alone, plus hundreds more in surrounding areas. And there are a lot of Aboriginal population centres you won't find on Google Maps. (Try searching for Cheeditha, a village between Roebourne and Karratha – the closest match you'll get is "Cheetah, Missouri.") Likewise, there are a lot of dusty side-roads in northwestern Australia that don't exist on any official maps. That's because quite a few Yindjibarndi don't have driver's licences and cruise off-road to avoid getting busted.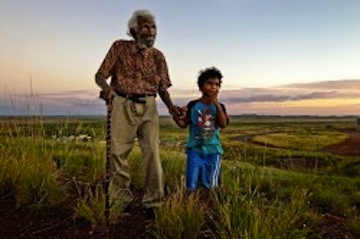 So, divided among the Yindjibarndi community, that leaves under $4000 dollars per person, per year. Under Australian minimum wage laws, this is less than I'd make working in an office for two months. Even if we add "up to" 6.5 million (promised by Forrest in the form of housing and jobs), it's still a rip-off. Forrest's miners would easily earn several times more than that!
Worse, if Forrest offers X amount of dollars "in jobs," that means he's also getting back X amount of dollars in labor. So, to be eligible for that extra $6.5m, the Yindjibarndi wouldn't just have to sign away their land; they'd have to pay for it with their own sweat as well!
That's why you shouldn't trust an oligarch when they claim to be offering millions "in jobs" – it's not money, so much as the right to earn money, which makes it worth damn near $0.
Compare all that to the Rio Tinto plan providing 0.5% in uncapped royalties–that would give the Yindjibarndi an average of roughly $35m a year. And that's before any of this dubious cash they'd get "in jobs."
Stingy bastard that he is, Forrest's fought hard to avoid a fair settlement. First he enlisted a few local Uncle Toms to help push his agenda – every Aboriginal town has a sellout or two who can be counted on to side with the oligarchs here. Forrest didn't just buy off a few collaborators, his tactics got dirtier – after a video was posted on US-based Vimeo revealing just how unhappy the Yindjibarndi were over Forrest's negotiation tactics, Forrest's lawyers threatened lawsuits and claimed, incredibly, that the Yindjibarndi were "inciting racial hatred."

Among the sorts of tactics used to fleece the Yindjibarndi: Forrest drove a rent-a-crowd into Roebourne to stack a meeting in favor of his capped royalty plan.
According to Michael Woodley, the Chief Executive of the Yindjibarndi Aboriginal Corporation, the rent-a-crowd was "bussed in from Carnarvon."
This doesn't surprise me. Carnarvon is one of the most barbarous zhopy in Western Australia. When I grew up in Roebourne, most of the truly sadistic violence in the town wasn't committed by the Yindjibarndi, but by the infamous "Carnarvon mob," a vicious posse of schoolboys who got off on torturing people's pets. When my mother tried to keep orphaned kangaroo joeys in our backyard, the Carnarvon scum would throw "wunja-nali" (dogs) over the fence and giggle as the poor 'roos got torn to shreds. They even jumped into our yard and killed our orphan kangaroos with screwdrivers, until we installed barbed wire around the perimeter. I also heard that they attacked our neighbors' peacocks.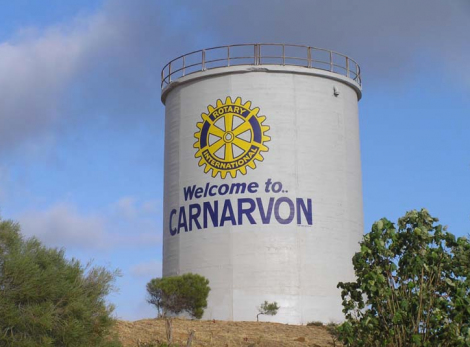 The town elders were just as angry at those Carnarvon cunts as we were. And why not? They weren't Yindjibarndi – they were sadistic little shits from a violent plantation-zhopa. To idiots who've never lived in the Australian Northwest, Carnarvon is thought of as a quaint coastal town best known for producing those under-ripe Cavendish bananas they sell at the IGA. But if you grew up in nearby Roebourne, it felt as if that place was pure evil, a kind of Mordor that spewed gangs of cruel little orcs who terrorized the more decent, lore-abiding Aboriginal communities. Everyone, blackfella and whitefella alike, wished that the serpent god – the freshwater wharlu – would teach those disrespectful shits a lesson. But look at them now: what perfect footsoldiers they are for the West Australian oligarchy!
This week, Massa Forrest's attacks have gotten even more disgusting. As The Age reports:
But Mr Forrest said offering more cash would be akin to "mining welfare."

"If you want to join me one evening after 11 o'clock and walk down the streets of Roebourne and have little girls come up to you … offer themselves any type of service you want for the cost of a cigarette, then you've come to the end of the line," he said.

"I'm not going to encourage with our cash that kind of behavior."
What utter bullshit. I lived in Roebourne for six years and never heard of a single case of this alleged child whoring that was supposed to be happening right in the open. Has Forrest actually walked down the streets of Roebourne after 11 o'clock? I doubt it. Maybe he should give it a try.
In fact, I'll take up his offer – I challenge him (or any other mining oligarch in Western Australia) to show me one of these supposed child hookers. One scrap of evidence that Roebourne has a problem with underage prostitution – that's all I ask for.
Until Forrest can prove these child whores exist (without bussing them in from another town) I'm going to treat his comments as nothing but a racist smear. Despite Forrest's pretensions to being a philanthropist, it's obvious he's willing to slander the Yindjibarndi in order to rip them off from what's rightfully and legally theirs. Sadly, this sort of treatment is nothing new for them: The Yindjibarndi are one of the most despised Aboriginal groups in Western Australia – even their supposed left-wing allies treat them with a kind of smug pity, shaking their heads at the very mention of Roebourne. That's because the Yindjibarndi have managed to cling to their traditional culture instead of turning into the tame, welcome-to-country sellouts that soft-leftists want them to be.
You won't see any inner-city lefties shaking their heads at the mention of Carnarvon, however. And that's why Forrest's claims about child prostitution have gone unquestioned: Because Roebourne's such an infamous "sad-case" town that you can spread any lies about it without anyone calling you out on it.
But make no mistake: there's nothing noble or humanitarian about Forrest's plans for the Yindjibarndi. It's just the same coon-hating you'll find everywhere else in Perth – the old argument that Aborigines aren't mature or civilized enough to deserve anything more than getting fleeced by some mining billionaire.
At times like these, I wish the wharlu really would devour the bastard.
Ramon Glazov lives and writes in Perth, Western Australia. Email him at "ramonglazov at gmail dot com"
Read more: aborigines, andrew twiggy forrest, atlas economic research foundation, fortescue metals group, libertarian, ron manners, yindjibarndi, Ramon Glazov, Class War For Idiots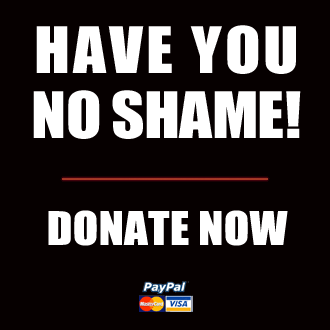 Got something to say to us? Then send us a letter.
Want us to stick around? Donate to The eXiled.
Twitter twerps can follow us at twitter.com/exiledonline