By Ramon Glazov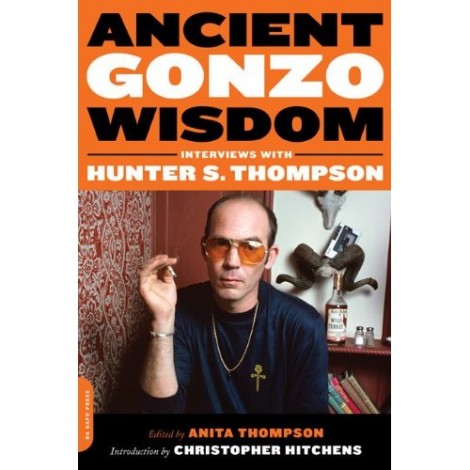 Ancient Gonzo Wisdom should be a perfect book: a collection of all the interviews Hunter S. Thompson ever gave. It begins with a talk Thompson gave on ABC News in 1967, shortly after Hell's Angels was released. It ends with his last ever interview, a Playboy piece by eXiled contributor Tim Mohr, one of the best in the collection. Mohr had the reasonably good idea of giving Thompson a list of topics ("Violence," "Nutrition," "Reading," "Firearms") and letting him speak freely about them instead of framing the interview in questions. (After all, Thompson's already been asked a million variations of "What role do drugs play in your writing?" and "What are your views on objectivity?".)
My favourite one is "On Medicine":
"A lot of doctors are reluctant to take responsibility for me. Nobody wants to be the doctor who killed Hunter Thompson. I don't trust the medical establishment, but I do trust individual doctors. I'm straight with doctors. They have to learn that they can talk straight to me too. There's no point in trying to conceal anything. I appreciate the ones who take risks on me, and I have to look out for the chickenshits."
There, the latest evidence that Thompson was right up there with Beowulf, William Tell and the bogatyri. Telling a doctor outright you're looking for drugs requires a heroic level of bravery, and getting drugs after admitting a fancy to them takes frightening eloquence. 356 pages of Thompson's bravery and eloquence should be something to celebrate, right?
It would be, if pages xiii-xx weren't written by Christopher Hitchens.
I don't know why Hitchens was selected to write the introduction to Ancient Gonzo Wisdom, since he admits that he was "only twice a visitor to Owl Farm and mustn't exaggerate the extent of [his] acquaintance with the good Doctor." In other words, he knew Thompson only slightly better than a nagging autograph hound, and the introduction ought to have been written by Ralph Steadman or Johnny Depp. Even Pat Buchanan would have done a better job. Unfortunately, for some stupid reason, Anita Thompson allowed Hitchens to write a strychnine-soaked introduction smearing her dead husband and then published it. And, as we'll see, it's not like Hitchens' insults are particularly subtle.
Hitchens' introduction starts in a tone of condescending pity, with some fake chumminess stirred in. He claims that on their first meeting, Thompson "seemed somewhat restless and discontented and – at least to me, who knew the symptoms of boredom so well because they terrified me too – to be confronted with a certain quotient of anomie." What this means, once you suck out the purple, is: 'Hunter was a lot like me, but I pity him because I know he wasn't really happy.' Hitch, if you're really Thompson's long lost twin, then prove it: name one person Thompson stabbed in the back, one situation where Thompson declared someone his friend, mentor or blood-brother, only to change his mind at a later date.
Hitchens then claims that Thompson didn't commit suicide because of, say, Bush's re-election (an embarrassing claim to make for a Republican shill) but because of "the strain imposed on him by visitors who wanted him to be outrageous." The gloat continues:
"This of course happens to so many veterans and celebrities, but I fear that it may have had an especially enervating effect on someone to whom the authenticity and spontaneity of the moment had always been so essential. If you, dear reader, should ever have the opportunity of viewing the documentary Breakfast with Hunter, you will perhaps be able to guess what I mean. Wherever he goes, and whoever he meets in this film, he is under pressure to perform, to be "Hunter," to do something "Gonzo." One can detect, in a certain dullness in his eye, a weariness with all this and a wish to be released from the demands of stereotype. There are also some episodes of rudeness and ill-temper which strike me as opportunities, gratefully if ineptly seized, to alleviate the general tedium of life. I write these sentences with the benefit – surely that is exactly the wrong word – of hindsight, but I was not the only one to become aware that Dr. Thompson was privately construing the old word "freedom" as "free doom" or in other words as the absolute and individual right to determine the time and place of one's own final exit."
De-Johnsonised, this means: "I predicted it! I predicted Hunter Thompson's suicide! Aren't I clever? I wish I could say I was the fucking reincarnation of Nostradamus, but they're paying me to be an atheist and everything so that's not quite an option. Yep, I knew all along he was depressed, though you'd have to take my word for it. I'm so shit hot I can detect suicidal intent in a person's facial expressions years before they shoot themselves." It's hard to imagine a more disgusting 'tribute' than this, full of self-referencing parenthetical clauses and snide little convolutions. "Dear reader"? No real admirer would describe a fallen hero with that Humbert-Humbert lilt. "One can detect… a wish to be released from the demands of stereotype"? Hitch wants to say "I could tell he wanted to kill himself," but doesn't want to put it too immodestly. "Gratefully if ineptly seized"? Better to say that Hitch's account of the suicide is gratefully if ineptly written.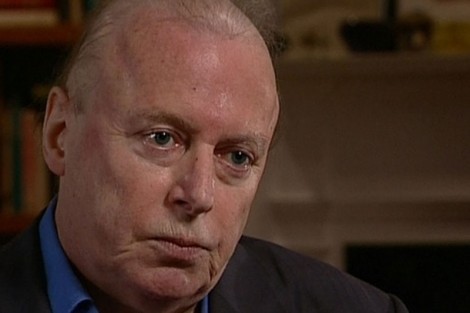 Christopher Hitchens: He lived as a literary thief, and will soon die a chickenshit's death
He keeps this up for another four pages. Living in the "dreary shallows" after the "great cresting wave of the nineteen-sixties" was "Hunter's fate." Nobody could tell "when Hunter was, and was not, joking" and this "may be one of the reasons that the good Doctor eventually succumbed to terminal weltschmerz." Hitchens suggests that Thompson brought the whole thing on himself by being funny. Who never gets blamed, though, is Bush. This is suspicious, considering that in the last interview published before his suicide, given in November 2004, Thompson says: "This is the darkest hour that I have ever seen in my long experience as an American." And he reiterates: "You've got to vote now in self-defence. If we have another administration like this, it will be so bad that what's happening now will look like a small breakfast for what's coming next."
Finally, a younger Thompson, in 1977, when asked "Where do you want to be when you're fifty years old?" says: "Down with the maggots, with the sharks. If I ever got to be fifty years old, I'd be so confused I'd probably go into EST or something. To have lived this long has seriously disoriented me." Obviously, Thompson stayed in good form much longer than he predicted, and didn't see any reason to live through Bush's second term.
Hitchens might've predictably jumped over to Obama's side in late 2008, but that hasn't stopped his denial of any wrongdoing on Bush's part. In February, he wrote a Vanity Fair article "lamenting" Gore Vidal's turn to a "crackpot strain" of "crank-revisionist" writing. We essentially have the old 'conspiracy theorist' slur. Not only that, but he launches every possible attack against Vidal, no matter how corny. Hitch was "fortunate enough to know Vidal" in earlier days, but "the price of knowing him was exposure to some of his less adorable traits, which included… a very, very minor tendency to bring up the Jewish question in contexts where it didn't quite belong." Good grief, he's a mild anti-Semite! There's nothing – not murder, not rape, not puppy abuse – as damningly evil as mild anti-Semitism! I mean, Hitler was sort of near to being a mild anti-Semite himself, so mild anti-Semites are almost down there with Hitler!
According to Hitch's smear, not only is Vidal too partial to the Third Reich, but he's entering his second childhood. Signs of this senility include dismissing John Updike and William F. Buckley, as well as calling dear old England "an American aircraft carrier." Why are these opinions insane or unacceptable? Because Hitchens says so.
But Hitchens is stupid enough to reveal why he suddenly hates his old mentor so much. It seems the author of Myra Breckinridge, to his credit, has caused Hitch rather a lot of pain. And this is the remark that did it:
"You know, he identified himself for many years as the heir to me. And unfortunately for him, I didn't die."
Vidal's obviously not as senile as Hitch wants us to think. At 84, he still knows how to make his ungrateful protégé squirm. Hitchens must have felt a pang of self-recognition when he read that comment, because he categorically denies there's anything witty about it. There's so much cold sweat on his body, you just want to lick the little cane toad:
One report of the event said this not-so-rapier-like reply had the audience in "stitches."
Yes, "stitches" in quotation marks. What's the matter, Hitch? Can't accept an audience laughing at your expense? Yeah, you're right. They were only humouring old Gore. Nobody would really laugh at such a "not-so-rapier-like reply." Totally against human neurology. Everyone knows comebacks are only funny when made by you, Martin Amis, or Julian Barnes. (All in all, if Hitchens' smear job doesn't give you the warmest feelings for Gore Vidal you've ever felt, there's something wrong with you.)
His attack on Hunter S. Thompson is basically the same. After feigning sadness over Thompson's suicide for four pages, Hitchens deploys the same conspiracy-theorist accusations we've seen with Vidal:
On the other hand (as Fay Wray actually did entitle her autobiography) when "it doesn't work, man, it's horrible." Here is Hunter, using the same crap methods that would make any basement-dwelling paranoid into a master strategist, and analysing the real story behind September 11, 2001, for some rather indulgent reviewer from Australia:

"Well, I saw the US government was going to benefit, and the White House, the Republican administration to take the mind of the public off the crashing economy. Now you want to keep in mind that every time a person named Bush gets into office, the nation goes into a drastic recession, as they call it."

This gives paranoia a bad name, and one feels the cringe as the interviewer wraps up with the condescending summary that this was "US journalist Hunter S. Thompson with a very personal and idiosyncratic view of September 11."
You'll notice that despite supposedly having "crap methods" and resembling a "basement-dwelling paranoid," Thompson doesn't make anything close to a wild claim. He's not saying that Bush orchestrated the 9/11 attacks. He's not even saying that Bush deliberately neglected warnings by the FBI (though this is more likely). All he says is that Bush stood to benefit from the attacks and exploited them to raise his approval ratings. Later, Thompson tells his interviewer that he refuses to commemorate the first anniversary of the attacks or stoop to "flag-sucking." Instead he plans to "grab Anita and take a road trip." That short response has more balls than anything Hitchens has ever written.
(And what's with all this talk about "some rather indulgent interviewer from Australia"? It's "indulgent," apparently, to ask a person for their opinion and let them express it. Hitchens also seems to think that mentioning the reporter's Australianness is an effective way to discredit him, a classic Fox-News-style tactic. All Australians, see, are a mob of know-nothing pissheads with no hope of understanding what it means to be American after 9/11. Not like Hitch!)
Hitchens' parasitism isn't unique. His long-time crush, Martin Amis, has the same career-building strategy: getting his hands on as many father figures as possible. The main reason people noticed Amis in the first place was because he had a successful novelist for a father. So, he figured the more daddies, the better. The mileage he got from Amis Sr. wasn't going to last forever, after all. He was quite successful with Saul Bellow. I still remember his introduction to More Die of Heartbreak, describing how he and Bellow visited a world conference of "Bellovians." Amis can't resist mentioning how Bellow confided in him that he found the papers boring. Surely this was a sign that he was the chosen heir. Then again, set against a mouldering mass of Herzog specialists, anyone could have been Bellow's chosen heir.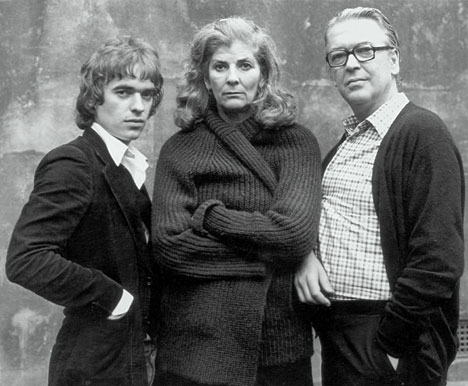 Cheeseball Martin Amis (left) meows at the camera while posing with his famous novelist daddy, Kingsley Amis (right)
But Amis' most successful grab was Nabokov. Everyone associates Amis with Nabokov, though no one is entirely sure why – they just assume there's some kind of deep connection. The Guardian gave him the job of reviewing The Original of Laura when it came out last year. He's written the introduction to the Everyman Lolita. I've heard him called "Nabokov's heir" a million times: in the culture sections of big newspapers; on Amazon; in conversations with journalism students and book club presidents. A present-day Dictionary of Received Ideas would doubtlessly have an entry reading "Amis, Martin (1949-): expert on Islam; source of healthy controversy; adopted son of Nabokov." I imagine Amis spent most of his youth lost in a single daydream of sitting on his trophy daddy's lap, having his cheeks pinched and his hair ruffled (at the very least), and, after hours of fondling, hearing the most magical word in the world: "synochik." (In my own generation, Y, a lot of people had the same designs on Updike.)
Unfortunately, Nabokov did the same thing to Amis that "Rabbit" did to every literary careerist born between 1980 and 1990. He died before Amis became a major writer, or anything other than "Kingsley's son." The ultimate snub! If Amis had been born 17 years early, he would have been perfectly positioned to leech off Nabokov and still find warm blood – it worked for Updike and Pynchon. But, with his idol lurking around the big playground in the sky, Marty was in a bit of a fix.
Luckily, women tend to live for about a decade longer than men and prospective trophy daddies often leave widows behind. As Anita Thompson's case demonstrates, widows aren't necessarily sharp enough to notice leeches and tell them to get fucked. So, in 1981, Amis interviewed Vera Nabokov and Dmitri (the real synochik.) The Observer article that came out of this, "Visiting Mrs. Nabokov," isn't very long and doesn't give readers much they can't find in Strong Opinions. Amis spends a great deal of time distracting readers from just how brief his encounter was: a paragraph on how Vera offered him a drink, another on how she insisted on paying for the booze, a few paragraphs on stuff everyone already knows about Nabokov's relocations from Pityer to Berlin to Paris to New York. As for original information: Vera mentions her petty disputes with various editors and academics; she gets offended at any suggestion that Nabokov had flaws (calling him "good" is an insult in her book); and she tells an unexceptional story of how she met him and fell in love – her father was one of Nabokov's publishers.
The interview ends with one of the most useless question and answer exchanges I've ever read:
Eventually, she said, 'These questions you will ask. Where are these questions?'

'Well, there were one or two things,' I said. 'Your husband dedicated all his books to you, every one. That's very unusual, isn't it?'

'Is it? … What should I answer? We had a very unusual relationship. But that you knew before you asked. Anything else?'

'Was he – was he great fun?' I asked helplessly. 'Were there lots of jokes? Did you laugh a lot?'

'Oh, yes. His humour was delightful. He was delightful,' said Mrs Nabokov. 'But that you knew too.'
All in all, Amis's meeting with Mrs. Nabokov could have happened in less than an hour, and judging by the padding, it probably did. It wouldn't be remotely interesting if it wasn't for the way Amis used it to build a career. In 1993, two years after Vera's death, he shamelessly released a book called Visiting Mrs. Nabokov: And Other Excursions. Everything implied by that title is a lie. If "Visiting Mrs. Nabokov" is supposed to be the book's main essay, it sure doesn't look like it – his interviews with Greene, Burgess, and Updike are longer, with more original information, and the book has large essays on mutually assured destruction and the 1988 Republican Convention that are at least passably interesting. Mentioning "other excursions" is just as misleading. It gives the impression that Amis's 60-minute interview (which took place entirely within the Montreux Palace Hotel) was some kind of epic butterfly hunt through the rolling Swiss countryside.
In fact, I doubt Amis even wants people to read Visiting Mrs. Nabokov – the title is the part that does all the work. People see it on a bibliography page and assume his "excursion" was important enough to become the title of an essay collection. Nobody knows what's important about it, but that's the whole point. Only a minority of readers would bother with a book of essays – it's novels that sell – so Visiting Mrs. Nabokov isn't really a book, so much as a meme. And it's worked extremely well, giving Amis the third daddy he's always wanted.
I'm not going to overrate Nabokov: my admiration for him peaked at 18 and has steadily receded ever since. At the moment, I think of him as a highbrow, Eurotrash version of Ayn Rand. Most of his books (aside from Lolita) are a 50-50 cross between The Fountainhead and Finnegans Wake. There's always a sensitive, intelligent libertarian protagonist fighting an evil mob of looters and straw-man communists. We know he's sensitive and intelligent because he makes lots of observations and puns involving butterflies, which, like nymphets, are invisible to looters. The looters torment him until he becomes a martyr for libertarianism. Bend Sinister, Pale Fire, and Invitation to a Beheading all have the same hackneyed plot with prose soaked in Tyrian purple.
The question is, does Amis really write like Nabokov? Is it Nabokovian to write: "a low-slung Tomahawk full of black guys came sharking out of lane and sloped in fast across our bows"? How about: "The people ahead of me are all Venusians, pterodactyls, men and women from an alternative time-stream."? Hmm, pterodactyls. Wasn't there a much better writer who used reptile motifs to describe crowds of people and shark motifs to describe cars? Who also wrote a book about drug-sozzled misadventures in hotel rooms and airports? Yep. Amis's way to seem original is to take two or so authors as official influences and adulterate their styles with a phantom third. To middlebrows, this makes him look like he's 'maturing' and 'departing from his roots.' Hiding influences is just as important to the good careerist as snatching father figures.
Unlike Amis, Hitchens can't stop acknowledging his debt to Hunter S. Thompson. There's a weird Spice Girls structure to the Oxbridge "Blitcons" (a shortening of "British literary conservatives") that Hitchens is a member of. Julian Barnes is 'Froggy Blit,' Ian McEwan is 'Nerdy Blit,' Salman Rushdie is 'Curry Blit,' Martin Amis is 'Celebrity Blit,' and Christopher Hitchens is 'Gonzo Blit.' The duties of Gonzo Blit include submitting to safe-word-protected waterboarding, bullying Arab youths, pretending to be a Bob Dylan fan, and, according to The Guardian, "courageously" asking people not to pray for him during cancer treatment (which shouldn't matter to an atheist anyway). This is all pretty hardcore for Amis, though, when he claims that Hitchens is an all-round tough who 'likes the smell of cordite' (probably unaware the stuff's been obsolete for over 50 years).
If Hitchens was simply a leech like Amis, or just another third-rate Thompson imitator, he wouldn't be worth writing about. But he's not content just to claim people as mentors – he has to betray them for even more leverage. In his introduction to Ancient Gonzo Wisdom, he mentions a rumour he heard at boarding school that, after the JFK assassination, Lyndon Johnson "had been discovered… gleefully fornicating in his deceased predecessor's head wound." The young Hitchens must have taken this as career advice.
Ramon Glazov lives and writes in Perth, Western Australia. Email him at "ramonglazov at gmail dot com"
Read more: Christopher Hitchens, hst, Hunter S. Thompson, martin amis, vladimir nabokov, Ramon Glazov, Books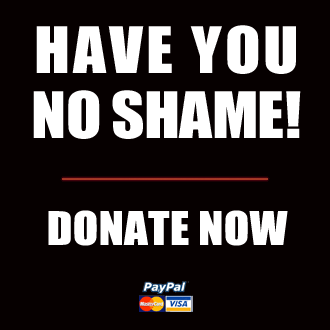 Got something to say to us? Then send us a letter.
Want us to stick around? Donate to The eXiled.
Twitter twerps can follow us at twitter.com/exiledonline