By Mark Ames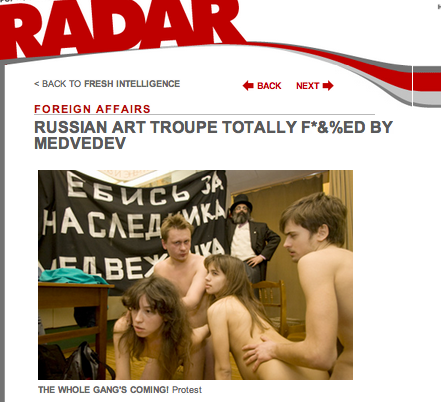 This story was first published in the defunct Radar magazine on March 7, 2008
How "liberal" is newly-anointed Russian President-elect Dmitry Medvedev, the one so many people are saying represents a possible thaw in post-Putinpolitics? My Moscow newspaper just found out the hard way—one of Russia's leading printing presses censored us yesterday over a page-six photo essay that we'd headlined "Fucking For Medvedev."
It is the first time in the 11-year history of The exile, that our newspaper has ever been censored. What's odd about it for us is that the "Fucking For Medvedev" spread, while not exactly family-friendly, is hardly the most shocking thing we've ever printed; we've run a cover depicting a nearly-nude Putin fucking Bill Clinton from behind, another cover depicting Putin as a midget in the Hitlerjugen getting his head patted by a pleased Fuhrer, and a cover demanding that President Yeltsin "Die Already!" during one of his many illnesses.
The offending article/photo essay in the current issue covered a hardcore anti-Medvedev orgy by a performance art troupe named "Voina" (or "War").
[Slightly less censored versions of the photos in question after the jump—they're still plenty NSFW!]
Last Friday, the troupe slipped into Moscow's Biology Museum, stripped off their clothes, and started to fuck—like, really, genuinely fuck—on the museum floor, under a banner reading "Fuck For The Successor Medvedev." Their "art performance" lasted about 10 minutes before museum security pounced.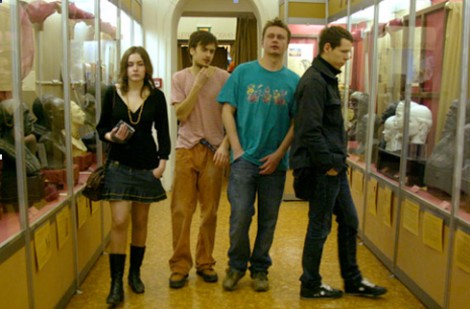 It didn't take long for the troupe to exploit their performance, posting photos on the Russian-heavy Live Journal blogosphere and mass-mailing the media. But only a few outlets picked up the story—perhaps it had something to do with all the extreme hardcore photos of a fully-pregnant woman getting nailed from behind by a pasty little bohemian, whom we see in the first few photos desperately trying to wank himself to life for the performance.
We were the first to print the story in all of its skanky, gory detail—or rather, would have been the first, until our printing company, formerly Pravda's printing house, halted the presses because, they alleged, the spread "offended the honor of the president"—currently a crime punishable by jail in Russia—and that it was "pornographic," which is also legally gray and restricted. They were so incensed that they threatened to destroy our files—until we reminded them that doing so would itself be a crime.
With just over an hour to change the page and get it approved, we took the files back to our office and redid page six as one giant black page, with a small white box in the middle that read: "In Loving Memory of the Vladimir Putin Era 2000-2008."
When we delivered the new proofs to the printers, they scoured our new blackened page, nervously suspicious that we'd planted some kind of evil American hidden-meaning-bomb into that obviously ironic little eulogy.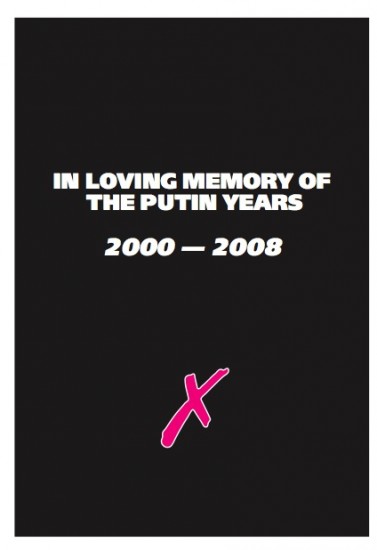 Screenshot of The eXiled's first and only censored spread
There's a lot of anxiety and timidity these days in Russia, the sort that sweeps over the country with every change of power, and these guys didn't want to be the first ones loaded onto cattle wagons and sent off to the Kolyma gold mines. Finally, confident that we'd only delivered a single layer of irony, they printed up the edition, and it was distributed without incident.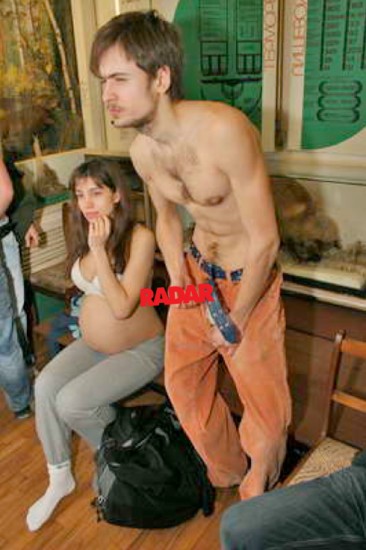 Above left: Pregnant Pussy Riot's Nadezhda Tolokonnikova waits for her partner to achieve artistic wood
Yesterday, two Russian news channels—Ren-TV (owned by state-run Gazprom) and O2 TV, a lame Russian MTV knockoff—called pestering us about the incident, threatening to run a story about it with or without my participation. I'm not sure how they found out, because I can't find any news about our censorship scandal on the Russian Internet or newswires, and we haven't reported it yet either (this Radar account is the first detailed one I know of). I didn't take their calls, because I've already learned firsthand what a Russian-TV smear job looks like.
I'm not sure how this is going to end for us, but the significance of this first-ever censorship of an issue of the exile is clear to all of mankind: The ghost of Stalin is back, and it's occupying a five-foot-two vessel named "Dmitry Medvedev."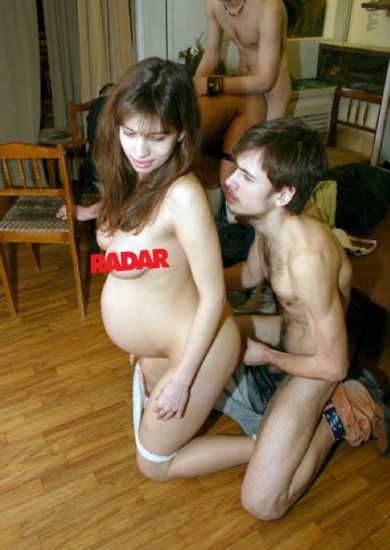 Above: Pussy Riot's Tolokonnikova prepares to get mounted to protest rigged election of Medvedev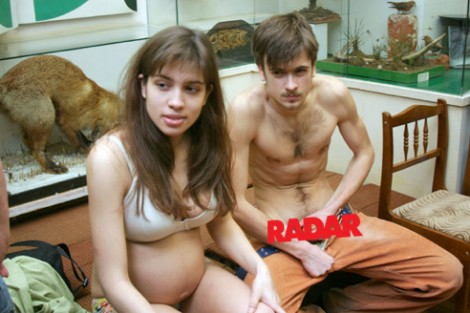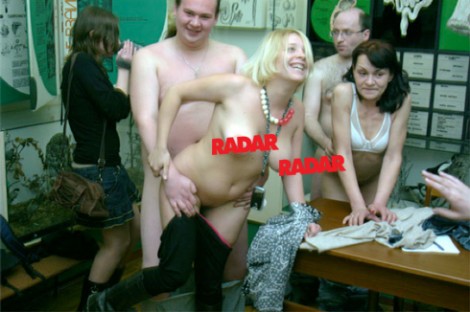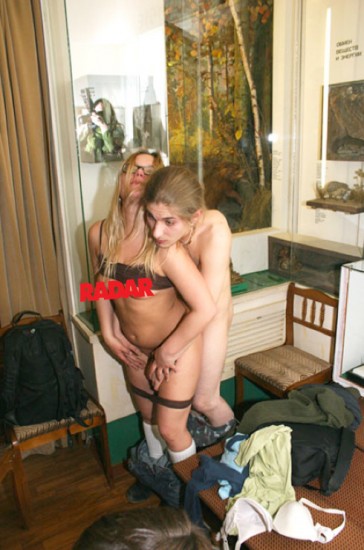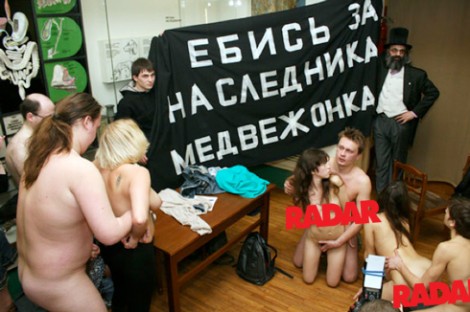 An eXile cover that the Kremlin didn't censor—go figure: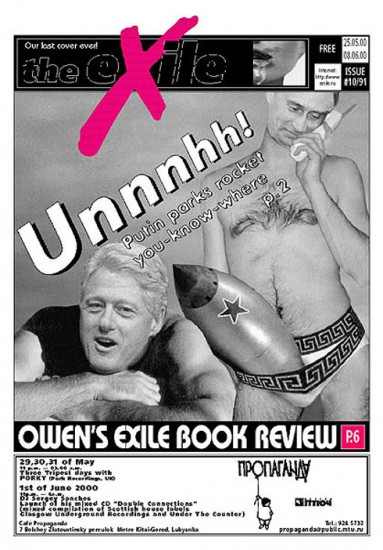 http://web.archive.org/web/20080427145851/http://radaronline.com/exclusives/2008/03/the-exile-dmitry-medvedev-censorship-sex-photos-mark-ames.php
Still like to know more? The eXile: Sex, Drugs and Libel in the New Russia co-authored by Mark Ames and Matt Taibbi (Grove).
Read more: censorship, medvedev, pussy riot, putin, radar magazine, voina nadezhda tolokonnikova, Mark Ames, eXile Classic, Recovered History, Russia Babylon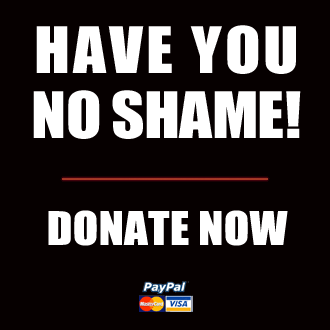 Got something to say to us? Then send us a letter.
Want us to stick around? Donate to The eXiled.
Twitter twerps can follow us at twitter.com/exiledonline