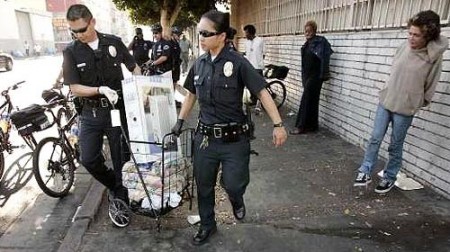 Drugs may be the major American story of our era, the thing that did more to alter behavior and law, that redistributed income to the poor far more dramatically than any tinkering with tax codes, that jailed more people and killed more people than any U.S. foreign policy initiative since the Vietnam War. But this vital force…is absent from our daily consciousness and surfaces when discussed as a problem.
—Charles Bowden, Down by the River
It was just past 2 a.m. on a Saturday and I was standing at a busy intersection in a dirty corner of Hollywood, just a few blocks away from Grauman's Chinese Theater. People were spilling out of bars and heading home. The strip was emptying out quickly. But where I was standing, prime time was just beginning. Hookers were pouring out onto the sidewalk, circling the block slowly in packs of twos and threes and causing a traffic jam as cars slowed to a crawl to check out the selection. There weren't too many females among them. This part of town specializes in tranny whores and gigolos.
I was there to score, too. Not shemales—I'm no degenerate, you see— but an entirely different and altogether wholesome product. I was there to score some good old-fashioned heroin in order to celebrate a special day: The 75th anniversary of the end of the Prohibition. The celebration had officially ended that midnight, and alcohol-loving revelers were now stumbling out of bars all across the country. They had been marking the occasion in their own ignorant way. All that week, newspapers were reporting on the planned boozy celebrations. Drink discounts, speakeasy-themed restaurant events and kegger parties raged all across America. Even a few people I know had gone to a flapper-themed house party. But as far as I was concerned, they had it all wrong. America's Prohibition never really ended. Sure, alcohol was legalized, within limits, of course. But the real Prohibition continued and intensified. Laws against other drugs became harsher and more severely enforced. So I went out that night to pay homage to the unspoken Prohibition the only way I knew how: hit the streets looking for the best illegal drug money can buy.
I came to this particular corner on a tip from a friend of mine who lives in the area. "Go down to the parking lot at the strip mall there. I'm sure you can get something. I see people buying shit all the time. You'll know you're at the right place when you start seeing transvestites."
What kind of drugs did they sell there? Was it smack? Crack? Speed? All of the above?
He had no idea. Like most white people, he had never bought drugs off the street.
I parked my car in a side alley and approached the corner by foot. A pack of about a dozen thugs loitered in the shadows of a brightly lit doughnut shop. Inside, two pimp-looking black dudes decked out in gold chains and teeth grillz, surrounded by a couple of haggard, masculine-looking prostitutes, were eating doughnut holes, laughing and boasting. I bought a pack of smokes and lit up in the parking lot, trying to look as nonchalant as possible while I surveyed the scene. One thing was clear: there was no way I was going to blend in with this underworld. I was the only white face around, and I wasn't dressed right at all. My dorky white-boy jeans and sweatshirt stood out among the oversized baseball caps, do-rags, crisp baggy jeans and Nikes. Plus, I didn't have the gangsta spring in my step. My freshly-shaved white scalp glowed like a silent alarm. It was painfully clear I was a white boy in a bad neighborhood for one purpose only: to score drugs. Here, decent white folks didn't get out of their cars for anything. Not for junk food, not for whores and definitely not for drugs.
Which is why I came out here. On this special day, going through a dealer would be a cop out. Discreet drug buys are a huge reason why the modern Drug Prohibition still goes unchallenged. As long as casual drug users don't have to be sullied or criminalized by drug consumption, they are able to block out just how demeaning our country's drug laws are. Without a connection, you go from upstanding citizen to lowlife in the time it takes to get out of your car and cross the street.
I finished my smoke and edged a little closer to a Latino dude leaning up against the shop's exit. "Yo man," I said under my breath. "You know where I can score some shit?" And then after a pause: "Some smack. Chiva."
He stared hard for a few seconds, just long enough to make me nervous, and shook his head. All of sudden he swung his head to the right and walked away without a word. Then I saw why: a patrol car had just turned the corner and was slowly creeping by the parking lot. The vague mass of people hovering in the shadows dispersed without a sound, like a dark mist. A cop with a cleanly shaved head in the passenger seat spotted me and kept me in his sights. I was clean, but I felt like I was already guilty. Guilty by association. Instinctively, like everybody else, I walked away as calmly as possible.
To kill time and do reconnaissance, I decided to circle the block. I baited a homeless drunk down the street with a couple of bucks and a cigarette in the hopes of getting some information. But he was no use at all. "Naaaaw, maaaan. Those guys on the corner don't have shit! They don't even have weeeed, man! You gotta go to the valley to get smack." That wasn't an option for me, so I continued on.
A group of young punks further up the street were of no use either. "Why don't you ask the spooks. They'll tell you," said the leader of the pack, laughing and smacking his buddy on the shoulder. "Better yet. Go downtown. To MacArthur Park. Hang out there for a week or two so that people get to know your face." Shit man. A week or two? "Yeah whatcha think? They won't sell you shit if they don't know you. They can go to jail for that shit for a long time." Two weeks? I wasn't sure if they were fucking with me or what. Skid Row is where cops dump and corral homeless people they pick up from all over LA County. Even hospitals are known to ditch bums there. At dusk this square mile of downtown LA — a patch of shuttered shops and sidewalk tent cities — turns into a scene from Escape from LA. Hobos, freaks, whores, pimps, thugs and addicts come out of the shadows and take over like a pack of mutants. Hanging out there would be a nightmare. I'd be more likely to pick up a rabid strain of necrotizing fasciitis than score smack.
During the Booze Prohibition, people didn't have it half as bad as this. Back then, alcohol was illegal only on paper. In reality, it became even easier to buy. At the height of the ban, New York had something like 100,000 underground booze joints catering to every layer of society — from board and nail shacks serving immigrants, whores and derelicts, to swanky clubs with big bands, tuxedos and high-class flapper chicks. With those kinds of numbers, you couldn't walk a block without stumbling on a place to get drunk. If only we drug-seekers had it half as good.
I started walking back to the original corner for a second try. By the time I got there, a ghetto bird was circling overhead, its searchlight beam seeking out someone just a few blocks away. LAPD is serious about their chopper cavalry. A demand for surrender was being broadcast over the chopper's megaphone; the poor fucker didn't have a chance. Behind the strip mall, a patrol car had just pulled over a pimped-out, pearl white Escalade. A cop with a shaved head was approaching it from the right, giving it wide berth, his hand on his gun. It was the same cop who eyed me earlier.
On the corner, the thugs and whores had regrouped. And I got right down to business. I stepped up to a black guy leaning up against a wall, a few feet away from a puddle of fresh pink vomit, and lit a cigarette. He looked at me and gave me a nod. I nodded back.
"Hi, don't I know you from somewhere?" he said with a lisp.
"Maybe," I said.
"You looking for something?" he asked.
"Yeah, actually. You know where I can score some shit? Some smack?"
He looked around. "How much do you need?"
"I don't know, I gram or two. How much is it?"
"Fifty."
"I only got enough for a gram, then," I said.
"You got a car?"
"Yeah, it's just around the corner."
"Follow me."
Read more: america, buying drugs, drug culture, gay spa, heroin, los angeles, meth, speakeasy, war on drugs, , Dispatch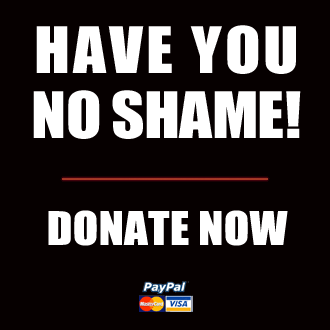 Got something to say to us? Then send us a letter.
Want us to stick around? Donate to The eXiled.
Twitter twerps can follow us at twitter.com/exiledonline