By Eileen Jones
Finally, fa-HINE-ally, someone has made a proper comedy. Armando Iannucci, to be exact, with In the Loop, his annihilating satire of recent Anglo-American misadventures in the Middle East. It's getting fantastic reviews and it deserves every one of them. It's so ruthlessly funny, I missed half the lines because of the shocked laughter in the theater. So it might be twice as funny as I think it is, and that's off the charts. Go see it!

I admit I've been abysmally ignorant of this wondrous Iannucci—why does nobody TELL me these things?—and must now correct my ignorance with a thorough examination of his BBC Four show The Thick of It, which provides the source material for In the Loop. A central character in both is government communications chief Malcom Tucker (Peter Capaldi), a splenetic Scot whose job it is to spin stupid policy pronouncements. His general method is to erupt in gloriously obscene invective at everyone regardless of age, sex, or status.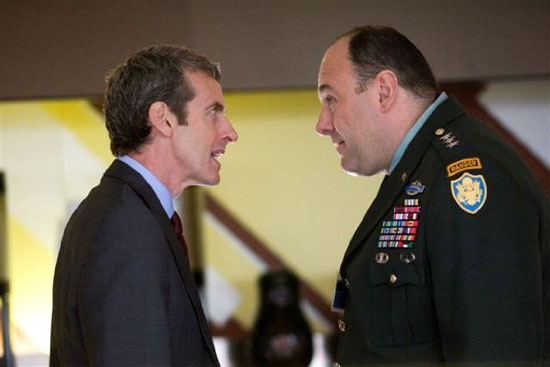 Here's his diatribe to colleague Judy (Gina McKee), who dares to use the prissy word "purview" in his presence:
Where do you think you are, in some sort of regency fucking costume drama? This is a government department, not a fucking Jane fucking Austen novel!…Allow me to pop a jaunty little bonnet on your purview and ram it up your shitter with a lubricated horse cock!
The catalyst for the action is a press interview gone awry because a hapless Brit cabinet minister named Simon Foster says war in the Middle East is "unforeseeable." This harmless-seeming word choice sends Malcom Tucker into overdrive. ("You may have heard him say it, but he didn't say it, and that's a fact…Fuckety-bye.")
In trying to correct himself for the record, Foster makes it worse with the blithering statement: "To walk the road of peace, sometimes we need to be ready to climb the mountain of conflict."
(Tucker: "You sound like a fucking Nazi Julie Andrews!")
Foster's slogan winds up enshrined on the wall of an appalling Rumsfeldesque US State Department hawk, Linton Barwick (David Rasche in an eerily perfect performance). Now a pawn in Barwick's rush to war, Foster heads to Washington D.C. where he also contends with the conversion efforts of Barwick's political nemesis Karen Clarke (Mimi Kennedy) and her co-conspirator General Miller (James Gandolfini), who are maneuvering to prevent the war.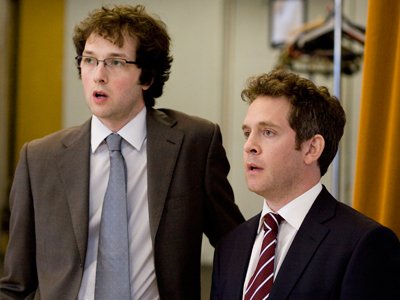 With no agenda of his own other than to avoid the humiliation of being "room meat"—present in the conference room where important things are happening, but not allowed to talk—the feckless Foster is in way over his sad little gnome-like head. (To appreciate Hollander's range, just recall his excellent performance as the coldly proficient agent of the East India Tea Company, Lord Cutler Beckett, in the Pirates of the Caribbean films.)
When wiry, vibrating Malcom Tucker arrives in Washington to coach Simon Foster in keeping his mouth shut, one of the first thing that happens to him, as he's ranting profanely into his cell phone, is an American man on the street, fat and slow and clueless, objecting to his bad language. This sets off another tirade, of course, but also points up an interesting cultural observation. Why are we fat and slow and clueless? What happened to us, that this should be our image? Why do the Brits deal with political insanity leading up to the Iraq war fiasco by making the scalpel-sharp In the Loop, and Americans make dull-witted, lumbering messes like Oliver Stone's W.? We had every chance and all the material in the world to make the most beautifully outraged and outrageous black comedies, and we blew it.
Here's Exhibit A of American thickness, a reader response to the glowing review A.O. Scott gave the movie in The New York Times:
I didn't enjoy the movie; in fact, I found it infantile. It may have been "sharply written, fast-talking, almost dementedly articulate," but the wall-to-wall usage of swearwords did not create an ambiance, it simply detracted it from the essence of the important message.
— solopiano, New York City
See, in the olden days, Americans were also sharp, fast, and articulate, and thought that was a good thing. A Hollywood studio mogul once told some fathead who believed that movies should be nothing more than message-delivery systems, "If you want to send a message, use Western Union."
Read more: Armando Iannucci, government, In the Loop, iraq war, James Gandolfini, Peter Capaldi, satire, The Thick of It, Eileen Jones, movies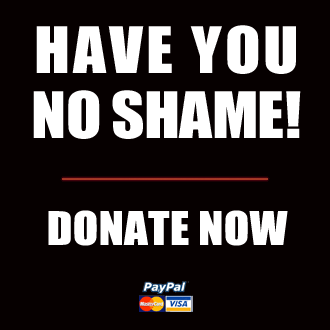 Got something to say to us? Then send us a letter.
Want us to stick around? Donate to The eXiled.
Twitter twerps can follow us at twitter.com/exiledonline