By Team eXiled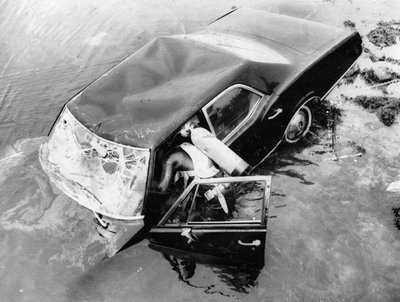 On this tragic day, Exiled Online caught up with one of Sen. Ted Kennedy's closest confidants, the late Mary Jo Kopechne, whose intimate relationship with the late Senator was interrupted nearly 40 years ago.
Exiled: Thank you for joining us today, we know that it's a very difficult time for those closest to Sen. Kennedy.
Mary Jo Kopechne: Glurg-glurg-glrbbl.
Exiled: You have a unique "bottom-up" perspective on the late Sen. Kennedy, given the fact that you're dead and all. What is the reaction over where you are?
Kopechne: Glurg-glurg-gurgle glrbb glrb. Glurgle-glurb. Glbrbbl blrgbl.
Exiled: I see. It's amazing to us here in the world of the living that he still inspires you, even though your soul is still stuck underneath a tire at the bottom of that river. You're saying, without Sen. Kennedy's inspiring words, you might have given up trying to free yourself?
Kopechne: Blrggb gllrblgl blrgublgl
Exiled: I…I'm sorry, it's just very emotional for me as well. (blows nose, drinks water, sighs.) Okay, composing myself here. Now. Describe if you could your strongest memory of Ted Kennedy, the man. What did he represent for you?
Kopechne: Glrggl blrg blurgblle glrble.
Exiled: Oh sure, any memory, not just, you know, that night.
Kopechne: Glrrblb gllrbl glrublbl glrublgl. Blrglb balllrglb. Glurg glurbl gluurb. Glurgle. Ha-ha-ha!
Exiled: Ha-ha-ha. Yes of course–and I think it's wonderful you can joke about it.
Kopechne: Glrbblg glrbl glurg glurbggle glurg.
Exiled: Yes, of course. You're a brave woman–er, ex-woman. And what about Sen. Kennedy's contribution to health care. What is Sen. Kennedy's message to you, a rotted bone or two stuck beneath the mud at the bottom of a creek?
Kopechne: GET ME OUTTA HERE YOU FUCKING COWARD!!!
Exiled: Ms. Kopechne? I'm sorry, I didn't understand.
Kopechne: Glbrbblb glrblbl glrblal.
Exiled: I'm sorry, I'd really like to help, but…look, if you see a light, run to it. I, uh, gotta go now. I'll be back with some help, I swear. Just give me a few minutes as I snagglepus outta here, exit, stage left, even… Don't go anywhere, you hear?
Read more: Mary Jo Kopechne, Ted Kennedy, Team eXiled, eXiled Alert!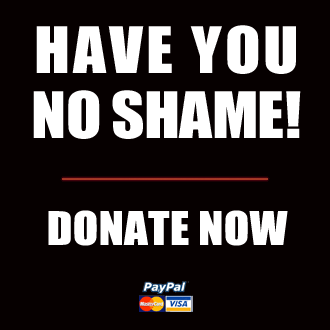 Got something to say to us? Then send us a letter.
Want us to stick around? Donate to The eXiled.
Twitter twerps can follow us at twitter.com/exiledonline