By Tal Sutsa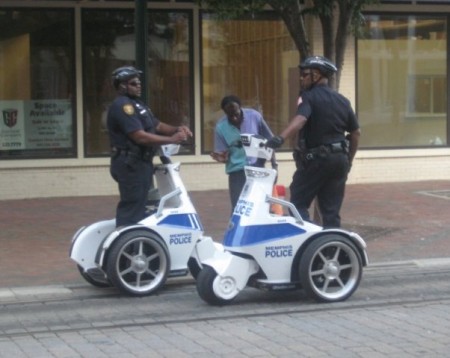 Memphis—or Memfrica, as we call it—is a city where all that is fucked up about America is taken to the extreme. I recently fled this festering dung heap of a ghetto for Russia, where I'll be getting educated and properly laid, and the more I think back to my hometown, the more I realize how truly screwed we are as a nation. I talk to people around here a lot about how ugly and sexless Stateside women are and mock the proud slave mindset of working class middle America. I tell them about how we have more prisoners than authoritarian China could ever dream off, with about a fifth of the globe"s prison population. Sometimes, I start to wonder though. Am I the crazy one because I think America sucks ass? This is home, after all.
But then, a story comes along that once again, regretfully, reaffirms and justifies my hatred. A few weeks ago, the local Memphis rag produced a blowjob piece about some policewoman who spent a year as an undercover cop.
Memphis, the article tells us, is home to a "unique" undercover program in that it focuses on long term immersion rather than just the normal game of entrapping the utterly desperate, i.e., the only people who would try to buy dope or a blowjob from someone they don't know. (The crackheads and creeps are smart enough to realize American freedom is a myth.)
From my experience there, most undercover cops are pretty easy to spot in the hood. Last year, I was walking into a Fred's (a general store kinda like a ghetto Walgreen's) when a clean-cut 30-year-old black dude in a collared shirt came up and asked me if I wanted to buy some "crack." In Memphis, black dudes that get in the dope game start when they're 14-15. By the time they're 30, they're either dead, in prison, wheelchair bound junkies or, rarely, have moved on with their lives. It's nothing against dope, that's just the way it is down here. So, I just said to the guy "Dude, get the fuck out of here. You're a fucking cop." And he got embarrassed and left as everyone in the parking lot started laughing at him.
But, the more I thought about it, I decided they must have to start programs like this out of necessity. Because if they want to have any presence in the hood at all, it's going to have to be in the form of spies. In my North Memphis neighborhood, for example, cops are not allowed in. At all. There was an easy truce for a while where The Gangster Disciples—the street gang that controls much of North North–allowed periodic daytime patrols. They put an end to that after the cops ran over and then shot some kid on my street one Friday night awhile back. I still love the opening paragraph to that story:
"The death of 18-year-old Timothy Jones, who was killed in an exchange of gunfire with police Thursday night, was but the most tragic event in an ongoing battle over control of the area near Northside High School, police said."
The reality is that, like in Afghanistan and Iraq, no one has a monopoly on violence in Memphis. Cops won't respond to calls in the area because they're usually setups, where someone is waiting behind a building or on a rooftop to pop a couple of shots at whoever shows up in blue. Not that anyone would want the cops to come anyway. At night, GD's with AK47's and baseball bats wrapped in barb wire patrol the streets making sure nobody breaks into anything or nobody tries selling drugs or sex that isn't supposed to be. You can sure as hell can trust the GD more than the cops. You never know if a cop is going to turn out to be crooked or not.
A while back, there were some B & E's in the area that the GD's weren't behind. A GD who lived across the street from me came over to my house to tell me to keep an eye out for anything strange because "shit been goin' down we 'idn't know 'bout." Talk about service.
On the street, you can buy a junk AK-47 for $80, which I'm happy to report is cheaper than the going rate in Mogadishu .
So I didn't see a cop in my neighborhood for six or seven months unless you count nighttime helicopter patrols. But, they cop the choppers up pretty high, if I may use the local dialect. But then, one Sunday morning I heard some yelling next door and looked out my kitchen window to see a couple of cops tasering and beating my neighbor with their clubs. I'm guessing they were driving by a little earlier and they saw him smoking pot on his front porch, which he did basically all day every day–and then he ran away. Big mistake. After they arrested him, one cop drove him off in the backseat of the squad car and the other cop took my neighbor's car. I haven't seen him or the car since then. The poor fucker's prolly locked up for 20 years in some Nebraska gulag. It's a shame too because he was a nice guy, wasn't a GD and didn't even deal. These are the type guys who get taken down in the big busts.
But, if you don't want to take my word for it on Memfrica being a fucked up, deadly place to live, then check out this quote from an Iraq war vet who spent six months in town, couldn't handle the heat, and is dropping his tail and balling out on the double:
"'I saw a lot in Iraq,' Hand said. 'I got used to it. But here, when I go into a convenience store, I get what I need and get out real fast because you never know.'"
I tell all this to paint a picture of just how stupidly brave and pathetic a cop would have to be to go undercover in Memphis. If the cop got ratted out, his or her head would be buried in the countryside, and the torso tossed into the Mississippi off the Old Bridge, and it'd be hard to ever find out who actually did it.
But, I guess the "can do" attitude of corporate America has even permeated Memphis' worst because this undercover cop April Leatherwood spent a year, and I quote,
"roam(ing) the streets of Memphis in the same foul-smelling shirt. She didn't shower, brush her teeth or shave her legs. She stood outside neighborhood corner stores, smoking, befriending crack addicts so they'd take her to their dealers. . .

"As Summer Smith [Just about every burnt-out junkie white bitch in Memphis is named Summer–Author], Leatherwood followed addicts into houses without electricity or plumbing, where people defecated in buckets. Sometimes she watched toddlers run around while their drug-dealer dads played video games and sold crack to customers with guns lying on the table.

"She talked her way out of unwanted sexual advances and always scanned the room for a way out if a deal went bad."
And she did it all for a measly $45,000. That's what they pay.
Leatherwood claims to never have gotten fucked/raped or to have done any drugs while undercover. How she got away with that without losing her cover is beyond me.
The truly horrifying part, if you're an American man, is this:
"Leatherwood's work came at a cost. She lost a three-year relationship."
That's right, some American women would rather spend a year shitting in trash cans and sleeping beside dumpsters without the stress relief of a little coke than to fuck their men.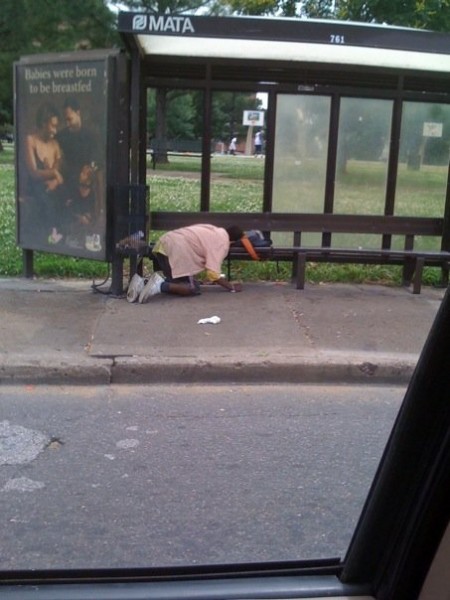 Stakeout?
The cops say Leatherwood's undercover work ". . .resulted in more than 280 arrests — from low-level drug peddlers to big-name dealers."
First off, most everything the cops say for PR is pure bullshit. Second, they didn't arrest anybody but low level bums and kids because that's who hangs out with and sells to junkies with "brown, greasy hair" and "feet. . .covered by the same filthy pair of socks for an entire year."
What's really fucked up is, this is a city where huge multinationals like FedEx, International Paper and Autozone are headquartered. You should see the executives' vampire castles out in the suburbs. Yet, Memphis' infant mortality rates, hordes of illiterates and crappy public education facilities are comparable to those in the Third World, and the city is perpetually broke. What little money there is is used to subsidize big business or else it's showered on the cops to bust low-level drifters, hustlers and wayward teens.
Just read this fucking quote about Memphis congressman Steve Cohen's trip to Liberia and Ghana:
"Cohen noted that the parts of West Africa he has visited have an infant mortality problem similar to the one in the 9 th Congressional District."
The idea of an American city being comparable in anything to a war torn African shithole makes me want to slam my head in a fucking door.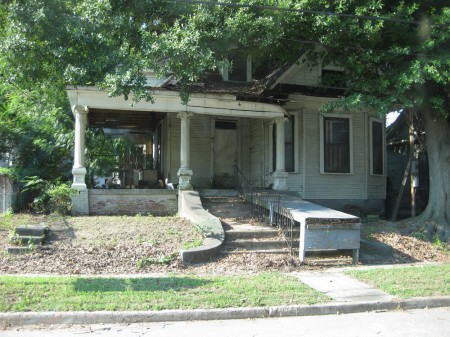 Colonial crackhouse on Princeton Ave.
It turns out the original undercover slave, Joe Pistone a.k.a. Donnie Brasco is living in Memphis now, directing the undercover center modeled after FBI procedures.
"Last week, April talked about her undercover experience to a group of police officers from across the country who participated in the Memphis Police Department's undercover school. At the behest of Director Larry Godwin, Sherman created the program 3-1/2 years ago, modeling it after the FBI's undercover certification course at Quantico, Va., where he trained.
Since then, 10 classes of officers have participated, three at the Regional Counterdrug Training Academy at the Naval Air Station in Meridian, Miss. There, officers attend presentations and role-play in a small area of the base called Mount City, which is modeled after the FBI's Hogan's Alley. It's like a movie set, with a two-floor motel, a trailer outfitted to look like an inner-city row house, a pharmacy and other buildings."
It sounds like a lot of fucking money being spent to figure out ways to lock up a lot of people who don't matter and won't change a fucking thing that's tragic in Memphis. But, just look at the reader comments on the original article. It's all congratulations and glorifying the spy rat fuck. It's what the people want: a police state with no social safety nets where anyone without a "can do" attitude who dares to derive a little pleasure from their miserable existence as corporate slaves gets shipped off to the gulags.
I've lived in the hood, and I've lived in the mind numbingly boring, sterile, robotic, sexless, soulless and artless suburbs. I can tell you, they're locking up the wrong people.
Read more: cops, domestic war zone, ghetto, memphis, Tal Sutsa, Class War For Idiots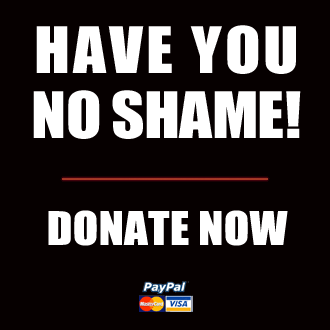 Got something to say to us? Then send us a letter.
Want us to stick around? Donate to The eXiled.
Twitter twerps can follow us at twitter.com/exiledonline