By Mark Ames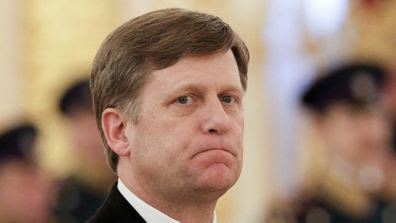 This piece was originally published at Not Safe For Work Corp
I've always hated Michael McFaul — and he don't like me much neither.
We've carried on a sort of hate-hate relationship going back to the mid-1990s, when McFaul was former President Bill Clinton's chief propagandist in Moscow, cheerfully assuring every foreign correspondent that Boris Yeltsin was the Thomas Jefferson of our day.
At my newspaper, The eXile, we called Boris Yeltsin out as the vodka-embalmed mass murderer he was, a "Walking Dead" version of the Godfather who shelled his own parliament, genocided Chechnya, and carved up the national wealth to the guys with the shiniest track suits.
McFaul didn't like the way we reported Yeltsin's Russia — as he wrote, "perception is reality" and Russia's biggest problems were all the "pessimists" who didn't dance atop the boneyard that was the Russian Federation in the 1990s. Then he called us "rapists" and got us censored from the only important Russia listserv at the time, serving all the Russia journalists, diplomats and think-tankers, at a time when Russia was still front-and-center of America's foreign policy.
We didn't like that. So we called McFaul a "Beigeist." He didn't get what we meant by "Beigeist." So we defined the term a little more clearly, calling McFaul a "human golden retriever" who drools venom.
He got it, and really didn't like it. So McFaul called us "fascists." We didn't like that, so we called McFaul a "Gillette Dry Look hairspray model" and "The Face of Evil" and "Dr. McFaulwell." We called for the Russian government to arrest him immediately. We even blamed him for inciting racial tensions in California and for exploiting his illegal immigrant leaf blowers — you get the point.
We probably overdid it a bit. Things happen in the heat of the moment.
Ours has been an unhappy relationship, punctuated only by odd moments of schadenfreude. Like when McFaul publicly danced on The eXile's grave when Putin's goons shut us down and sent me snagglepussing back to the Free World a few years ago. Back then, McFaul was transitioning himself from Bush-era neocon whom nobody paid attention to, into Obama's Russia specialist.
Like some kind of David Bowie of the think-tank world, McFaul reinvented himself through each successive wave of American Stupid — transforming himself into a woofing neocon, writing editorials calling for "regime change" during the Bush years — only to reinvent himself in 2008 as a karaoke Kissinger, wooing candidate Obama with realpolitik power-ballads. Obama wanted an amateur Kissinger, and McFaul delivered.
Through all the transformations, only one thing has remained steady: Michael McFaul's grotesque ambition to one day rise to the post of US Ambassador to Russia, no matter what karaoke tune he has to sing or whose ass needs to be spit-shined.
Alas, this year, Michael McFaul was named US Ambassador to Russia. He's all we've got protecting us from 5,000 loosely-guarded Russian nuclear missiles, and Putin's hair-trigger.
Ambassador McFaul has nearly brought Armageddon on more than one occasion, almost always on account of his retarded understanding of the Russian language, which has become a running joke in the Russian media and a source of several near-diplomatic rows, leading us just seconds to midnight, a click away from DEFCON 1.
So it is with great pleasure and a heavy heart that I call your attention to the Hon. Ambassador Michael McFaul's most recent diplomatic flub (h/t to the good folks at opposition-owned Newsru.com).
Earlier this month, on the eve of Independence Day, McFaul cheerfully tweeted out to his 26,000+ followers: "I'll be in Yekaterinburg for the InnoProm Exhibition."
Only problem is, Amb. McFaul didn't write "Yekaterinburg." For some reason, McFaul got the brilliant idea of replacing "Yekaterinburg" with "Yoburg" (Ёбург), meaning "Fuckberg," or "Fuckville."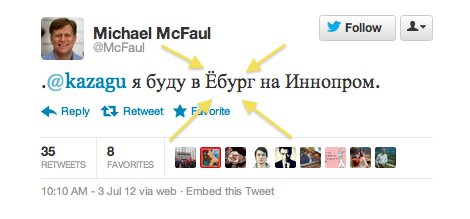 He thought he was being colloquial and in-the-know. Instead, he was being an idiot. So the tweet from the US Ambassador to Russia cheerfully reads:
"Hey I'm heading to Fuckberg to the InnoProm Exhibition"
And with that tweet, McFaul launched a New Cold War — or as Newsru.com reported in an article headlined "Ambassador McFaul Forced To Apologize Over 'Fuckberg'":
"The American Ambassador to Russia, Michael McFaul, once again had to apologize for his use of Russian language, which he's been having difficulty with lately."
And then came the tweets.
One Russian tweeter @engineee replied earnestly:
"Michael, 'YoBurg' is an offensive lowlife's word, you shouldn't use it."
Self-hating Russian @microzmija tweeted:
"Michael, you called that Urals shithole Sverdlovsk right!" [Sverdlovsk was the Communist-era name of Yekaterinburg.]

No doubt the most poignant tweet of all, the one favored by Newsru.com and others, came from some Russian D&D dweeb @dmitry_denb who uses an Alexander Nevsky avatar. He replied simply:
"You're the fuckberg, MacFahk!"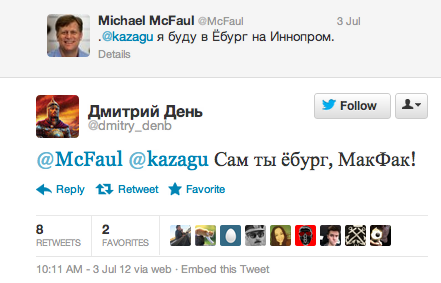 Finally, @Alexey_Kovalev tweeted to McFaul in English:
"I love that US Ambassador to Russia @McFaul is referring to Yekaterinburg as Ёбург, colloquial name with horny overtones (lit. Fuckville)."
If McFaul had half a testicle left, he'd've tweeted back:
"Hey Borat, you know what I love? Your Third World ass renditioned to Guantanamo, with violent overtones (lit. Hell)."
But that's not the McFaul way, dream as we might. His way is the shit-eating golden retriever that got McFaul the keys to the ambassador's residence at Spasso House, and that same venomous golden retriever tweeted back to the suck-up:
"@Alexey_Kovalev I will never cut and paste again from another follower.The richness of the Russian laguage on Twitter continues to amaze me" [sic]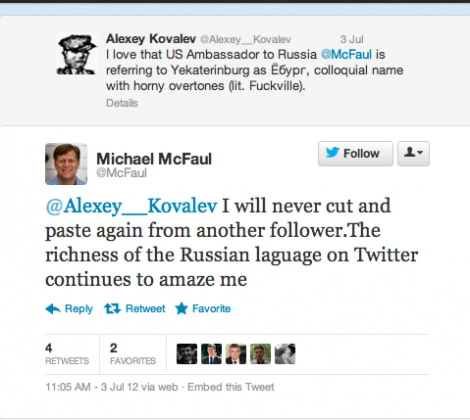 Yep, even after all these years, I can honestly say I still hate McFaul. And as long as he keeps entertaining me like this, I don't plan to let that hate go anytime soon.
This was first published on Not Safe For Work Corp, the news magazine (with jokes) where I'm acting as editor-at-large. You should subscribe http://www.nsfwcorp.com/subscribe
Would you like to know more? Read "Mikey McFaul and the Three Bears" by John Dolan; "I, Michael McFaul, Writes Well" by Matt Taibbi; and "Der Neue McFaul" by Mark Ames.
Read more: beigist, golden retriever, michael mcfaul, New Cold War, the exile, twitter, Mark Ames, Russia Babylon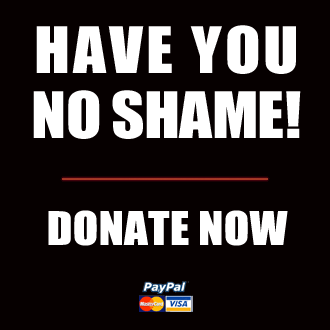 Got something to say to us? Then send us a letter.
Want us to stick around? Donate to The eXiled.
Twitter twerps can follow us at twitter.com/exiledonline