By Mark Ames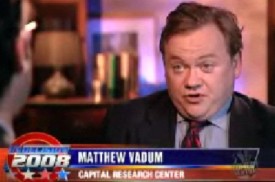 You never know what bizarre creatures you'll stir to action when you go after a corrupt beast like Megan McArdle. But what I saw after my expose on McArdle in yesterday's Alternet was like sending a bathyscaph down to the deep ocean floor and stirring up the encrusted rot: suddenly these H.P. Lovecraft creatures swim into view, monsters whom you never knew existed–giant bear-trap jaws with little mosquito lamps dangling in front of their teeth…
I'm going to share two such creatures who wrote me yesterday in defense of their heroine, Megan McArdle. First, a creepy rightwing midget named Matthew Vadum.
You may recall Vadum from a Daily Show segment last year, in which the fat little waffentwerp accused ACORN of giving crack cocaine to poor blacks in return for their votes. Vadum became the national laughingstock–the male equivalent of the squatty little nerdette who carved a "B" in her face and blamed it on evil Negroes. Welp, here's Vadum's letter he sent me yesterday:
Date: Thu, 6 Aug 2009 15:18:19 -0400

From: Matthew Vadum <XXXXXX@capitalresearch.org>

Subject: What a loathsome, disgusting, unethical, malicious, moronic, ugly personal attack.

To: ames@exiledonline.com

What a loathsome, disgusting, unethical, malicious, moronic, ugly personal attack.

First, Megan McArdle (whom I know personally but not well) is her own person. You can't hold her responsible for the actions of her father.

Second, doing work for the government doesn't necessarily mean you're a parasite, collectivist, statist, socialist, elitist, or corrupt.

Third, the argument that she is trying to protect her "privilege" is just Marxist class-warfare claptrap.

Grow up.

Washington, DC 20036-1480
"Grow up"? Them's big words coming from a guy who looks like he just freed himself from a trash compactor. The good news is that Matthew Vadum knows 7 adjectives. And what adjectives! The bad news–for Megan, at least–is that if this is the best she can stir up to her defense, then these are even worse times for libertarian free-marketeers than I'd thought.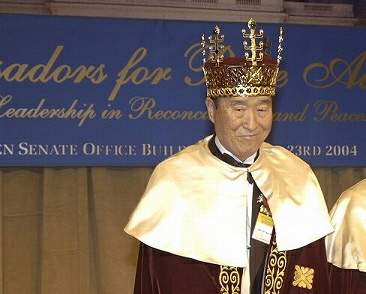 Rev. Moon at his "coronation"
Date: Thu, 6 Aug 2009 10:16:42 -0400

From: Amanda Carpenter <xxxxxxxx@Washingtontimes.com>

Subject: Megan McArdle

To: ames@exiledonline.com

Hey, Mark. I write a daily column for the Washington Times and want to do an item about your recent article about Megan McArdle. I was hoping you could explain to me the rationale for bringing her father into your disagreement with her policy positions. Why did you think this was necessary? Feel free to call me directly at the desk: 202-xxx-xxxx or email back. Hope you are doing well.

-Amanda
The years I spent in Berkeley were good for something, and that something was training on how to deal with all the street freaks and cultists like Ms. Carpenter. Here was my response:
Date: Thu, 06 Aug 2009 09:28:23 -0700

From: ames@exiledonline.com

Subject: Re: Megan McArdle

To: Amanda Carpenter <xxxxxxx@Washingtontimes.com>

Sorry I didn't respond sooner, I was busy this morning as a

guest on MSNBC

. As you can imagine, the life of a celebrity journalist is quite hectic.

You say you're from something called "Washington Times"? That's hilarious! Moonies defending libertarians! If Rev. Moon wants to interview me, have him contact me telepathically–your boss is The Messiah, I'm sure he can manage it. Otherwise, fuck off back to your swamp.
I have no idea what kind of strange goblins to expect pounding on my email window, but I'm pretty sure it will not be boring. The thing that's starting to irk me is that I think these Establishment ass-sniffers really believe this line about "it's wrong to bring up her father." It's like we're all still in a civics class, and there are rules you're supposed to follow–because the substance of the debate isn't nearly as important as following the polite rules of the debate. Violate those rules, and you're out. This obsession with following polite civics-class rules–from the left with Ezra Klein to the freakish-right with Amanda Carpenter– only confirms our worst fears about the mainstream media today: it's just an entrenched, corrupt Soviet-style nomenklatura looking out for its own interests, a place where the elite sticks its kids to look after their business interests as their offspring mouth all kinds of bullshit about free markets or defending the vulnerable uninsured American underclass. The point is to protect the nomenklatura's privileges, and talking about one of their member's privileged/corrupt upbringings threatens to blow the guild's stranglehold.
Mark Ames is the author of Going Postal: Rage, Murder and Rebellion from Reagan's Workplaces to Clinton's Columbine.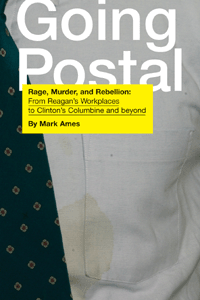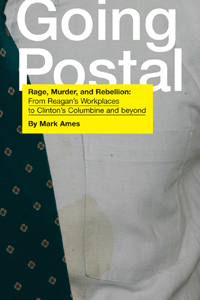 Click the cover & buy the book!
Read more: Amanda Carpenter, Matthew Vadum, Megan McArdle, Washington Times, Mark Ames, What You Should Hate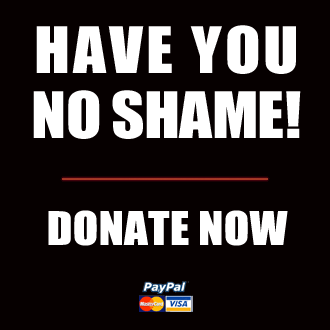 Got something to say to us? Then send us a letter.
Want us to stick around? Donate to The eXiled.
Twitter twerps can follow us at twitter.com/exiledonline