By Yasha Levine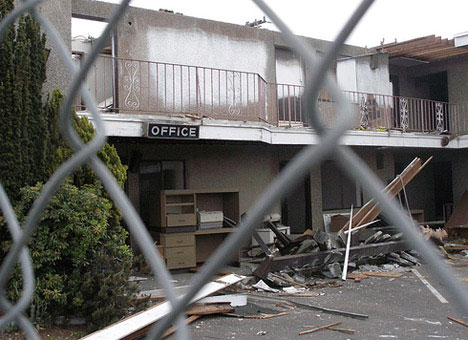 Ames emailed me a New York Times blog post from last February by one Casey B. Mulligan–which may sound like a fictional baseball player's name, but no, he's real all right, just another in a long line of insane econ professors from the University of Chicago. In the blog post, Mulligan cheerfully announced that when it comes to commercial real estate, we've got nothing at all to worry about. There's no danger of a CRE  crash, like the one we've experienced in the residential market, so we can all go back to being happy free market beneficiaries.
No CRE crash? Ha-ha! I just love these Chicago School alchemy frauds! It is truly a joy to see them make such fools of themselves on the permanent public record. And not surprisingly, although Mulligan struck out, he's still at the plate, batting out barely comprehensible economic fatwahs for the New York Times like nothing ever happened—that's the kind of free market a real Chicago School economist likes.
So that you don't have to wait, here's what Casey wrote for the Times in February 2009. Note how he denigrates those damn pesky "experts":
For months now, experts have been predicting that commercial real estate will be "the other shoe to drop." But in fact, non-residential building fell far behind housing construction during the housing boom. This shortage of commercial buildings relative to housing suggests that a commercial real estate crisis will not occur, or that at worst it will occur with much less severity than did the housing crash.

. . .

We all know that there is a nationwide surplus of housing. But there is little if any nationwide surplus of non-residential buildings.
You heard him right. He said there is "little, if any, surplus in non-residential buildings." That's how fucking stupid Casey "1000 Strikes And I'm Never Out!" Mulligan is! Even back in February, any lay person could see dangerous levels of empty storefronts piling up in just about every city in America, but now commercial real estate types are starting to have a major freakout. Here's a sample of how bad it is: There is a 20% vacancy rate in the Silicon Valley right now. Atlanta has a 18% office vacancy rate, with many estimating that it will take a decade or two to get back to normal occupancy levels. In Manhattan, office vacancies are hovering somewhere around 13% and are expected to go up to nearly 20%.
Nationally, about 1 out of every 5 offices stand empty. Properties that do manage to find tenants rent at a 30 to 50% discount, compared to two years ago.
It's even worse in Buttfucksville, America. Here in my newly-adopted  home of Victorville, California, some neighborhoods have brand new strip malls that have vacancy rates somewhere around 75%.
Nothing illustrates the size of the speculative bubble in commercial real estate better than this simple line graph: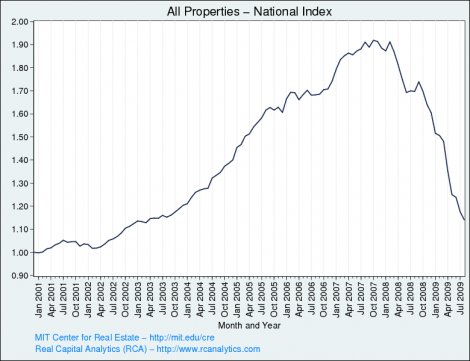 You can see that commercial real estate is back down to pre-boom years, but the graph only goes up until July 2009. And the past three months have been none too good on the market, which is sinking further into a deep, dark depression the likes of which it hasn't seen in many a decade. There's been about a 3% drop in value every month since July, with no bottom in sight.
So just how wrong was Mulligan? Here's how: the National Council of Real Estate Investment Fiduciaries (NCREIF) has an index tracking the rate of return on investments in commercial property. Since it was started in 1978, the index has never dropped more than about 7% in a single year. This year it has dropped by 15%, and there is still one quarter unaccounted for.
To put it another way: Most investment funds with commercial property in their portfolios are scarily underwater and are finding it hard to unload them in these vanishing market conditions.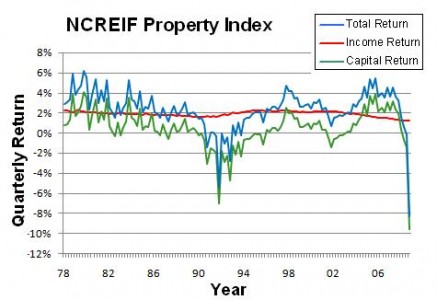 To put it yet another way: Check out the NCREIF index in visual form above. See the inverted spike of the current crash? Keep going lower. The graph is slightly dated, so the tip of it should be placed well into the margins. Now compare it to the inverted spike of the early 90's on the left. See how our crash is already almost three times as bad?
Well guess what? That's exactly the opposite of what Mulligan predicted. According to him, today's slump in the non-residential sector would not be as bad as the crash that happened in the 90's because the ratio of residential to non-residential structures was 1% lower today than it was back then (meaning that there were 1% less commercial buildings when compared to residential ones). It is a weird comparison to make, as if the supply and demand of office space and housing are locked to each other. Seems like Mulligan got lazy, grasping at any data that would give his boosterism credibility. That's part of Mulligan's economic prowess, I guess: the ability to shill by shifting numbers around, but not the ability to get things right.
Moving on to Exhibit C of the Mulligan smackdown:
"We all know that there is a nationwide surplus of housing. But there is little if any nationwide surplus of non-residential buildings . . . it is a mistake to assume that commercial real estate shares the housing sector's ailments," he so presciently wrote.
Ah, yes. Just because we built too many houses does not mean we built too many office buildings, right? Well, wrong. About the only thing different between the two real estate markets is that the commercial side of it started crashing a little later. The timing and speed of their rise and fall were slightly different, but in the end, the two real estate markets followed very similar bubble trajectories.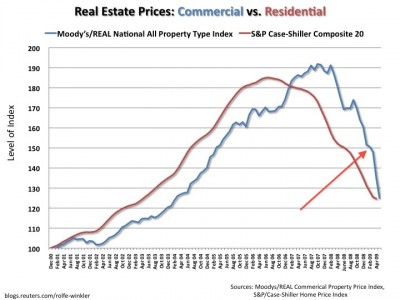 See the place I marked with the red arrow on the chart above? That's when Mulligan used Chicago School's patented free-market statistical analysis to predict that commercial real estate prices weren't going to drop much further, weeks before that little flatlining knob plunged downward at a nearly vertical pitch.
How did Mulligan manage to get it so wrong?
Hard to say, but what is clear is that anyone with a functioning brain stem could see that commercial real estate was the next bomb to drop a year ago. It couldn't have been more obvious that Mulligan would be proven wrong, so totally, obvious-to-anyone-who-reads-Bloomberg-News-or-walks-through-business-districts wrong that it truly is funny, in a what-the-fuck kind of way. Kinda reminds me of the Chabad-Lubavichers, a weirdo Jewish Orthodox sect in Brooklyn whose supreme leader started proclaiming that he was the second coming of the messiah who would bring peace and everlasting tranquility to Earth. All of his 200,000 followers believed him and worshipped him like a god in human form, and then the old man promptly died in 1994. Ever since, the movement has been pretending that the whole thing never really happened, but that hasn't stopped them from being the laughing stock of the Jewish world. And that's exactly the position Mulligan and the rest of the Chicago School minions should be finding themselves right now: ridiculed by their peers and divorced by their vapid wives, pelted with rotten tomatoes and fired without notice.
But that ain't where he's at. Mulligan still enjoys a blogger position at the New York Times, and still spews incoherent freemarket dribble and economic predictions, which proves that for the idiots running this country, it's all about the "free markets" and the "free pass for whatever fuckup I make, no matter how disastrous the consequences for you!" People like him need to be outed and ridiculed as a matter of public service. Have they no memory or shame?
There was a great psychology study done at Cornell about a decade ago called the "Unskilled and Unaware of It: How Difficulties in Recognizing One's Own Incompetence Lead to Inflated Self-Assessments." The experiment proved that stupid people are consistently, pathologically unable to recognize their own mistakes. Their brains just weren't wired for "learning from mistakes"; in fact, they were always convinced that they were always right, reality be damned.
We argue that when people are incompetent in the strategies they adopt to achieve success and satisfaction, they suffer a dual burden: Not only do they reach erroneous conclusions and make unfortunate choices, but their incompetence robs them of the ability to realize it. Instead they are left with the mistaken impression that they are doing just fine.

. . .

It is one of the essential features of such incompetence that the person so afflicted is incapable of knowing that he is incompetent. To have such knowledge would already be to remedy a good portion of the offense.
That's right, some people are just born too incompetent to learn, no matter what. They're missing the necessary brain module. They didn't come equipped with the deluxe instant playback analyzer package that most of us come standard with.

Howler monkey to Mulligan: "You are the weakest link"
"Unskilled and Unaware of It" goes a long way to explaining the Mulligan phenomenon: the ability to keep on consistently and shamelessly spewing wrong predictions. Thoughtless shill-drones like him may be semi-hairless, five-fingered bi-peds with linguistic abilities, but they aren't really human beings like the rest of us. Learning ability-wise, they're more on level with Costa Rican howler monkeys—the dumbest, loudest, shrillest primates around. And last I heard, they had open huntin' season on the howler monkeys down there because not only does shooting howlers make for good fun, those stupid monkeys make for some good eatin's.
(Mark Ames contributed his vanity to this article.)
Yasha Levine is a McMansion inhabitin' editor of The eXiled. He is currently stationed in Victorville, CA. You can reach him at levine [at] exiledonline.com.
Read more: casey mulligan, chicago school, Commercial Real Estate, dumb, economics, howler monkey, mulligan phenomen, Yasha Levine, Gloats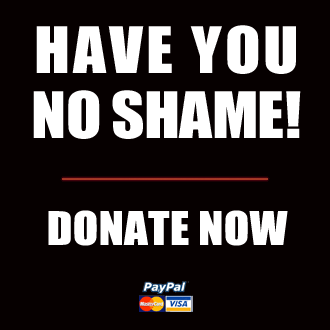 Got something to say to us? Then send us a letter.
Want us to stick around? Donate to The eXiled.
Twitter twerps can follow us at twitter.com/exiledonline