By Mark Ames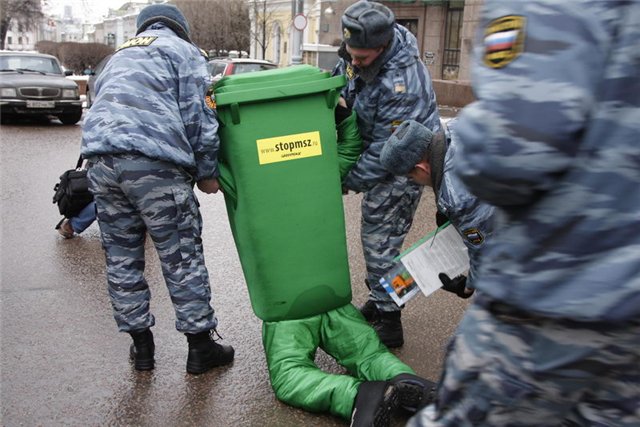 Like all healthy folks, I hate cops. The only thing worse than cops are Russian cops. And the only thing worse than Russian cops are the OMON–the Interior Ministry's paramilitary goons famous for brutalizing anyone who dares to oppose the Kremlin. At the same time, I'm for just about everything Greenpeace is for. All of Norway isn't worth one whale. So why do I find myself tipping my hat and shouting out a big "thank you" to the OMON for stomping and arresting a Greenpeace activist? Could it be because of his annoying-as-fuck mascot costume, which screams "Stomp Me!" Look at the pictures below and try to tell me that not only were the OMON totally justified, but they showed incredible restraint. Too much restraint, given the costume's crime–where, I ask, were the OMON's famous dubinki (clubs)?
Some background: the Greenpeace activist is on a campaign to promote recycling trash in separate trash cans. So a couple of days ago he goes to the Mayor's office in central Moscow to deliver his letter along with a toy model of a green trash collector truck. Fine. Anyone who knows Moscow knows what a filthy city it is, people tossing trash wherever the Hell they feel like. I support the guy's larger goals, but… that fucking costume! Showing up in front of the notoriously brutal Moscow Mayor's office is asking for it. It's like suicide-by-OMON. As they said in Apocalypse Now, the Greenpeace guy's goals may have been initially right, but his methods are… unsound.  Terminate his schtick, boys. With extreme prejudice…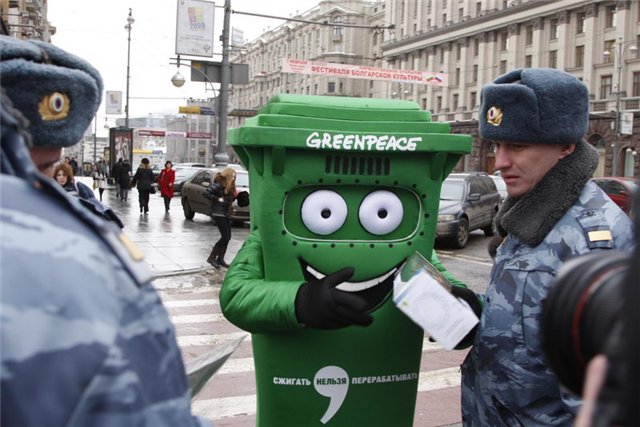 "Howdy-ho ociffers! Ha-ha! I'm Grisha the Greenpeace trash can, yippee! Here's a toy for you. I'll teach you about separating trash and keeping our city clean! Boy is this fun! Ha-ha!"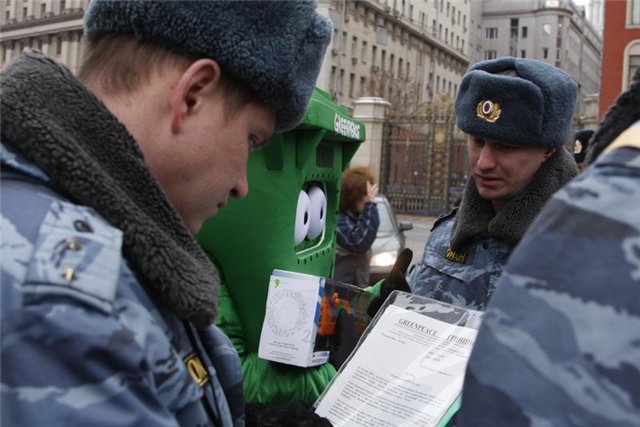 "Here's my letter to the Mayor. I just know he's going to read it! Wee-hee, woo hoo! Boy, isn't this fun kids? Why are you calling me a 'piderast' and what does 'cho blya' mean, sir?"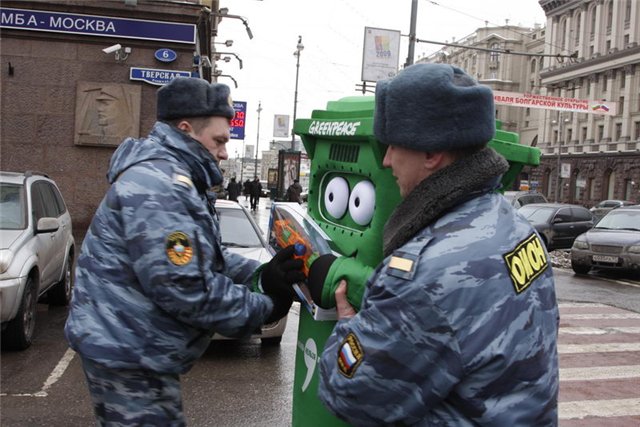 "Wee! We're gonna dance! Let's dance for cleanliness! Weee! Don't squeeze too hard on my arm, Grisha the Greenpeace trash can is very sensitive!"
"Oww! Fuck! You're hurting me goddamnit! You're shaking me out of my shell! My legs, my arms!"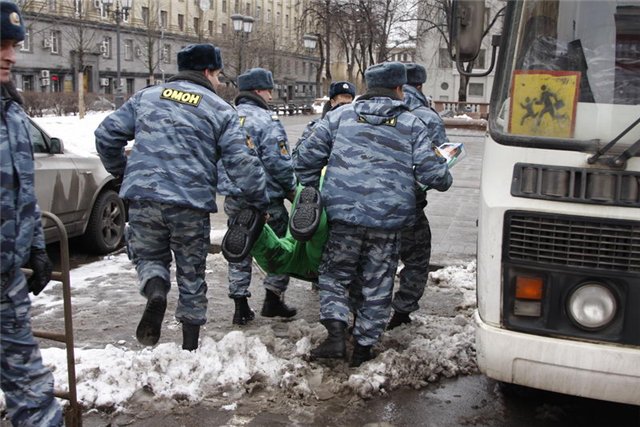 "Attica! Attica! Aaaaaahhhhhggggg!"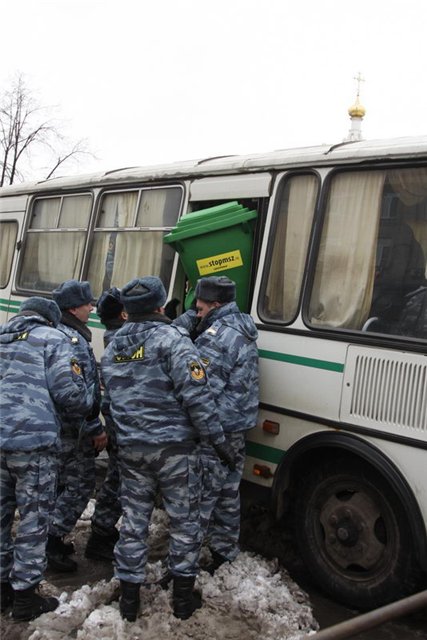 The trash arrests the trash can.
And just in case you're feeling sorry for the bastard, check out this excruciating techno video he made. I rest my case.
Read more: Greenpeace, moscow, omon, Mark Ames, Russia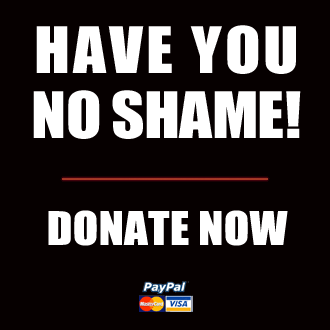 Got something to say to us? Then send us a letter.
Want us to stick around? Donate to The eXiled.
Twitter twerps can follow us at twitter.com/exiledonline