By Mark Ames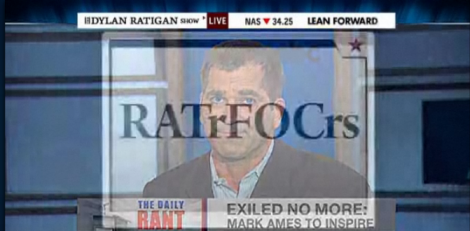 UPDATE: We've set up a "FOC the RATS!" website, click here.
Mark Ames unveiled on MSNBC's Dylan Ratigan Show the long-awaited answer to waffentwerp Grover Norquist's anti-tax crusade: It's called Real Americans For Tax Reform. [Read the transcript of "Manifesto" below the video.]
Folks, we all agree that the American middle class's Golden Age was during the Eisenhower presidency of the 1950's. And we also know that the top tax rate under Ike for the richest Americans was 91%. That's 91%. Repeat: The rich paid 91%. So if America is going to be great, we must tax great.
Already, Real Americans for Tax Reform has formed a coalition with the Foundation On Constitutional Reform to create a new mega-movement of grassroots activists called RATrFOCRs. The goal: To force every single Democratic Party candidate to sign a pledge to raise taxes on the top .1% riches Americans, so that they pay the same tax rate they would have paid under President Eisenhower, during the Golden Years for America's middle class. In other words, the richest Americans would have to pay a 91% tax rate again. Sure, it'd mean the rich would have to take a bit of a haircut, but if Ames can do it [see photo], so can Bill Gross.
Watch Ames roll out RATrFOCR on the Dylan Ratigan Show, and behold the magic of history:
TRANSCRIPT FOR THE "REAL AMERICANS FOR TAX REFORM" MANIFESTO:
Normally I like to come on this program and deliver a message of hopelessness and despair. But today's different. Something about the way this whole "deficit crisis" is being managed on behalf of the rest of us – the way a handful of sleazy old politicians are holding a hissy-fit competition to decide just how miserable we're going to be when we hit retirement age. Don't get me wrong, we're all going to be miserable in our old age no matter what—I'm already miserable just talking about it—that's not the question. The question they're deciding for us is: How much more miserable can the politicians, and their billionaire sponsors, make us? In medieval times, they held jousting tournaments to decide things like love and marriage; in our time, they hold door-slamming contests to see who can impoverish retirees the most.

So given all this, I've decided there's no point spreading my own little message of hopelessness. That's like backing up over roadkill–and doing donuts on it. I'm giving up on giving up. Instead, I'm ready to do something. The question of course is, how?

Dylan, Joe Klein and watching Stephen Colbert a few weeks ago summed it up for me: Be The Grover Norquist. Grover looks at government the way Jeffrey Dahmer used to look at confused young men; something you drown in a bathtub and hack into bite-sized pieces. And to make that dream possible, Grover has dedicated his life to slashing taxes on the rich. He heads a group called "Americans for Tax Reform" and thanks to Grover, Republicans are terrified of even whispering about raising taxes on billionaires–or it's straight to Grover's bathtub with them.

Now this may seem strange, but I was actually inspired by Grover Norquist. Because it shows that one person can make a difference.

And so, here on Msnbc's Dylan Ratigan show, I'm announcing the formation of a new deficit-crisis group called Real Americans for Tax Reform. Already, RATrF is forming a coalition with another like-minded group called the Foundation On Constitutional Reforms, together forming RATr-FOCRs. So, "Meet the RATrFOCrs".

Our platform is simple: We believe in restoring America's greatness, to our Golden Age under President Eisenhower. And to be great, we must tax great. That's why Real Americans for Tax Reform believes in restoring President Eisenhower's tax rate on the richest one-tenth of 1% Americans. Since the top income tax rate under Republican President Eisenhower was 91%, they're gonna feel a little pinch for once, because right now they pay about a third of that. For everyone else, the maximum effective tax rate would drop to whatever billionaire Pete Peterson pays today, which is—yep, just 15%. Real Americans for Tax Reform has drawn up contract—a pledge—that it will badger every Democrat to sign, and if they don't sign on, one of our members will dress up in a Grover Norquist costume and follow them wherever they go.

So, America, grab your pitch forks—and your rat traps—and get ready to join the RATrFOCR Revolution!
Don't forget to watch the Dylan Ratigan Show weekdays at 4pm EST, 1pm PST. Also check out Ratigan's website and make sure to download Ratigan's excellent podcasts at Radio Free Dylan.
Mark Ames is the author of Going Postal: Rage, Murder and Rebellion from Reagan's Workplaces to Clinton's Columbine.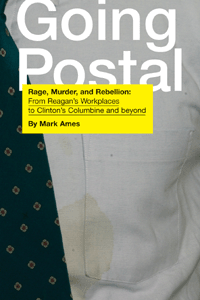 Click the cover & buy the book!
Read more: eisenhower, grover norquist, Mark Ames, eXile TV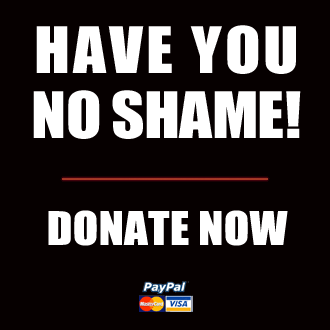 Got something to say to us? Then send us a letter.
Want us to stick around? Donate to The eXiled.
Twitter twerps can follow us at twitter.com/exiledonline