By Gary Brecher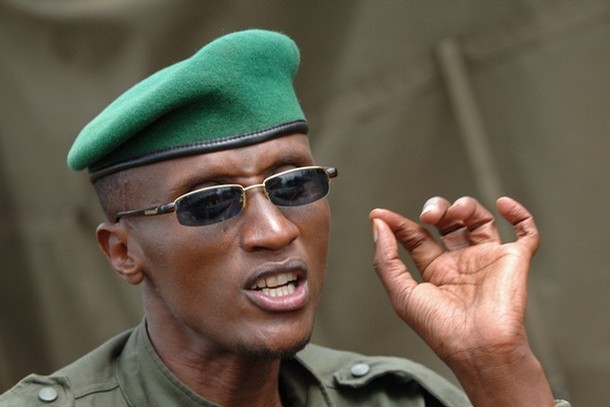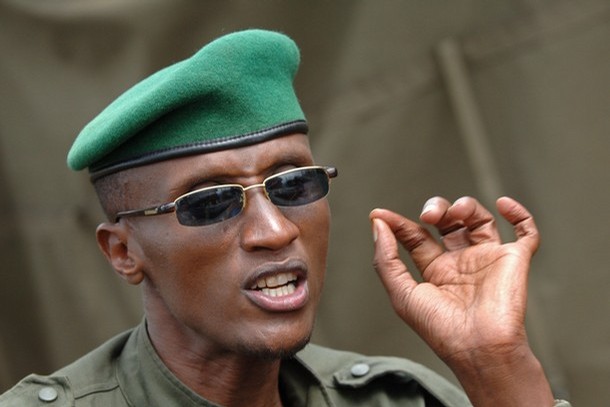 Laurent Nkunda: War Nerd Hero
If you ever want to find a real hero, here's one way to recognize him: the TV news will be making him into a monster 24/7. Today's monster hero is the Tutsi general Laurent Nkunda, the leader of the "rebel" forces that are supposedly "closing in" on Goma in Eastern Congo.
The BBC, the only news agency that even pretends to take Africa seriously, has its number-one ghoul reporter, Orla Guerin, on Nkunda's case every day.
You may not know Guerin's name but if you like war news you'll recognize her, because you've probably seen her reporting from some African death zone. She fits right in in those places, really comes into her own. She's got the face of a skull, except skulls smile, and some creepy accent that makes you think of cold porridge and leftover damnation. Wherever she's from, they must have had a party when she left.
In this BBC video you'll see Orla talking about what a shame it is that the "refugees" at Kibati Refugee Camp have to stampede for food, worried as they are about being overrun by Nkunda's "rebels." The way Orla and the other networks are telling it, everything was just fine in Eastern Congo until the bad "rebel" leader Nkunda ordered his troops to advance. When the innocent "refugees" heard Nkunda was coming, they started running, creating a "human rights crisis."
The print media is getting in on it too, with the Brit rag The Guardian saying that Nkunda's troops may have actually "killed civilians," as if that was anything unusual in Central Africa.
The Guardian's account barely mentions that the "civilians" killed were in a "stronghold of Hutu militias"—the same militias that killed most of the Tutsi population in Rwanda back in '94. It's like if the Jews had formed an army to push back the Nazis, and when the poor Nazis fled next door, the Jews did an occasional incursion to discourage the Nazi "refugees" from returning to their genocidal ways. And that's an atrocity. Except the Nazis, give them their due, were brave as Hell and fought to the last man; the Hutu "militias" were only good a hacking babies and raping little girls, and fled at the first rumor that the enemy was approaching. That's why they're still around.
Every word, every disgusting damn word, of these BBC and Guardian stories is bullshit. actually makes me sick, listening to these stupid lies over and over. The reason Nkunda's little army (estimates range from 5000 to 10000 men) advanced into Eastern Congo this week is that the Hutu gangs were getting a little too aggressive about jumping ethnic-Tutsi villages in eastern Congo, killing the men and kidnapping women and girls as sex slaves. Nkunda knows very well nobody else will protect the Tutsi, for the simple reason nobody ever has. So he went in to do it himself.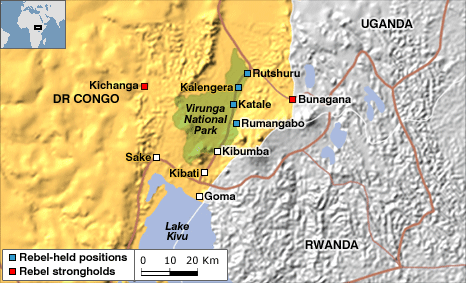 Nkunda is a great man, a brilliant man, a hero, a military genius who speaks four languages and has beaten the biggest armies around with a force of less than 10,000 men. He's the only decent leader that part of Africa's ever seen. It's worth looking at the way they've been slandering him, because you'll see the same techniques used to slam any real hero.
Let's start with the oldest trick in the book, calling somebody you don't like a "rebel." How did the BBC decide that Nkunda is a "rebel"? Doesn't there have to be a government, law and order, before you can rebel against it? Who is Nkunda supposed to be rebelling against? There's no law in the forests of Eastern Congo. The UN has a pitiful token force of blue helmets wandering around slapping mosquitoes and bargaining for blow jobs with the local girls, but the real power there before Nkunda's forces marched in was held by the leaders of the Hutu "refugees."
"Refugee"; now there's another wonderful word, a good match for "rebel." It makes the Hutu the innocent victims, shivering in fright at the approach of the bad ol' Tutsi. Well, of course that's another do-gooder lie. These "refugees" are gangs run by the worst people in the world: the leaders of the Interahamwe and Impuzamugambe, the Hutu "militias" who massacred 800,000 Tutsi men, women, children and babies in Rwanda in 1994.
In fact, "militia" is way too good a name for these overgrown death squads. You'll find the BBC and the other networks have a whole range of names for kill groups: "terrorist" if they hate you, "paramilitary" if they're not sure but wouldn't invite you to their kids' birthday parties, and "militia" if they like you. Calling the Hutu genocide squads a "militia" is like calling Columbine a kids' prank.
The reason these Hutu are out in the jungle is simple: they massacred almost a million fellow Rwandans in less than four months, back in those happy Clinton years, and then ran when the Tutsi, who've always been braver than the Hutu, formed a small army, the RPF, and chased the much bigger "militias" out. The truth is that the Tutsi behaved so well through the whole thing that the world ought to be cheering them. I tell you, if I'd been in command of the RPF when it marched back into Rwanda stepping over piles of stinking corpses chopped up with machetes, I would have taken my cue from Foday Sankoh's name for his nutcase army's advance on Freetown up in Sierra Leone: "Operation Kill Every Living Thing." But the Tutsi didn't do that. They took no revenge, let the Hutu live and even tried to set up a decent government from both tribes. They're fucking saints, and they're supposed to be the bad guys here?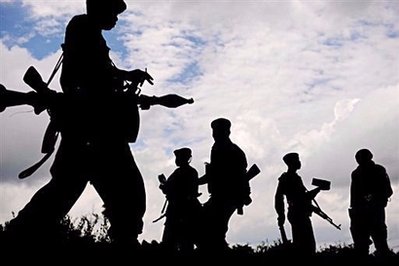 Let me remind you again, since nobody seems to want to remember: eight hundred thousand Tutsi civilians chopped to death with machetes in less than four months. It was a real community effort by the Hutu, like one of the Amish barn raisings, only bloodier. If you want a good look at how they did it, I recommend a book called Machete Season.
It's very simple, totally straightforward, just interviews with a gang of Hutu farmers who spent three months making daily expeditions into the local swamp, where surviving Tutsi civilians were trying to hide. They all tell the same story: "Every morning we got up, took our machetes and looked for Tutsis to hack to death. Sometimes we gang-raped the pretty girls, because those Tutsi girls have such soft skin from all the milk they drink. But we'd kill them too when we were done. After weeks of killing the Tutsi didn't even resist any more. They just stood there and waited for us to finish them off. We had the time of our lives."
Read more: BBC, Congo, Goma, Laurent Nkunda, Tutsi, Gary Brecher, The War Nerd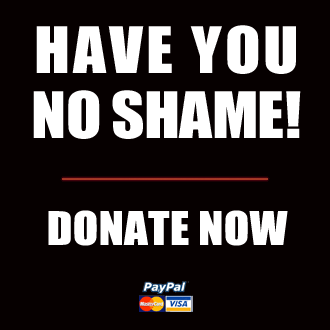 Got something to say to us? Then send us a letter.
Want us to stick around? Donate to The eXiled.
Twitter twerps can follow us at twitter.com/exiledonline