By Hank Pazzo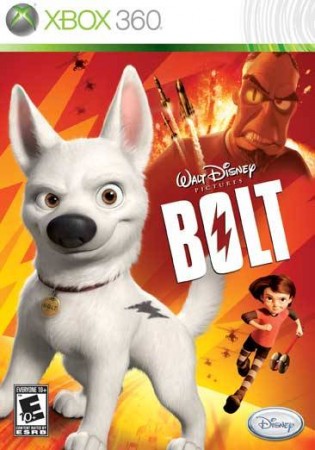 Editor's note: This professional video game reviewer works in a cubicle labyrinth at one of the biggest video game magazines in the world. He is forced to review video games nine hours a day, five days a week. This is a look at what goes through a reviewer's mind when he's reviewing kids games.
The Cover: Here we have a white dog with a saucy look on his face like he's about to fuck your shoe. And he has a black bolt on his shoulder. He must be Bolt! He looks like Patton Oswald covered in hair. There's also a little androgynous sheboy running up behind him with what looks like a rectal thermometer for super dogs. But it's probably something lame.
Turning to the back cover: Yep, the thermometer is actually a scooter, because the girl is riding it with a saucy look on her face like she's about to fuck your shoe and then tell people you made her do it. Also, she's holding Bolt under one arm who has the stupid/happy/surprised look on his face that Patton Oswald gets whenever someone recognizes him. The bold action print at the top says "Live the action star life!"
As I've been jotting these notes, the game has been going through its demo display on my TV. It consists of the title screen, some gameplay clips and awful quiz-show music. This must be what it sounds like inside a hyper active child's mind. Every thirty seconds or so, the game screams: "He's beyond awesome, he's be-awesome!" Be-fucking kill me. The gameplay clips have shown bits drawn from Splinter Cell, Metal Gear, and Geometry Wars. If Penny breaks just one neck, this will all have been worth it.
Now we begin.
The menu says my options are:
Play Game
Play Mini Game
Audio Options
Extras
Drink More Vodka
Just kidding, that last one's not an option. Or is it always an option?! HELP!! Bolt is be-awesome! Oh god.
Soda pop leaking onto a couch in front of a Bolt dvd. Hamster crawls up sips soda, eats popcorn out of his hamster ball. He says some wacky shit, then hits a button on a remote. I think I'm playing what he's watching.
It's dark and raining, somewhere off the coast of Italy, and I'm a little girl. I jump on some rocks, then I get prompted to use my enhanced vision to show me where to go next. I must climb along a pipe. I jump up some rocks and break out the scooter/thermometer. I try to sneak by an enemy, but he sees me! He says "Don't move!"
So I beat him to death with my scooter! That has to be one of the most embarrassing video game deaths ever, right?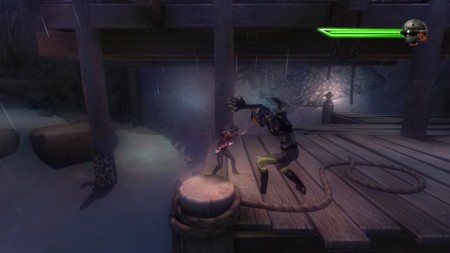 Next I used my scooter to break a lock on a gate. Scooters, the next great thing in burglary/homicide!
So I just did a sneak attack where I impaled a bad guy with my scooter, and then licked blood off the wheels. This game is awesome! Just kidding, I kicked him off a cliff. He flailed hilariously, then fell to his death. Then Penny just stood there, looking at the spot of the crime for like two minutes while I was writing this. Fucking psycho.
Karma strikes, Penny just launched herself off the same cliff in a moment of psychotic guilt. Actually, I mistimed a double jump. But I was robbed of the sight of her little body landing on the rocks by a black square commanding me to try again. And she's back on her feet, a little girl Jason Voorhees.
So turning invisible and throwing gas mines uses energy. Killing people gives energy. Got it.
Just had to do one of those God of War button press sequences. You know, the ones where you like stab a gorgon in the eye, then spit in the hole, then slit its throat? Yeah, well, in this one I jumped on a rock, then I jumped off it. Be-awesome!
I just killed a man and his money swarmed to me like flies.
I think Penny is on some kind of perv revenge trip. This is straight out of I Piss On Your Grave. I'm pretty sure she's been crying this whole time…and laughing. Hard to tell though because she's wearing a mask. Oh, I just fell through a skylight and got captured. Oh, Bolt is here, she says "Sic em!"
OH MY GOD, he fights just like the EVIL WHITE RABBIT from MONTEY PYTHON AND THE HOLY GRAIL! WHY AM I YELLING?!
Read more: bolt, review, video game, Hank Pazzo, Entertainment, Video Games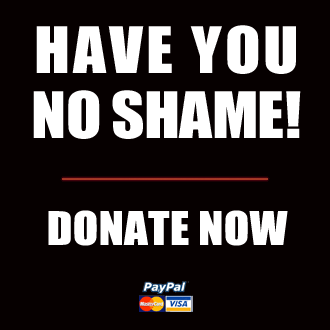 Got something to say to us? Then send us a letter.
Want us to stick around? Donate to The eXiled.
Twitter twerps can follow us at twitter.com/exiledonline