By Eileen Jones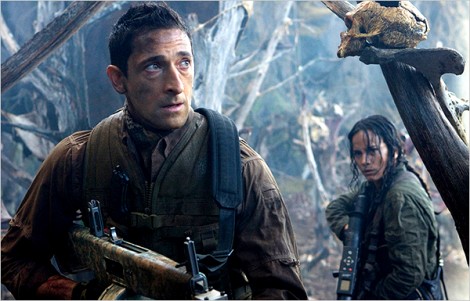 I found Predators to be amusing as hell, but then, I was in just the right mood for it. I'd had one of those brain-melting work weeks when you do nothing but talk to people, prepare to talk to people, and talk to people some more. At the end of it you either want to sit in a dark, silent room staring at the opposite wall, or you want to see a violent action film showing many people killed. People who talk, that is. First they talk, then they're horribly, gruesomely slain.
And that's Predators all over, my friend. The hero is the guy who talks the least. As it should be!

Well, admittedly, the guy I'm calling the hero isn't technically the lead character, Royce, played by Adrian Brody with commendable intensity and muscle. Brody's character is only the second-least talkative guy. The least talkative guy is the yakuza played by Louis Ozawa Changchien. At first you think he's silent because he can't speak English with the other English-speakers, but later it turns out he's silent because he's learned a thing or two about life.
The yakuza is dropped into an impenetrable jungle wearing a natty suit meant for cutting a swath in downtown Tokyo, and it's very endearing to see him stand there with quiet dignity in the dense foliage, assessing his desperate situation. The movie starts off by dropping our leads into this jungle. In fact, kudos to the filmmakers for the opening scene, which is Adrian Brody plummeting through the air, waking up in freefall, and howling in terror as he tries to open his parachute. Nice!
Not everybody recovers consciousness in time to open his or her parachute, see. The new arrivals that survive the fall naturally go into red-alert mode and starts reaching for any weapons they might have on them. A lot of shooting and shouting ensues before they sort out the fact that they've all been mysteriously planted there by unknown aggressors for unknown purposes, and that they'd better try to cooperate if they hope to escape.
We're way ahead of them, of course, because we've seen the first Predator—blessings be upon it!—plus we know about The Most Dangerous Game and its many film adaptations. That's the one about humans as the Most Dangerous Game, hunted by other humans who've set up a game preserve for that purpose. It's all very allegorical, or something.
Anyhoo, that means the evolutionarily superior aliens from Predator, with their double-set of fangs and weird four-pointed jaws and dreadlocks and amazing camouflage abilities and advanced weaponry and heat-seeking night vision and all that, are hunting our multiculturally diverse cast of human badasses.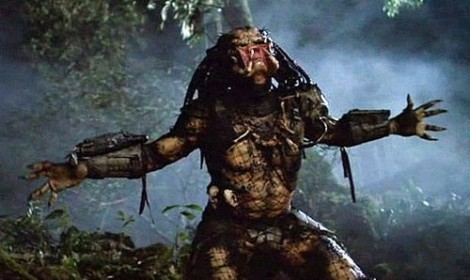 There's Danny Trejo as a Mexican drug cartel enforcer, Walter Goggins as a pathological serial killer, Adrian Brody as a mercenary, Oleg Taktarov as a Russian soldier, Mahershalalhashbaz Ali as a death squad goon from Sierra Leone, and token female Alice Braga as an Israeli army sniper.
Topher Grace plays the weenie American doctor, the only character that doesn't seem to fit the scenario, so you can start guessing where that plot strand is headed.
And Laurence Fishburne turns up eventually as one of those total nut-job scavenger types who always seem to have tremendous survival skills though you wouldn't think it to look at them. Fishburne's got a serious potbelly, suggesting he must be really good at scavenging. Boy, does he ham it up!
You can guess who's going to live to fight another day in any sequels that might be forthcoming, because the characters will be picked off by the aliens one by one in formulaic order. This is an exuberant B-movie; it's not trying to be innovative. Producer Robert Rodriguez has his heart in the right place when it comes to his efforts to keep lively genre films cranking out on our screens.
Of course, some of these genre film clichés and stereotypes are lamentable (woe unto the darker-skinned, for ye shall perish first!) but some I wouldn't part with for the world. There's a point when the yakuza happens to find a samurai sword in the jungle—apparently the aliens have been hunting humans for centuries and all that guff—so you know what beautiful death he's going to choose, and he does, in a gorgeous field of waving grass, and it's terrific. Director Nimrod Antal—yes, that IS his name, you wanna make something of it?—has clearly seen a lot of films and isn't the least bit shy about ripping them off. In a few of the slower scenes you can entertain yourself counting up the cinematic allusions.
Most amusing scenes: the serial killer realizes he only has his prison shank to defend himself, and throws a petulant tantrum when nobody will share a gun with him; Fishburne's nut-job scavenger talks to his imaginary friend; Adrian Brody quotes Ernest Hemingway on the joys of killing humans; Adrian Brody first reveals his incredibly ripped arms, then goes shirtless to show off the matching torso.
I was kind of surprised he didn't do the Full Schwarzenegger and go nude to his ultimate primal battle with the alien, but maybe that would've been taking anatomical display too far. Schwarzenegger didn't really look human in his Predator days, which was perfect for 1980s action film.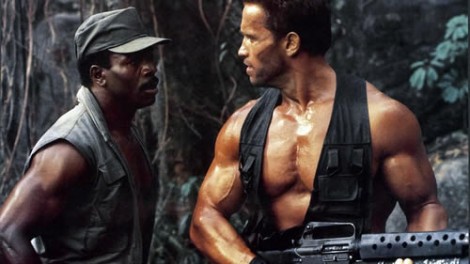 The least amusing scenes involve the female character having to carry the burden of femaleness, i.e., having to care about people, and harp about it at the least convenient times. You know somebody's got to do it in these kinds of films, and if there's a woman or a girl, she's automatically stuck with it. If there's no female, the nominal hero himself usually has to deal with it, far more grudgingly. You know the type of sequence: when somebody's horribly wounded in a chase scene, for example, do you drag them along, leave them behind, or shoot them and put them out of their misery before running like hell? When it's an all-male action film, there's some serious tension around these questions, because it will involve a real moral test. But when there's a female there, it becomes strictly a gender issue; she'll want to drag the wounded along purely because she's a girl.
Some stereotypes are tough to amend.
Read more: action film, Adrian Brody, Alice Braga, Aliens, Arnold Schwarzenegger, B-movie, genre, Laurence Fishburne, Predator, Predators, The Most Dangerous Game, Topher Grace, yakuza, Eileen Jones, movies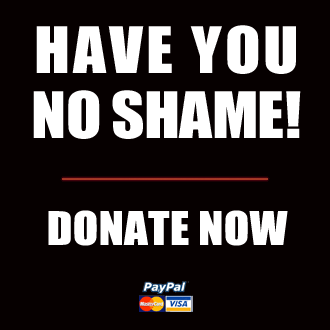 Got something to say to us? Then send us a letter.
Want us to stick around? Donate to The eXiled.
Twitter twerps can follow us at twitter.com/exiledonline