By Eileen Jones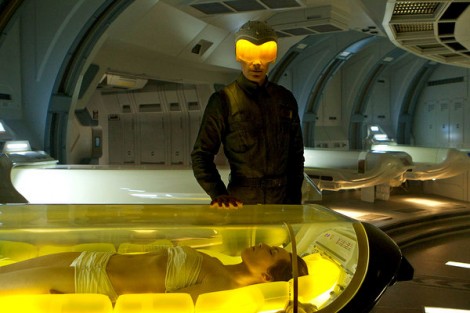 By now I'm assuming you've seen Prometheus, and we can talk freely. If not, beat it, because I'm telling all, plot-wise.
Prometheus starts out gangbusters, so beautiful and ambitious that you have to wonder how Ridley Scott is going to manage to screw it up. He does screw it up, of course, but the thing is, I don't know why he does. He had it; it was all right there in the first scenes, all he had to do was play out the implications.
So, the first scenes. Glorious but chilling blue-grey landscapes devoid of life, in a succession of shots, the last one of a roaring waterfall over rocks, above which hovers a spacecraft. Into this shot comes a robed figure pacing up to the edge of the falls. He's revealed to be a tall wondrous biped, looking like an ancient Greek statue come to life, with marble grey-white skin turned soft and porous, and each muscle group delineated. He drinks a cup of liquid that immediately causes a leprous blackness to fill his veins and blotch his skin and spew out of his mouth and rend him apart all the way down to the molecular level—we get to see his DNA coming unhooked—as his body falls down into the rushing water. And out of this self-annihilation, new cell combinations begin…
So this is our Prometheus, who destroys himself to create human life on Earth. And the movie's going to be filled with would-be Prometheuses —Promethei?—committing mad acts of creative self-destruction, supposedly to benefit humanity, as they pursue their mission to find our tall creators.
(You remember Prometheus, right? Titan who created humanity from clay, stole fire from the gods for our puny benefit? Punished by Zeus in a really colorful way for messing in the Greek gods' domain? Big symbolic figure for Enlightenment types seeking knowledge through scientific rationality? Mary Shelley titled her novel Frankenstein: A Modern Prometheus? Any of this ringing a bell?)
Next sequence, it's literally ages later and you get the scientists Elizabeth Shaw (Noomi Rapace) and Charlie Holloway (Logan Marshall-Green) discovering a cave painting featuring a Titan-figure gesturing up at the planets, and surrounded by small worshipful supplicants. This proves their theory of human origins! Quick, into the sleep chambers, we're off on the spaceship Prometheus!
Then you meet the android David, played by Michael Fassbender. A word about this Fassbender. He's in everything lately, reportedly sporting an immense dick in many nude scenes, though I haven't actually watched any of the films in which he's swinging it around. I only saw him as Mr. Rochester in the recent Jane Eyre, a role calling for no nudity but lots of brio, which he hasn't got, so I wasn't too impressed. He's an odd-looking actor with an almost clichéd-handsome, high-cheekboned, square-jawed face and prominent rows of even white teeth, like a piano. He also has a strangely repressed, slightly effete manner.  Which, happily, is perfect for the android David. He'll never get a better role!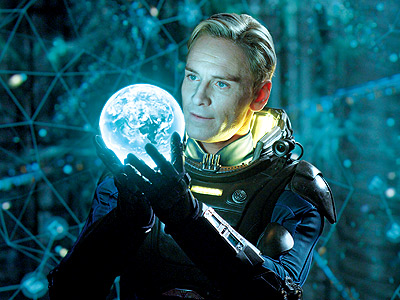 David starts off seeming to be a very traditional android in the sci-fi mold, too politely submissive and soft-spoken, like so many dangerously repressed sci-fi robots and androids before him. But then we see how cleverly Scott and company intend to complicate him and use our genre-sense of having known many an android before.
David's duties on board include monitoring the sleeping scientists, which isn't too taxing, so we see him occupying himself with various interestingly self-improving activities such as learning multiple ancient languages, and riding a bicycle in soothing circles while scoring a series of incredible basketball hook shots. He also watches David Lean's Lawrence of Arabia on a vast screen, while dying his hair yellow-blonde—just touching up the roots a bit—in imitation of Peter O'Toole in his famous star-making role as T.E. Lawrence. (Later O'Toole commented on his own appearance: "I looked like a dissipated schoolgirl.")
With David we watch the great scene from Lawrence of Arabia in which Lawrence, not yet a transcendent figure, impresses his fellow army officers by putting out a lit match with his fingertips. They discover that this "trick" hurts considerably. "The trick is not MINDING that it hurts," says Lawrence, and David walks away from the screen practicing the intonation of the line, "The trick is not MINDING that it hurts."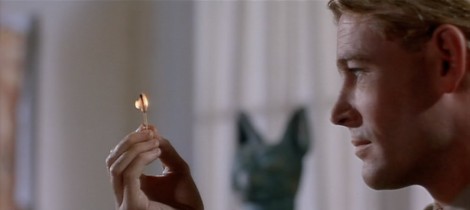 So this android is modeling himself on a would-be Prometheus figure, the movie-human-Lawrence, and this should turn out to be amazing and complex and sinister in a hundred ways.  For starters, David's model, movie-Lawrence, later finds out it will hurt, hurt so tremendously in unforeseen ways that even a man with a high physical pain-threshold will mind, say, being brutally raped, will mind humiliating failure, will mind recognizing his own moral rot. Plus, presumably androids already don't mind that it hurts, because it doesn't hurt—they can have their heads ripped from their bodies and carry on serenely. Or wait a minute, DOES it already hurt David, is David becoming a unique android, increasing all his humanlike sensitivities, growing himself a soul? And what will the repercussions be of growing a movie-Lawrence of Arabia-type soul?
In this film David is one of a chain of creations aspiring upward, or perhaps backwards, toward their creators, like a bunch of Frankenstein's monsters demanding to know, "Why hast thou forsaken me?" Though he already seems to know certain bitter truths about such a quest. Told by the obnoxious, eminently killable Charlie Holloway that humans created androids for no good reason, just "because we could," David sticks the shiv in: "Maybe that's why THEY made YOU."
Take that, humanity! You ain't such a big deal as you think!
And then I got where the whole movie was going. The human explorers will find these Titan parent-figures, our supposed creators, and they'll discover that, of course, there was only one Titan who created us and, maybe, liked the idea of us, only one "benefactor" of humankind, the Prometheus who died giving us life. That's the danger of generalizing from one extraordinary example. All the other Titans will be mega-sized bastards with nothing but contempt for humanity, eager to wipe us out as a nasty verminous experiment gone awry. (And, well, the Titans in general aren't wrong in this, but still. We like superior beings who can somehow retain their affection for humanity whether we deserve it or not. Like Abraham Lincoln and Michael Collins and arguably Jesus H. Christ, Prometheus-like beings who hung out patiently with us, trying to do us some good, till we killed them like the mean baboons we are.)
So obviously there'd be a lot of heavy parent-killing in the end of the movie. We'd discover that, once again, Freud and Darwin at their bleakest got it just about right. That's a conclusion I can't help but find refreshing in a Hollywood blockbuster, which so often tries to put a happy face on things.
At that early point of watching and predicting, I was sold. Hot damn, I thought, Ridley Scott is BACK, back as if from the dead, a mere thirty years after his two great filmic achievements, Alien (1979) and Blade Runner (1982).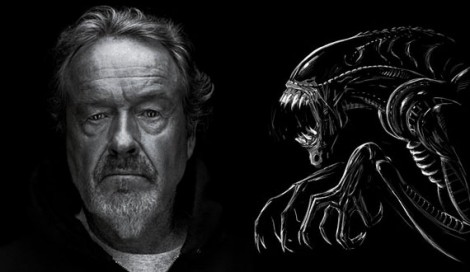 Not that two great filmic achievements is anything to sneeze at—that's two more than most living directors will ever have. Though a number of critics do try to sneeze at it, like Andrew O'Hehir of Salon:
So the first thing to say about Scott is that he has a mysteriously outsize reputation among his fans, who remain devoted to two Zeitgeist-shaping classics he directed many years ago ("Alien" and "Blade Runner," of course), and completely unaffected by all the ensuing mediocrity.
Not unaffected, idiot! It's simply that, once a director has shaped the zeitgeist twice, it's reasonable to hope he might be able to do it again someday, especially if he ever figures out he ought to return to the science-fiction genre that made him. Prometheus signaled to every sane film-lover that this could be the return of Ridley Scott, genius, even if he's an old man now and the number of great films created by old men is very, very small. Directing's a taxing profession, and past sixty or so, even the most gifted filmmakers can't summon up the old verve anymore. Yet we wait in joyful hope, and all that.
But Prometheus doesn't come off, after all. After the fantastic opening, it starts falling apart as rapidly as the poor misguided human-creating Titan on the edge of the falls. The basic sense-making through-line can still be traced out; it's sometimes buried, but often re-emerging, as if Ridley Scott kept losing the thread of the story he was telling and then trying to find it again. Senility setting in? Or maybe he was never really sure, maybe there were too many screenwriters revising each other right up to the day of shooting, as is too often the case, and that mimics the symptoms of Alzheimer's? The movie plays like that, as if suffering from light dementia, forgetting its own point from scene to scene.
Here's an example of a scene that exists in a vacuum, never followed up on, that should've either been developed or cut: Charlize Theron as Meredith Vickers, represents the corporation bankrolling the mission, and she's so icily slim and yellow-blonde she's clearly supposed to resemble the android David more than any human member of the crew. She's asked, provocatively, if she's actually a robot by the ship's Captain Janek, played by Idris Elba as the ultimate practical humanist. She immediately invites him to bed to find out for himself. And that's the end of that. Never referred to again. It's left as a trite misogynist come-on, and maybe that's all it really was, but both characters remain so stunted it seems there has to have been a brighter idea than that, originally.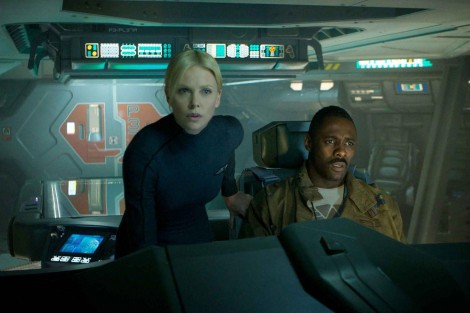 Certainly there had to have been more meant by the familial resemblance between Meredith and David, and the way she is edging from human toward alien while he edges from alien to human. She's one of the anti-Promethean cast members, not remotely drawn toward self-sacrifice or creative self-destruction, so self-guarding she's ready to kill people in anticipation of their becoming a threat to her.  Her father, the corporation head Peter Weyman, is initially presented in holographic form, supposedly speaking after death to encourage the scientists in their exploration. But he's revealed to be still alive, the king of the anti-Prometheans, ancient but obscenely hanging onto the last gasps of life, refusing to pass on so the next generation can thrive. (He's played by Guy Pearce under mounds of old-age make-up, a dubious casting choice when a real old man would've been a thousand times more effective.)
Meredith coaxes him, "It's the natural order of things. The King is dead, long live the…?" But he definitely doesn't say "Queen." He's funding the mission so that he can meet his maker and get "more life" (like the replicants of Blade Runner).
These scenes play like the tattered remnants of subplots and longer sequences that were sacrificed to the main storyline. For example, of the two sexual encounters occurring simultaneously, Vickers-Janek and Shaw-Holloway, it's clear the Shaw-Holloway scene has to remain there because it's more central to the narrative, so presumably the Vickers-Janek interaction was cut.
In this scene Shaw conceives a half-alien child. Holloway has been unknowingly infected with alien matter by David, who's experimenting with species-creation as coldly as any human, or perhaps as any Titan. So Shaw, who believed herself to be sterile, finds herself monstrously impregnated and rushes to abort the creature in a memorably sickening sequence that's the film's main high point after the splendid opening. The available medical technology on board has been engineered for male use; therefore, the pod that can be programmed to do on-the-spot emergency surgery can't do an abortion. Which means the only option is hacking out the fetus Caesarian-style.
Male or female, your whole body is guaranteed to start straining back against your seat to get away from the scene unfolding as the conscious Shaw jabs anesthetics into her midsection and programs the pod to hack her stomach open, extract the writhing alien, and staple her back up again. Then, bloody and howling, she's still got to get out of the pod before her own alien-baby attacks and kills Mommy.
As David says coolly, later in the film, "Doesn't everyone want to see their parents dead?"
Nice! And that's only the beginning of a very strenuous day for Shaw!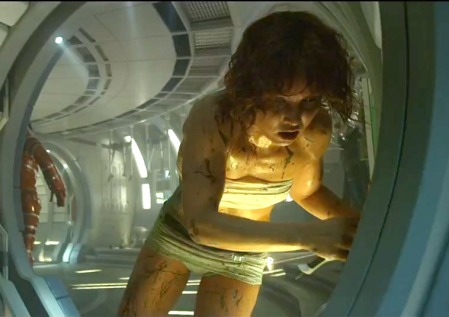 There are certain requirements of the Alien series, and one of them is the demonstrations of raging strength on the part of the female lead in the context of gender-inflected biological horrors. (Sex, procreation, gestation, birth, primal motherhood, all that stuff.) Noomi Rapace, gunning for American film stardom after her Swedish Girl With the Dragon Tattoo success, seems at first an unlikely candidate for the part. She's short, with chipmunk cheeks and an underwhelming film presence—the opposite in every way from Sigourney Weaver's Ripley—but she really comes into her own when doing screaming auto-surgery and running around half-bent over, clutching her stapled stomach for the last quarter of the film. Then it turns out her body is better at film-acting than her face; all her short muscles register clenched pain and shock and desperation, and you actually start to semi-believe a person with a stomach recently sawn-open could be sprinting and leaping and hauling heavy weight and so on.
Some critics really deplore the way the movie satisfies sequel/prequel and genre requirements and blame that on the film's overall failure. Here's Richard Corliss of Time registering jaded contempt:
…[T]he most memorable shock tactics in the original film are recycled with minor variations in Prometheus. The gut-buster scene in Alien becomes a Caesarean section here; the face-hugger attack in the egg chamber gets a nice elaboration involving a black python-like organism with similar powers of bodily penetration. You liked the talking severed android heads in Alien and Aliens? Then third time's the charm.
Even while I acknowledge there could've been, for example, more interesting minor-characters-destined-to-be-killed, I just don't see why Prometheus couldn't have both satisfied the sequel/prequel requirements and fulfilled all it's early promise as well. I'm telling you, all the necessary elements were right there.
But then I don't have a problem with either sequels or prequels or genre films or, in the case of Prometheus, all of the above. I hate to keep harping on this, but the whole raison d'etre of sequels and genre films is that they don't exist in isolation as pure, original works. (Well, what really does, if you get right down to it, but never mind—there's no reasoning with some people.) They're intended to draw on and refer back to and reflect on, explicitly, a series of texts that preceded them; that's why sequels/genre films/both are always potentially richer and more challenging than non-genre films.
If you don't believe me, you really must read On Film by philosopher Stephen Mulhall. It's a monograph on the first four Alien films, and it tells you why they're great and insightful and significant, and it clears up any stupid high-culture prejudices you still might have that prevent you from appreciating the power of sequels and genres.
For lots of critics, a genre film can't win for losing. Either it's bad because it's derivative (which it MUST be) and therefore, somehow, unserious and unmeaningful, or it's bad because it attempts to transcend expectations of genre by being overtly serious and meaningful. Prometheus gets slagged on all charges. Even the critics who sort of like the film tend to condemn its preoccupation with "grand themes" in sneering tones:
Prone to shallow ponderousness, Prometheus works best when it steps back from contemplating the cosmos to enter the domain of flesh-and-blood and hereditary terror. There are a few set pieces here that will find a place of honor among aficionados of body horror and all things clammy and viscous, that will stain the memory long after such significant-sounding bits of dialogue like "That being said, doesn't everyone want their parents dead?" have gone. (Nick Pinkerton, Village Voice)
Isn't it possible that such a line of dialogue is more than just significant-sounding, when you're watching a movie that, though an unholy mess, is consistently concerned with "parenting" in practically all its forms, from the godly to the insectoid? What is "hereditary terror" about if not a long chain of gruesome parental acts?
Anyway, to make a long review short, Prometheus is one of those big ruined films that are worth talking about in terms of how it got ruined, and how it might've been saved.
Discuss!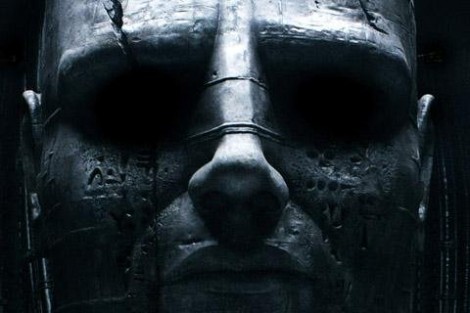 Read more: Alien, Aliens, Charlize Theron, Frankenstein, genre film, Michael Fassbender, Noomi Rapace, Ridley Scott, sci-fi, sequel, Eileen Jones, movies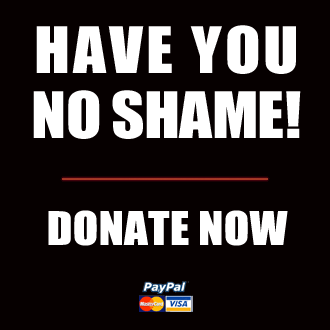 Got something to say to us? Then send us a letter.
Want us to stick around? Donate to The eXiled.
Twitter twerps can follow us at twitter.com/exiledonline