By Mark Ames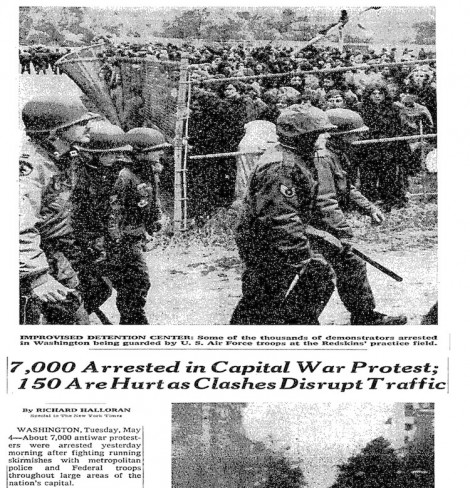 The New York Times, 1971: "Traffic disrupters, your time is through!"
Today's May Day protests are the first May Day protests on such a large scale "in memory." Not that Americans have a memory to speak of. Here's something to  jar that memory loose: Newspaper clippings of the big May Day protest in Washington DC back in 1971, when federal troops and police herded 7,000 protestors into an open-air stadium prison.
What happened was, tens of thousands of antiwar protestors planned to shut DC down on May Day 1971. So in response, tens of thousands of federal troops–including the 82nd Airborne–were called in DC to teach the longhairs a lesson they wouldn't forget. It wasn't even a battle; it was a "rout," as one newspaper triumphantly called it: Over 7,000 hippies herded into an open-air prison next to RFK stadium, turning the Washington Redskins practice field into a temporary concentration camp.
What was at stake for the police state? The media all agreed that there was no choice: Protesters were "disrupting traffic":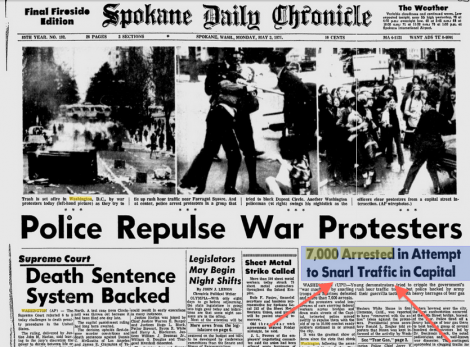 …So they frog-marched the filthy longhair Commie bastards by the thousands, to teach them never to disrupt traffic again…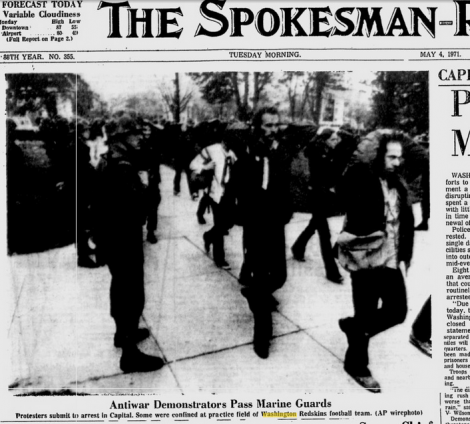 Hey, it was right around the time that the loss in Vietnam was sinking in. The Establishment figured they'd take their victories any way they could, and celebrate them shamelessly.
Thanks to the brave reporting by the New York Times, Americans were shown a photograph of an enemy-saboteur at work–some scared looking fool letting the air out of someone's car tire–to let the Silent Majority know what was at stake here: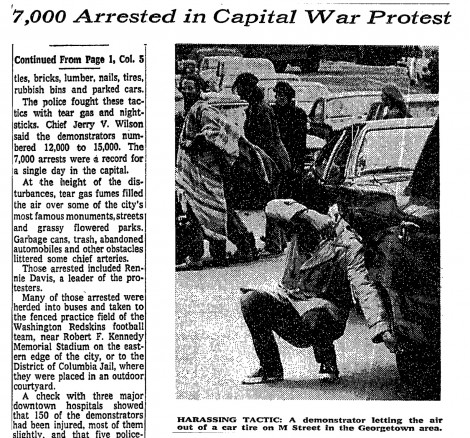 The subsequent triumphalism was embarrassing even by American triumphalist standards. Here's the AP reporting below what victory looked like: "As the rush hour began, traffic flowed smoothly…The demonstrators conceded police and military forces had prevailed."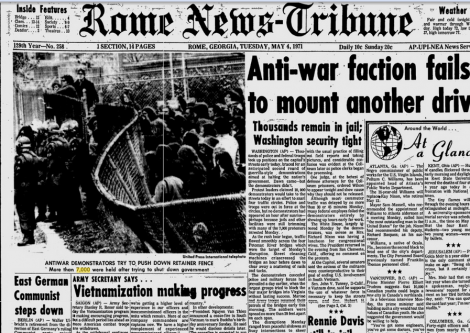 Keep this all in mind, Occupy protestors. It's been this bad and worse before. They will go further than you can possibly imagine–and the media will lie and cover the oligarchy's backside every step of the way. It's a class war of attrition, so be prepared for the long haul.
Would you like to recover more of your medical-marijuana-damaged memory? Read "LIBYAN PHANTOMS & IRANIAN ASSASSINS: GREATEST HIT SQUADS 1981-2011" by Mark Ames; "RECOVERED ECONOMIC HISTORY: "EVERYONE BUT AN IDIOT KNOWS THAT THE LOWER CLASSES MUST BE KEPT POOR, OR THEY WILL NEVER BE INDUSTRIOUS" by Yasha Levine; and "NOVEMBER 17: WHY THIS DAY IS SO IMPORTANT FOR GREEKS" by Kostas Kallergis.
Mark Ames is the author of Going Postal: Rage, Murder and Rebellion from Reagan's Workplaces to Clinton's Columbine.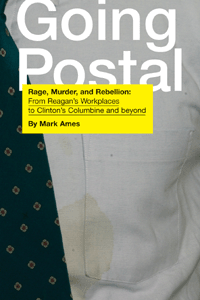 Click the cover & buy the book!
Read more:, Mark Ames, Recovered History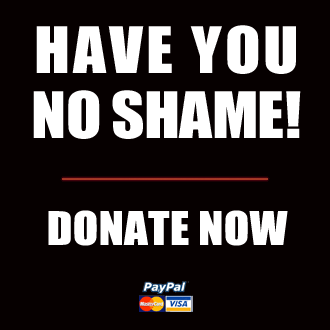 Got something to say to us? Then send us a letter.
Want us to stick around? Donate to The eXiled.
Twitter twerps can follow us at twitter.com/exiledonline