By Hank Pazzo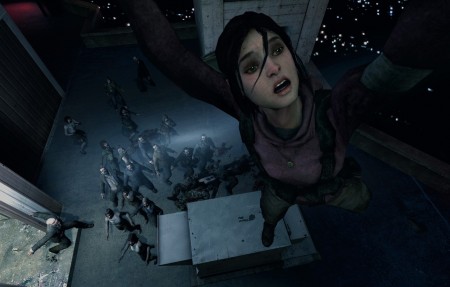 What is a zombie piñata? It's when a zombie on a rooftop fires its tongue down at a victim, picks her up and and dangles her above the undead horde, which take turns clawing little pieces of meat candy out of her.
It's also one of the most entertaining sights in Left 4 Dead, a first-person shooter from the makers of Half-Life and Portal (a.k.a. Valve Software). But before we join the horde and tear into the guts of this dangling, fleshy feast for ourselves, let us first sniff over the entirety of its delicious corpse. Left 4 Dead can be played offline by one or two players, and online with up to 8. Your online options include four player co-op, and eight player versus. That last bit is the tastiest of all, the brains of the operation.
But let's not get ahead of ourselves. The single player mode is a perfect introduction. It's intense, scary, and fun, yet only four hours long. So if, for some reason you can't play Left 4 Dead online, you should rent it. In any case, you will find all four hours of the single player campaign thrilling thanks to the terrifying zombies, macabre settings, and awesome violence. The zombies really are the best part, especially the startlingly human poses of misery and woe they assume when they aren't chasing and eating humans. You almost feel sorry for them.  Then they see you, and you feel sorry for yourself.
That's because these are not your grandpa's arthritic, shambling zombies – these are modern zombies. They're fast, crazy, and most important, they are really fun to shoot, explode and set on fire. However, there are two missing elements that you should be prepared for – the zombies don't bite, and as a result, there are no human to zombie transformations in the game. It's a little weird being surrounded by a pack of punching zombies, but you'll get over it. A shotgun helps.
Besides, the proletariat zombies are there for atmosphere more than challenge. Your real foes are the five special zombies: the smoker, the hunter, the boomer, the tank and the witch. If a hunter knocks you down, you'll be helpless until someone either shoots it off of you, or you die. If a smoker wraps its tongue around you, well, see paragraph one of this review. And if a boomer barfs you on, a huge pack of zombies will emerge to help polish you off. The tank is just a big tough zombie that can take a lot of punishment, and the witch is a little girl zombie who wants to sit in a corner and cry about her fate. Unless, that is, you shoot her; then she'll rip your face off.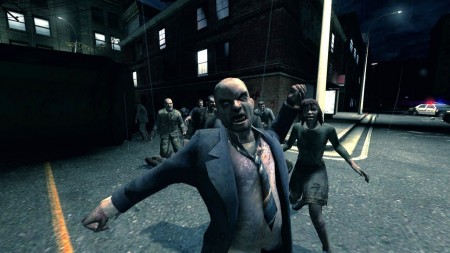 Tag-team zombie action you control!
Those are your real enemies, and you can face them with friends online or off. But as cool as it is to survive the end of the world with three of your friends online, it's even cooler to play as the zombies against four human players in an online versus match. That's right, four human players attempt to make it through a whole level against boomers, smokers, and hunters that are played by real people. This is fun and terrifying as a human, because the difficulty jumps through the roof. As a zombie, it's a completely unique and tactical experience. You can actually run plays! One person will say, "Okay xXDangerDuckXx, you puke on 'em, and when you do, I'll grab one with my tongue. Psychosteve, when that happens, you leap on the one on my tongue, and start shredding." Each side gets to take turns as the zombies and as the humans, and the games go by really fast. And yet, you'll enjoy alternately chasing and fleeing from your opponents for hours and hours. This is an apocalypse with some staying power.
And that's Left 4 Dead. It's scary, cool, fast and ultra-violent. No, you never get to experience a human to zombie transformation first hand, but you do get to mow down legions of undead with assault rifles and machine guns, or turn the tables and assault humanity with your claws, your tongue, and your vomit. It's packed full of meaty goodness, so if you see a copy on your next trip to the store, I recommend that you not leave it hanging.
Read more: Left 4 Dead, Video Games, Zombie, Hank Pazzo, Entertainment, Video Games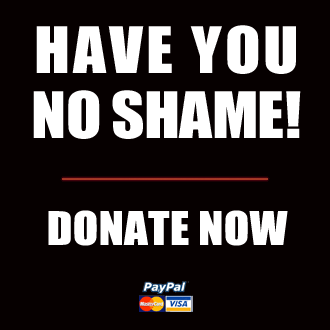 Got something to say to us? Then send us a letter.
Want us to stick around? Donate to The eXiled.
Twitter twerps can follow us at twitter.com/exiledonline