By Yasha Levine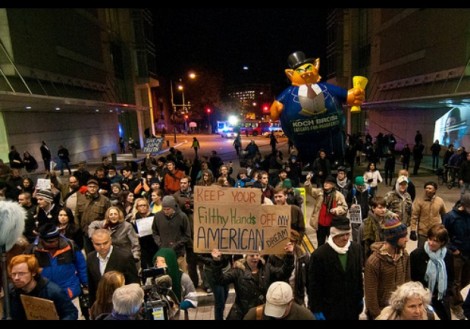 Things heated up last Friday after Herman Cain finished his stand up routine at the Kochs' Americans For Prosperity event in Washington D.C. and the crowd settled in for a late night Ronald Reagan tribute dinner. At least 500 protesters, including a group from Occupy DC, marched on the convention center where the rightwing summit was being held. They surrounded the building, jammed intersections, drummed, chanted and generally did all they could to make AFP's guests and donors very, very uncomfortable.
It was a chaotic scene. Luckily, a rightwing blogger named Stephen Gutowski was there, ready to collect mpeg evidence of  leftwing criminal aka 1st amendment activity and hand it over to the police. Sadly, the cops didn't seem to appreciate Stephen's heroic volunteer-snitching:
A few minutes after the security guards were able to push the protesters out and most of the protesters had moved on from scene several police officers arrived at the scene. Oddly, though, they were uninteresting [sic] in hearing what had happened. I offered them the video I had shot but they didn't want it and didn't appear to be gathering any information about what went on. They appeared apathetic and merely showing a police presence. That, in my experience, became standard operating procedure the rest of the night for the police.
By golly, what's a good All-American Stoolie like Stephen Gutowski to do!?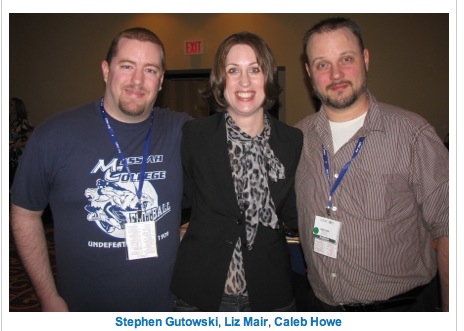 Volunteer-snitch Stephen Gutowski (left) pictured wearing the colors of  his alma mater, Messiah College…
PS: While Stephen was busy playing informant, a silver Lexus plowed through two lines of 99%ers blocking the street, knocking down and injuring three four protesters, including a pregnant woman. The cops let the driver go, and cited the three rammed pedestrians for obstructing traffic.
Read more: americans for prospect, herman cain, koch, kochs, occupy dc, occupydc, protest, snitch, Yasha Levine, Class War For Idiots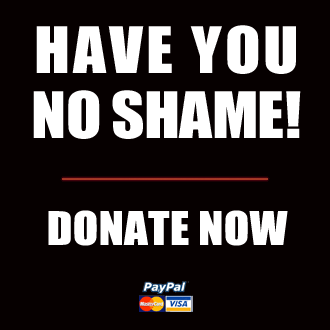 Got something to say to us? Then send us a letter.
Want us to stick around? Donate to The eXiled.
Twitter twerps can follow us at twitter.com/exiledonline