By Eileen Jones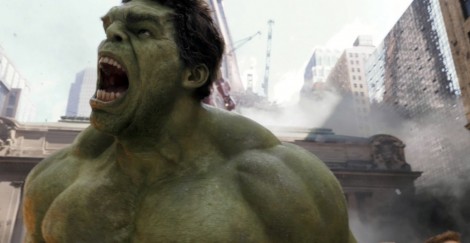 If you're one of the few dozen people in the world who hasn't seen The Avengers yet, I'll tell you the best way to take it in. Hit a matinee screening in a theater filled with kids—especially very small roundheaded ones, the ones still closer to being animals than people—that's where you get the purity of the experience. Kids can hardly get over how much they love this movie—it's beyond their frail strength to contain it. They let out these wild shouting laughs—HAAAAH-hahahahahahaha!!—to signify maximum glee.
I like to see the kids happy. It's a weakness of mine.
There's this one scene where the Hulk—the favorite of all the children, naturally—he's their man—picks up the villain Loki, who's in the middle of a pompous speech about his own godly powers, and holding him by his feet, swings him overhead and smashes him on the floor repeatedly, from one side to the next, smash, smash, smash. The way the kids shrieked with joy over this was really heartwarming, a young-primate recognition of the thrilling destructive force you can generate with the overhead-arm-swing.
So I watched The Avengers in the spirit of gentle amusement. Comic books aren't my thing and writer-director Joss Whedon gives me a pain, but hell, this experience wasn't designed for ME. It's a kid-and-young-adult extravaganza. I admit it's a little weird the way the whole world seems to be trying to cram into that demographic, making this movie the biggest box office champ since the last crossover juvenile-to-adult sensation, Harry Potter. Kid stuff, that's where the pop culture excitement is these days. Admittedly, kid stuff is strangely colonized by greybeards in baseball caps and sneakers still cuddling their Star Wars action figures and grandmothers swooning over cute teen vampires. But that's a rant for another day. Today we're sticking with gentle amusement.
I'm sure I don't have to tell you the plot, but for form's sake I'll give you the gist. There's this Blue Cube of Power, I forget what it's called, doesn't matter, that's being studied at the Super Secret Underground Headquarters presided over by Nick Fury (Samuel L. Jackson), stalking around in a black leather coat and eyepatch.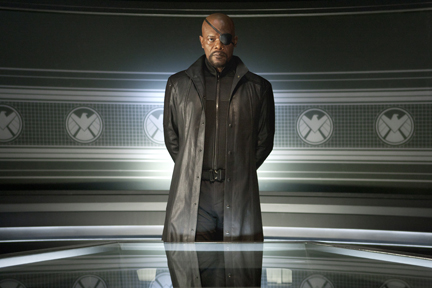 His grim-faced military-assistant types also stalk around, especially this one tall narrow brunette female second-in-command who's given so much screen time overall that it's crazy, makes you start wondering what the hell, is she a superhero in training or something that we should care? Or she just looks so blandly like a comic book drawing of a hot female, she's reassuring to Marvel fans? Or maybe we're over-thinking this, and she's the producer's girlfriend?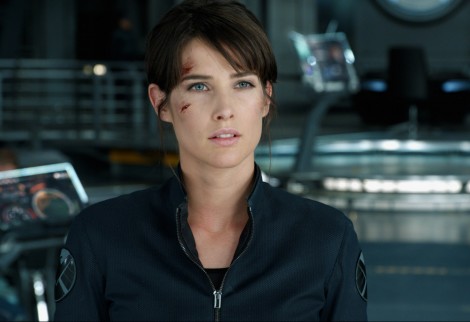 Anyway, the demigod Loki (Tom Hiddleston) still on the same quest for multi-world domination that he was pursuing in the movie Thor, busts in and steals it. During the first battle for the Cube, he "turns" a couple of characters who are on "Team Good" to "Team Evil" by sticking his pointy blue-glowing sceptor/spear thing into their chests.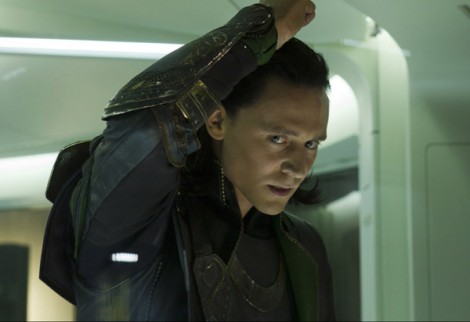 So you're already expecting the comic relief you get later: Loki stabs Tony Stark's chest with his blue glow-stick and hits the metal Iron Man battery-pack where Stark's heart should be, and it makes a humorously anti-climactic clinking sound, followed by an awkward pause. Ha!
Sounds kind of corny, you say? Oh, that's nothing. Massive corn-shucking in this film, corn piled everywhere, cornpone, corn fritters, corn syrup, corn as high as an elephant's eye, the Feast of Our Great God Corn!
Moving on, Nick Fury assembles the team of superheroes to recover the Cube and defeat Loki. We like seeing heroic teams assembled, the whole process of having to go get each separate member and persuade him or her to join and all that, ever since Seven Samurai nailed it down as a super-satisfying narrative development. So we get Black Widow (Scarlett Johansson) and Captain America (Chris Evans) and the Hulk (Mark Ruffalo) and Thor (Chris Hemsworth) and Iron Man (Robert Downey Jr.), and later we'll have to recover Hawkeye (Jeremy Renner) from the forces of darkness. Initially they all dislike each other and squabble and indulge their egos and have to learn to Work Together As a Team.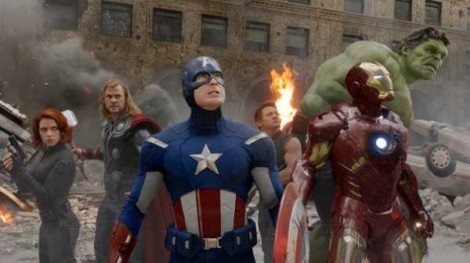 This part of the film is largely modeled on the old World War II propaganda-movie, featuring a platoon of melting-pot Americans of assorted races, ethnicities, religions, creeds, and regional backgrounds who have to overcome their differences to become a fighting unit to beat the Axis powers.
Which is appropriate, because if you want to get analytical about it—and nobody does, since I haven't read a single review that's mentioned it—this movie reveres retro, naïve, blinders-on World War II-era patriotism. That's why Steve Rogers/Captain America and Tony Stark/Iron Man are the main two superheroes pitted against each other in a clash of old vs. new American values, and ultimately Tony Stark cedes authority to Captain America, who becomes Team Leader.
Captain America starts off as a pathetic "Iceman," literally defrosted after 70 years. Hopelessly out of touch with contemporary culture, he's a stalwart, square, provincial American lunkhead who never gets the joke. Informed that Loki and Thor should be feared as demi-gods, Captain America says flatly, "There's only one God, ma'am, and I'm pretty sure he doesn't dress like that."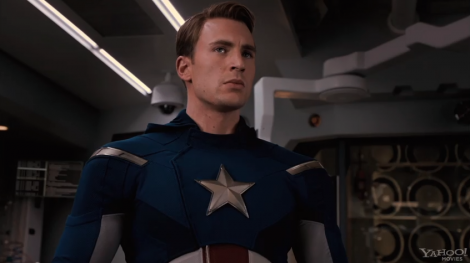 Tony Stark is merciless with him, and rightly so. Stark represents the superhero as wised-up ultramodern man, trusting almost nobody, committed to Doing Good in a tricky, wary, complicated way that's necessary in such a corrupt, impossible world as this one. To him, Captain America's a big dope in "a spangly suit," a liability.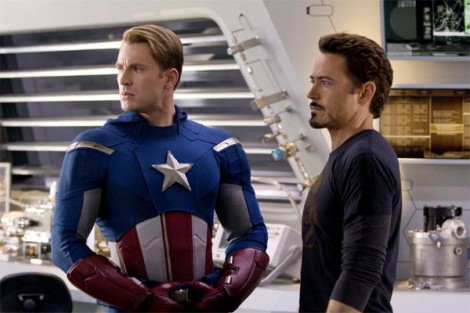 He's right, of course, but this movie's never going to let Stark lead. No, instead we go back one more time to the "Greatest Generation" myth that what you really need to win a world war is a big heart, a big stick, big pecs, and big reverence for authority.
I'm heading into a rant again, aren't I? Sorry! But it does get a bit thick, the way every world war, even the fantasy one involving Norse gods, is just World War II all over again. You'll hardly believe your eyes and ears when Loki flies down to the Stuttgart Opera House just so he can confront a bunch of German opera-lovers, fascist-style, telling them they don't really long for freedom, they long for subjugation, stuff right out of Hitler's Mein Kampf playbook. They all kneel before him (Germans! Sheesh! What is wrong with those people?) except for one brave old guy, clearly meant to be a menschy survivor of the Nazi regime. Here's their timeless exchange:
Loki: "In the end, you will always kneel."

Old Mensch: "Not to men like you."

Loki: "There are no men like me!"

Old Mensch: "There are always men like you."
You begin to feel sorry for poor Loki after awhile, because no one seems able to grasp the demi-god concept in this movie. Every order of being in the galaxy is just another buncha fellas like the ones we had to fight back in dubya-dubya-two.
But there's no point griping about established superhero fantasies at this late date; the fucking things are set in stone. You risk sounding like some idiot Village Voice critic (Karina Longworth, in this case) who just can't grasp the concept of popular entertainment and is always moaning about the lack of depth and seriousness in big loud wisecracking 3-D action jamborees:
The final act of The Avengers consists of an insanely complex action set piece, containing some truly cool visual shit, not least the alien army summoned by Loki, which arrives in some kind of undulating, indestructible, prehistoric flying fish. But really, who cares about another battle? We know how this is going to end. The long, technically bravura sequence is given dramatic tension only by occasional scraps of dialogue, such as a two-line exchange between Natasha and Barton over a job they worked in Budapest, alluding to the mysterious lives they'd all been leading before this movie. Then, a few minutes later, Iron Man breaks a moment of tension with a homophobic wisecrack. Every time the movie hints at something rich and evocative, Whedon undercuts it with a punchline—his instincts as a big-picture storyteller crippled by his short-term need to please the crowd.
Yeah, you don't want any crowd-pleasing when you go see a superhero movie, you're really hoping for something more like Ingmar Bergman's Scenes From a Marriage. But somehow, dammit, it's never the least bit Bergmanesque. A critic's lament!
Anyway, back here in the world of sane moviegoers, there's lot of loud, diverting nonsense going on in The Avengers, and plenty of time for each of the actors/superheroes to do an enjoyably hammy turn amidst all the CGI. Except, strangely enough, Robert Downey Jr., who actually contains himself here, perhaps under some contractual obligation to steal only a certain percentage of scenes and let the other, slower actors have a chance. Mark Ruffalo method-acts the hell out of his Bruce Banner/Hulk character, doing all sorts of "interior" work, hunched postures and half-swallowed lines indicating suppressed emotion, which is all delightful, but none of that helps him as much as his remarkable facial resemblance to The Hulk. Ruffalo looks like a repressed, incipient Hulk anyway. The buff Chrises, Hemsworth and Evans, are more steroidally expansive than ever, muscle-wise, and that's their real cinematic fascination. Chris Evans' head looks too small and pointy for his immense puffy shoulders.
Look Ma, no CGI!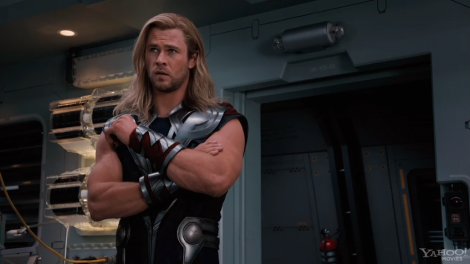 As for Scarlett Johansson as Black Widow, I read an amazing review by Roger Ebert in which he claims he and his film critic pals had a long conversation after the movie, trying to figure out what her superpower is. He and his hundred-year-old, asexual film critic pals, one assumes, if they really had to wonder. We're getting dangerously far away from the visceral joys of film when Scarlett Johansson doing martial arts in a catsuit doesn't register as a super-powered sex bomb.
Or maybe—and I may have mentioned this before—maybe we need some younger, or at least livelier, film critics.
Read more: action film, comic books, Hulk, Iron Man, Joss Whedon, Mark Ruffalo, Robert Downey Jr, Samuel L. Jackson, Scarlett Johansson, superheroes, The Avengers, Thor, Eileen Jones, movies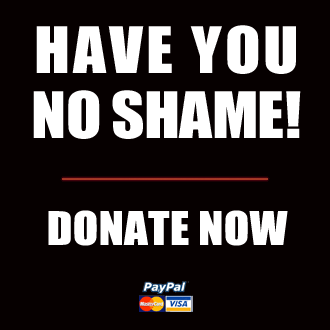 Got something to say to us? Then send us a letter.
Want us to stick around? Donate to The eXiled.
Twitter twerps can follow us at twitter.com/exiledonline