By Mark Ames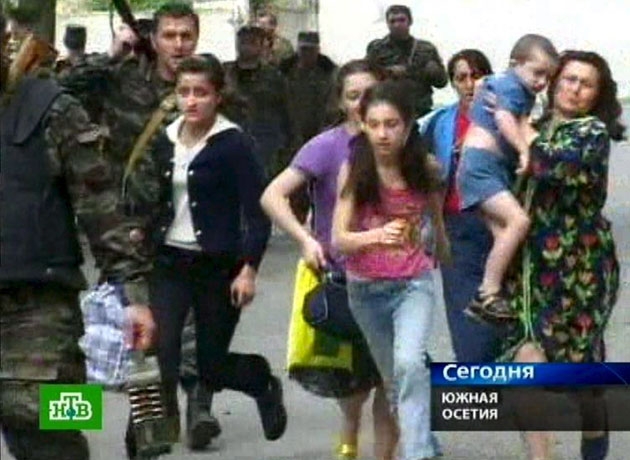 Prior to the offensive of August 7, Georgians cut off Russian television and Internet sites in South Ossetia, then rained Grad rockets and artillery on the capital and surrounding villages. The early-hours blitz was, as one Ossetian told me the day before, "shock and awe." At least half the population fled into Russia. People I spoke to in the refugee camps, mostly women, were still in a daze — they told of fleeing their burning villages under fire, of Georgians raping and murdering, of grenades thrown into civilian bomb shelters, of tanks running over children. (It was impossible to corroborate these individual stories, as is generally the case in trying to sift fact from inflamed rumor in refugee camps.)
Reliable casualty counts for the broader conflict are still all but impossible to get, but as of late August the Russians admit having lost 64 soldiers, and the Georgians a combined 215 soldiers and civilians. In both cases, the real number is probably much higher. On the civilian front, Ossetian sources claim that 1,500 were killed in the Georgian assault — Putin called it a "genocide" — but many Westerners dismiss that figure.
Privately, however, American advisers and defeated Georgian commanders admit to "total defeat." Indeed, Arkady Ostrovsky of the Economist, a British reporter who has long been close to Saakashvili, told me that on the day of the cease-fire, the Georgian leader spoke of shooting himself, and was only dissuaded when word came of a supportive statement by Condi Rice. "It was sad to watch," Ostrovsky told me. "I should have been more critical of Saakashvili back when it might have counted. A lot of us should have."
That's exactly the kind of full-spectrum smackdown the Russians were aiming for. And Konashenko wants us all to see it, so he offers to take me and some other reporters to the city of Gori in occupied Georgia. Russia seized control of the city at the end of hostilities, essentially cutting its foe in two and leaving it exposed to Vladimir Putin's whims. "We'll show you Gori — the city is spotless," Konashenko says cheerfully. "We could have destroyed it, but we didn't. Of course, there's a little bit of damage here and there"
The next morning, I head toward Georgia in the back of a Russian army truck, winding through the countryside of South Ossetia. Many villages have been burned and completely leveled. In the minority ethnic- Georgian communities, the sour odor of death hangs in the air, as those who survived the Ossetians' reprisal attacks had little time to bury their dead friends and relatives.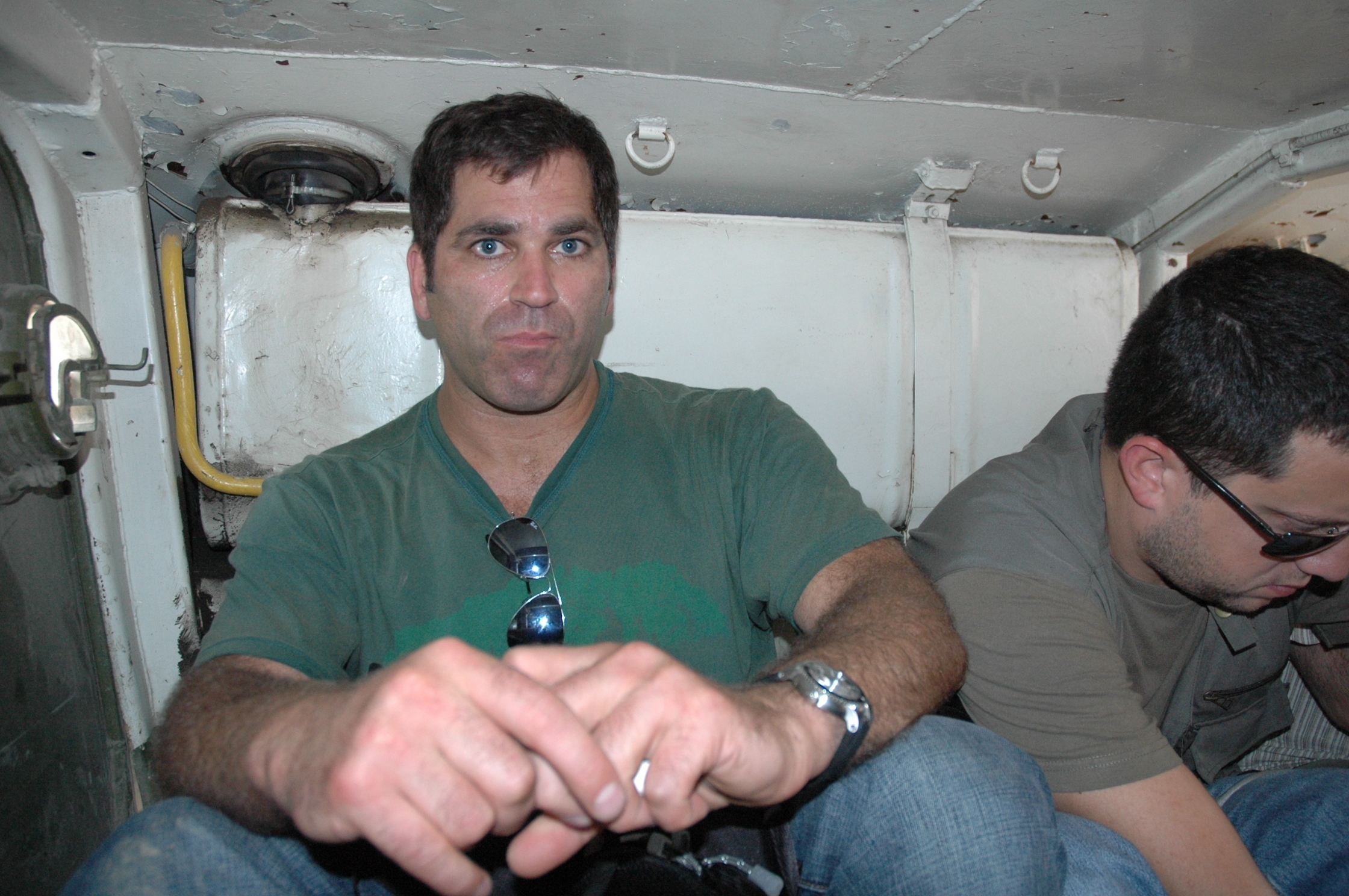 AMES POURING SWEAT LOCKED INSIDE A RUSSIAN APC WITH REPORTERS
When we arrive in Gori, the locals seem unnerved by our presence. They shy away as aggressive reporters point cameras and pursue them along the cobblestone streets for a quote. At first, some say that they are grateful that the Russian forces are there to protect them from marauding Ossetian and Chechen irregulars, who had swept through parts of Georgia murdering civilians and looting homes before the Russians arrived. After a half hour, the Georgians we talk with get used to our presence. A few summon the nerve to quietly pull me aside and whisper things like, "Are the Russians ever going to leave?" and "We don't have any information here. Is this going to be Russian territory forever?"
In Gori's vast central square there is shattered glass on the sidewalks, but as Konashenko promised, the city is largely intact. It is also starkly empty, as if a virus or neutron bomb had wiped out the civilian population. Most of the city's inhabitants have long since fled to Tblisi, along with the soldiers.
As we hop out of the army trucks, one of the Russian commanders points to a limp banner flying at half-mast over the polished-granite administration building on the far side of the square, "You see?" he says. "The Georgian flag is still flying. This is Georgian territory — we're not annexing it like the media says." This kind of boast, conquering a country and then making a big noble show of respecting its sovereignty, was something that had once been reserved for America's forces. How quickly history has turned here.
The other Western journalists fan out for some atrocity hunting, digging for signs that the Russians might have dropped a cluster bomb or massacred civilians. The foreign-desk editors back home have been demanding proof of Russian evil, after largely ignoring Georgia's war crimes in South Ossetia. It's a sordid business, but the reporters are just following orders.
After an hour in the 90-degree heat, I head over to the city's central square, where I stumble across a stunning spectacle: dozens of Russian soldiers doing a funky-chicken victory dance in the Georgian end zone. They're clowning around euphorically, shooting souvenir photos of each other in front of the administration building and the statue of Stalin (Gori's most famous native son) while their commanders lean back and laugh. I approach Lieutenant Colonel Andrei Bobrun, assistant commander of the Russian land forces' North Caucasus Military District — the roughest neighborhood in Western Eurasia — and ask him how he feels now, as a victorious military leader in a proxy war with America.
"I have never been so proud of Russia — magnificent Russia!" Bobrun crows, an AK strapped over his shoulder. "For twenty years we just talked and talked, blabbed and blabbed, complained and complained. But we did nothing, while America ran wild and took everything it could. Twenty years of empty talk. Now Russia is back. And you see how great Russia is. Look around you — we're not trying to annex this land. What the fuck do I need Georgia for? Russia could keep this, but what for? Hell, we could conquer the whole world if we wanted to. That's a fact. It was Russia that saved Europe from Genghis Khan. Russia could have taken India and the Middle East. We could take anything — we took Alaska, we took California. There is nothing that Russia could not take, and now the world is being reminded again."
"Why did you give California back?" I asked. It has always baffled me why a country would abandon prime coastal real estate for the frozen swamps of Siberia — I always assumed it was because the Russians were ashamed when they found themselves holding onto a chunk of this planet as perfect as California: like B-list nerds who successfully crash a Vanity Fair Oscar party, but within minutes of their little triumph, skulk out of the tent out of sheer embarrassment, knowing they never belonged there in the first place.
"We gave it all back because we don't need it," Borisov boasted, puffing out his chest. "Russia has enough land, what the hell do we need more for. But if others want to start something, this is what will happen. Russia is back, and I am so proud."
As the day wore on, the Kremlin press pool organizers finally rounded us up, and we headed back again along the same victory trail. It was on this second visit to ruins of Tskhinvali, as dusk approached and the violence seemed to already acquire a kind of abstract tone, that I started to realize that I was looking at something much bigger than the current debate about Russian aggression or who was more guilty of what — pulling the camera much farther back on this scene, I understood that I was looking at the first ruins of America's imperial decline. It's not an easy thing to spot. It took years after the real collapse for Russians to finally accept that awful reality, and to adjust accordingly, first by retrenching, not overplaying an empty hand, slowly building up without making any loud noises while America ran wild around the world bankrupting itself and bleeding dry.
Read more: Empire, Ossetia, Saakashvili, Mark Ames, Featured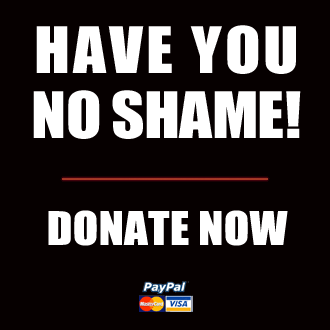 Got something to say to us? Then send us a letter.
Want us to stick around? Donate to The eXiled.
Twitter twerps can follow us at twitter.com/exiledonline