By Matt Harvey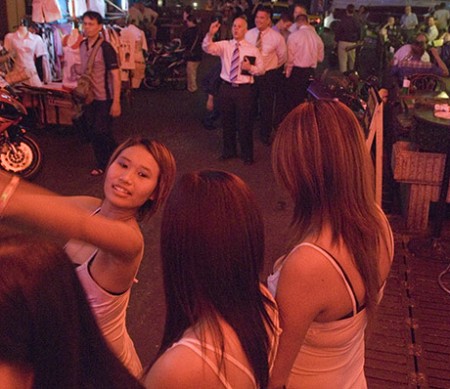 In front of Bangkok's countless sex fronts—massage parlors, hotels and go-go bars—brown-skinned northern women clad in logo-stamped fast-food styled polo shirts still let out their trademark drawn out hiss. "Maaaaaahhhh-ssaaaaaggggee." But the deepest global recession since the onset of cheap jet travel has rendered the sight of hordes of horny foreigners itching for $10 hand-jobs scarce. With no takers, the cries get a little more desperate and insistent every day.
As I saw for myself in late July, the worst global downturn has hit Thailand's club-med economy hard. The English language dailies were filled with bad news: stalled construction projects, massive household debt and continued rising economic inequality. A piece in the July 9th issue of Time cited an official statistic, which indicated tourism would be down 35% in Thailand this year. It will probably be much worse.
Beneath the vacant hotels and quiet go-go bars, there is an even darker Thai crisis however. Their vampiric 80-year old king, Bhumibol—stopping at nothing so his unpopular family can hold power after he dies—is ratcheting up long-standing economic and political warfare against the population. He is determined not to allow his reverential subjects escape from Third World serfdom—and his family's clutches.
Thailand is historically the US's favorite Southeast Asian stooge, so there has been little motivation for executive criticism of the Thai government. Occasionally, as in late August, when a Thai woman was hit with an 18-year prison term for insulting Bhumibol, American newspaper readers are reminded of the bizarre crime of lese majeste. But the media has been overwhelmingly silent about the king's personal powerlust: deflecting sporadic criticism of his policies—corporate exploitation for the enrichment of the country's light-skinned elites—onto a chimerical political structure.
Thai is an obscure language and the country's schools are notoriously bad, insuring that few people—even in Bangkok and beach resorts—can speak more than a few words of English. Add to this, warnings can come at freelance writers from unlikely places. In a thick accent, Joann Davidsonn, a Swedish hotel manager told me to be careful about writing about the monarchy. He said: "I am serious, you will get fucked up." Most of all however, the people have been obedient.
***
It's nearly 10pm, but Sukhamvit Road, like much of Bangkok, is still jammed bumper-to-bumper with traffic in both directions. In the headlight-streamed darkness, a few rusting open-air busses and blacked out Mercedes are visible jutting out from a 4-lane gridlock of taxis. Painted yellow-green, orange or pink, the cabs are a make of Toyota dubbed Limo. The pink ones have brightly colored English slogans stenciled on their rear windows that scream out: "We Love our King!"
The stretch runs beneath the wide Skytrain tracks connecting Soi-Cowboy to Nana—the city's two most famous red-light landmarks. Only a couple of the cabbies have fares however. Despite this, there is no road rage—no yelling, honking or even loud radios—just a gentle whirring of A/C. The gaunt profile of our driver is completely still. He patiently fingers a string of carved-wooden beads looped on the steering wheel.
Al, a hyper South American, is sitting next to me in the backseat. Despite having lived here for a year, he's starting to get antsy. "In LA at least there's noise in traffic, here it's just some crazy silence," he says, jerking upwards. "They fucking like it. It's some Buddhist trip." Only then do I realize our driver is literally meditating.
The Buddha has taught him well, even through modern medium. Variety shows feature attractive hosts subjecting each other to mild forms of torture like burning, or constriction by large snakes. Other images: an old woman dying, a young one in painful labor, are presented without sound. Everywhere he looks the message is clear: take your lot in life and smile. Our cabbie, like every other one in the country proclaims his obedience to two unwavering symbols on his dash: the Buddha and King Bhumibol Adulyadej, his earthly incarnation.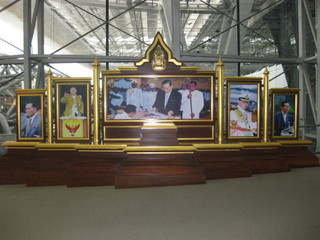 From beggar's carts, to neon-bright 7-11's, to gold and black shining cathedrals of high finance that rise from shanties; posters of Bhumibol are everywhere in Bangkok. Cruel-lips, slightly effeminate bone structure, combine with a beatific affect to convey a mixture of Dracula and a Buddhist saint. Bhumibol is 82, but he always looks much younger in the posters. He allegedly lives in a palace outside Bangkok, but he is rarely, if ever seen in public. In the pictures of him holding court, which are published in the tabloids, subjects must lay flat on their face in his presence. Since it's impossible to know the man behind the curtain, you're free to invent your own Bhumibol. I picture him lying in a hyperberic chamber on the Riviera—hooked up to plasma IV's.
As seen from the highway, 20-story high portraits drape down the side of skyscrapers display him dressed up for safari pointing a telephoto lens. It's not uncommon to see a sort of Karmic joke playing out on the streets: a beggar—or a handful of swaddled peasants crouched down chipping away at the sidewalk—in front of portraits of Bhumibol. In the 100-degree heat, I can almost envision their religious daydreams: reincarnation as the monarch might be the reward if they behave.
Still stuck in traffic, Al impatiently hands a Bhumibol stamped 50 Baht note (1.20 US) to the emotionless driver and we get out. A wall of humidity and lung burning smog—the product of cab exhaust mixing with smoke from charcoal fires and diesel generators' fumes—hits us. The elevated Skytrain track keeps the noxious stuff from escaping street level, creating a blast-furnace. The South American points out a large number of aging hookers lined up in large numbers along the curb. This inferno is the end of the line for Bangkok's prostitutes—too old or diseased to work in the city's thousands of go-go bars and massage parlors. Al had told me at Soi Cowboy: "The first rule is the girls don't have any feelings." Now he's breaking it. "I hate walking by here, you can see hunger in their faces."
Nana, biggest of the three red-light districts, is laid out across from an Arab bazaar on Sukhamvit. Around the corner, East Africans call out from the shadow of an alley: "Blow? You know you want it." Al whispers with a chuckle, "Don't fuck with those guys, they don't have anything." As anyone who's read a Lonely Planet knows, the drug of choice in Bangkok is a cheap form of Methamphetamine called Ya-ba.
The drugs' effects are everywhere. On the street: in their purple smocks, motorcycle taxi drivers endlessly fidgeting with the engines of their rice rockets. Inside a restaurant: a tattooed waiter so solicitous he runs after a customer—who has forgotten her credit card—and smacks into a closed glass door.
Weaved throughout the kiosks are scenes of an almost surreal desperation—more so because this is a touristy part of town. Shirtless children begging for alms on the steps of a colorfully lit 7-11… Scabby teens scurrying along trying to sell DVD's… Where the sidewalk breaks down into a carpet of sand, a legless drunk is laying prostate with an empty bowl at his head. My guide, who's lived in just about every backwater South American capital says: "This is the first city I've seen starving people being stepped on."
Looking like a traveling carnival from the mid 70s—with garish facades featuring cultural exports like the band Kiss—Soi Cowboy has a kitschy charm. Nana Plaza, however, is all about numbers of girls. They literally hang off the terraces, fondling each other and calling out to what's left of their customer base, mostly Japanese and Korean salary-men. Now that western men are by and large gone, the Japanese hold a most coveted status. In keeping with the country's ethnic hierarchy the management—mostly visible when they take money—are light-skinned, while the working girls are darker and from the north.
Reverence to the Buddha and the monarchy can be seen in the go-go bars, many of which have a shrine devoted to King Rama V, who ruled in the early 20th Century. In Rainbow 4, the liveliest of the bars, girls make a bowing gesture of devotion to the shrine before they climb the stage. Like all of the other go-go bars we have hit, dancers exceed the customers by 4 to 1. With numbers pinned on their bikini tops so you can take them to your hotel for 2,000 Baht ($60) for a few hours, the girls uninterestedly shuffle to the music—their eyes firmly fixed on reflected images of themselves in mirrors around the room.
A few are old enough to have C-Section scars and sagging breasts visible—even under the colored klieg lights—but the majority are in their late teens. If you don't like one crop, not to worry, another shift comes out after a few minutes. A chubby waitress keeps glancing at me. As it turns out, she thinks she has seen you in another life.
Poy, a curvy 20 year old with cosmetically enhanced breasts and a broad face, gives me her story in tortured English for the price of a watered down drink. She is finding it increasingly hard to support her large family, who live near the Laos border. As the oldest girl, subsidizing the family is seen as her job. She has only worked there for a few months she adds. Moving his hand up her thigh, the South American laughs dismissively and says, "They all say they're 20 and have only worked here for a few months."
Read more: global recession, king, monarchy, thailand, tourism, Matt Harvey, Dispatch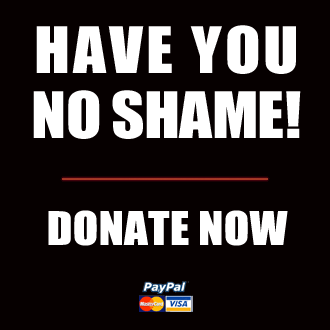 Got something to say to us? Then send us a letter.
Want us to stick around? Donate to The eXiled.
Twitter twerps can follow us at twitter.com/exiledonline