By Gary Brecher
There've been a few interesting assassinations recently. Not around here, unfortunately. Definitely not the one in Tucson. The dork empties a huge magazine into a crowd, kills nine people including a little girl, and doesn't even kill the congresswoman he went there to get. And why her, anyway? She may've been just another plastic blonde, nothing special–but there's way worse, WAY worse, crawling around Arizona. Just one example: I can't believe there's not one Mexican in Phoenix with enough cojones to blast that bigmouth sheriff, Arpaio. Jared the Retard could've done it without leaving his home state. If you expand your search to DC, I can think of dozens…uh, think I'll stop right there.
Anyway, just saying: DC. Target-rich environment. That's why the most annoying waste of killing power was that DC Sniper and his little boyfriend. The guy had a good setup, that false-backed car, a spotter, good Army training, he's right there, could've picked off two dozen lobbyists and been a national hero—and instead he shoots random civilians filling their gas tanks. Wasted potential, as my guidance counselor used to say.
The trouble is, you see how dumb most of our homegrown assassins are and you're tempted to jump to the wrong conclusion, the one most people repeat without thinking very hard:  "Assassination never solves anything." Well, it must be nice to think that way, but just FYI, it's not true. You don't have to go way back in history to see that. Robert F. Kennedy was going to be the next president before Sirhan Sirhan shot him in the head. With RFK gone, Nixon was in as the next president. That's a pretty damn big change, from one bullet.
Part of the reason nobody can face the fact that that killing really did change history is that the killer, Sirhan, was such a blank it was too depressing to admit he did something important. His reason made no sense: RFK was pro-Israel. Yeah, and so was every other US politician in 1968. Even now, when the Israelis have used up their credit with every other country in the world, it's hard to think of a single US politician who'll say a word about them. So Sirhan's reasons are just plain stupid. But the assassination still changed our history—just not in the way Sirhan's teeny little iguana brain had in mind.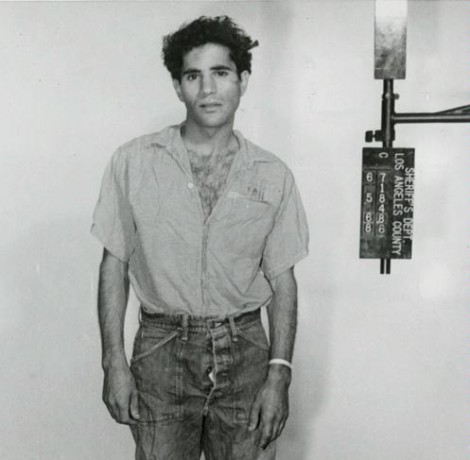 If you want an example of a more intelligent and effective assassination, it's Booth killing Lincoln. I hate to say it, because Booth was a trashy ham who dodged combat, then shot the best man in the country in the back of the head. But the fact, the rotten fact, is that Booth scored the South's biggest strategic victory, by far, when he killed Lincoln. Once again, we have the Vice Presidency, the pus-filled appendix of America's body politic, to thank for that. Lincoln needed a border-state "moderate" on the ticket in 1864 to balance his abolitionist leanings, so he picked up Andrew Johnson from East Tennessee. Lincoln had this thing about East Tennessee, thought the locals were good loyal Unionists when they were really just lukewarm, anti-secession but pro-slavery. That was always Johnson's policy: pro-Union but pro-slavery too. When Booth killed Lincoln, Johnson walked into total power, and all the Union gains were washed away. Johnson allowed the Southern states to reenter the Union without penalty, without signing any guarantee of civil rights for freed blacks, and vetoed the first civil rights bill.
That's how powerful an assassination can be. The planters and the KKK took back the South with one shot from Booth's little pistol. You could have toured Mississippi in 1885, 20 years after the South lost the war, and seen the same damn Planters on the porches, the same black people in the cotton fields for slave wages, and the same brave, dumb poor whites happy to keep the whole stupid thing going.
It was such an obvious strategy, killing Lincoln, it's interesting that—as far as I know–no Confederate commander ever authorized any attempts on "The Illinois Ape's" life. (Except for Bloody Bill Anderson; I'll get to him in a minute.)Weird as it seems now, most Civil-War commanders (at least the ones east of the Mississippi) really believed in a code of war that didn't allow assassinating civilians. That was how both sides fought the war (in the East)—and the Confederates had a particularly impressive record when they marched into Pennsylvania in the summer of 1863. As far as I know, the only civilian casualty was that lady who got shot because she decided she absolutely HAD to do the dishes right in the middle of the battle of Gettysburg. And frankly I call that cleaning out the gene pool, getting rid of some crazy neat-freak chromosomes.
Out in Kansas, of course, there were never any rules. Very dirty war out there, vale tudo from the 1850s on. That's why it was just naturally a Confederate from Kansas/Missouri who came up with the first plan to assassinate Lincoln. Bloody Bill Anderson, craziest of the "border ruffians," tried to kill Lincoln months before Booth finally did.
Bloody Bill was one of a kind: too extreme for Quantrill's gang. Being too extreme for Quantrill was like being too anti-Jewish for the Romanian Iron Guard—not easy.  Anderson and his few dozen maniacs rode along on Sterling Price's "invasion" of Missouri in the Fall of 1864—which wasn't really much on an invasion, more like making 12,000 soldiers run a 1500-mile gauntlet, leaving a trail of their own blood behind them. Like many an irregular cavalry commander for the South (like Forrest with Bragg, for example), Bloody Bill got so sick of conventional-war oriented generals, who were as bad in the Western theater as they were magnificent in Virginia, that he thought hard and long about how he could spend his life in a way that would actually help the cause. So he started riding east with a simple plan:
Go to Washington DC.
See sights, poss. Dinner & dancing.
Kill Lincoln.
It was a smart idea–but an assassin needs coolness, maybe even cowardice. That wasn't Anderson's way. So the first Union patrol he met on the road to DC, he started blasting and ended up dead.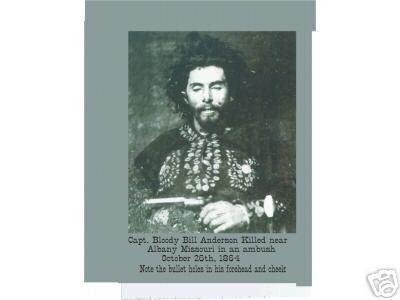 That left the field clear for the next man to come up with a plan to kill Lincoln, John Wilkes Booth and his friends. Booth had the cowardice to live through the war. He sat it out, claiming he'd promised his dear, dear mummy he wouldn't join up. So from 1861-1865, while one-third of all white male Southerners were getting killed in battle, Booth was touring the North, acting in plays like a sissy. He had the cowardice an assassin needs. He had no pride—another good thing for an assassin. Once during his wartime tour of the North, he was overheard cursing the Union. Booth didn't hesitate; he signed a loyalty oath and apologized, slunk off safe. By 1864 Booth admitted it himself: "I deem myself a coward."  That cowardice until the war was over. Booth heard Lincoln planned to give Freedmen full rights. That was it for Booth, who said, "That means nigger citizenship!"  After years and years of sulking, slinking, fuming and crawfishing, he was ready to do something. Ever notice that about chickenshits? They can't fight right now, on the spot, when somebody's shoving them around–but give them about a year or so to nurse a grudge and they'll disembowel a whole family.
When the news that Lincoln had been killed made it south, there may have been some private celebration, but the ex-Confederate elite was shocked and disgusted, at least in public. Ewell went around himself getting signatures from other Confederate commanders on a letter of commiseration. It just wasn't in the playbook yet. Even the most hated Northern generals in occupied territory were safe from assassination. Like Butler– they loved to hate him in New Orleans, but nobody shot him
It might not have been in their interests, either. The Southern elite was awesome, but tiny. If both sides had used assassination, the North, with a bigger population and much bigger school system, could probably have replaced skill positions more easily. I don't know of any targeted assassinations off the field of battle by the North, either. Wouldn't have been hard. The South was starved for men, and most units would have been glad to take in any white man they could get. The Feds could've sent dozens of assassins to join up with the commanders the Federals most wanted taken out—Jackson, Lee, or Forrest—and shoot him out of the saddle in the middle of your first battle. But nobody tried it.
On the battlefield, of course, snipers and sometimes artillery loved to aim for the men on horseback. Sniping's always been sort of a low-tech video game: 50 points for a Major, 75 for a Colonel, 100 for a brigadier. And they got plenty of them. Civil War generals had a casualty rate higher than privates. Some of those kills were kind of like assassinations, targeted hits but on the battlefield, like when Sherman saw a group of southern brass on a ridge and ordered his artillery to target them. That's how Gen. Leonidas Polk got a cannonball right through his chest. (I love what they said at Polk's funeral: "The ball opened a great hole through which his soul escaped." They picked that line over "God bless this meat donut.")
Confederate artillery was also happy to target enemy commanders—on the battlefield. They shelled Hooker's HQ in the Chancellor House, gave him a concussion, came very close to killing him. But I doubt that they would have sent someone to kill him on the street.
It's all different now, of course. As military tech advances, the notion of battlefield vs. civilian zone fades away, and that leaves a lot of room for assassination away from the field of battle. Imagine if we had another secession crisis: first thing the Feds would do now is have flocks of Predator drones humming over Richmond, waiting for Davis or Lee to step out on the street. Every time a man with a Popeye chin like Jeff Davis's went out for a stroll, there'd be another crater among the cobblestones. Every time a dignified-looking Virginia gennulman clopped down the street on a gray horse, the phones at Langley would start buzzing, with some video-gamer in uniform screeching while he looks at his monitor: "It's Traveller! I'm sure! It's our best chance!" The OK comes down in a millisecond and whoosh! Somebody's harmless grandpa disappears like a Hamas honcho on Mossad's little list.
In most of the world, where the turbocharged lathe of war has been grinding away for a while, assassination has always been on the menu. And it's been brought to a new level of sophistication in places like Af-Pak and Iraq.
Iraq in the Saddam era had some bizarre assassination plans, so weird that you can't help suspecting Saddam was having a laugh, his own version of practical jokes. The funniest—and I'm sorry, but this is funny, I can't help it—was the "Exploding Imams" assassination. In 1970, Saddam signed one of his agreements with the Kurdish leader, Mullah Barzani. Of course when Saddam signed an agreement it just meant he wanted you to relax so he could have you killed. And the Kurds knew that better than anyone, learned it the hard way.
So it wasn't easy for Saddam to get one of his killers close to Barzani, who was always surrounded by some pretty scary Pesh Merga security. But there was one way to get to Barzani: through his elder brother, Sheikh Ahmad Barzani, an Imam. Ahmad was in Baghdad, so in 1971 Saddam persuaded him to go see his militant little bro' in Kurdistan. And he had one other little request to make. He leads up to it slowly: "You know, I truly want peace with the Kurds, but no one will tell me what Barzani says. I want is to know, from his own mouth, what Barzani wants from us."
Saddam was apparently a real charmer when he wanted to be, and poor old Ahmad is falling for it totally. Saddam says, "I have this wonderful idea! If you will help, I can hear what your brother has to say in his own voice! All you need do is take this tape recorder"…and he pulls out a shiny new model…"and as soon as Barzani begins speaking, just press the 'Record' button, here…" and Saddam shows the Imam how the thing works.
Well, it's not every day the most feared man in the country asks you to do a personal favor, so Sheikh Ahmad agrees. He and his group make their way north, where Barzani's people treat them with great respect. The Pesh Merga skip the customary body search, they sit down with Mullah Barzani, and the meeting finally gets under way. The old Imam slips a hand into his robe, feels for the "Record" button, presses it…
Kaboom! The "Record" button is kind of more like the "Erase" button, thanks to a pound of plastique. Saddam's little joke. What you call a wicked sense of humor.
Sheikh Ahmad is killed instantly, along with three of his colleagues. Barzani, sitting across from them, would have died too except that just at the moment the bomb went off, a tea boy was filling his cup, standing between him and the bomb. So Barzani's just stunned and covered in blood. But he sure looks dead, and his bodyguards go crazy, running in screaming.
That's good enough for the other visiting Imams. Allah helps those who help themselves and can sprint to the car faster than the others. The Imams are strung out in a straggly line, ranked by their age, obesity, and reaction time, when the main force of Pesh Merga, who've heard the explosion, see a bunch of Arabs trying to make a getaway.
Saddam's drivers who brought them north—all secret police, of course—step out of their cars and start firing at the Pesh Merga, who hose down the vicinity with AK fire. One Kurdish officer actually tried to get them to take the drivers alive, because a captured enemy agent is a lot more valuable than his dead stinking hide. But hotter heads prevailed, and the firing didn't stop until every guest was dead.
A tradition of hospitality, that's one thing, but when the visitors try to blow up the host, that's just rude. It was a good long time before Mullah Barzani invited any friends of Saddam's for dinner, and even then they better not've been wearing Walkmans.
We helped keep the level of craftsmanship high among Iraqi assassins by bringing total chaos to the place in 2003, and since then the most brilliant minds in the country have been looking over old electrical-engineering textbooks, finding new and better ways to make every known appliance blow up.
But when all else fails, Iraqis aren't afraid to go back to basics, either. I'm talking about the Ohio State offense of assassination: three suicide bombers and a cloud of dust, fullback off center.
That's how they did this latest assassination, which killed the head of the anti-terrorist police unit in Mosul, Col. Al-Jabouri.
Mosul's an interesting town, near the Kurdish provinces but not close to them, to put it mildly. This is where Saddam settled his officer corps, the real diehards in the Republican Guard. The Kurds all want Kirkuk back, but they don't say anything about wanting Mosul, because it's serious trouble. They might want it leveled, depopulated, but if you offered it to them with the current population included, they'd decline politely and very fast.
So being anti-terrorist police chief of Mosul is one of those jobs that will disqualify you for life insurance, the ultimate pre-existing condition. A man who lasts any time in that job is either in league with the guys he's supposed to arrest, or just very, very tough and good at his job. Al-Jabouri was tough. He'd already survived five attempted assassinations, and in his business those are the sincerest form of flattery.
So he was a very high-value target. And that's the key to understanding assassins' logic: the value of the target vs. the value of the lives and money you spend killing him.
In war, "human life" by itself, one body, has no value. I don't mean "O the humanity, war places no value on human life," I mean the opposite: a life, an ordinary life, isn't usually worth spending energy to snuff out. But other lives are worth spending dozens of lives to end. It all depends on the value of the life you're taking and the lives you're spending to do it.
You can see that logic working out in the assassination of Col. Al-Jabouri. Al-Qaeda had already spent a lot of lives trying to get him the first five times. But the sixth time, the one that worked, they sent four guys in suicide vests for the final, successful attack. Obviously those four were a write-off before the shooting started. If you lace somebody up in one of those vests and send him into a heavily-guarded police HQ, you can cross him off your Ramadan-Card list. So even if the assassination works, it's a four-to-one exchange. Meaning al-Jabouri was worth a lot of lives. Even the way he died shows that: they found him asleep in his office, where he'd spent the night.–one of these workaholics who drives everybody crazy, especially the people he wants to catch and hand over to the torture specialists down in the basement who specialize in hooking up 220 volts to jihadi scrotums.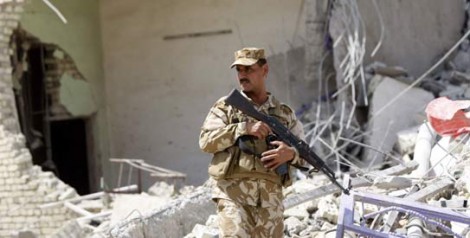 They were taking no chances this time; they packed the four assassins (who were in cop uniforms, standard practice in Iraq) with enough explosives that the whole police building collapsed when one of the vests went off. In that blast a cop was killed, but that probably didn't mean much to the al-Qaeda management; a cop, an ordinary cop, is nothing, like the "draft pick to be named later" when a star gets traded. They were after one man, Al-Jabouri, the all-pro in the trade.  A good CI officer like him must have cost the insurgents dozens, maybe hundreds, of men—and if you let him stay alive, he'll soon round up more. So that's how you estimate his real value, that's the budget on killing him.
In a long, dirty war like Iraq, both sides come to know who's worth killing and who isn't. You get guys like al-Jabouri, guys who prove the Russian proverb, "War is a stepmother to some, a mother to others." The best example from our history is U. S. Grant; he would've had a sad life if the Civil War hadn't come along to mother him. There's not much career mobility in a peacetime army, but once the shooting starts, the good ones really shine and it's "the first shall be last, and the last shall be first."
Well, probably better to say that war mothered al-Jabouri up to the moment his snooze was interrupted by enough high-explosive to blow the whole HQ down. Might be better to say, "War is a stepmother to some, a mother to others…but she's one of those moms who just love you to pieces right up to the moment they drag you to the bathtub and shove you in headfirst because Jesus told her you'd be better off in Heaven."
One note on the value of life in war: you might think that the sheer dedication of those four men who were willing to strap on suicide vests and run into police HQ would make them valuable. That's because you live in a country at peace, a rich country (at least it used to be). In most of the world—and this is something that it took me a long time to accept—it's just not that hard to find cannon fodder. In most war zones, there are lots of people who're willing to die, so bravery alone isn't that valuable. Real value, for the a group like Al-Qaeda in Iraq, is some geek who has the whole Radio Shack inventory in his room and can make anything explode if you ask him to. Or a policeman who's on your side once it gets dark—for money, or because he's a coward, or because you're keeping his son in a cellar to make sure he does what you want. Or best of all, an interpreter who works for the Americans and can tell you exactly who's been telling them what. They would never put the big-bang vest on assets like those, not unless they were in a last-ditch Berlin 1945 situation. The four who died killing al-Jabouri were probably just standard slum kids: brave as Hell, dumb as rocks
But the man ordering an assassination has to think about more than the value of the target. He has to consider who's going to replace him. If you're facing a fool with a smart assistant, you want to leave the fool alone. Kill the assistant if you can, but don't touch the fool in command. Kill him and you're working as the enemy's Human Resources Department, clearing out the dead wood for them.
The dream situation, the one where you'd spend hundreds of lives, is where the target will be replaced by someone who's on your side. That's the factor that made Booth's killing of Lincoln such a whopper of a victory for the south. Lincoln had two vice presidents. During his first term, from 1860-1864, his VP was a Maine Repuublican named Hannibal Hamlin. Like most New England Unionists, Hamlin was a strong supporter of black rights, pushed for the Emancipation Proclamation and the arming of black troops. Unfortunately, Andrew Johnson replaced Hamlin on the ticket in 1864. So if Lincoln had been killed before 1864, the South might not have gained a thing. Might have lost even bigger, because the Northern Republicans would've been even hungrier for a little revenge.
It only became a smart assassination after the 1864 election. I doubt Booth thought any of this through. He wasn't much of a thinker. But his timing was good, even if it was dumb luck—or sheer cowardice—that made him wait so long.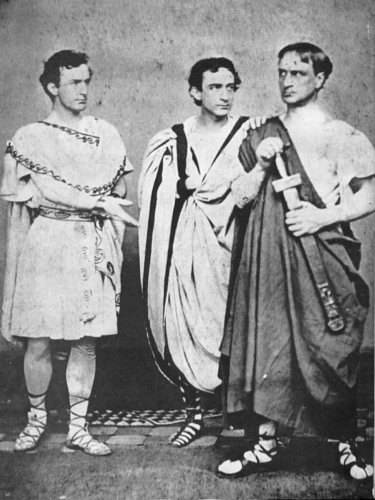 John Wilkes Booth (far left) playing Marc Antony during the Civil War
If you're running assassinations, you have to be as familiar with the enemy's organization chart as their own HR people. In fact, you basically have to act like a Human Resources Department in reverse, deciding who the best of the enemy are, and taking them out—but also identifying the weak leaders and protecting them. (I know, I'm giving the average HR department WAY too much credit when I say "in reverse." We all know a lot of HR jerks who spend their time protecting the idiots and weeding out the smart people, but I'm talking theory here.)
Go back to the Civil War hypothetical I was using: Say you're in charge of assassinations for the North in the Civil War. There are some enemy generals you'd assassinate and others you'd never touch. The classic example is the South's worst general, Gideon Pillow, the "self-inflating Pillow" who wormed his way to command by sucking up to the president, sent anonymous letters to the press taking credit for Mexican War victories he didn't deserve, then joined the South, sucked up to that idiot Jeff Davis, and wangled semi-command of Fort Donelson. I say "semi-command" because there were at least three stooges trying to hand off command as Grant's troops encircled them: Floyd, another amateur; Pillow; and poor ol' Simon Bolivar Buckner, who ended up holding the white flag after Floyd and Pillow both slipped away downriver in the night, leaving poor Buckner, the only decent soldier of the three, to take the rap for surrendering to Grant.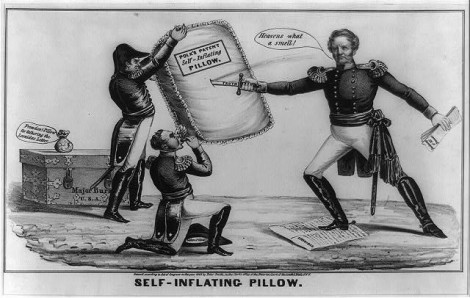 When Buckner, an old friend of Grant's, told him that Pillow's excuse for skedaddling was that he was too valuable to the South to be captured, Grant laughed out loud and said, "Why, if I had captured Pillow I would have let him go. I'd much rather have him in command of you fellows than a prisoner." A guy like that is an enemy asset.
The VC knew that evil or incompetent South Vietnamese officials and generals were their allies. Their "sparrow" assassination teams would kill anyone who did their job well. They killed a whole lot of naïve schoolgirls who went out into the countryside to teach the villagers on the classic "hearts and minds" trail. Killed them in seriously awful ways, too, because in a country that's seen irregular warfare for a long time, you get what I call violence inflation: after a while, plain old killing doesn't make much of an impression. You have to kill like a goddamn Mayan, tearing off jawbones and fingernails, gang-rape with bayonets, power tools (big in Iraq) if you want to make an impression.
But there were some South Vietnamese officials the VC never, ever touched: the sleazy tax collectors, corrupt officers, incompetent provincial bureaucrats. Because the VC had total force discipline, and knew that much as their trigger fingers must have itched to blow away those dirty bastards, it wasn't a smart move, because enemy officials like them were actually working fulltime as propaganda for the VC, even if they didn't know it. Every time a recruiting officer took some poor mama's bribe and then shoved her last living son into ARVN anyway, the VC could tell the story in every village for miles around on their nighttime PR visits. A guy like that was gold to them, and it was hands off.
What really hits me, writing about assassination logic here, is how much more disciplined so many other places are in the way they spend lives. I guess that's not really always a good thing, because those places—Iraq, Viet Nam during the war—are pretty miserable. But you can talk about the way assassination works there logically, without getting all distracted with wacko psychology. In a war zone, there isn't much psychology going on, not personal Jared-Loughner type brain bubbles, anyway. Everybody has pretty much the same psychology. That's why they call it "post-traumatic" stress, I suppose: because it has to wait until you're out of the war zone.
Just compare any of the stories from a war zone with somebody like Squeaky Fromme, the ugly Manson groupie who took a lame potshot at Gerald Ford. For what? As far as I know it was just a way of getting Ford's attention so she could ask him to pardon dear old Charlie. "Hey, over here, Mr. President! Me! Yeah! The little crazy lady with the cheap handgun! Hi! Um…anyway…so, you pardoned what's-his-name, right, the other 'president' guy, the whole 'Watergate' thing…I read about it once? So…how about Charlie? He doesn't like Folsom at all!"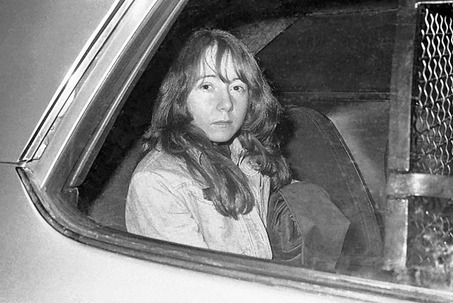 Or Jared Loughner, going bad in his room like old yogurt behind the bed where he stuffs his cum-smeared socks, drooling up the Big Answer: "Grammar! Doncha get it? They tried to brainwash me in Remedial English! It's all a government plot! Black helicopters full of irregular verbs! Subliminals in those Sesame Street spelling skit thingies!" Which is why he shot the little girl and a bunch of other citizens at Safeway.
There's some kind of trickle-down stupid from the high-profile assassinations, too. Every time I hear about some foreclosed loser who ate his pistol in the living room as a "protest" for what they were doing to him, I think, "You're so damn stupid. So you got your blood all over your carpet. They'll hire somebody to clean that—one hour minimum wage, that's what you cost them."
If you're going to spend your life—well, that's  what I've been trying to explain here. It's a market. The ultimate free market. Spend it wisely, like grandma used to write with the $5 bill for Christmas. Suicide isn't a good exchange. Those jerks who kill their family before they blow their own brains out are even worse. Just not thinking clearly. I'm not going to draw you a dotted line to the head office, but God damn, how hard is it to spend a few minutes googling before you spend the last capital you'll ever have? Aim high, as the saying goes. Well no, I mean aim high organizational-chart wise. Then aim center-of-mass.
Write to Gary Brecher at: Bengrierson at gmail dot com.
Would you like to know more? Gary Brecher is the author of the War Nerd. Send your comments to brecher@exiledonline.com. Read Gary Brecher's first ever War Nerd column by clicking here.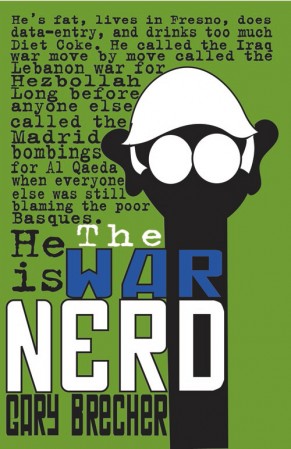 Click the cover, buy the book!
Read more: Abraham Lincoln, andrew johnson, barzani, bloody bill anderson, bobby kennedy, gen. leonidas polk, john wilkes booth, kkk, lincoln, mossad, mullah barzani, nixon, quantrill, richard nixon, robert kennedy, Saddam Hussein, sirhan sirhan, Gary Brecher, The War Nerd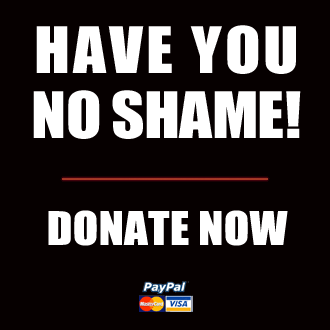 Got something to say to us? Then send us a letter.
Want us to stick around? Donate to The eXiled.
Twitter twerps can follow us at twitter.com/exiledonline