By Gary Brecher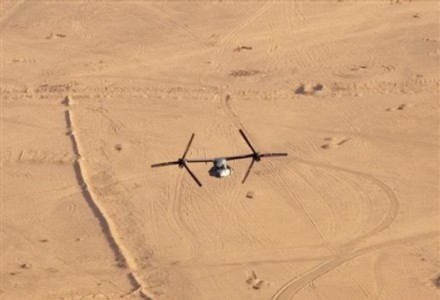 This article first appeared in The eXile on February 21, 2008.
FRESNO, CA — OK, let's talk hardware for once. I love the hardware, always have; the reason I don't talk much about it is that what we've got is mostly useless, and what we really do need is always getting slammed. I'll give you two examples: the F/A-18 and the V-22.
If you're a typical half-baked Tom Clancy fan, you know what to think of both these planes: F/A-18 good, V-22 bad. Wrong on both counts. In fact, that's why it's hard to talk hardware, because you have to de-program so much crap from the standard view.
Start with the V-22 Osprey. You probably know the basics: it's a transport aircraft with engines out on the end of the wings that can rotate forward to fly like a conventional plane and tilt up to vertical (that's what the V is for) so it can land like a helicopter.

Rotating propellars: The ultimate insurgent cuisinart!
And everybody knows, or thinks they know, that it's a lemon. It's ten years behind schedule; it keeps crashing; it's already killed more than 50 Marines. And Dick Cheney hates it. Back when he was Secretary of Defense, Cheney said the V-22 was "…one weapons system I don't need."
That's as good a place as any to start your deprogramming: whatever Dick Cheney says, think the opposite. If Dick Cheney tells you it's a sunny day, get your umbrella. It's no surprise to me that Cheney hates this weapons system, because Cheney is, and I'm kind of half serious here, an Iranian agent who hates America and wants to destroy us. He's all for spending trillions of our tax dollars on absolutely worthless weapons like aircraft carriers, but he fought hard against the Osprey because it's the one contemporary weapons system that could have made a difference in Operation Desert One/Eagle Claw, the Iran hostage-rescue attempt back in the days of Reverend Jimmy Carter.
That's a good handy test to ask yourself about any weapons system: would it have helped in Desert One? That's the kind of mission we need to think about : special ops, fast and quiet.
So, would the Osprey have helped? Hell yes. If we'd had something like it in service, the rescue mission might not have ended so disgustingly. You probably remember the whole miserable story back in 1980: we had to use CH-53 heavy-lift choppers on that raid, even though they've always had a bad rep, and they're not designed for transport anyway, let alone high-value, high-risk special operations transport. By the time they reached their first rendezvous with the USAF's C-130. Only five of the eight choppers were still working, and the mission was scrubbed. During takeoff after the scrub, one of the CH-53s, underpowered and overweight, was blown into a C-130. Kaboom! Giant fireball, eight men dead, and the next day some greasy mullah had himself photographed holding up a charred American pilot's arm. If you're a glutton for pain, you can read the more detailed article I did on it.

Replay that raid with the Osprey as basic transport and you get a very different result. The Osprey carries 32 troops at a cruising speed of 250 mph; there'd be no need to land in the middle of the desert, because it can be refueled air-to-air. The flight would have landed directly at the staging area near Tehran, without any need to touch down in the desert during a sandstorm. A fleet of Ospreys instead of CH-53s would probably have ferried Beckwith's guys safely to their staging base outside Tehran.
To be honest, I don't think the mission, at least from that point on, ever had a chance; it was James Bond crap that required this big American force to infiltrate Tehran in trucks and rescue the hostages, then fight its way back to the planes. It was like some mid- 80s screenplay that would've starred Patrick Swayze.
Nobody would have made it home alive, but at least they would have died killing Revolutionary Guards at a nice, satisfying 20:1 ratio, with our air cover turning Tehran into a toasty lesson on why you should be nice to American diplomats. There's failure and there's failure, and with better transport this could've been a glorious failure instead of a painful (really painful, I remember!) joke.
Suppose the Osprey really isn't a very safe aircraft. That's the knock on it, after all. Well, the hard answer here is, so what? It's a revolutionary advance in exactly the kind of war we actually need to learn how to fight. If that costs a few lives along the way, so be it. The question nobody bothers asking is whether the lives lost on a particular aircraft are worth it or not. So if you have, say, an unsafe carrier-based fighter, then to me that clunker's not worth one American life, because it's useless. Its whole existence is a waste of lives and money. But if you have a VTOL special ops transport that gets your guys in and out twice as fast, with no clumsy refueling stops, then it's worth the lives spent to learn how to make it mechanically reliable. God knows we've lost a lot more guys in less worthwhile ways.
Try thinking like the enemy. Would Al Qaeda hesitate if it had a flight of Ospreys that could land near Capitol Hill, even if their head maintenance guys told them that, say, one-third of the planes were going to crash before they got to the target? Nope. If the mission is that important, and the Osprey is designed for exactly the most important missions we've got, then you can live with losses.
Besides, I'm not convinced the Osprey's really that unreliable. There have only been four major crashes, and for such a revolutionary design that's not bad. Compare that to the really scary record of the F-18 variants we sold to the Aussies: four of the 71 they bought have crashed already, but nobody's panicking about that.
So why does the Osprey get so much bad-mouthing?

The F-18 after colliding with a bird: "Yeah, but
you shoulda seen what that seagull looks like!"
Before you let me answer for you, let's give you a lesson in thinking hard about hardware. You tell me, why would the Air Force, the Navy and the Army hate a weapons system like this one? Remember, we're talking about jealous branches of the Armed Services, we're talking about billions of dollars, we're talking about a world where an Air Force general takes off his uniform and gets a lobbying job without even blinking. And keep in mind that each one of the Armed Services will do anything to keep from losing money to the others.
I bet you got it by now. The Osprey is a Marine Corps project. This should be the last clue you need: what makes the Corps different from all the other services? Answer: because it has its own air wing, and this USMC air wing is the only American force that's allowed to operate fixed-wing aircraft, helicopters, or mutants like the V-22; all the other services have to stick to one or the other kind of aircraft. The Army is limited by law to helicopters and the Air Force has a monopoly of fixed (or swept-) wing craft. So a plane like the Osprey, that can turn from one to the other in a few seconds, is about as welcome as a sneezing duck on a trans-Pacific flight from Hong Kong.
Defense appropriations are an annual turf war between the services, and the Osprey doesn't even have any identifiable turf. It's a bird, it's a plane, it's a procurement officer's worst nightmare! It threatens the whole paranoid truce between the three big services about who owns what.
The fact that the V-22 might actually help us fight irregular wars like the ones we actually need to plan for doesn't figure at all. They'd laugh at you if you brought that up. It'd just prove that "you don't get it." To them, this is like an advertising campaign. They want to sell programs to Congress so they can buy another condo in Costa Rica.

Congressman plays with an F18 model before voting.
I've actually read proud stories of big sales by lobbyists. They actually brag about robbing us. They sold the F-22 Raptor by dazzling Congress with all this Knightrider dashboard crap. The reason they had to switch sales pitches is because they were having a problem using their old approach: the Soviet threat.
Somebody asked the annoying question, "Uh…what Soviets? Didn't they kinda go outta business?" So the lobbyists actually ran a campaign called "Save the Raptor"—like it was some Sierra Club bird watcher's PBS documentary call-in show. And, wouldn't you know it, they saved the Raptor! Nobody knows what the Raptor's good for, unless all our F-15 squadrons suddenly come under the control of the Hypno-toad and have to be knocked out of the sky by an "even more advanced!" fighter.
They won, the sales pitch worked. Maybe they can even come up with a civilian version of the Raptor, sell one to Ah-nold at a discount, make a killing with the street-racer crowd. It'd probably be pretty good at that. But it sure isn't any use in a war like Iraq or any other war we're going to be fighting on this planet.
But don't expect Cheney or any of his pals to say so. The only weapons systems they hate are the ones like the Osprey, hardware that actually might help us fight and win irregular wars.
In case this sounds harsh, let's talk about another weapons system, one that Tom Clancy just loves, the f ucking moron: the F/A-18 Hornet. I happen to know everything there is to know about how this clunker came into service, because my baptism of fire as a hardware war nerd was the Lightweight Fighter Program, the big showdown between two contenders for a smaller, cheaper fighter to complement the F-15. I was still in grade school, and a lot of the technical stuff was over my head, but by reading everything the library had, every issue of Armed Forces Journal and Aviation Week, I got the main line of the story.
The idea behind the Lightweight Fighter was that, in an all-out air war against the Warsaw Pact, we'd lose a lot of planes, so we needed a HiLo mix of expensive high-altitude air-superiority fighters like the F-15 and F-14 and cheaper, lighter planes that could match the dogfighting agility of the MiG-21. We were overrating the MiG-21, as it turned out, but at the time everybody took it real seriously. Why not? There was no money in admitting the MiG-21 was a flying Yugo. Totally inferior to the earlier MiG designs. It was supposed to be a lean, mean killer and we needed something to match.
Of course the F-4 Phantom was part of the problem. It was lousy in dogfights over North Vietnam, because it handled like a SCUD, an interceptor pushed into duty as a dogfighter. The USAF had been pushed into accepting the F-4, a Navy carrier-based design, and hated it. One outcome was the Top Gun schools to re-train pilots to stick and move; the other was the Lightweight Fighter Program, which was supposed to give them a fighter that could play bumper-cars instead of just drag racing.
There were five entries, but it soon came down to two contenders: the General Dynamics YF-16 and the Northrop YF-17. Both services, the USAF and the Navy, had agreed to buy the winning design. And it was pretty clear, even to a naive kid like me, that General Dynamics was the winning team this time. I knew how to read between the lines from being a big Oakland Raiders fan: I knew what the writers were saying in that careful language they used. And they were saying Northrop's design was a dog, but GD's was amazing.
Nobody much liked GD back then, because the F-111 fighter-bomber had a bad rep, but their F-16 prototype outflew the Northrop contender every time. It was more mobile at high speed, and it even cost less: $4.6 million per copy, vs. $5 million for the Northrop. In 1975 it was officially announced as the winner. And that's when things got weird. At the time I just didn't understand what happened. Too young and dumb, too trusting–like most war nerds are even today.
First big shock was that the Navy went back on the deal, announced it wouldn't buy the F-16 and was going to adopt a modified version of the F-17. The official reason was that the F-16 had only one engine, and the Navy had always had double-engine fighters. The Northrop design, the YF-17, was a twin-engine.
But that two-engine story was actually a lie that the Navy figured was simple enough for Congress to understand. I remember hearing the same story from my uncle, who dived for abalone on weekends in this crappy old boat with double inboards. My dad would just nod while my uncle went on about how you had to have two engines, one just wasn't safe…and then when we were back in the car heading home, my dad would explain that was a lot of nonsense that dated from the days when marine engines were so hopeless you had to have a spare if you wanted to stay off the rocks. Any decent modern diesel would do you fine.
And when you consider that the F-16's engine was none other than the Pratt & Whitney F-100, the same beautiful machine that powered the F-15, the double-engine story sounds pretty feeble. The F/A-18's GE F-404 never had, and never will have, the same legendary rep as the P&W F-100. In fact, they had to do endless modifications just to get the thing to work.
The real reason the Navy didn't want the F-16 was that the USAF was going to be using it. Even though they'd stuck the USAF with the F-4, they weren't going to take their promised turn making the big adjustment. The Navy didn't really think much of the Northrop YF-17, but they liked the fact that it would be all theirs.
And to show that they were calling the shots, the Navy went and did the ultimate betrayal: they bought the Northrop design, and then froze Northrop itself out of the development process, the whole long, profitable business of converting the YF-17 into a carrier-based airplane that eventually became the F/A-18. They handed over the whole program to a contractor they liked better, McDonnell Douglas.
The reason the Navy wouldn't let Northrop handle the program goes all the way back to the 1940s, when these companies were still run by the guys they're named after. Northrop was the property of John Knudsen Northrop, who had earned the total, eternal hate of the Navy by daring to tell Congress that we didn't need aircraft carriers any more. That's the one thing you don't ever tell the Navy, even though everybody knows it's true. Northrop was just trying to sell his weird "flying wing" designs when he made that crack about the carriers, but the damage was done. Thirty years later, the Navy brass got its revenge by taking Northrop's F-17 away and making it the McDonnell Douglas F/A-18.
It wasn't a very good design then, and it isn't now. The F-16 has had a totally brilliant career, proved itself in air superiority and ground attack versions. The F/A-18 clunks along thanks to great pilots and a lot of cash, but it's just not that great an airframe.
The only reason the F/A-18 exists is to be put on aircraft carriers. Which brings us back to what Jack Northrop said more than fifty years ago: why do we need aircraft carriers?
If you look hard at the Navy's weird little dance after the Lightweight Fighter Program, what you see is a mediocre plane that never should have been funded, sitting on the decks of the most expensive, useless and vulnerable warships ever built.
When we scrambled F/A-18s to intercept old Soviet Tu-95s that were photographing the USS Nimitz in the Pacific last week (Feb. 11), the whole farce got me down. Here's a couple of rusty, slow, hopelessly obsolete 55-year-old Soviet bombers pretending to threaten a US aircraft carrier that's just as obsolete as they are. Every ham actor in that little drama should have retired long ago; it was like watching a fight between a couple of old heavyweights who should be enjoying their golden years in a wheelchair but keep getting trotted out because Don King knows how gullible we all are.
The Russians can get better pictures from their satellites than the poor old Tu-95s got; the Nimitz is a worthless target anyway, designed to fight WW II; and the F-18 that intercepted it only exists because the Navy turned down a superior plane, the F-16, for reasons that would have embarrassed a fourth grader.
And yet it's the V-22 Osprey that gets all the bad press. Jeez. It's not the hardware I mind, it's the rusty Cold War software in the heads of the guys who like to talk about it.
This article first appeared in The eXile on February 21, 2008.
Gary Brecher is the author of the War Nerd. Send your comments to brecher@exiledonline.com.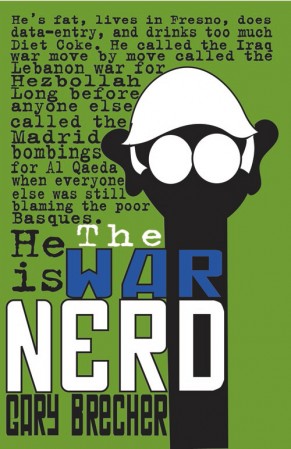 Click the cover, buy the book!
Read more:, Gary Brecher, eXile Classic, The War Nerd, What You Should Hate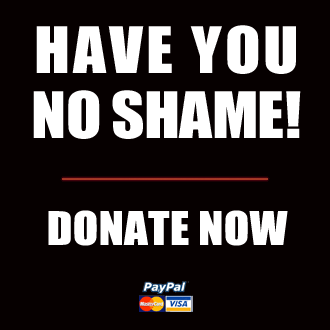 Got something to say to us? Then send us a letter.
Want us to stick around? Donate to The eXiled.
Twitter twerps can follow us at twitter.com/exiledonline