By Gary Brecher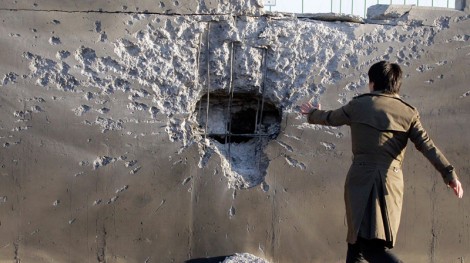 Guess I should start this off with Korea, the North hammering that Southern island and the South responding like a big sister dealing with her autistic little brother: "Ow, I wonder what made him hit me in the face that time. Maybe his diaper needs changing." We knew a family who actually had an autistic son like that, a huge handsome athletic-looking guy whose stereo wires had come unhooked some time around second grade, and if you went over to their house when he was around you definitely wanted to stay out of kicking, biting and punching range. He never telegraphed his bites or punches. Pro fighters could have taken lessons from him. He's giggling at some private brain-damaged little joke on the sofa next to you and wham! You're seeing cartoon birdies, and his sister and mom are busy trying to help him relax. "What's wrong, Kenny? Kenny? Honey?" And you're lying sideways on the couch like Chuck Liddell after his manager talked him into trying the Rampage Jackson road to the title one more time. They don't even notice you; all they care about is calming "little" Kenny (who was a head taller than me) down again.
I can understand that kind of behavior—Korea hasn't had a very cheerful history, they lost God knows how many people in the last war, maybe two million, they have a lot of good reasons not to go to war with themselves again—but excuse me if it doesn't turn me on much.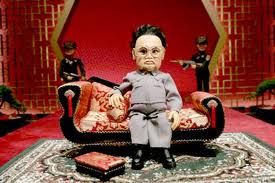 So a quick prediction about Korea and I'm movin' on to happier stuff.
Prediction: What's going to happen? Nothing. Noise. Bullshit Kremlinology about what the artillery attack means: It's Kim III's way of asserting power, or it's his enemies' way of asserting power, or it's the NKPA's way of asserting power against the politicians…I say just blame autism. Why not? You can blame autism for anything these days. Just say, "You can't blame poor NK, he's autistic." Always makes me laugh, that "He's autistic" thing. Like somebody from Brooklyn talking about Picasso: "He's autistic? Whyn'cha buy'im some paints an'a caaaanvas den, huh?"
NK has nothing to lose except its rep for being bad, being stone crazy. SK has everything to lose; the whole country is like that glass house, the one they say you shouldn't throw rocks from. Even if the South didn't have this pitiful "poor little autistic brother" attitude toward the north, they'd have cold hard reason to wimp out, no matter what the provocation. Hyundai's just making its Toyota move, shifting from base-model up to the SUVs and luxury sedans where the  real profits get made. They can't afford to get blasted back to competing for third place as the world's leading exporters of barley noodles.
It's a watched pot, the Korean Peninsula, it's never gonna boil and I'm sick of watching it. Africa is the last homeland of real war, and now that Nkunda's Nneutered, Africa is fading too.
I think I'll go back to the past, when wars were wars and people painted these cool pictures of them without getting squeamish. I've decided I'll do a picture tour of great war paintings, and to start off, a Thanksgiving treat: Washington Crossing the Delaware. I don't do Thanksgiving myself, on accounta God is not a big friend of mine—we don't talk, just like me and my mother's side of the family; in fact God is a lot like that side of the family, which is probably why they all believe he's one of them, a Tamplen under all that Jewish OT fancypants clothes.
But I've got nothing against it for other people; eat and get fat and I won't feel so bad when I see myself in store windows (damn things pop out at unexpected angles, mirror you when you least expect or want it). So if you get tired of BCS BS on TV, here's why I love that picture, no matter how many times I've seen it made fun of in cartoons.
First of all, It's COLD in that painting. Everything about it says cold; you don't really appreciate it until you see it fullsize, like I did when I had to go to this DMV office where they had a fullsize reproduction.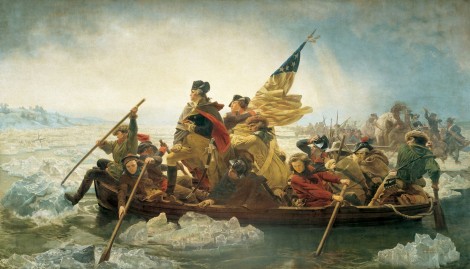 I imagine everybody knows the history here: It's December 25, 1776. Washington and his 2400 Continentals are on their way to surprise the 1400 Hessian mercenaries celebrating Christmas. The rebels desperately need a victory because the British regulars have been shoving them around like Assistant Directors on a Hollywood set.
There's a cultural thing here most people don't realize, though: Christmas was a German  thing back then. The English before Dickens and all that Tiny Tim stuff had a weirdly nasty hate going on for the old Jingle Bells, so they didn't mind working, as in attacking, on the holiday—whereas to the Germans it was the big day of the year. So Christmas Day was the perfect time to attack the Hessians, who were already miserable, sold by their little princeling masters as cannon fodder to the Brits. Germans started all the Xmas traditions, the tree and the bearded guy and all that, but their biggest tradition was getting drunk out of their minds and stuffing themselves with as much animal fat as they could steal from the locals.
Keep in mind, the Germans weren't great soldiers back then. They were the best, no question, man-for-man, in the 20th century, but it took a long time to make that tradition. German troops in the 1700s weren't worth much outside of Prussia, and the Prussian Army was only German at officer level. The ranks were the scum of Europe, kept in line with beatings for breakfast, whippings for lunch and hanging for dinner. And even the Prussians were going to spend another half century losing to the French—that's right, the French…don't even get me started on that stereotype again.
These Germans were no Prussians, just depressed serfs in uniform, hoping to drink it all away for a few hours. They were warned Washington was coming—there's always a snitch in the neighborhood, especially in Jersey from what I hear—but Col. Rahl, the Hessian commander, wasn't going to let that get in the way of the schnapps and brew. They figured nobody was going to cross the river and come after them in that freezing cold.
The sky is the first thing you notice: it's Christmas, back when December meant something. Like death. Lots of old sayings from those days about dying in Winter. The sky in the painting is pure winter: the sun's so low you can't see it. It's just a rumor, kind of making a dome in the middle of pure cold dark. Naturally, the dome centers on The General, but that just leads you, or leads me anyway, to think what I  always feel looking at those Valley Forge pictures: "DAMN, the late 1700s were a rotten time to be out in the cold!" Not only was it the tail-end of the Little Ice Age that killed off the Viking settlements in Greenland—I mean you have to be pretty serious to kill off Viking settlers, they hung on to real estate once they'd hacked their way to full title—but those damn Founding Fathers clothes!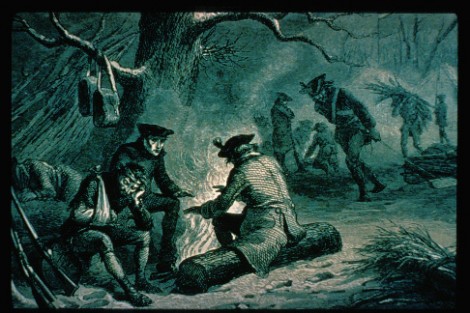 Anybody else feel like this, "Thank god I don't have to wear those revolutionary clothes!"? For one thing, they'd be death to a fat man like me. Tight white pants and an open blue coat! It's like it was designed to embarrass you: "Hello, World, meet my big Founding gut!" Not that there were a lot of fat guys in the Revolution (though there were a few, like Henry Knox, the artilleryman, and Nathanael [sic] Greene, who was one of Washington's commanders at Trento). They were probably admired for being fat, actually; when fat's not all around you, maybe it seems cool. Something I learned in my one econ class: "The Scarcity Theory of Value." Of course your only chance for a big white-vested gut like Knox's or Greene's was general rank—no way an enlisted man was going to bulk up, shivering in a lean-to listening to the wind tell you it was on the Brits' side.
What you really need in the cold is a hat, and that's where the Founding Fathers really must have been the shivering Quakers. Those three-cornered hats—I never did get what they were about. It seriously occupied a lot of my mental time when I was a kid: what's with the three-cornered hats? Why, God, why? God gave hats a brim for a reason! Why pin it up, and if you have to, why not pin it up cavalry style, like Larry Storch in F Troop, not this prissy, ridiculous three-corner style? One guy, on the near side of the boat, seems to have figured that out; he's got his hat pinned up just like Cpl Agarn. We know the wind's blowing hard in the painting because another unlucky dude near the back of the boat, probably an officer and required to wear the three-cornered thing, is trying hard to hold his hat on with one hand. Why'd you pin it up like an old lady then, huh?
If you look closely at the painting you can see an incredible variety of headgear, and almost all of it is an improvement on Washington's three-corner trademark. There's a guy near the front of the boat, shoving an ice floe out of the way with his oar, who's wearing a kind of fur-lined tam-o-shanter. He's probably supposed to represent something, like the Scottish contribution, or maybe he's a real guy, I don't know. The guy right at the front of the boat, the bow or whatever, has a coonskin cap and boots—he's the lucky one. The man steering at the back has a fur hat too—and why not? It's not like there was a fur shortage. They were too excited about being European, wearing cloth, when cloth was incredibly expensive and bad, which it was up to about 1900. Even during the Civil War, raiders used to take the time to steal little bits of cloth, enough to patch a pair of britches, because they were worth a ton of money.  Tan a deerhide and you'd have better clothes a lot sooner and cheaper, but you'd look too much like a Injun. (That last word isn't a slam on  your home town, by the way, Korean readers.)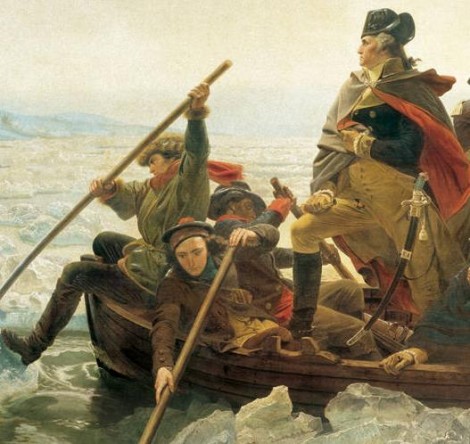 Under the boat is this weird beautiful green cold water—deep, beautiful, kill-you-in-a-minute green. It blew me away, the sky and the water, when I saw the thing fullsize. Yeah, in some ways the water's the star of the painting. It wants the guys in the boat, you can see it, it's like a predator, and the guy in the red coat (uh-oh, better take off that red coat when the firefight starts!) is looking down at that water thinking, "How much time would you last if you fell in, a minute? Half a minute?" You stand back from the thing, like I did in the DMV, and it hits you that there's only cold white/blue/green all around these people who are all got up in hot colors, reds and such. One dipping and they'd dissolve.
To remind you how scary this ice-clogged river is, the artist (a German; most of the good battle paintings are by Germans) put a drifting tree on an ice floe in the background. Snag that and no more tactical surprise, just some rusty muskets for the local kids to fish out come summer.
And even further back there's another flatboat with horses. You have to wonder what the horses thought. They don't look too happy with the whole project: first this, then we get shot at? What's cool is that the horses are all rearing and twisting, and their shape overall is like exactly the same as the famous one in this painting, with Washington as the crest of the mid-boat mountain and all the other guys on the boat as the foothills. Which come to think of it is the same shape as that Iwo Jima picture. The flag's in the same position too, half-up and rising, the only thing higher than Washington's head.
They made the bank, of course. Surprised the drunk Hessians, who tried to form a defensive line among the little houses of what would someday be one of America's finest ghettoes and were sniped by those pesky Continental riflemen the Brits came to hate as much as the French had hated the Brit longbowmen. Col. Rahl was killed, probably mourning the fact that he'd been shot in the liver before it had processed its rightful gallon of raw alcohol. Famous last words: "Some Christmas this was!"
But it was, for the other side. Nobody mentions it much in the books, but battle involves a lot of fast food, not to mention fast drink, and I imagine that between mopping up the Germans and getting back to army food, there was a lot of diving into the Hessians' leftovers. Many a Continental was wobbly when they formed up again, I bet, and not just dizzy with victory either. And Howe wasn't happy at all.
See? Those were the days. Oh, you can say "Chosin Resevoir" all you want, and true, it was glorious, but that was 60 years ago and it gives me a pain to talk Korea now.
Hyundai vs. Autism: whoop de doo and happy thanksgiving.
Would you like to know more? Gary Brecher is the author of the War Nerd. Send your comments to brecher@exiledonline.com. Read Gary Brecher's first ever War Nerd column by clicking here.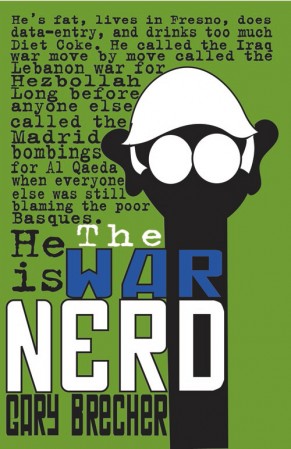 Click the cover, buy the book!
Read more: fat, french, george washington, germans, hessians, kim, north korea, valley forge, Gary Brecher, The War Nerd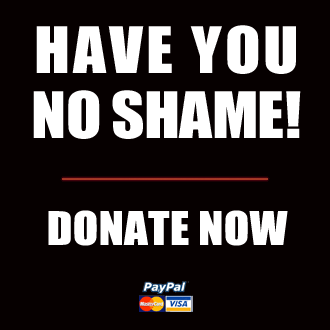 Got something to say to us? Then send us a letter.
Want us to stick around? Donate to The eXiled.
Twitter twerps can follow us at twitter.com/exiledonline