By Gary Brecher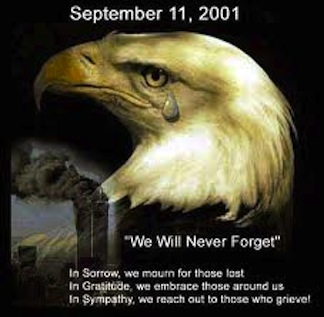 Well, it's ten years and a couple of days since 9/11. The reason I'm two days late doing a look back is that 9/11 is boring. I'm sick of it. And the ten years since are just depressing, at least if you're an American.
So I spent the 9/11 anniversary reading Jack Weatherford's book on the Mongol Queens because I didn't want to see New Yorkers hamming it up the way they've been doing for ten long years.
It reminds me of the stupid group hug'n'cry when that worthless limey Princess Di died. While she was alive she was just a punchline for dirty jokes, but as soon as she hit the wall in Paris, every sobby fool in the world was her best friend.
There was one difference between the Di thing and 9/11: Crying over Di was for girls. Well, girls and Elton John, but you know. 9/11 is way worse because it's a weepfest for men in suits, big loud scotch-drinking jerks who want to prove "Real men aren't afraid to cry." Maybe not, but maybe they should be. Or at least embarrassed to do it on TV.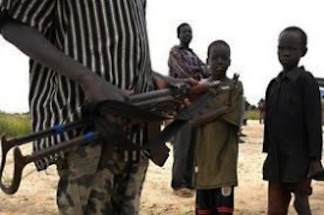 Dinka Fighter: Cooler than a bond trader. Taller, too.
When somebody cries for the two million Dinka, Nuer, Zaghawa, and Fur who were machinegunned from Mi-24s in Sudan, I might squirt a few in memory of Manute Bol maybe. But nobody will ever do that. They don't matter to anybody but me. I rate the dead on height and warrior quality, so to me a dead Nuer or Dinka is worth, oh I don't know, something like three dozen NYC office workers. Maybe more.
But there's no money in a dead Dinka, and money decides how much tv time a corpse gets. That's why the 9/11 dead hit the bigtime: The return on investment was huge. It funded the dumbest spending binge since Rollie Fingers put his money in.
In fact, it's not much of a stretch between what happens when a hick or ghetto kid gets a pro sports contract and what happened after 9/11. Bush and Cheney were both wannabe jocks—I reviewed a Cheney bio that said he hung around with other failed jocks at Yale—and they were about as smart with the blank check they got on 9/12 as Deuce McAlister was with his millions. That's when dreams come true, and no matter what Disney told you, it's bad news when you can make your dreams come true, cuz most of the time your dreams are just stupid.
These two had a dream, as the saying goes. Oh yeah, they had a dream: Get everybody into the bus screaming for revenge, take the interstate for Afghanistan—and then fake'em all out by screeching off at the Baghdad exit. "It's a shortcut!"
When I look back at those years, what still floors me is how long they got away with it. Bush got the sane response out of the way fast, starting the attack on Afghanistan, the real Al Qaeda HQ, about a month after 9/11. Everybody was for it; it made sense, even if all those Pearl Harbor links didn't. Pearl Harbor was a massive conventional attack on a US military base by planes flying from carriers; 9/11 was a coordinated hijacking by a team of about 20 men. It was a brilliant plan and it worked even better than Osama had planned (he admitted that later); but it didn't mean there were endless millions of other hijackers out there ready to shave every highrise off the Manhattan skyline like some Book of Revelations LectricShave commercial.
One of the lessons of 9/11—the actual lessons, not the ones they talk about—is that countries are more powerful than Man from U.N.C.L.E. conspiracies. If you're attacked by an actual country, like Imperial Japan, you've got a problem; if you're attacked by a nutters' club like Al Qaeda, you'd be better off taking a Xanax and getting back to business. We'd have saved a lot of lives and money if we'd just ignored 9/11.
None of the intellectuals really like countries, "nation-states" to use the fancy term, and for a hundred years everbody's been predicting they'll fall apart. The Marxists always hated them because to them a country is a delusion, a fake family that keeps the workers from seeing who their real friends are. The Islamic nuts hate them for the same reason. So did the Pan-Arabs in Nasser's day. So does every racist ever born, because they keep whites/blacks/pinks/whatever from joining up with their blood kin. Libertarians hate them because they interfere with the market. Every freak out there has some little dream that countries get in the way of.
But they last. Africa was supposed to fall apart long ago, because the country borders didn't match the tribal ones. Didn't happen. Won't, either. Take Eritrea; There's no such thing, ethnically, as an Eritrean. It's a ridiculous colonial border the Italians set up. But once Eritrea incorporated as country, the brand took, and took hard. The Eritreans fought the Ethiopians, much bigger and stronger country, to a stalemate and they're prouder of their totally imaginary Eritrean identity than a lot of countries are of the real thing.
So what country attacked us on 9/11? You can't say Afghanistan, because most of them don't know or care about anything beyond the next valley, never mind Manhattan. Like most everybody on this planet, they're too busy hating the people one valley over to hate NYC much, though I'm sure they do in a vague way, when they've got the energy.
Not Saudi Arabia either, although a lot of Muzzie-haters would like it to be that way. SA is about the money, and 9/11 wasn't good biz for them.
And not Bush, either. Please, let's just skip the "inside job" crap.  9/11 was the best thing that ever happened to the Bush administration, but that doesn't mean they did it. Start thinking that way and pretty soon you have to say farmers make it rain because rain's "good fer the crops," or  accept the Japanese version of why the Mongol invasion failed: The Gods sent a kamikaze, a divine wind, to protect their little cousin the Emperor. Things happen that help one party or another but that doesn't mean those parties did it.
You know who revived the old "Bush did it" theory on the tenth anniversary? None other than the ex-PM of Malaysia, that godsend to comedy, Mahathir Muhammed. He has a new, brilliant proof that it was Bush all the time: It had to be, according to Dr. M, because Arabs aren't smart enough to pull off a smooth operation like that. Brilliant. That's the way to win Muslim hearts'n'minds. It's not even sensible; there are (well, there used to be) some reasonably intelligent people at the top of Al Qaeda. And the idea of using a plane to hit a tower, though it's a very good plan, isn't all that complicated. Michael Caine, for God's sake, is going around saying he was writing a thriller with the same plot when 9/11 happened, and if Michael Caine can think of it, so can your neighbor's Labrador. In fact I remember a thriller from way back, Black Sunday, where the idea is to float the Goodyear blimp, with a gondola full of plastique studded with roofing nails, over the Super Bowl stadium, give'em a halftime show they'll never forget. (There was a great scene with Bruce Dern the psycho Nam vet just lovingly putting the roofing nails into the C-4 one by one. Man, that spoke to me: "Homecoming float, you bastards? I'll show you a homecoming float…")
Or the Israelis, either. They were glad when it happened, sure; I even remember an Israeli interviewed in NYC gloating about it, "Now you know how we feel!" But same thing as Bush: Just because they benefited doesn't mean they did it. It's possible Israeli security knew something about the plot and let it slide; that's old CI tactics, stepping back or even helping your enemy when he plans to attack a wavering ally of yours. But Osama wasn't that interested in the Palestinians or Israel; it was US troops on the sacred Peninsula that set him off. He was from the East part of the Middle East, and not much of a threat to Israel. In a cold-blooded way, he was probably just as happy as the Israelis to keep the Palestinians in their camps. Good propaganda—and besides, those Pals aren't even all Muslims. (Imagine a meeting between George Habash and Osama—pure skit material.)
What really attacked us was a demographic: Rich, not-that-bright Muslim sons who didn't have much going for them besides a religion. A handful of jealous losers, industrial waste from the population bulge of the 20th c. in the Middle East.
It's easy to see that now, and frankly it was pretty easy to see it then too. It just wasn't much fun seeing it that way. Didn't make for good tv. Those guys had a lot to be jealous of, when you remember America in 2000. Getting our way everywhere, and playing the good guy while we did it. Sleazy on the inside, but who isn't? 9/11 was a lot like the attacks North Korea launches from time to time when South Korea gets too rich and distracted, like a "forget-me-not" bouquet full of jet fuel. I know the feeling myself: Maybe you can't knock these people down once and for all, but you can wipe the smug smile off their faces for a while.
That's the biggest surprise of all: It did knock us down, maybe permanently. I don't think even Osama planned that, although maybe I'm underestimating him. Most jihadis think more in terms of gestures, doing something big and going out with a bang, than making a lasting change in the balance of power. Mohammed Atta having a last drink at a strip club—classic spoiled martyr crap. Make the kaffirs sorry, go out with the biggest bang yet. That's not strategy, that's psychotherapy for rich mamma's boys who know they don't matter in the world.
But it turned into strategy, and brilliant strategy. And all because Bush and Cheney had a dream. A bunch of dreams, all stupid, all disasters for America.
What happened wasn't complicated—just expensive. One month after the twin towers go down, the US invades Afghanistan in "Operation Enduring Freedom." (God I hate those "Operation" names. Can't they just pick something random, something that doesn't sound like Flag Day in Houston?) It went slowly at first, we looked tentative, then something odd happened up north in Mazar-i-Sharif that turned the whole campaign around. I've always suspected it was a huge bribe to some Taliban commander up there, because that's what usually turns the tide in an Afghan battle. After Mazar fell, we rolled into Kabul. So far, so good. Then Bush and Cheney decided they'd done enough to satisfy the suckers back home and got down to their real agenda, Iraq. Since that time a bunch of bitter special forces guys have said they were closing in on Osama in the mountains of SE Afghanistan when all the money and weapons were diverted to Iraq, or as it ought to be called, "Field of Dreams."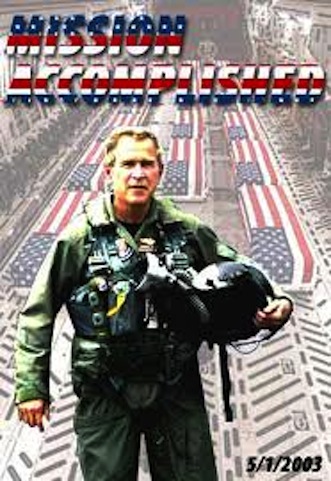 Top Gun Bush: Worst. Sequel. Ever.
It was a strange time. You couldn't be too loud or too dumb. I know it scared me. Kind of a sci-fi scenario, with everybody around you turned into an insect. I remember talking to a woman in the office where I worked in 2002, smart lady, way richer than me, one spoiled brat of a kid and a scientist husband. She heard I knew something about war stuff but she didn't like it when I started spluttering at the idea that Saddam could hit Manhattan in 40 minutes with chemical warheads. I got sort of excited which come to think of it might have something to do with the fact I never got anywhere in that job and they seemed very happy on my last day—and tried to remind her of the first Gulf War, how Saddam tried to activate his imaginary terror cells in Europe and America, tried to scare everyone with Scuds, tried everything he could to bluff us—and nothing, absolutely nothing, happened. She just stared at me for a second—I've seen this a lot from Americans who outrank me; they never argue with you, they don't do arguments, they just wait for you to finish and then repeat what they said in the beginning—she said, "I believe there are WMDs." I thought I was back at church again.
Another thing about good Americans—I mean the ones who are good at being Americans, not "good" like Lincoln: They never remember their mistakes. I read that good NFL cornerbacks are the same way: They never remember the TDs caught over them. It's adaptive, I guess, but I'm old-fashioned; I say it's cheap, it's spoiled. It's your duty to admit it when you get things wrong, and do it loud and often.
But she never talked about it. Creeped me out. I've always wondered about those well-groomed people with self-esteem: Do they just outright forget their boo-boos or do they just have a policy of not mentioning them?
I was too scared to bring it up to her either. "Hey Pam, remember what you said about WMDs?" Yeah, sure: "Hey Gary, remember your evaluation I have to write?" Except she wouldn't even say that—they never say anything that could be used against them; she'd just change the subject and torpedo me in the evals.
The same amnesia she got happened in the press: no apologies, not even an admission. I tried once and someone told me, "There's no point playing the blame game." Blame game! If only McClellan had had the PR agency that made that one up. "There's no point playing the blame game, Mr. Lincoln, just give me another two million troops and I'll try again." There's plenty of goddamn point in playing the blame game when you're talking about the people who cheerled you into a disastrous invasion. Me, I'm for blood purges where you line up every editorial writer in front of a mass grave, read them what they wrote back in 2003, and then mow them down, but I'm willing to settle for hard labor for life. Cheney on the Chain Gang. Has a ring to it.
The invasion of Iraq happened slowly, with plenty of advance notice and months of all-out bullshit in the press. It was a bad time for anyone who knew anything about military history, which judging by the way the debate went meant damn near nobody. All the so-called experts were doing idiotic "How many tanks has Iraq got?" metrics that had nothing to do with anything. It was obvious the tanks weren't the problem. The difference was that Cheney wanted to occupy the whole country this time. Funny, cuz he came up with the best reason NOT to do that back in 1994. Somebody dug up a video from back then where Cheney, not the smartest guy as a rule, comes up with a just plain brilliant summary of why occupying Iraq is a bad idea:
Once you got to Iraq and took it over, took down Saddam Hussein's government, then what are you going to put in its place? That's a very volatile part of the world, and if you take down the central government of Iraq, you could very easily end up seeing pieces of Iraq fly off: part of it, the Syrians would like to have to the west, part of it — eastern Iraq — the Iranians would like to claim, they fought over it for eight years. In the north you've got the Kurds, and if the Kurds spin loose and join with the Kurds in Turkey, then you threaten the territorial integrity of Turkey.

It's a quagmire if you go that far and try to take over Iraq.

The other thing was casualties. Everyone was impressed with the fact we were able to do our job with as few casualties as we had. But for the 146 Americans killed in action, and for their families — it wasn't a cheap war. And the question for the president, in terms of whether or not we went on to Baghdad, took additional casualties in an effort to get Saddam Hussein, was how many additional dead Americans is Saddam worth?

Our judgment was, not very many, and I think we got it right.
So what happened, Dick? One of those mini-strokes? More likely, the same thing that happened to his whole administration on September 12, 2001: They got high. And stayed high. Blank checks will do that for you. They couldn't lose. No matter how cowardly and shameful they acted, they got a pass. Bush read a kid's book and then bugged out for his bunker when he heard about the attack, but somehow he was a hero. And this isn't hindsight, damn it; I said so at the time, but nobody wanted to hear it.
Notice what Cheney says at the end there: "How many dead Americans is Saddam worth?"
He thinks the whole thing about occupying Iraq will be getting Saddam. Once we got Saddam, game over. And they really thought that. Remember when every Republican mouthpiece was screeching that the insurgency was over as soon as Saddam was captured? Of course it made no difference whatsoever, because these idiots don't know a thing about guerrilla warfare.
Or maybe they'd had such an easy ride on top of the backs of American suckers, I mean voters, that they thought everybody was as docile as us and the Iraqis would stop when their leader went down. Wrong again.
Their whole dream got the OK from America, and it's still hurting us every day. Stateside, all the contracts for the Iraq War were no-bid scams, just outright scams. Nobody minded. They put in every wacko friend they'd made, guys like the FEMA horse breeder who did such a great job in Katrina; nobody minded. They stripped taxes on their rich friends while they were spending a trillion dollars on their pet Iraq war; everybody cheered. I was there, I remember. I'm a big fan of the blame game myself, and I blame every single one of you suckers who bought into it.
The war went the obvious way: Saddam's tanks were hot scrap in a few days. It was a classic firepower demonstration, and that pretty much guaranteed a bad aftermath, because it's hard to turn off that kind of firepower when you're switching to reconstruction. We've done some good reconstructions—most of them in 1945—and some bad ones, like 1865-1876. This was one of the worst.
There were no interpreters you could trust, none of the troops spoke Arabic, most of them had swallowed two years of Muzzie-hating from the US press. They didn't know anything about the place and didn't want to. They rolled into Fallujah, shot a bunch of demonstrators, and it was on. Took two more all-out invasions to kill everybody in Fallujah who might be trouble. The Marines didn't even impress the locals, because they hunkered down under fire and called for air or artillery. That might be good tactics, but it yields a lot of shock and no awe whatsoever.
I don't even have time to list the fatal mistakes in Iraq. Remember Paul Bremer? General Sanchez? Sanchez in particular shocked me because it was clear he had total contempt for CI warfare and just plain wouldn't admit it was happening, even when the casualty count hit four figures. That was the strategy down the line: It's not happening.
Every reason for the invasion was disproved. No WMDs. No Al Qaeda links. And it damn sure wasn't a "cakewalk."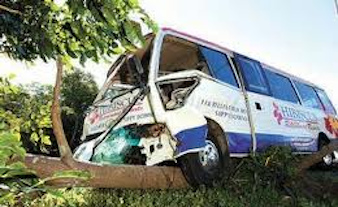 The 2004 Election
But Bush's support held. That's when I lost my country, when he was reelected. I used to be an unhappy American nationalist, like a passenger in the back seat wondering how many drinks the driver's had. But when we invaded Iraq, the car hit a tree—and all the passengers got out and voted to reelect the driver.
That's the legacy of 9/11: Two dozen spoiled unemployable dimwits managed to lobotomize my country, bankrupt it, make it such a nasty alien place I didn't even feel part of it any more. I can't give Osama much of the credit for that, I just don't see him as that smart—but you know, he did say his goal was to destroy America. And with a lot of help from all you guys who used to be my fellow Americans, he could die content, because he actually managed it.
Would you like to know more? Gary Brecher is the author of the War Nerd. Send your comments to gary dot brecher at gmail dot com. Read Gary Brecher's first ever War Nerd column by clicking here.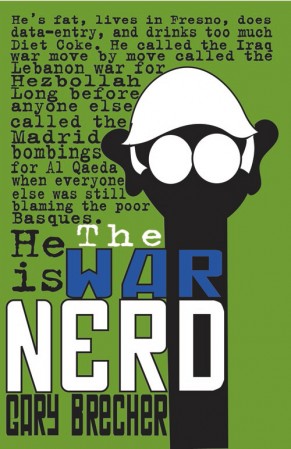 Click the cover, buy the book!
Read more: 9/11, afghanistan, Al Qaeda, conspiracy theorists, Dick Cheney, dinka, eritrea, iraq, islam, lady di, malaysia, manute bol, mongols, pearl harbor, president bush, xanax, Gary Brecher, The War Nerd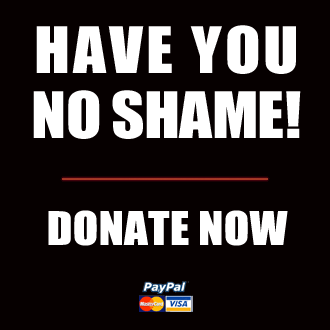 Got something to say to us? Then send us a letter.
Want us to stick around? Donate to The eXiled.
Twitter twerps can follow us at twitter.com/exiledonline