By Gary Brecher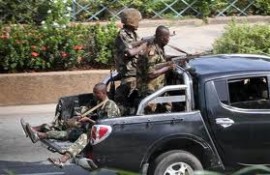 Gbagbo fighters patrolling Abidjan: No wonder they lost! Call that stubbie a Technical?
Today the action moves south, off the Libyan beaches and into the rain forest of the Ivory Coast, where rebel forces have just taken the big city, Abidjan. It just cheers me up to write a good old-school line like that: "Rebel forces have just taken the big city…"
But although they moved fast at the end, it's been a long, slow wrestle in Ivory Coast, with the Muslims from the North getting stronger year by year and the old French-trained coastal Christian tribes losing out so slowly they couldn't believe it themselves.
I wrote a column about the long war in Ivory Coast back in 2002. I just went back and looked it over and I'm kinda proud to say that it holds up so well I might just as well have written it last week. Here's the key point from that column:
"What's happening in Ivory Coast is just another episode in one long, slow war that's going on all across the middle of Africa. Remember that weird deal when they had to move the Miss World competition from Northern Nigeria because the local Muslims didn't like it? That's the same war as what's going on in IC. Nigeria is like a bigger version of IC, with the same basic divisions: basically, it's the Coastal people who are sort of Europeanized vs. the inland people, sort of African hillbillies. This coast/inland divide runs all across Africa but it's specially nasty on the West Coast.
"It all has to do with the way Africa got religion. There were two big religions moving in on the continent. The Muslims were slowly pushing south, and the Christians were moving inland from their little outposts on the Atlantic. Later the Christians also started pushing up the rivers, from the rubber-growing regions down around Congo. So the poor old tribal gods were getting knocked down in a kind of domino race, with the Imams pushing them down north-to-south, and the missionaries shoving them inland.
This is where a lot of these African civil wars come from. Way back in the sixties, Nigeria had the biggest and bloodiest "civil war" of'em all, when the Ibo (or Igbo) tribe decided it was sick of being lumped together with the Hausa and the Yoruba. The Ibo declared independence and set up their own country, "Biafra." (If you were ever into that punk shit, you probably figured out that's where Jello Biafra got his name from.) The Ibo had turned Christian way back, and they didn't have a lot in common with the Hausa, who are crazy Muslims, or the Yoruba. It turned into a real bloody mess fast. The Ibo were more mechanically savvy than the inland, hillbilly Muslims, so they won a lot of battles early on. But the rest of Africa didn't want Nigeria carved up, and they all piled on against Biafra. They cut off supplies, and the Ibo started dying in big numbers. Those were the original pictures of starving African kids. Finally they gave up and sorta sulked back into the Nigerian fold. But they're not happy about it, and neither are the Muslims who fought to keep them there. Basically, they hate each other and always will. Coast against inland; Christian against Muslim."  (War Nerd, "Live from the Skeleton Coast," 2002)
In Ivory Coast, this latest flare-up came when the Coastal/Christian presidential candidate, Laurent Gbagbo, wouldn't admit he lost the 2010 election. Most of the Jimmy-Carter types who like to sniff around other countries' ballot boxes agree that Gbagbo lost to the Muslim Northerner Alassane Ouattara beat Gbagbo 54% to 46%.
By the way, I've noticed something that helps with these French West African names. Take the winner here, "Ouattara." The thing is, a lot of West African names seem to start with a "W" sound and the French, for some wacky reason they could probably explain if they felt like it, can't just write out a "W." So instead they try to sound it out like a brain-damaged cockatoo: "Ooooo…uuuu….aaaa…ttara!" It'd be a lot simpler if they'd just come out and say "Wattara." Nice simple name. Same with the guy's first name, which they write out as "Alassane." Makes him sound like the leader of the hissing-snakes party. Look, he's a Muslim, they don't allow that many given names and his is just your standard garden-variety "Al-Hassan." OK? So the dude's name is Al-Hassan Wattara, same as the Pal behind the counter at your corner liquor store.
Now the name of the other candidate, "Gbagbo"…sorry, but you're on your own with Gbagbo. Sometimes when these names start with an "N" before another consonant I can say them, like "Nkunda"—just say it like "Kunda" if you had a bad cold with a blocked nose. But a "g" at the beginning, then a "b"? Man, that's out of my pronouncing league. Maybe that's why he lost, nobody could even say his name.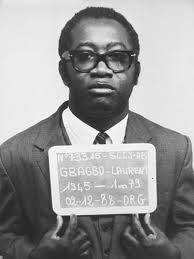 Laurent Gbagbo's mug shot as student-radical nerd: You can't get much more civilized than that!
If you're somewhere in a safe country and feeling nice and smug you wonder, "Why can't these people just accept the democratic vote count like civilized people? Well, for starters, they're civilized as Hell in Ivory Coast. Never went in for chopping off hands and feet, used to make a decent living selling cacao and coffee, prided themselves on their culture. Gbagbo, the man with the name nobody can pronounce, is a lot more civilized than me, that's for sure. He's got a Ph.D. in History, used to lecture at French universities, and when he was a little kid his friends called him "Cicero" because he'd rather read Latin classics than go outside and play.
Besides, I seem to remember a certain civilized country that was about ready to go to war in 2000 over election results in a corrupt jungle province known as "Florida"—and don't tell me there's any place on this planet more corrupt than Florida. Ivory Coast is frickin' Sweden compared to Florida.
In fact the Africans told a great joke about our 2000 election fight: "Do you Americans expect us to believe that the election was decided in favor of the former leader's son…in the province where his brother was governor…because the voting machines did not work and the ballots were lost? And you people are lecturing US on democracy!"
There are a lot of similarities, us and them. Ivory Coast used to be the rich country in West Africa, just like we used to be the rich country in North America. And just like us, they had tons of illegal immigrants from poorer places, landlocked sweatboxes like Burkina Fasso, with a GDP measured in scorpions and diseases. And a huge number of those illegal immigrants voted. The Burnkina Fasso immigrants were all Muslim and they voted for Ouattara. How would you feel if the US election was decided by illegal Muslim immigrants? Well, that's how Gbagbo and his coastal Christians felt. I mean, it's got to be frustrating; you see that the French are the big new power and you let your own African identity get Frenchified for generations and then out of the blue the power shifts and you're losing out to Muslim hillbillies who don't even have citiizenship. Everything you've built up for generations, all the stuff you've paid for in shame for generations getting ordered around by the whites, and now it's for nothing? All thanks to this goddamn democratic one-man-one-vote thing the French brought in themselves just before they snagglepussed out? I can see why Gbagbo and his people had as their campaign slogan, "We win or we win," meaning no prisoners, no handshakes and "I wish my opponent all the best" speeches, because it's their whole world hanging there. Just ask the Igbo what happens when you lose one of these wars.
The only is in countries like Ivory Coast, they hate each other in French, and in Nigeria they hate each other in English. Good French and good English—there's a lot of very educated people in both those countries. Every time another shock zaps the homeland, the educated elite runs off to Paris or London and the country goes a little more feral.
The question is: why wouldn't Gbagbo's troops fight? It's pretty clear they wouldn't. The Muslim rebels who call themselves the New Forces (FN in that annoying French way of reversing stuff) walked south with no trouble until they hit Abidjan, Gbagbo's core city, where his relations and pet militia, the "Patriotic Youth," have done some resisting.
But this has been a typical West African war in terms of combat, as in there isn't any. That's not something you need to explain away because it's the norm. What's odd is "battle"—two roughly equal sides duking it out. What's happened here is the human norm: one side moving forward and the other running away. I'll try to talk tomorrow about why that happens, and what it takes to make your side stand and fight.
Would you like to know more? Gary Brecher is the author of the War Nerd. Send your comments to brecher@exiledonline.com. Read Gary Brecher's first ever War Nerd column by clicking here.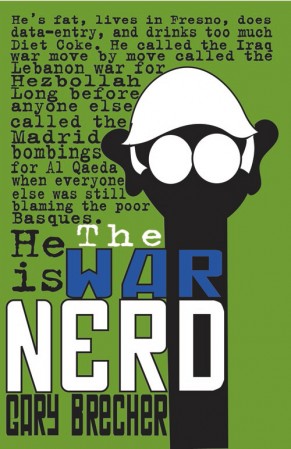 Click the cover, buy the book!
Read more: Alassane Ouattara, france, ivory coast, laurent Gbagbo, Gary Brecher, The War Nerd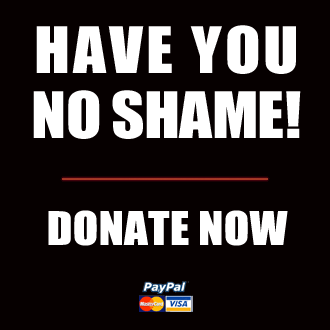 Got something to say to us? Then send us a letter.
Want us to stick around? Donate to The eXiled.
Twitter twerps can follow us at twitter.com/exiledonline