By Gary Brecher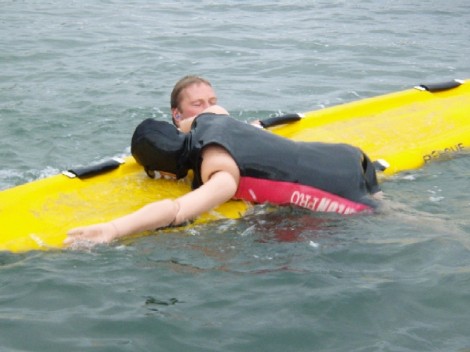 My first Saturday blog. I promised seven days a week and I'll deliver. To be honest "giving up my weekend" is not as much of a sacrifice as people seem to think. It's not like I'm closing down all the local clubs, hitting the slopes at Tahoe, whatever. A good Friday for me is: Put Gettysburg on and watch Pickett's Charge three or four times. I've been reading Shelby Foote's Dixie-sucking histories again and they piss me off so bad I can't get enough of seeing double loads of canister blast that fence, sending those big babies from ol' Virginny flying up in the air to rethink their position on the constitutionality of secession.
But since Saturday seems to be an excuse to slack off for most people I figured I'll take advantage and keep my Sat entries pretty fast. So just a couple of things.
First I wanted to add something to what I said yesterday about the Moroccan Green March into Spanish Sahara in 1975. I said a long while ago that war is just demographics on speed. And that goes the other way too: illegal immigration is just war slowed down. I don't mean that like some hysterical Minuteman having a coronary in his Dodge Ram because somebody ran across the Arizona border: "They're invading!" but I do buy the general concept that mass immigration is weirdly similar to guerrilla war without weapons. (Well, sometimes without weapons.) The way it's usually done, smuggling Mexicans into the US or Africans into the EU in crates or trucks, is a lot like a huge, slow covert operation.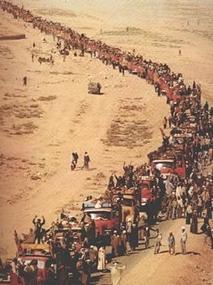 That's what makes the 1975 Green March, when hundreds of thousands of unarmed Moroccans just tromped over the border into Spanish Sahara and dared the miserable handful of Spanish border troops to open fire, so amazing. That wasn't illegal immigration on the sneak, that was a massed, pre-announced invasion—without weapons. (Of course it wasn't really immigration because all those Moroccans got right back in their trucks once they'd crossed the line and claimed sovereignty. Spanish Sahara isn't a nice place and you wouldn't want to live there.) Instant annexation, instant demographic transformation (temporary, sure, but instant)—a successful conventional invasion by unarmed civilians. A first in world history as far as I know.
Next, I have to cough up this humane wrinkle I came up with last night on my fishing-trawler/antiship missile suggestion on how Qaddafi could attack NATO naval forces. You could say that the problem is getting your vessel within range before helicopters, fighter-bombers or picketing vessels blow you out of the water. But you know range isn't really the problem; some of these missiles have more than enough range, like the Russian Moskit I mentioned. The real problem isn't range so much as it is staying afloat long enough out there, wide open, a sitting duck, long enough to get the missile system running and let it acqure the target before your ship gets blown out of the water. And the key to staying alive and afloat for those few key seconds is using civilians to make squeamish NATO controllers hesitate to let their craft open fire. It doesn't have to delay them very long; this would be a suicide mission, so it's not like you need an escape route. You just need those few seconds.
So yesterday, thinking it over, I said the best way to gain that time would be by jamming your decks with refugees. I suggested that Qaddafi could hold the refugees in place with a concealed heavy machine gun.
Whoops, have to interrupt myself because I just had a musical insight here, which doesn't happen very often. Remember a sort of purposely boring, too-cool jazzy post-everything hiphop band called the Fugees? Well as I remember their honcho was a Haitian called Jean Wycliffe. And Haitians, let's face it, are world-class refugees. They damn near invented the fishing trawler jammed with skinny people like a Rajasthan bus. So it just occurred to me: is "Fugees" short for "refugees"? My guess is that duh, of course it is, everybody knew that 20 years ago except Brecher. Peacetime trivia, not my field.
But I do like the idea of this Haitian cool jazz dude deciding to help out at home by running for president of Haiti and getting instant voter reaction in the form of somebody shooting him in the hand as his limo goes by.
Nothing says "Welcome home, Fellow Haitian" like a 9mm right through your MCin' hand.
Well, OK, then, let's say Jean named his band that because Haitians are world leaders in refugeeing toward Naval vessels in leaky fishing boats. The perfect strategy for Qaddafi, one of those waving white flags and looking pitiful until a NATO frigate's in range, right? OK, well, I was lying awake last night thinking over that day's blog—this blog thing isn't as easy as it looks, lemme tell you– it occurred to me that might not have sounded compassionate enough, what with putting civilians on deck as sort of duck decoys. "In this age of Obama" and so on.
So I was worrying people would think I was heartless and something hit me: mannikins! I got the idea from a story I read in the SF Chron, way back in the early 90s when San Francisco let you get out of paying bridge toll if you had three or more passengers. What I read was that commuters were picking up total strangers at the bridge onramps and dropping them off in downtown SF just to avoid the toll. But then they came up with an easier way: mannikins. I couldn't imagine letting a stranger into my car, but when I read about the mannikins I clicked. Just buy a couple or dive for retired ones behind a mall, dress 'em up and you're toll-free without having to make conversation or get those cramps I get when I have to sit next to an actual person for more than 30 seconds, all down my side, the one that was next to them. I had no problems getting one away.
Mannikins. On that trawler. What a hoot that would be. You pose some of them on the deck—those are the sick and wounded. You wire more of them to the railings—those are the "desperate, eager refugees seeking a new life." You pile the rest in front of the cabin—those are the human shield, the huddled masses that say "don't shoot, Monsieur le Pilot!" If the NATO liaisons say in a nasty tone of voice that some of your refugees are losing arms and legs and heads every time the trawler hits a big wave, you cry a lot—that always works with these first-worlders—and screech out, "Ah, yes, the terrible things Qaddafi has done to us!" That'll give 'em something to think about for long enough to pop out your anti-ship missile, which will give 'em a whole lot more to think about.
I stayed awake half the night thinking of that little wrinkle, just to make the whole thing more humane. And yet they say war nerds have no heart.
Read more: green march, immigration, Libya, morocco, Gary Brecher, The War Nerd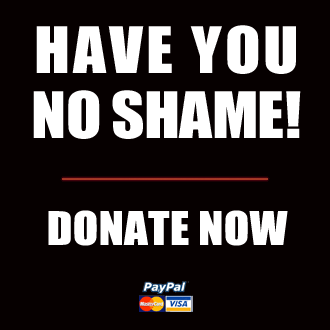 Got something to say to us? Then send us a letter.
Want us to stick around? Donate to The eXiled.
Twitter twerps can follow us at twitter.com/exiledonline