By Gary Brecher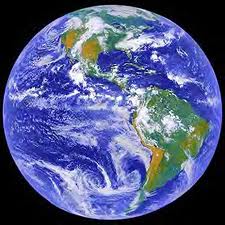 If there's one thing I can't stand, it's an 80s revivial. You're in Safeway stocking up for the night and start feeling rotten without knowing why. Then you catch a familiar syrupy drama-club vocal and you realize, Oh yeah, it hey're playing one of those 80s revival songs on the muzak.
That's how I felt this weekend when I saw a picture of the USMC Harrier AV8B "Jump Jet" (even that sounds like an 80s band), a classic 80s freak of procurement infighting. The Harrier is getting its picture on the news because it's supposedly "hitting targets inside Libya." What it's actually doing is showing the flag, and I don't mean the stars and stripes. I mean Marine Corps Air Wing. The story of the AV8B is just one long series of turf wars. As a weapon of war, the AV8B is a joke, but as a turf-weapon, a blunt instrument for the Corps to whack the Navy with, it's a killer.

It's also a killer in the simple sense, as in it kills people. Not the enemy. It's a rinkydink little toy plane with no ordnance capacity or range, so it can't do much to kill the enemy. But it sure has killed a lot of pilots. The total was 45 dead in 2002, when the LA Times did an expose on the Harrier—a good, thorough story, one of the few mainstream takedowns of military procurement that really tracks.
So how'd we get stuck with it anyway? Long, messy story. All about turf. US turf vs. British turf. Marine Corps vs. Navy. Carriers vs. Landing Craft/Assault ships. And nothing much about making a plane that kills the enemy or keeps its pilots alive.
I remember all of it. I was dead serious about hardware in those days and I followed every single issue of AFJ and AW&ST, used to stalk the library looking for them if the latest issue wasn't on the shelves, look laser rays at whoever was hogging the red-metal framed "CURRENT COPY" until I could get my fat hands on it. And every issue had something new on the real war: the war to fund the Harrier.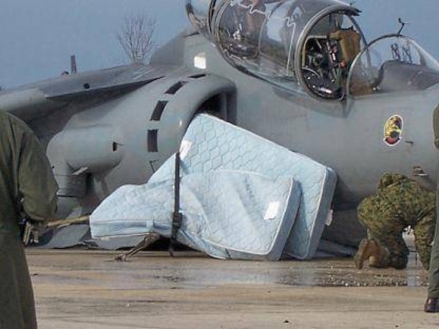 Bedtime for Harrier-zo
It all came out of one of those DoD double-takes. This one came early in the Reagan years: "Whoa! We've been counting on beating the Warsaw Pact's massed tanks with air power, but…what if they attack our air bases? Crater our runways?"
You'd think someone would have thought a little harder about that beforehand. Well, you'd'a thunk wrong. This is something most hardware-oriented, gullible war fans never seem to get. They assume someone, somewhere in the halls of the Pentagon's thought it all through. They haven't. Their job is to push funding, and they're good at it. They don't get paid to think about what gets funded and whether it's going to work.
So all through the seriously tense years when we faced off in a proxy war, West vs. East Germany, USAF commanders played their war games by rules that said their bases would be secure, their runways would be flyable, our planes would get off the ground and then get some. Everything would be set like a table in the Officers' Club, including the long, smooth runways our prima donna fighters needed.
It's a shame we don't get to do a short trip to an alternative past where we get to see what the Soviets and East German special services actually had planned for all those airbases. Can you imagine a few platoons of SpetzNaz going to town on a US airbase on a Sunday in the 1970s? One thing we do know is that the Warsaw Pact plan was to attack on a Sunday because "West Germany virtually shut down on the weekend." Man, you could've identified the nearest airbase by the pillars of black smoke, and I'm not just talking about the joints the guards were smoking.
So, just as this new tech called V/STOL (vertical/short takeoff and landing) technology came on the market, NATO found out it had an airfield problem. Thousands of Soviet attack jets, a few vulnerable airbases in a crowded little country like West Germany—eek! We're doomed!
And they were right, they were doomed. I'll never know why the Soviets didn't attack, because they'd have won a conventional war in a week. I read an interview with a former East German tank commander after the Wall fell. They asked him, "What was your planned stop point?" He said, "Antwerp."
The V/STOL technology involved shaping airframes and aiming engine nozzles so that planes could take off on rough, unimproved airbases, or if necessary just take off vertically—though that's always been more of a gimmick than a fact. The idea was that these V/STOL planes could use any German road for a runway (assuming they weren't jammed with civilian cars fleeing) and be refueled by mobile tankers and maintenance crews. The 80s saw a lot of new defensive ideas for stopping a massed Warsaw Pact tank attack, most of them pretty silly but very profitable for contractors. The simple way to stop that attack was too obvious and unprofitable to interest anybody: nuke'em. And that's probably what would have happened if the Russians had sent the tanks through the Fulda Gap; we'd have used nukes, small battlefield nukes like Lance at first, then Pershings, then the Say-Goodbye-to-the-Northern-Hemisphere kind, until somebody in the Kremlin saw the light and called it off. They knew that, we knew that, and that's why we never had to play it out for reals.
But it was much more fun, and you could make way more money, thinking of cool gadgety conventional ways to fight a Warsaw Pact blitzkrieg. Like the whole V/STOL deal: Cool NATO fighters gassing up and levitating from country roads in Germany! Rising like mosquitoes out of the lawn to zap the invaders! All fantasy—there just wasn't enough strategic depth in W. Germany to hide a Jetta, let alone an air wing—but it meant jobs, jobs, jobs.
V/STOL tech did pay off well in another area, transport. The C-17 was designed with reinforced shocks, extra wheels, and the whole bunched-up airframe you need for short landings. And it's worked, turned out useful, since a lot of the places you need to transport materiel to don't have airports with first-class lounges.
But for a fighter, V/STOL was a pretty obvious boondoggle—because there was an obvious alternative method called "in-flight refueling" that meant fighters could take off from secure bases anywhere in the world, refuel in flight, and be stacked over the battlefield by controllers to be used as necessary. Since V/STOL was a huge, huge design cost on a fighter, it just made more sense to skip it and put the savings into building fighters like the F-16 (which has some limited STOL capability) that could accomplish something once they got where they were headed.
None of that stopped the V/STOL fighter momentum in the UK. It was their signature product; one of their little princes flew in it (can't remember which one, don't really want to know). The early UK versions of the plane were called "Day Attack," meaning they were so weak after all the tinkering that went into that fancy V/STOL tech that there was no room left for payload, avionics or much of anything else. They were circus planes, James Bond planes, great for doing their one trick, levitating like a chopper, but useless for anything else. But it was a pretty low time for the British military aviation industry so they pushed the Harrier very hard.
And they found a customer in the USMC, for reasons that had nothing to do with combat. Think about the whole USMC/Navy relationship. It would drive any two services crazy. The Corps has its own air wing—and its own armor, own everything; that's one war the Corps will never lose, the fight to keep its turf and expand it if possible. The Marine Corps saw the Harrier as a plane it could own from go to whoa. A plane like that could fly off modified assault ships, Corps territory, and slide out from under the Navy's carriers.
And that's why the AV8B is still in service after 30 years, still killing pilots, still doing its circus moves (to this day, no AV8B has used its vertical launch on a single combat mission) and flying off the USS Kearsage as part of the MEU in Libya. MEU, that's "Marine Expeditionary Unit" and it tells you what you need to know about the Harrier: It's Corps all the way, puts them on a longer leash from the Navy, and they're keeping it, letting it drop a bomb or two on Qaddafi's tanks. In fact this is the Harrier's kind of war. The enemy can't shoot, the desert makes pickup easy when the damn thing conks out on you, and there are plenty of glamor shots for the international press.
Would you like to know more? Gary Brecher is the author of the War Nerd. Send your comments to brecher@exiledonline.com. Read Gary Brecher's first ever War Nerd column by clicking here.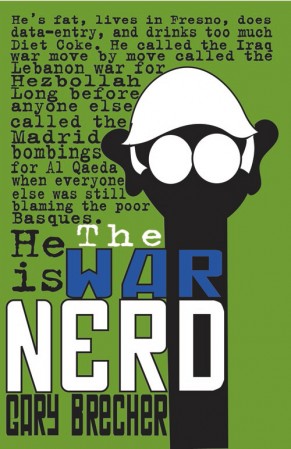 Click the cover, buy the book!
Read more: falkland islands, harrier, Gary Brecher, The War Nerd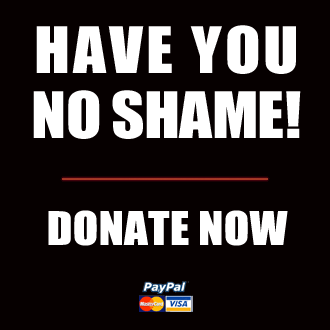 Got something to say to us? Then send us a letter.
Want us to stick around? Donate to The eXiled.
Twitter twerps can follow us at twitter.com/exiledonline