By Yasha Levine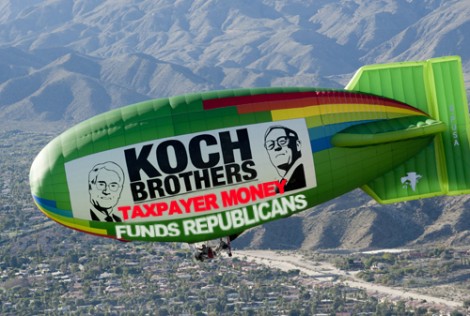 Why are American taxpayers forced to subsidize the billionaire Koch brothers' massive campaign contributions to Republican Party politicians, the Tea Party movement, and policies that ensure greater subsidies to the Kochs, while cutting more public services to the taxpayers who fund the Kochs' business and political activities?
It is an important question, but not one you'll hear discussed much by our political class. Instead, right-wing pundits whinge endlessly about the public sector union bosses' evil schemes to shake down taxpayers for union dues that eventually flow towards the Democratic Party. Here, for example, is Michael Barone, American Enterprise Institute resident fellow and senior Moonie political analyst, complaining in the Washington Examiner last week:
Follow the money, Washington reporters like to say. The money in this case comes from taxpayers, present and future, who are the source of every penny of dues paid to public employee unions, who in turn spend much of that money on politics, almost all of it for Democrats. In effect, public employee unions are a mechanism by which every taxpayer is forced to fund the Democratic Party.
Okay, fine, you're serious about not wanting taxpayer dollars going to finance partisan political campaigns. But before we start talking about public sector unions, let's test this: if think-tank jockeys like Barone are genuinely concerned with saving taxpayers' money, would they extend this concern to the fake private sector (i.e.: the publicly-funded private sector)? Would they be in favor of demanding that publicly subsidized billionaires like Charles and David Koch stop funneling money to fund corrupt Republicans and Tea Party campaigns as long as they keep sucking billions in taxpayer subsidies?
Fair is fair, right?
The Kochs could start by giving up the $1 billion their biofuels division is scheduled to receive in 2011 alone. That's $1 billion in savings from just one of many massive taxpayer subsidies the Kochs profit from. Not only will that help balance the budget, but taxpayers will no longer be forced to watch helplessly as their hard-earned money is used to fund radical right-wing Tea Party Republicans or is spent on causes that deny Americans the same universal health care that every other First World country offers its citizens.
This talk about Koch Industries being a huge beneficiary of taxpayer money might come as a surprise—especially to all the gullible Tea Party libertarians who believe the Kochs actually practice the pure free-market libertarianism that they preach—but as I have been documenting over the past year and a half, the Kochs have a long history of tapping into socialist programs. Starting with their father, Frederick C. Koch, who amassed the family fortune building up Soviet oil infrastructure in the 1930s during Stalin's first Five Year Plan, the family has been sucking on the big government teat for as long as they've been in business, using government subsidies to maximize their own profits, even while funding the libertarian movement and trying to deny government spending on anyone or anything else.
Where else do you think the Kochs got the cash to fund the Tea Party Republican revolution?
Koch Industries' opaque private corporate business structure makes it difficult to unravel all of its business ventures and to calculate the exact amount of taxpayer money that they receive, but given that the company's core business operations involve some of the most heavily subsidized industries in America, including oil, ethanol, agribusiness and logging, it is clear that the amount of taxpayer dollars vacuumed up and deposited every year into the personal bank accounts of Charles and David Koch could easily number in the many hundreds of millions and probably goes way up into the billions.
They lease federal land for free for their agribusiness operations, log public forests for private gain and have taxpayers cover the operating costs, and routinely use the government's power of eminent domain to force landowners to sell land to Koch Industries' various oil and gas pipeline subsidiaries for pennies on the dollar. (Update: ThinkProgress' Lee Fang just published a thorough compilation of Koch Industries' various subsidies here and here.)
Here is the breakdown of the subsidies their biofuels division will receive in 2011:
On top of the $200 million in ethanol subsidies they will receive this year for four ethanol plants the Kochs recently purchased, Koch Industries markets and sells 1/10th of all ethanol produced in the United States. This year ethanol subsidies are expected to top the $6 billion paid out in 2010, which means that the Kochs will tap at least $600 million in additional taxpayer money in 2011.
But that's not all, folks. Turns out, Koch Industries has also been one of the biggest blenders of biodiesel fuel, which is subsidized at $1 per gallon, double the rate of regular ethanol. It's not clear how many gallons of biodiesel Koch Industries blends, but given the size of its ethanol operation and the fact that it is one of the largest biodiesel blenders in the country, the amount of amount of subsidies they receive could easily measure in the hundreds of millions. (The US Postal Service used over 1 million gallons of biodiesel in 2005.) So scratching the surface of just one of the Kochs' core businesses reveals an annual subsidy of at least $1 billion.
Over the years, the Kochs have funded lobbyists, bought politicians, and bankrolled propaganda campaigns with a single aim: to enrich themselves and screw the American people. They've fought financial regulation, health care reform, the estate tax and class action lawsuits; boosted the privatization of public assets; and spent more than any other company, including giants like Exxon-Mobile and BP, to stop the regulation of the oil industry. Greenpeace estimated that the Kochs funneled "$24.9 million in funding to organizations of the 'climate denial machine'" from 2005 to 2008.
This is important and worth repeating: The Kochs are using public money to elect politicians who will give the Kochs even more access to public money, while ensuring that the rest of us get less and less. That's the whole point of them funding the libertarian ideology.
There's a great graphic showing this process at work in Wisconsin, charting how the millions of dollars of Koch money that poured into the state to elect Scott Walker and other Koch-funded Republicans has led directly to the cutting of benefits for government employees and the Kochs getting access to state-owned energy infrastructure—which has apparently been the Kochs' longtime goal. Unfortunately,  the flow chart left out one crucial step: that taxpayers are the initial source of Koch money, which would make the chart circular instead of linear.

You can see it on the federal level, too. Just a few weeks ago, Koch-funded House Republicans stepped up efforts to achieve longtime Koch goal to shut down the Environmental Protection Agency by passing an amendment that would defund an EPA program monitoring industrial greenhouse gas emissions. While the move is clearly against the wishes of the American people, a majority of whom support the EPA regardless of political affiliation, it will be an amazing victory for the Koch family.
As owners of one of America's biggest, most chronic polluters, the Kochs have been fighting the EPA ever since Richard Nixon signed it into law 40 years ago. After being repeatedly slapped with record environmental fines for the toxic spills, deadly explosions and various other large-scale pollution disasters coming out of Koch Industries' oil refineries and petrochemical plants, as well as the company's vast network of oil, natural gas and ammonia hydrate pipelines, Charles and David Koch can rest easy. There is a very good chance that soon those pesky fines will be a thing of the past, and they'll be free to blow up houses and kids, and dump toxic waste into our drinking water without fear of repercussions—all of it thanks to generous contributions from taxpayers like you and me.
But perhaps the biggest beneficiary of our tax dollars has been the vast network of Koch-funded libertarian and free-market advocacy groups, who have received tens of millions of dollars over the past two decades from a few Koch family foundations. Here's a small sample:
*Americans For Prosperity, the organization that played a central role in orchestrating the first AstroTurf push for the Tea Party movement, got over $5 million from Koch foundations.
*Cato Institute, the libertarian think tank first opened up by Charles Koch in 1977, got nearly $15 million from just two Koch foundations.
*Mercatus Center got $9 million in the span of four years from the same sources.
*Reason Foundation, which is where Reason Magazine gets its operating cash, got over $2 million.
That's a whole lot of money for organizations pushing for libertarians, especially when you consider that much of it came directly from taxpayers.
So remember, the next time you hear Tyler Cowen, Radley Balko, Will Wilkinson or some other Koch shill talking about the need for privatization, smaller government or how public sector unions are ripping off taxpayers, remember: they are all taxpayer-welfare queens, living pretty on cradle-to-grave taxpayer-funded Koch socialism, and they get to keep sucking that taxpayer-funded Koch teat so long as they preach to the rest of us the ideas of free markets, austerity and privatizing everything public to their Koch masters.
Final note: Corporate propagandists like to make big fuss about how campaign contributions made by public sector unions overshadow anything you see from the private sector, but it just ain't so. Union spending pales in comparison with the amount of taxpayer-subsidized billionaire money that sloshes around in political campaigns. In his February 22 article, "Public unions force taxpayers to fund Democrats," Michael Barone tries to scare his readers with big public union numbers, noting that the AFSCME (American Federation of State County and Municipal Employees) spent $90 million in the 2010 election cycle.  It sure does look impressive, but let's do the math and compare it with Kochs' spending.
AFSCME's political spending looks big until you realize that the money is being used on behalf of its 1.6 million members. When you factor that into the equation,  AFSCME's spending gets reduced to a per capita amount of just $56.25 per union member. That's not simply modest, it's downright meager, especially compared with the Koch brothers' per person spending.
It's hard to calculate the total amount of cash the Kochs poured into the last election cycle, but adding  just a few of the known  expenditures is enough to show just how much political power the two brothers have. Even if the Kochs only spent $5 million on pro-Walker campaign ads in Wisconsin and $1 million on ads in California to repeal state pollution laws, their per-capita campaign contributions would be $3 million per person. And this six mil spent on political attack ads is just a tiny fraction of what the Kochs and their various PACs, foundations, political organizations and front groups spent in 2010. Just one Koch-funded group, Americans for Prosperity, bragged about spending around $40 million dollars on the 2010 election. There are at least a half-dozen other well funded organizations just like it that pitched in.
One man, one vote. One billionaire, one billion votes. That's the kind of liberty the Kochs are for.
***
Yasha Levine is an editor of The eXiled. Levine and co-editor Mark Ames first broke the connection between the Tea Party and the billionaire Koch brothers in Playboy.com in February 2009, sparking lawsuit threats, and causing CNBC's Rick Santelli to publicly distance himself from the Tea Party movement and cancel his Daily Show appearance.
Want to know more? Read:
Read more: $1 billion, americans for prosperity, biodiesel, campaign contributions, cato, corporate subsidies, ethanol, koch industries, libertarians, republicans, subsidies, taxpayer subsidies, Tea Party, Yasha Levine, Class War For Idiots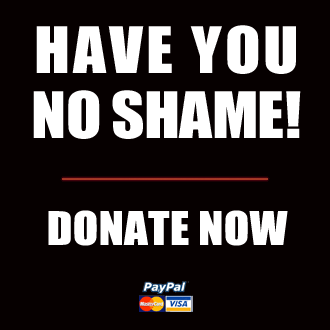 Got something to say to us? Then send us a letter.
Want us to stick around? Donate to The eXiled.
Twitter twerps can follow us at twitter.com/exiledonline