By Gary Brecher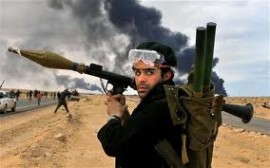 One of the strange things about this war in Libya is how slowly it's moving.
Rebellions usually have to win quickly. If they don't, the regime's advantage in heavy weapons grinds them down.
It looked like the Libyan rebellion was going to win "by popular acclaim," as they say, by a show of hands, but that changed in western Libya, where Qaddafi's giant family lives, and where he's been more generous in handing out the goodies. The rebels stalled about halfway across the coastal strip where most Libyans live.
At that point, it should have gone the other way, very quickly and ruthlessly. Qaddafi's tanks should have rolled right over the rebels. And that's what they were doing when NATO intervened. It was as simple as rock/paper/scissors, up to this point: tanks beat riots, but planes beat tanks.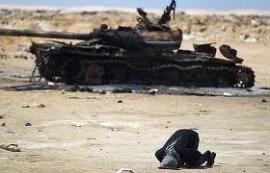 Planes beat tanks, thank God
Then, like nearly every war of this era, it stopped being about the best tech and got social and messy. Qaddafi's troops—probably a mix of family loyalists and mercenaries—ran for cover in mosques, schools, residential districts where NATO was wary of bombing.
And the planes were called off. Because at that point in this kind of war the one who produces the first and horriblest atrocity pix is the loser. I can't swear to this, but I'd bet that both sides had video crews standing by to film the mass killings they were hoping for. That sort of gore is part of warfare now. It's a kind of public trial, and if one side can show the other has killed huge numbers of civilians in horrible ways, that side gets the right to do horrible stuff in return. In other words, it's like every action movie you ever saw: The hero's wife and kids have to get raped and killed so he can spend the next hour thinking up cool McGyver ways to kill everyone who ever bothered him.
You'll notice, though, that this phase went wrong. I'm not sure why. It's possible that both sides, on the ground at least, are so unbelievably timid and incompetent that they can't manage to kill a lot of people without heavy weapons. It's also possible that the side with the bigger and better propaganda access, NATO and the rebels, was the only side that managed to do any mass killing at this stage—and also had the power to block Qaddafi's attempts to film whatever they did. For whatever reason, neither side has had the money shot that decides whose side the mainstream audience is on.
What pictures do you think of when you think of the war in Libya? For me, it's those weird photos and videos of amateurs with AKs running and ducking along the sand dunes of the coast. It's not great propaganda material. Your main impression is how windy it is—to be honest, I was thinking, "jeez, I didn't know it got cold in Libya" because these SUV troops are wearing suave French coats and scarves as they duck in the dunes. You never even see the enemy's position, which makes sense because amateur troops without leaders—and there's been no news at all to show there's anyone in charge of the rebels—always have trouble engaging the enemy at close range.
What I recall next is the highway fights: whole convoys of SUVs parked along desert roads while the rebels, in civilian clothes, watch a few tech geeks from the neighborhood, the same guys you ask to help you set up your stereo, try to launch a volley of rockets.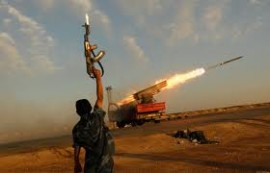 Something weird about celebrating a rocket launch by firing an AK
There's an almost picnic feel to these pictures, because there's nothing Arab families love more than a picnic, and this one has fireworks. That's about all you can call a volley of unguided rockets fired by absolute beginners. It would be amazing if they hit anything; like attack pilots used to say about those unguided rockets they carry in wing pods, "If it wasn't for the force of gravity, those things couldn't hit the ground."
What all these pix and videos have in common is the feel of a movie, or a big public event. Not combat. Combat is ugly, sudden and scary. This is all more like a political demonstration with an outside chance you could get hurt–which is true for a lot of political demonstrations that don't even pretend to be war. If I had to choose between getting beamed down into a Libyan "battle" or a dissident demonstration in Tehran, I'd much rather materialize in Libya. Much less chance of getting killed, would be my guess.
I'm not saying the kids and their dads who are driving out toward the next beach town to fire Grads at Qaddafi are cowards. It always takes guts to oppose someone with Qaddafi's staying power, because if you have half a brain in your head you know he might win again, and if he does you may end up watching your whole family gang-raped and killed in front of you by way of payback.
It's very brave, politically, and in that "moral" sense they talk about. But militarily, well, I'd have to say there hasn't been any evidence of organized military initiative on either side so far. There are probably lots of brave individual kids out there; a lot of them are about 18, 19, and most boys are pretty eager to die at that age. But military bravery takes organization, and they have absolutely none at all as far as I've seen.
There's no initiative on the other side either. Qaddafi's people are getting paid by the day, so they've got no incentive to do the job fast, or to win for that matter. They don't seem willing to meet even these total amateur rebels without the armor of an MBT protecting them.
So, more than a month in, there's nothing for the world press to go on. They haven't gotten their cue to send in the heavy stuff. No horrific KIA photos, no clear casualty figures, no sign that there's been anything very lethal since the planes popped the tanks open like Popeye spinach cans. Nothing but Grad fireworks duels.
This is the kind of cripple fight that makes infantry officers all twitchy. What you could do with even a few real troops…the gratitude of an oil-exporting country, too; that's no small reward. So naturally NATO is talking itself into sending troops. But in a ridiculous, obvious way, like a little kid trying to steal a piece of cake by shaving one teeny slice off at a time. At the moment, the Brits are planning to send 20 officers to Benghazi as advisors.
Just that word, "advisors," takes you back to Nam circa 1965. You'll recall those advisors did their advising closer and closer until they ended up taking the guns out of the hands of the advisees completely: "Gimme that, damn it!" and blasting away themselves. Well, we can hope, but as the Conservative Party leader Hague said, "Advisors are not boots on the ground." And although I hate that bit, "boots on the ground," because it's every idiots favorite military-sounding buzz word at the moment, I suspect Hague is right, and these advisors won't do more than actually advise. I can tell them where to start, too: Something called a chain of command, of which the rebels ain't got none.
The French are having to control themselves too, after some hotheads demanded French troops in Libya. You can see the interventionists' temptation here: This is Qaddafi's wage slaves we're up against, not the VC, damn it!
There are European generals right this minute, I bet, doing a petrochemical version of Trimble's pleas to Ewell at Gettysburg: "Give me a division and I will take that refinery! Give me a brigade…a regiment…a COMPANY…and I will take that refinery!"
It's very weird that nobody has done it yet. This whole Libyan thing is happening in slo-mo. That's the weird thing about warfare in this era: it totally upends that law they taught us in Physics that "Nature abhors a vacuum." Libya is a huge vacuum right now, and an oil-exporting vacuum at that, and Nature is tolerating it like Swedish social workers patting "grafitti artists" on their little heads.
Well, maybe that's the problem, they used the wrong word when they taught us that law. Should be, "Nature abhors a vacuum, but NATO is fine with it."
Hey Nerdoids and Nerdettes! Note Gary Brecher's functioning email: gary dot brecher at gmail dot com
Would you like to know more? Gary Brecher is the author of the War Nerd. Send your comments to gary dot brecher at gmail dot com. Read Gary Brecher's first ever War Nerd column by clicking here.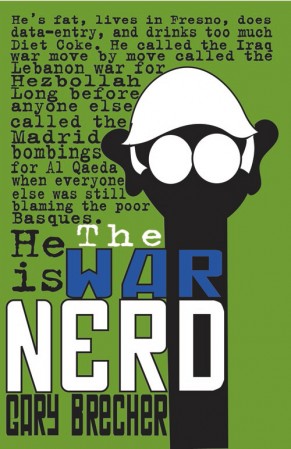 Click the cover, buy the book!
Read more: Libya, Gary Brecher, The War Nerd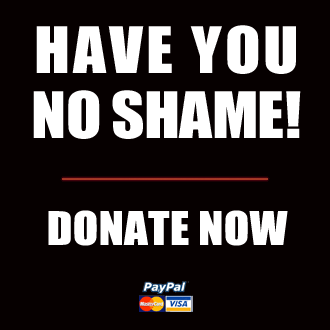 Got something to say to us? Then send us a letter.
Want us to stick around? Donate to The eXiled.
Twitter twerps can follow us at twitter.com/exiledonline