By Gary Brecher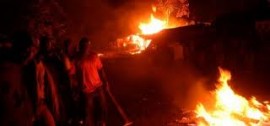 Stories about the riots in Northern Nigeria are starting to come in, full of amazing details and ridiculous lies. The lies are the first thing you notice.
It's like a rule of reporting for a mainstream news service that you should avoid depressing facts at any cost. So, halfway through a story of bodies thrown into wells and mobs hunting for southerners, comes this little gem:
"Authorities have however argued that the rioting was not based on religion or ethnicity but was instigated by those unhappy with the victory of incumbent Goodluck Jonathan, a southern Christian."
In other words, the rioting is by Northern Hausa Muslims angry at the fact that a Southern Christian won, but it's not "based on religion or ethnicity." That settles that. Maybe it was one of those cat-fancier vs. dog-lover riots you get in Beverly Hills on a Saturday night. Give me Shar Pei or give me death!
The lies are so obvious they're embarrassing. And that's not the worst thing about them. The trouble with all this non-stop lying about ethnic/religious riots is that we put tons of energy into not noticing the details, not seeing what's really going on. And if you ask me, that just feeds the big fear. When you can't talk honestly about what's happening, people get the idea there IS no sense behind the violence, and there you are, right back at African-stereotype central, believing these people just go off now and then for no reason. That's why, if you ask me, the lefty self-censoring do-gooders and the rightwing Muslim baiters work hand in hand, whether they know it or not. And sometimes they work so damn well together you can't help thinking they're in it together and split the royalty checks.
How about if we look at a riot like this as contemporary warfare, exactly the kind of contemporary warfare you should expect when first-world military hardware is just too expensive and dangerous to use. When that happens warfare drops down a whole bunch of notches in tech level, back to a kind of medieval warfare. And these wars are carried out for obvious, sensible reasons that you could even call "democratic."
When you're talking about an election in Nigeria, you're talking about something more like one of those plebiscites from the 1930s than what we imagine as an election. Those votes were like, "Who are we going to be, Austrians or Germans?" These votes are much more like those 30s votes than they are like an off-year congressional race. They amount to a head count to decide which group IS Nigeria, the Christian Southeast or the Muslim North.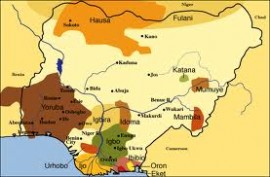 Nigeria ethnic map: Muslim North, Christian SE, Mixed Yoruba SW
There's no individual choosing—Hell, there's not that much in any election, people vote by ethnic group even here—but in Nigeria, it's strictly dueling lines on a graph, us and them.
And if you lose the head count, your whole tribe has been dissed. You've got a few options: You can believe it was rigged. Which it may have been, I don't know. And even if it wasn't, you're better off believing it was than accepting that your people aren't THE people. And you can hit the streets to let the other bunch know you're not going to take it, to let them know that, outnumbered or not, your people want it more—to the death, like.
If you read these stories from Nigeria carefully you can see that numbers are very important—so important that "authorities" won't even report them:
"Authorities say many were killed the violence, which saw corpses burnt beyond recognition and bodies reportedly thrown into wells, but have refused to give a toll, saying it could spark reprisals and would be inaccurate."
Amazing! They're admitting outright that if they say how many Christians died up in the Muslim city of Kano, the Christians of the South-East will read the figures and try to top them. You couldn't ask for a better proof that this violence is a second head-count, after the election head-count. Only in this case some of the heads are detached.
This had me thinking of something: When the Hausa of the North say the election was rigged, maybe they mean something a little more complicated than stuffing ballot boxes. The Hausa were accustomed to settling things by battle, like most people in the world did until this one-man-one-vote model got forced on everyone. Maybe "rigged" is warrior-tribe code for "I don't accept that one little skulking clerk in Lagos gets the same weight as a man who's willing to take up the machete."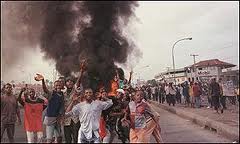 Making their views known
I've heard that Sikhs in India feel the same way: "My one vote counts no more than that of each skulking Bengali coward that I could lift with one hand, and who would be afraid to insult a stray dog?"
You'll notice it's always warrior or ex-warrior ethnic groups rioting against the tyranny of business-oriented, merchant groups.
Maybe this whole third-world problem with voting isn't just because they're primitive and they don't get it; maybe they get it way too well and don't buy it.
That shouldn't be too hard for an American to understand. That's what the South said in 1860. They knew they were outnumbered in the vote, and would be outnumbered on the battlefield; that's why they went around writing and yelling that one Southron was worth a dozen Yankees. Because that's a different kind of arithmetic, a different kind of way of counting your support.
And even if it's not nice, I'm not sure it's any worse than what I grew up with in California. Where I come from nobody mattered except real-estate developers. They owned politics; everybody knew that. It wasn't one man one vote, it was one million one vote. And that was disgusting, because these guys were always puffy little old men, dumb and greedy and ugly. If I had to choose a kind of unfair, would I pick that kind of unfair over, "May the best warriors win?" I really don't know.
Hey Nerdoids and Nerdettes! Note Gary Brecher's functioning email: gary dot brecher at gmail dot com
Would you like to know more? Gary Brecher is the author of the War Nerd. Send your comments to gary dot brecher at gmail dot com. Read Gary Brecher's first ever War Nerd column by clicking here.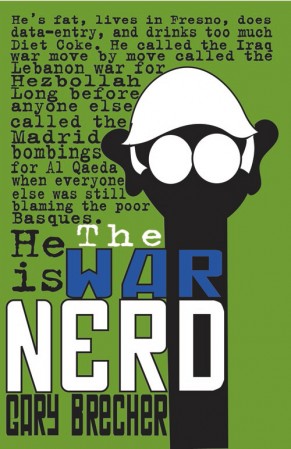 Click the cover, buy the book!
Read more: goodluck jonathan, nigeria, Gary Brecher, The War Nerd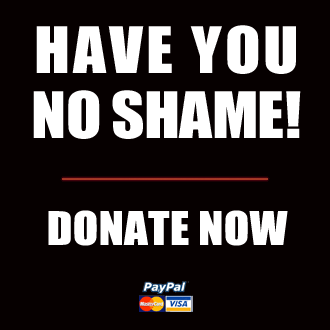 Got something to say to us? Then send us a letter.
Want us to stick around? Donate to The eXiled.
Twitter twerps can follow us at twitter.com/exiledonline