By Gary Brecher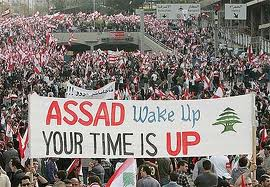 Something's been going on in Syria for a while now. I've already written about the Deraa protests as an example of the big role guerrilla funerals play in irregular war, but it's time to look at the more general prospects in Syria.
It's easy to fit Syria into the notion of a wave of protests spreading out from Cairo after the shock victory the demonstrators there had against Mubarak, but I'm not sure that's exactly what's going on.

One of the puzzles is that the trouble started in Deraa, a little farm town in the very southwest corner of Syria. Deraa doesn't seem to have any reputation as a trouble spot. There's a big Palestinian camp near the town, but I don't get the feeling that the Palestinian refugee slums are playing much of a part in the protests. The angriest people seem to be the farmers, and they're mad about the things that always make small farmers mad: water allocation and property rights.
Bashir Assad, the second-generation tall dude with a mustache who runs Syria, did the natural thing by replacing the Deraa regional governor, Faysal Kalthum, who naturally got the blame and the hate for doing what the regime told him to do. But it wasn't enough. The trouble's been spreading out from Deraa, even to Damascus, where people marched last week chanting "Deraa is Syria."
They didn't use to feel that way. There used to be a saying in Syria that if you got three people together in Damascus, they'd form a political party, but if you got three people together in Deraa, they'd have a prayer meeting. That was Deraa's rep: Conservative, Islamic country people.
Then came the water wars with Israel and Jordan. If you've ever been in the Imperial Valley, or up to Eastern Washington, you know how crazy irrigation-dependent farmers can get when their water's cut off. Suddenly their land is worthless desert and their whole life is over. There's nobody crazier than the farmers of Eastern Washington. I spent a summer there once and thought I was stuck at a summer camp for the Iron Guard. And the basis of their wackiness is knowing that wimpy city folk in Seattle can decide any day to cut off the river allocations that let them grow their crops and feel good about themselves. And God, do they feel good about themselves. Most conceited people I ever met, think you're worthless if you're not a big farmer.
The farmers in Deraa have the bad luck to be down where the borders of Israel, Jordan and Syria crunch together. It'd be easy to blame the water war on Israel/Arab tension, and that's part of it, but water just seems to breed hate even when everybody in the neighborhood is Muslim. One example that's going to make for interesting times soon is the dams the Turks are building on the headwaters of the big Iraqi rivers. When those flows are in the hands of Turkish bureacrats, the downstream Iraqis are suddenly going to be at the mercy of a tap that can be turned off from Istanbul whenever Baghdad lets the Kurds cause the Turks any trouble. Hijinks will ensue, you can be pretty sure of that.
The other factor that might have made all this trouble start in a sleepy Islamic town like Deraa is religion. Yup, we're pretty much dealing with the usual suspects here, water and religion. And "religion" in most of the world is pretty much identical with "ethnic group/tribe," so you've got that heating up the pot too. The family that rules Syria, the Assads, are Alawites, a weird sect that as far as I can figure out is about halfway between Shia and Druze. Which means they worship the martyred Ali, they have that same sense of doomed defeatism the Shia all love, but they go even further than the Shia toward flirting with other religions in secret, like the Druze do.
The Alawites lived in northwestern Syria, Latakia and the coast, the other end of the country from Deraa. They were considered trash til the French arrived and made them their favorite lackeys. You get that a lot in colonies: The lowest tribe of all is just bound to be more welcoming of the colonists. Why not? Things can only get better, and they have nothing to lose. So the French trained the Alawites to do admin chores and this tribe of losers who weren't even considered Muslims learned how to deal with cities and offices. That's an important military skill. And it paid off: After a coup in 1965 by early Ba'athists, an Alawite officer, Hafez al-Assad, consolidated his own power by about 1970.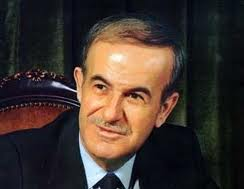 Hafez al-Assad: Looked like a banker but was even meaner
That was a big black cloud on the Sunni disposition of the average Syrian Muslim.
The first revolt against the Assads and their Alawite cronies came in Hama, a very conservative Sunni town near Damascus. The Muslim Brotherhood made one of those bad-idea last stands in the place, Fortress Hama, and Assad's scary brother Rifat just brought in the artillery and troops and leveled the place. That kept other conservative Muslim towns like Deraa quiet for quite a while, but there's this sense that the son, Bashir, isn't as scary as his dad and uncle were, and it's worth the risk of rising again.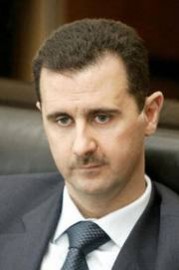 Bashir al-Assad: Not as tough as his dad?
That's the big difference this time: The fear factor, to coin a phrase, isn't there as much. It shocked every Arab alive to see how easily Mubarak fell, and who could resist rattling the chains a little to see if they're as weak as Cairo's turned out to be?
I'm not sure it'll be as easy in Syria, though. The Egyptian Army broadcast barely-coded notice, early on in the Cairo riots, that it wasn't going to back Mubarak. That's why the riots worked. The Syrian Army doesn't seem as convinced that it can work with these crazy demonstrators, maybe because conservative Islamic farmers are tougher to negotiate with than Cairo-based Microsoft VPs. The Army, in a situation like this, signals its attitude by firing or not firing. And so far, the Syrian Army seems to be voting for the Assads by volley.
Would you like to know more? Gary Brecher is the author of the War Nerd. Send your comments to gary dot brecher at gmail dot com. Read Gary Brecher's first ever War Nerd column by clicking here.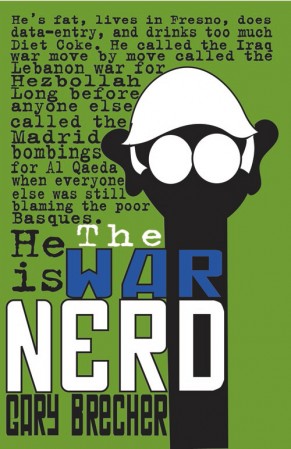 Click the cover, buy the book!
Read more: assad, damascus, deraa, hama, imperial valley, islam, israel, jordan, seattle, syria, water, Gary Brecher, The War Nerd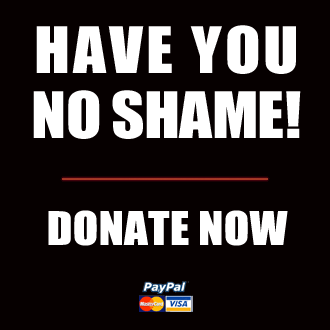 Got something to say to us? Then send us a letter.
Want us to stick around? Donate to The eXiled.
Twitter twerps can follow us at twitter.com/exiledonline