By Gary Brecher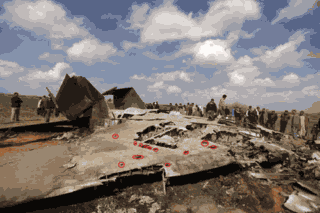 Whoa, things are heating up in a good way around here. First I want to thank everybody who helped with my puzzlement over that shot of an MBT with its turret popped off, lying in the sand 30 yards away from the chassis.
First, I have to own up: the photo I used isn't the one I was talking about, because I'm new at blogging and haven't been able to load the photos I want.  The reason I'm mentioning this is that a reader calling himself "Kingtoots" pointed out in a damn good comment to yesterday's blog that the picture I ended up using shows a blasted self-propelled gun, not an MBT. Ya got me, King T. It was the off-circle turret and too-thick barrel that gave me away, I bet.
You'll just have to take my word for it that there is a picture of an MBT with its turret sitting on the sand, but it won't load for me. Don't know why not. It's from the Daily Mail, a Brit tabloid that has some good gory graphics. Maybe they encrypt them or just pour beer over them; all I know is it wouldn't load, so the SFA corpse was my consolation date to the popped-turret prom.
A lot of readers had suggestions for the munition that popped it. The one I'm inclined to go with was by "helplesscase" who told me what I should've known already: the Rafale can carry the US-made, laser-guided GBU12, a classic tank killer. In fact, it can carry four at once.
This seems like the best guess about what killed that tank, because GBU12 is one of those HEAT munitions that sends a jet of superheated metal into the interior of the tank. When it zips through the armor and enters the crew compartment at about the temperature of the sun, it's as if all the tea ever made in England hits boiling at the same nanosecond, and the turret pops off. Can't be much fun for the crew. Casey Jones managed to get "scalded to death by the steam" in an old train. A tight NBC-sealed crew compartment has to be the world's fastest pressure cooker, make those microwaved toy poodle videos look like mercy killing.
I was going through eXiled archives and found another popped MBT picture, from Mark Ames's tour of Georgia after the South Ossetia War. Here's the link to Ames's story. You'll see the indoor turret halfway down:
This is the classic effect of a shaped charge turning the crew compartment into a white dwarf star for a few milliseconds: tank loses its head, weak point at turret ring rips out and it's time to play "Find the Giant Frying Pan with the 120mm Handle." This one flew halfway through a multi-story building, giving a cool abstract art effect although the Georgian landlord probably didn't see it that way. Or the Georgian tank crew.
We could start a whole new porn school here, call it "Jiffy Pop Shots" or something nastier sounding like "Tank Cum," which would probably get more hits from America's one-handed net surfers.
Meanwhile we've got a new mystery photo, one with some very interesting possibilities. Yesterday the Pentagon admitted that an F-15E Strike Eagle had gone done due to "equipment malfunction," which I have to say makes me laugh every time because it sounds like one of those sleazy sports-cheesecake headlines for a candid shot of a women's tennis player's boob popping out of her outfit as she reaches for a lob. They don't usually work very well unless it's a Russian girl because the rest of them look like Jethro on Beverly Hillbillies when he was in drag as "Jethrine," but some sad crowd must love them.
Anyway, so the F-15E goes down and the DoD can't deny it completely because friendly Libyans were all over the scene in minutes. This is why DoD hates allied civilians. They were probably getting ready to deny everything: "F-15E? Never heard of it. Is that an IRS form?" except everyone in the suburbs of Benghazi had his cellphone out and was taking pictures of the wreckage. So it was time for their second lie of defense, "equipment malfunction." I said yesterday that might be true and it might not. Well, this morning I wake up to find that a reader with the same un-trusting nature found a picture of the wreckage (probably from a friendly Libyan's cell camera—no wonder the rescue helicopter supposedly opened fire on these nosy damn friends of ours) that shows something a little odd. You'll see that this reader, Ulrich, has circled a lot of small, same-sized, round holes in the plane's wing. As Ulrich said, "Those sure look like bullet holes to me." Using "bullet" loosely, that is, because they're pretty big. More like, say, AA machinegun holes. Something pretty big but not explosive, which I guess would let off 23mm rounds, like from a ZSU. More like the heavy Soviet machine guns Sahel guys like to install in their Toyota trucks.
See? Anybody out there with photo intel experience want to comment on those holes? I'm no FAA inspector so I'm just saying, it looks to me like Ulrich has a point. And one thing you can be totally sure of is that the DoD always, always lies about why their aircraft go down. If they had their way there'd be no aces in the history of air combat. Baron von Richthofen would just be this German guy who happened to be around a lot of the time when "equipment malfunctions" happened. But it's funny how those malfunctions seem to happen in places where the skies are full of those cool tracer tracks, like Libya. Especially when it's an F-15 that went down. If it was an F-18 or frankly any Navy plane at all, I'd believe the "malfunction" theory but the F-15 has been around a long time and it's reliable as Hell. Double engined, no maintenance problems I know of except one with the langerons decades back. No reason it should embarrass everybody by crashing outside Benghazi where every souvenir-hunter can claim some titanium. And every Libyan with a cell can take pictures like the one Ulrich sent, with those verrrrrrrrrrrrrrrrrrrrry interesting holes in the wing.
So you tell me: we looking at normal dings from hitting the sand, or are we looking at the real reason this plane hit that sand?
Read more:, Gary Brecher, The War Nerd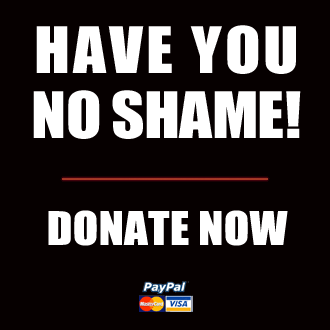 Got something to say to us? Then send us a letter.
Want us to stick around? Donate to The eXiled.
Twitter twerps can follow us at twitter.com/exiledonline