By Gary Brecher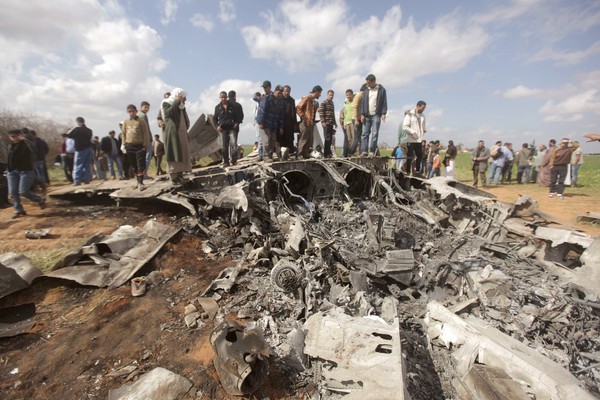 Libya's newest fun park: Find the scorpion in the F-15 wreckage
A US F15E Strike Eagle went down over Libya today. Supposedly "equipment malfunction" brought it down. Also supposedly, both pilots are back in US hands. One was picked up by a V-22 Osprey from the Marine Corps, doing what it's designed to do, fly in fast, land like a chopper and skedaddle. The other was rescued by "resistance fighters" and handed back to US forces. So aside from the fifty or sixty million we paid for the plane, all's well—although this won't do much for our "just one of the boys, not taking a leading role" PR story in Libya. Well, at least no American pilot'll be making any of those bruised-face anti-imperialist videos you get from pilots whose chutes opened in enemy territory.
That's one great thing about cruise missiles: you can torture one for a week and it still won't apologize for bombing your peace-loving people. No propaganda value at all, beyond those weak shots of a local holding up a chunk of metal with USAF on it. When the last manned fighter goes out of production (which might be sooner than a lot of AF brass think, like about a month into the next really serious war), the Golden Age of Hollywood in terms of POW videos will be over, that happy time when budding directors from Hanoi to Baghdad would hiss at the leading man, "Pssst! Stop looking so bruised! More sincerity about how you've learned to love the Democratic Republic of the soundproofed basement with the uninsulated wires! Cut! Take 37!"
You might wonder, if you only follow the USAF during the playoffs, why there were two pilots, since the classic F-15 is a single-seat air superiority fighter. That's because this was the ground-and-pound model, the E series, a followup designed to go deep into enemy territory on its own and hit ground targets. One of those classic u-turns you get in the wacky sleazy big money world of military procurement: the F-15 was supposed to be pure dogfight-er, absolutely not involved with anything happening down on the dirt. Then they decided they needed a fast all-weather interdiction plane, something that could go in at 2 am and fly through a hurricane to zap a hardened command bunker 300 miles behind enemy lines, and McDonnell Douglas locked the engineers in a room until they realized there was a lot of space in the original F-15 airframe for countermeasures, ground radar, targeting systems and all the air-to-ground trimmings. The F-15 was considered weirdly big for a single-seat fighter when the design first got passed around. So they added the gizmos and sold it to DoD. Amazing what you can do when billions are at stake and your program manager won't let you go to the bathroom until you've come up with a viable design. Seriously, if people had any idea of how much money there is to be made once you're in with the procurement officers, you'd take a bus to DC and run around outside the Pentagon with your arms out going "Nnnnrrrrr! Kpooush!" and giving out business cards with "I want to be your next interdiction fighter!" Just ask Duke Cunningham, c/o Federal Inmate Search.
It's a little odd that an F-15E would have this mechanical failure over a war zone. It's a reliable double-engine aircraft, fairly recent—last one produced in 2001. But I hope it's true. Better that than think it was actually brought down by one of Qadaffi's third cousins who gambled that the green button on his Stinger meant "fire," and got it right. If it actually was at high altitude, like they say, then the Stinger explanation is unlikely. But just on general principles, I'll wait a few days before I believe anything DoD says.
I've been having mixed feelings about Qadaffi since kidding him around yesterday. Like Sammy Maudlin getting serious, "Hey, I kid Muamar, I know, but…I love this guy." You have to admire anybody who can stay in power for 42 years, especially when he looks like he has the attention span of a boxer puppy. You look at a picture of Stalin and you say, "Man's got concentration." Look at Muamar and you think, "Is he looking at a mirror? Is he checking out his new dashiki/boubou/Armani/fatigues/kaffiyeh?"
But he must have something going. Maybe it's pure sweet ego. "Anyone who doesn't love me doesn't deserve to live." That's a quote from Qaddafi. I read that and for a second all I could think was, "I wish I felt like that!" No wonder the man seized power at age 28. He was probably throwing tantrums at age three because he couldn't seize power yet.
Once you've read a few dozen generals' biographies, you have to admit that an insane ego is an advantage, at least in the early stages of a military/political career. I guess that's why everybody loves to think of Grant, schlumfing around in his enlisted man's uniform: because the alternative is Patton with those damn spit-shined six-shooters or MacArthur doing a half-dozen takes of hitting the beach so they got his good side. They're way more typical of the breed.
Another great quote from one of Qadaffi's sons, explaining why hundreds of civvies were having a campout at the regime's Tripoli HQ: "They are here as voluntary human shield." That's the best kind, the voluntary ones. In a pinch, however, the kind you round up with heavy machine guns are good too.
Read more:, Gary Brecher, The War Nerd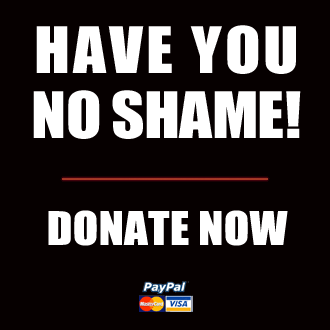 Got something to say to us? Then send us a letter.
Want us to stick around? Donate to The eXiled.
Twitter twerps can follow us at twitter.com/exiledonline