By Yves Smith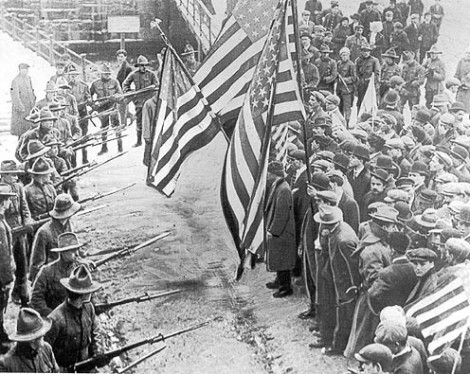 This article is cross-posted from Naked Capitalism
An article in the Boston Review by professor of sociology Claude Fischer falls prey to a pattern that is all too common: attributing social/political outcomes to American attitudes without bothering to examine why those attitudes came to be.
Let me give you a bit of useful background before I turn to the Fischer article as an illustration of a lack of curiosity, or worse, among soi disant intellectuals in America, and how it keeps Americans ignorant as to how many of our supposed cultural values have been cultivated to inhibit disruptive thought and action.
Since I have managed to come in on the last act of Gotterdammerung and am still trying to find the libretto, I've been in what little spare time I have reading history, particularly on propaganda. One must read book is by Alex Carey, Taking the Risk Out of Democracy. Carey taught psychology in Australia, and he depicts the US as the breeding ground for the modern art of what is sometimes more politely called the engineering of consent. The first large scale campaigns took place before World War I, when the National Association of Manufacturers began its decades-long campaign against organized labor. Carey stresses that propaganda depends on cultivating Manichean perspectives, the sacred versus the Satanic, and identifying the cause to be promoted with symbols that have emotional power. For many people, Americans in particular, patriotism is a rallying point.
Carey demonstrates how, again and again, big business has managed to wrap itself in the flag, and inculcate hostility to unions. One of the early struggles was over immigrants. A wave of migration from 1890 to 1910 left many citizens concerned that they were a threat to the American way of life. Needless to say, corporations were opposed to restrictions on immigration, since these migrants were willing to accept pretty much any work. Thus the initial alignment of interests was that whole swathes of American society were allied with the nascent labor movement in opposing immigration. And this occurred when even conservatives saw concentrated corporate power as a threat to American values (witness the trust busting movement, the success of the Progressives).
Big business split these fair weather friends by promoting an Americanization movement. These foreigners simply needed to be socialized: taught to speak English, inculcated in American values. In addition, the radical Industrial Workers of the World had become a force to be reckoned with, culminating in its success in the Lawrence textile mill strike in 1912. So even though labor unions were particularly hostile to immigrants, the IWW's leadership role made it possible to cast unions as subversive, a symbol of foreign influence.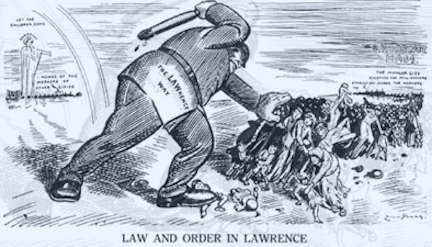 The counterweight, the Americanization movement, was born in 1907 with the establishment of the North American Civic League for Immigrants, headed by conservative businessmen. Aligned groups. such as the New England Industrial Committee, were created as NACLI promoted its program.
The success of the Lawrence strike, which garnered national outrage due to police beatings of women who had volunteered to transport and harbor children of strikers, increased the urgency of countering the union threat. The message was that chambers of commerce, as "conservators of the 'best interests' of their communities" needed to educate (as in domesticate) adult alien workers. This Americanization movement had business backers in every sizable city with an immigrant population doing outreach to business organizations, church leaders, and other community groups. In 1914, NACLI decided to extend its program nation-wide, and changed its name to the Committee for Immigrants in America (CIA). The CIA paid and provided staff to the Federal Bureau of Education to sponsor Americanization programs (private interests' ability operate directly through the Federal government ended in 1919).
The outbreak of World War I was a Godsend to the Americanization movement. The war stoked nationalist sentiment and with it, suspicion of obvious aliens as at best "un American" and at worst, subversive. President Wilson spoke at a highly staged "patriotic" event for 5000 recently naturalized citizens in spring 1915. This event was so successful that the movement leaders succeeded in forming local Americanization committees all over the US. Quoting Carey:
The CIA also produced a brilliant propaganda strategy to involve every American in an annual ritual of national identification. This ritual would embed the cultural intolerance of the Americanization movement with an identification that was formally and officially sanctified. The CIA thereby launched its campaign for the fourth of July 1915 to be made a national Americanization Day, a day for a 'great nationalistic expression of unity and faith in America'.
Carey describes and quotes a pamphlet promoting the event written by one of the executive committee members:
….the ultimate success of the policy would depend on how effectively the 'average American citizen' could be induced to bring the influence of his conservative views to bear on the immigrant….'such a citizen is the natural foe of the IWW and of the destructive forces that seek to direct unwisely the expressions of the immigrant in his nwe country and upon him rest the hope and defense of the country's ideals and institutions.' Here we have a blatant industrial and partisan view fused with an intolerance of the immigrant and values of national security, in a submission that would cement these interests and intolerances within the paraphernalia of the annual ritual of what would become Independence Day.
This hidden history of our national celebration is only a small portion of Carey's account of the extent and reach of the Americanization campaign. It shows how big business has led a long standing, persistent, and well financed campaign to turn the public against fighting for one's rights if those rights are workplace rights.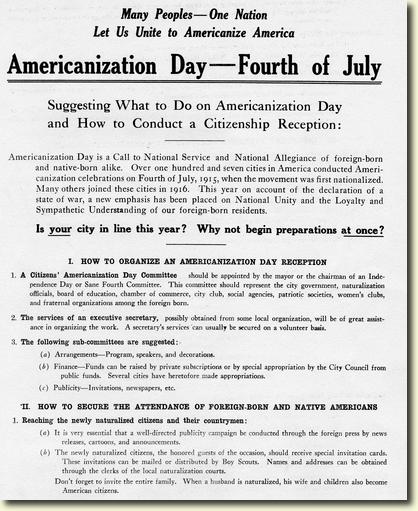 Now let's look at the Fischer article in light of this. He does, usefully, describe how Americans toil far more than their advanced economy peers:
Americans just don't vacation like other people do. Western European laws require at least ten and usually more than twenty days. And it's not just the slacker Mediterranean countries. The nose-to-the-grindstone Germans and Austrians require employers to grant at least twenty paid vacation days a year. In the United States, some of us don't get any vacation at all. Most American workers do get paid vacations from their bosses, but only twelve days on average, much less than the state-guaranteed European minimum. And even when they get vacation time, Americans often don't use it.
Perhaps Americans are Protestant-ethic work obsessives; we are likelier than Europeans to say that we want to work more hours than we do. But this leisure gap is a recent development. In the 1960s Americans and Europeans worked about the same number of hours. Leisure time then expanded everywhere—only more slowly and much less in the United States than elsewhere, leaving today's disparity. Some argue that high taxes in Europe discourage working, but economist Alberto Alesina and his colleagues point to legislation—that is, politics. The right to a long vacation is one of the benefits that unions and the left have in recent decades delivered to Western workers—except American ones.
This sets up the key question:
Just about everywhere in the West except the United States, where there is no mandatory paid time off, workers not only get vacations but also short work weeks, government health care, large pensions, high minimum wages, subsidized childcare, and so forth. Why is the United States the exception?

The answer comes in two general forms: one, Americans do not want such programs and perks because we do not want the kind of government that would legislate them. Two, Americans want them but cannot get them.
Fischer's teasing out of the first "answer" (he offers only two options and later points out that they are not mutually exclusive) is an embarrassment. He claims Americans have little "class consciousness" and in passing contends well financed propaganda efforts have no effect:
Even though economic inequality is substantially greater in the United States than in Europe, Americans acknowledge less economic inequality in their society than Western Europeans do in theirs, and Americans are more likely to describe such inequality as fair, deserved, and necessary. Americans typically dismiss calls for the government to narrow economic differences or intrude in the market by, say, providing housing. Working-class voters in the United States are less likely than comparable voters elsewhere to vote for the left or even to vote at all.
Anyone who has studied the history of public relations in the US will not only tell you it works, but also will be able to provide numerous examples, starting with the Creel Committee in World War I, which turned a pacifist US into rabid German-haters in a mere 18 months. But Fischer would rather appeal to Americans' vanity and exceptionalism. Carey, by contrast, documents the intensity of messaging efforts, the channels used, and tracks how polls and headlines changed. And contra Fischer, he finds Americans to be particularly susceptible to propaganda (by contrast, Australians' native skepticism of authority, keen sense of irony, and strong community orientation gives them a wee bit of resistance, although Carey described how they were being worn down too).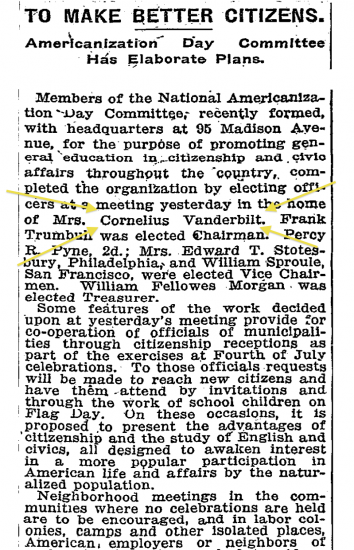 Mark Ames wrote on the same topic in 2006, and his article is more on point:
According to a New York Times article, British workers get more than 50% more paid holiday per year than Americans, while the French and Italians get almost twice what the Americans get. The average American's response is neither admiration nor envy, but rather a kind of sick pride in their own wretchedness, combined with righteous contempt for their European worker counterparts, whom most Americans see as morally degenerate precisely because they have more leisure time, more job security, health benefits and other advantages.

It's like a classic case of East Bloc lumpen-spite: middle Americans would rather see the European system collapse than become beneficiaries themselves. If there is one favourite recurring propaganda fable Americans love to read about Europeans, it's the one about how Europe is decaying and its social system is on the verge of imploding; we Americans pray for that day to come, with even more fervour than we pray for the End of Days, because the very existence of these pampered workers makes us look like the suckers and slaves we really are. This is why you won't see Bono or Sir Bob Geldof rallying the bleeding-hearts anytime soon on behalf of America's workers. They're not in the least bit sympathetic. Better to stick with well-behaved victims like starving Africans.

The cultural propaganda that accompanied the Reagan Revolution has been so hugely successful that America's workers internalised it too well, like those famously fanatical Soviet workers who literally worked themselves to death in order to help bring true communism that much closer. According to Expedia, American workers save their employees some $21 billion per year by not taking even the meagre vacation time they're allowed.
Now in fairness to those office slaves, while Americans buy into the "always on duty" attitude (I noticed how little smart phones and IPads were visibly in use, even in the toniest parts of London, compared to New York City), some of it is rational. Even before the bust, it was hard for anyone over 35 who loses a job to land another, much the less at the same level of pay, job tenures are short, and companies keep squeezing workers. Everyone I know who is still on the corporate meal ticket is doing what would have been one and one half or two jobs ten years ago.
So while there is no easy way to turn to regain control of a cultural commons so throughly under the sway of well heeled corporate interests, perhaps we can start to engage in small acts of reprogramming. While I am not telling you to skip Fourth of July fireworks, it might be time to recognize key events that help us look at our history with fresh eyes. Perhaps we should quietly celebrate what we still have of the America our founders envisaged, say on the anniversary of the signing of the articles of Confederation (a protracted affair, with the last signature affixed on March 1, 1781) or their replacement with the Constitution on March 4, 1789. But regardless of how individuals go about it, the more we recognize how cultural memes are created and propagated, the more hope we have of freeing ourselves from them.
This article is cross-posted from Naked Capitalism

Yves Smith runs the brilliant financial blog Naked Capitalism, and she's the author of ECONned: How Unenlightened Self Interest Undermined Democracy and Corrupted Capitalism.
Would you like to know more? Click the cover and buy Yves' book!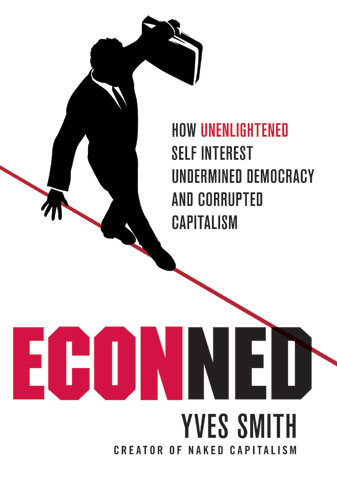 Read more: alex carey, americanization, bernays, immigrants, iww, labor, labor unions, national association of manufacturers, president wilson, progressive, propaganda, public relations, un-American, wobblies, woodrow wilson, world war 1, Yves Smith, Class War For Idiots, Recovered History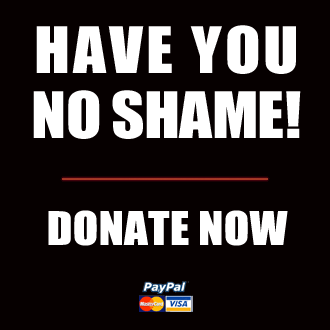 Got something to say to us? Then send us a letter.
Want us to stick around? Donate to The eXiled.
Twitter twerps can follow us at twitter.com/exiledonline