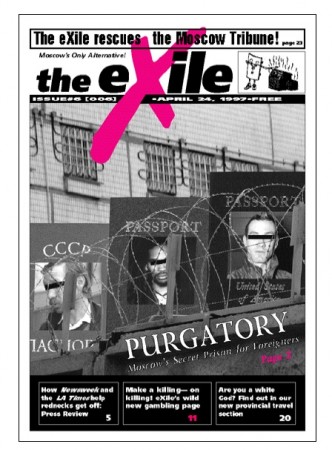 This is the cover of The eXile Issue #6, published in April 1997.
Few weeks ago, one of my party comrades brought me a present, a few military pennants. I hang them here and there in my apartment. One, with a sword, clenched fist, words "detachment of special task force" and slogan "The…
It's happened to all of us at least once; out late at night, drunk, carrying a hundred bucks or so, and suddenly stopped by a couple of hulking cops and asked for documents. You don't have them with you, so…
Two Fridays ago, The staff of the eXile was shocked by the appearance of the Moscow Tribune's "Time Out" nightlife section-a new club listings page which included snappy, no-holds-barred descriptions of bars and clubs making liberal use of such phrases…
Hockey is a tough sport; on the ice, Russians are said to play more of a finesse game than the Canadians, but off it, they seem to be a few Maple Leafs up on the competition. Soon Russian hockey officials…
There's been an ever-growing competition, particularly among Moscow's male expats and the women who keep company with them, to prove their decadent credentials. Each carries with them their CV of perversions and drug binges, and brags about their decadent ways…

This is the cover of The eXile Issue #5, published in April 1997.