By Eileen Jones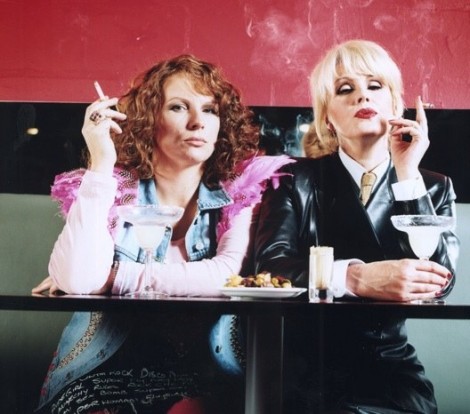 If you're a woman—and if you're reading eXiled you're probably not—but let's say you are for the sake of argument—if you're a woman, life's already tough enough without the Rush Limbaugh Slutgate saturation media orgy, and right-wing political threats to ban contraception AND abortion in the apparent hopes that you'll never have sex again, though presumably if you don't have sex with the men who want to have it with you, you're a frigid bitch, same as always.
Happy International Women's Day!
And Welome to the Women in the World Summit 2012! Hillary Clinton and Meryl Streep say to women everywhere, "Be fearless" and "reject any efforts to marginalize any one of us." I'm not sure they realize that would be a full-time job, and a lot of us work for a living already.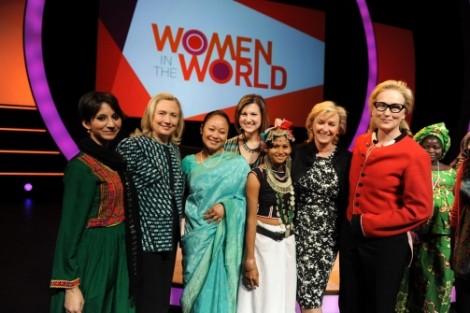 On the other hand, Madeleine Albright threatens, "There's a special place in Hell reserved for women who don't help each other." So be afraid, be very afraid! See, I don't want to help most women. Or most men. Or most children—especially not children, who are so often vicious! Humans in general I'd rather got along without me. There are only a few exceptions, and you know who you are. I've notified you. If you didn't hear yet, it's probably in the mail.
Anyway, if you're a woman, this past week's femi-crap is all piled on top of the regularly scheduled, women-designated pop culture dreck that's shoved at you on a daily basis. Oprah, and the Oxygen channel, and Susan Orlean New Yorker articles, and novels by Virginia Woolf and Joyce Carol Oates and Toni Morrison, and tight fussy clothing, and bogus earth-mother spirituality, and sugary cocktails, and romantic comedies, and Sarah Jessica Parker, and other terrible things you're supposed to embrace along with an attitude of smirking superiority because you're the more evolved and put-upon gender or something like that.
It's a nightmare. There's no good place to stand in a shitstorm like that.
But every now and then you find a tiny little island of sane, shit-free enjoyment where you can go and chill out. The BBC-TV show Absolutely Fabulous is one of those islands, and it's back with a few new episodes. It's not as wonderful as it used to be back in the 1990s AbFab heyday, of course—few things are—but it's still, comparatively, a riot.
If you've never seen it, Absolutely Fabulous is a show about two appalling women named Edina Monsoon (Jennifer Saunders) and Patsy Stone (Joanna Lumley) who lead ferocious lives in London pursuing everything Women of Substance are supposed to scorn—fashion fads, binge-shopping, chain-smoking, crash-dieting, celebrity-worship, unnatural highs, vicious gossip, ludicrous spa treatments, tawdry sex. These characters were designed by writing team Jennifer Saunders and Dawn French to be monstrous scags, and nobody was more surprised than the writers when everyone loved "Eddie" and "Pats" so much.
They weren't supposed to be lovable, see. They were supposed to be accurately-observed grotesques drawn from life, equal parts hilarious and contemptible and sad. Which they are. But you know how it is. When you don't actually have to live with accurately-observed grotesques, you can get damn fond of them.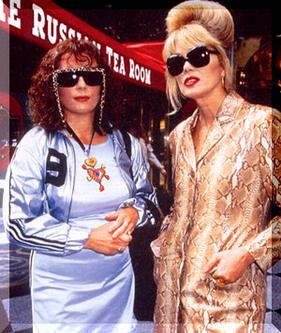 Representing women accurately is tough: like I hinted above, most women are horrible, because most people are horrible. But historically women have been hated with greater intensity than men, so it can seem like piling on, creating more annihilating portraits of women. The museums are full of 'em. You can see why there's a feminist tendency to overcompensate and get awfully pious about women. Women especially get pious about women. Look how much better estrogen makes us! If women ran the world, it'd be empathy and pantsuits and yoga for everyone!
But then occasionally you get a genuinely fearless woman or two, like Jennifer Saunders and Dawn French, and they proceed as if there were no weight of history on them as they write uncompromisingly accurate comedy like Absolutely Fabulous.
Just to give you a sense of the show's roots in reportage, Saunders modeled her Edina Monsoon character on her pal Lynne Franks, a PR consultant with with her own top UK firm representing fashion and entertainment industry jerks. Edina Monsoon has Lynne Franks' loony fashion-victim outfits, her faddish New Age spiritualism, and her lugubrious involvement in nauseating showbiz charities (Franks favors Amnesty International and LiveAid). Franks' unlikely combo of phony Buddhism and PR ruthlessness presumably gave Saunders all the material she'd ever need, though she smoothed things over with her outraged friend by claiming that Edina's "a composite character."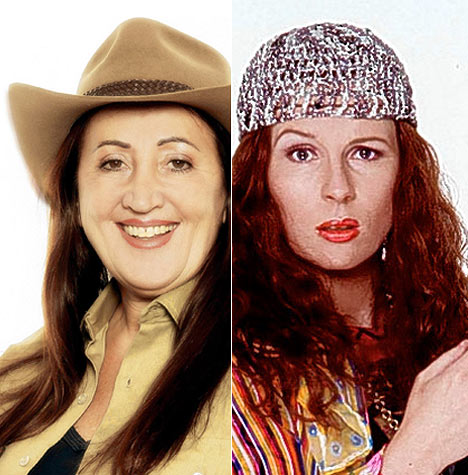 Once AbFab became a big hit, of course, Franks decided she loved the character and used it to promote herself even more relentlessly.
It seems Lynne Franks' relationship with her two children, Josh and Jess, also became fodder for the show, and if that's true, there can't be anything more damning. Edina's son Serge is never onscreen because he left home as soon as was humanly possible to get away from his mother, and is always doing vague research work at some incredibly remote, unreachable location. Edina's daughter Saffron (Julie Sawalha) is an embittered drudge whose drab utilitarian clothing and rigidly consistent, self-denying moralism is all about rejecting her mother's example. Edina's constant cry of "Sweetie, darling, sweetie-darling, HELP Mama, make Mama a cup of coffee, be sweet to Mama…!"  is the haunting refrain of Saffron's stunted life.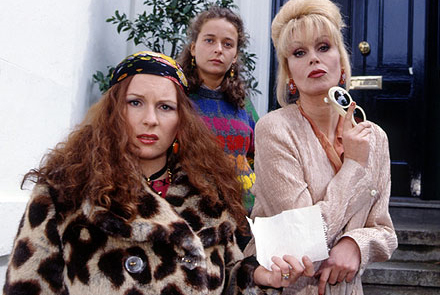 And Edina's rare attempts to imitate the behavior of a good mother are always especially funny and terrifying. On one memorable occasion, Saffron's tight face breaks into tears, Edina tries to bond with her daughter by joining in the weeping, then resorts to imitating the odd sound it makes: "Oh, blub-blub, squish-squish, how do you do that darling, I can't do that darling, that squish-squish thing you do…"
Edina's own mother, Mrs. M. (June Whitfield), is an addled 1950s-era specimen with a wonderfully bright, blank expression who regularly steals bric-a-brac from Edina's lavish house, splurges on the Home Shopping network, avoids her venomous daughter, and tries to get Saffron to do the same. ("Saffie, what are you doing over there so close to your mother? Come away from there, Saffie.")
Supposedly there's an AbFab movie in the works along with the new episodes, but we've heard all that before. (No doubt it'll run as a triple-feature along with the Arrested Development and Party Down movies that are in the works too.) Hard to imagine a movie working well, anyway. Even the new episodes are weird in their effects, because the principle characters are now significantly older than they were during the defining episodes of the show. When we first met Patsy and Edina, they were forty-ish and desperately avoiding the specter of age, always aiming at recapturing the last whiffs of their hot mod youths in "Swinging London."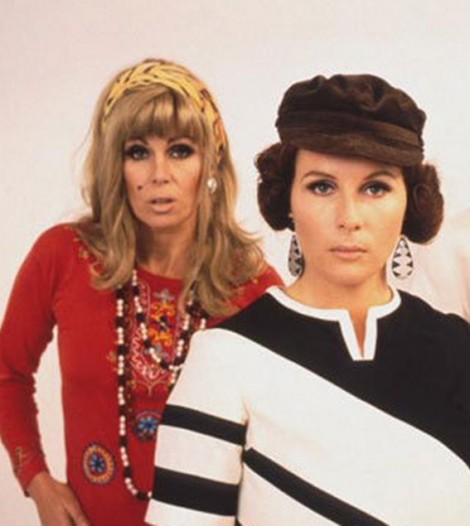 Saffie was in her late teens and twenties, making her early attempts to get to college and away from her mother. Mrs. M. was in her sixties, lively and dotty.
Twenty years later, only Mrs. M. seems eternal and unchanged. Eddie and Pats are now in the age-range formerly occupied by Mrs. M., and old-crazy plays differently than middle-aged crazy.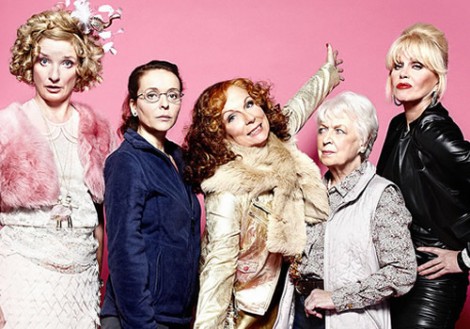 Joanna Lumley has somehow managed to diet herself lean enough again to approximate Patsy's skeletal death-rattle physique ("I haven't eaten since 1973"), and her poufy bottle-blonde Ivana Trump up-do, so handy for hiding five or six joints, is the same. But the face underneath it is starting its soft collapse into real age, and that's a bit distracting. Joanna Lumley (actually a model in the "Swinging London" era) had always been capable of putting on black leather pants and suddenly achieving an effect of absolute fabulousness essential to her aggressive sexual success. As Patsy said to a male prostitute who was new on the job, "You're lucky, you're in very experienced hands."
There seems to be some sort of compensation for this loss of Patsy's rampant sexuality, by making Patsy act like a real career woman. In the second of the new episodes, Patsy Stone is actually seen working at the fashion magazine that employs her, something that the classic shows insisted never happened. (Memorable classic episode when Patsy announced that she was going in to the office, and everyone at the Monsoon kitchen table stared in silent astonishment. Then Patsy couldn't remember exactly where the office was.) Patsy's work had always involved going out to lunch, getting free swag, banging male models and gloating about their "portfolios" the morning after: "He had buns so tight they were bouncing off the walls."
But now we get Patsy at work, and not just work, displaying confidence at work! Patsy Stone strides up to the table where a line of photos await her review: "January issue!" She bends over the photo, looks through a magnifying glass: "Bulimic!" Second photo: "Fetus!" Third photo: "I see a puuuuube!" Fourth photo…she takes a gigantic sniff and rises, wiping the coke off her nose.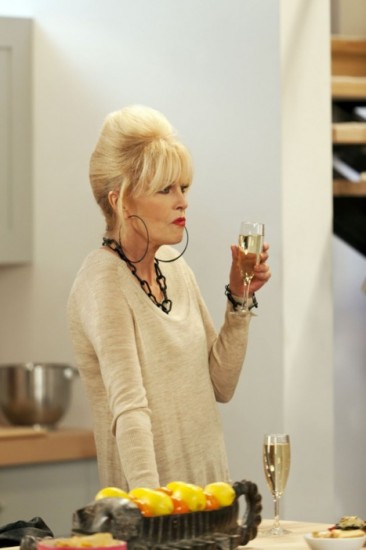 Okay, but still. Total violation of character. Patsy Stone is a creature of abysmal insecurity who longs to be formidable and feared by all, but at every opportunity to become a powerful fashion maven, foozles her chance and collapses into self-abasement. This is generally traced back, in hazy swirling flackback sequences, to her non-relationships with her horrifying Bohemian mother (Eleanor Bron) who gave birth to Patsy in the midst of an artists' be-in, named her Eurydice Collette Clytemnestra Dido Bathsheba Rabelais Patricia Cocteau Stone, and exclaimed, "Now take this away and bring me another lover!"
If you know the show pretty well you're naturally shuttling mentally back and forth between then and now and sighing, realizing none of us is getting any younger. As Eddie, Jennifer Saunders has packed on the pounds and "now mourns for menopause." Her face and body have aged in a way that make her look oddly vulnerable, like somebody's nice, plump, addled aunt, which was not at all what was projected in the 1996 show that looked ahead to imagine senior citizen Edina and Patsy. In that vision, Patsy was raddled, humpbacked and demented, a creature out of a nightmare, while Edina was stout but tough. "Not dead yet!" she declared, and of course it was hugely, unexpectedly heartening and moving, to think that the two old friends who'd lived large on "Bolly" and bile and cigarettes all those years would survive and share a house together and have the last laugh.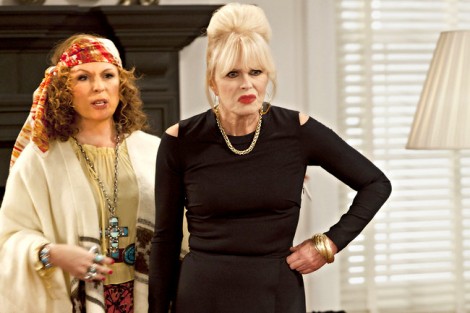 I hate to get pious about it and ruin the whole effect, but in fact, the show's a great portrait of a female friendship, and you don't see that everyday. It's even grimly insightful about the way women are stuck with family care-taking chores, Saffie succumbing to her role as Edina's keeper in spite of all her efforts to get away, and Edina enduring her own mother's presence with equally bad grace. ("Oh, it's you again, is it?")  AbFab is so outside the ordinary run of the dreaded "television for women" category, it seems damning even to observe that it's a show about women, with men only edging into it here and there…
Yeah, I'm ruining it, aren't I? Just saying "it's about women" makes Absolutely Fabulous sound drab and dutiful, makes you want to sidle your way to the exit, doesn't it?
So now you know what it's like to be a woman.
You're welcome.
Read more: Absolutely Fabulous, contraception, Dawn French, international women's day, Jennifer Saunders, Joanna Lumley, rush limbaugh, slut, television for women, Women in the World Summit 2012, Eileen Jones, Entertainment, Fatwah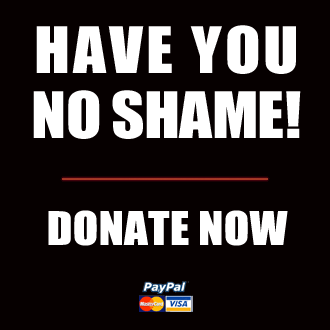 Got something to say to us? Then send us a letter.
Want us to stick around? Donate to The eXiled.
Twitter twerps can follow us at twitter.com/exiledonline