By Mark Ames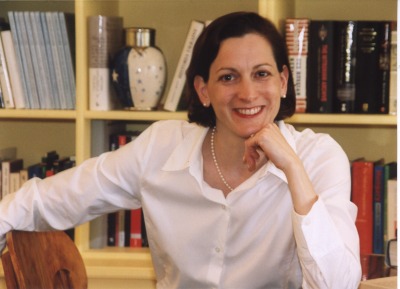 Anne Applebaum is a dingbat. I don't throw that word "dingbat" around lightly, folks. But I just made the mistake of clicking a link that led me to an Anne Applebaum column, and seriously dude: Anne Applebaum? She's a dingbat. Big time.
It's late at night here, not a good time to come across an Anne Applebaum atrocity. My fault–I blame no one but myself for clicking that link. It's been years since I read her, and somehow I have a memory of Anne Applebaum as being kind of ahead of the dingbat pack. But not anymore. There was a time when she was almost sharp, approaching one of those intelligent conservatives of the sort that went extinct in the 80s. But that was before she got signed to the Washington Post's editorial page. Apparently a prerequisite to working there is allowing editor Fred Hiatt grab you by the jaw, pry open your mouth, and blow a cloud of brain-eating spores up your sinuses. Because Anne Applebaum's brain is enveloped in a burqa of dingbat mold, and there ain't a Lysol in the world that can cure it.
The Pulitzer Prize-winning author of Gulag, who shook her moral fist indignantly at oppression (so long as the oppression was in Russia) and intolerance (in Russia) is now reduced to churning out hack apologias on behalf of poor misunderstood Switzerland, who for no good reason at all got unfairly singled out just because they went 'n' banned minarets. According to Applebaum, the only thing the Swiss are guilty of is fearing too much–which is the equivalent of loving too much if you're a fear-addicted neocon like Applebaum.
[The referendum banning minarets] has been interpreted across Europe, and particularly in the United States, as evidence of Swiss bigotry and rising religious intolerance. But it was not — or at least not entirely. More important, it was evidence of fear, though not fear of "foreigners" or "outsiders" as such.
You read this, and you realize: Applebaum ain't even trying, folks. She's just punchin' the bigotry-clock, aping livelier dingbats like Michelle Malkin or Dinesh D'Souza, who at least wear their bigotry proudly, like a real dingbat should. I mean look at how Applebaum flogs her qualifiers so listlessly — "But it was not–or at least not entirely"; "though not…as such"– you start to wonder if her dingbat heart is even in this bigotry thing.
And then, like a true dingbat, Anne surprises: she starts dropping ridiculously false claims so butt-ignorant that no live studio audience could resist responding to a "LAUGH" command:
In recent years separatist and politically extreme forms of Islam have emerged in every European country with a large Muslim population: Britain, France, Germany, the Netherlands, Spain, Denmark, Sweden.
Ah-bee-ah-bee-ah-bee-huhhh? Separatist Muslims in Sweden? Seriously, the only way to respond is to put on your best Archie Bunker voice: "Listen here, dingbat, them Swedeners over there doesn't have a Muslim separatists problem."
Applebaum: "Oh Ahhchie! Yeah, I's heard all's about the separatist Muslims in Sweden, it's true Ahhchie! The Muslims, they's wanting their own separate state in the West Fjord and the Gravlax Strip."
[STUDIO AUDIENCE LAUGHTER]
Archie: "Dingbat, thems camel jockeys don't even have rocks to throw in the wintertime."
[LAUGHTER]
Applebaum: "They just throw snowballs, Ahhchie!"
[AUDIENCE ROARS WITH LAUGHTER, CLAPS]
That's the only sane way to read what I'm going to quote next. See, Applebaum thinks that poor Europe is suffering under a kind of Tatar yoke of Muslim separatists and extremists. Though, ever the qualifier-mad hack, Applebaum doesn't blame everything on Muslims–though she does, sort of (not really, but yeah, she does):
There are many explanations for this phenomenon […] but, to put it very crudely, they boil down to one thing: Because of mistakes made by Europeans and by the Muslim immigrants who live beside them, the two groups have, over the past several decades, failed to integrate.
H'm, gosh. It's as though Applebaum is suddenly aiming to take the high middle-dingbat ground here. Or not. Here are the mistakes made by the Muslims:
Two or even three generations after their arrival, some European Muslims still live in separate communities. They often go to separate schools. And a small but vocal minority openly refuses to respect the laws and customs of their adopted countries.
Okay, so their mistakes are their own fault. Where have we heard that sort of blame-the-foreigner-for-bringing-on-Eurofascism before? Here's a hint: replace the word Muslims with "Jews," imagine we're in the 1930s, and repeat that last paragraph again:
some European Jews still live in separate communities. They often go to separate schools. And a small but vocal minority openly refuses to respect the laws and customs of their adopted countries.
"Dingbat! Dem Jews is always bringin' thems troubles on theyselves, see."
"Ahhchie! Ahhchie! It's dem Muslims who's bringin it on demsleves with the separatism in Sweden, Ahhchie!" .
Okay, okay. So now we know what the Muslims' mistakes were–they brought it on themselves. But what about Europe's equivalent mistakes? Dingbat has the answer:
No European government has found a way to deal with this phenomenon. Those that have tried often find themselves running up against their own civil rights and legal traditions.The Danes, determined to limit the number of foreign spouses entering Denmark through arranged marriages, decided that they had no choice but to make it more difficult for all Danes to marry foreigners. The French, realizing that the headscarf had become a symbol of political affiliation in some French schools, found themselves limiting the rights of all students to wear religious clothing, including yarmulkes, to school.
In other words, the Europeans' mistake is that they're too doggone good for this cruel world, "running up against their own civil rights and legal traditions." And because they're so good, they have no other way to "deal with" Muslims than to behave like Nazis towards them. You don't follow the logic? Dingbats get it.
The odd thing is that the only country in Europe which is fighting with real separatist Muslims–Russia–is the one country which she accused of being racist. Back in late 2001, when Putin and Bush became best buddies in the early days of the War On Terror, poor Anne Applebaum saw her entire career–built on Russophobia–vanishing before her eyes. Hellbent on demonizing Russia, she makes the incredible claim that the only reason why Putin joined up with Bush had nothing to do with cold geopolitical or realpolitik calculations, but rather, because he, personally, is a racist who hates Muslims. Here is Anne Applebaum in November 2001:
And yet Putin's commitment to America's war on terrorism was made so abruptly, and is so clearly personal, that I suspect it comes from something deeper: his racism. Or – since racism is a harsh word – perhaps it is better to say that his commitment comes from his deep belief that the greatest threat to Russia now comes not from the West and Nato, but from the South and Islam.

When we tell the world's Muslims that our war isn't against them, we'd better make sure our Russian partners are acting as if they believe it.
In other words, Applebaum was against Islamophobia before she was for it.
Which brings me back to Applebaum's qualifiers and modal-tense reverse-helix subjunctive tricks:
There is, therefore, nothing especially Swiss, or especially isolationist, about the recent referendum result. A similar question, put in a similar way, might well have led to a similar result anywhere in Europe. The growth of the "far right" parties in the recent past is almost always connected to fear of Islamist extremism.
First of all, why'd she leave out the word "racist" or "bigoted"? The criticism wasn't that the Swiss are Swiss, or that they're isolationist–it's that they're Nazi fucks whose gilded streets are paved with Jews' gold teeth and African blood diamonds.
Applebaum argues that the Swiss aren't really Swiss, they're just regular Europeans. Because all the other European countries would do the exact same thing–so long as we're talking about a highly qualified conditional reality in which a similar (though not the same) question, put in a similar (though not the same, so now it's twice-removed from sameness) way– run it through the modal verb tense "might well have led to" … and voila! All Swiss are Socrates!
If that makes no fucking sense whatsoever, then ask yourself the real question here: why the fuck is Anne Applebaum trying to cover for far-right European racists?
Answer: because her husband, Polish foreign minister Radoslaw Sikorski, is one of 'em.
In fact, Sikorski is the perfect Archie Bunker to Anne Applebaum's dingbat. Just consider this knee-slapper Sikorski told last November shortly after the election of President Obama:
"Have you heard that Obama may have a Polish connection? His grandfather ate a Polish missionary."
You get it? Because Obama is black. And blacks, according to Polish bigots, are cannibals. Seriously, it's funnier in the original Polish, you had to be there–it kills 'em in Krakow every time–bowls 'em over in Gdansk.
You can almost hear Anne Applebaum follow it up with, "Oh, Ahchie! Does that mean the Jeffersons are gonna eat us?" [LAUGH TRACK]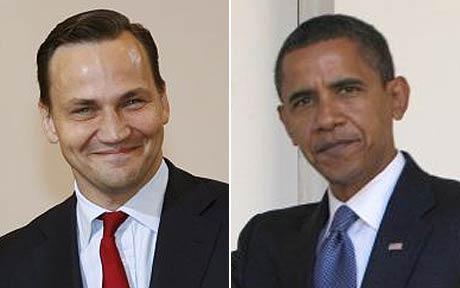 The funny thing about Sikorski's "joke" is that the foreign ministry didn't deny it–instead, they just dingbatted it:
A spokesman for the Polish foreign office conceded that Mr Sikorski had made the controversial comment, but denied that the foreign minister had intended to insult Mr Obama, whose father was Kenyan.

"Mr Sikorski did not tell a racist joke," said Piotr Paszkowski, the spokesman. "He was only giving an example of the unpalatable and racist 'jokes' that surround President Elect Obama."
That's Anne Applebaum's husband. I repeat, that racist shithead is Anne Applebaum's husband. And it wasn't the first time. He's already served in some of the craziest rightwing coalition governments, including serving as Defense Minister in a coalition with the far-right League of Polish Families party, which Israel denounced as anti-Semitic. And before that Anne Applebaum's husband was notorious for instituting a savage citizenship policy–the "passport trap"–in order to literally trap Polish expatriates who'd fled Communist rule, and returned to visit after the fall of the Berlin Wall. Under Sikorski's plan, Polish expatriates' foreign passports were no longer recognized–and they were forcibly locked back inside Poland with no way of leaving, until finally Anne's crackpot husband was forced to relent under heavy pressure (most Polish expatriates were visiting from their new adopted homes in countries like Canada, the USA and other Western nations).
With all that in mind, let's read again dingbat Applebaum's concluding punchline about what the Swiss ban on minarets means to her and her husband:
No one quite says what the real issue is, but everybody knows: As grotesquely unfair as a referendum to ban minarets may have been to hundreds of thousands of ordinary, well-integrated Muslims, I have no doubt that the Swiss voted in favor primarily because they don't have much Islamic extremism — and they don't want any.
You show 'em, dingbat!
And here comes the episode-ending zinger: yesterday, dingbat was driving her car in Warsaw when she fucked the engine up and literally blew the thing up. Now you may be thinking that this was some kind of terrorist act–but no, this was just another example of the sorts of hijinx we've come to expect from the dingbat-comic genius of Anne "Edith" Applebaum:
Applebaum: My car did not explode
Some of you may be deeply disappointed to hear this, but let me begin by reassuring all of my readers that no, my car did not blow up last weekend. I'm afraid it simply isn't true that the Russian mafia are out to get me either. I know it would have been more fun — and for some of you much more satisfying — but alas, I was never under attack at all.

Here is what happened: I was driving home from a friend's house in a Warsaw suburb Saturday night when my engine died. I tried to restart it, pumped the accelerator, heard a small explosion and saw a flame. Smoke started coming out of the hood, which I didn't want to open. (A bad move, in retrospect, but I've seen what happens to smoking cars in the movies.) Someone called the fire department, which clearly didn't take my car problems too seriously.
So what happened was, Dingbat's car died, and instead of getting help, she kept pumping the accelerator and trying to restart it until she blew the engine up.
Dingbats will be dingbats.
Mark Ames is the author of Going Postal: Rage, Murder and Rebellion from Reagan's Workplaces to Clinton's Columbine.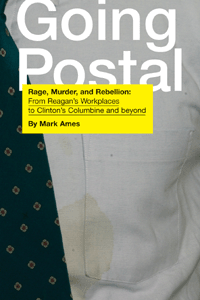 Click the cover & buy the book!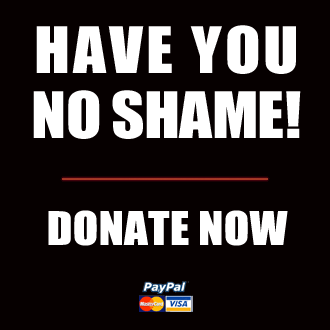 Got something to say to us? Then send us a letter.
Want us to stick around? Donate to The eXiled.
Twitter twerps can follow us at twitter.com/exiledonline