By Eileen Jones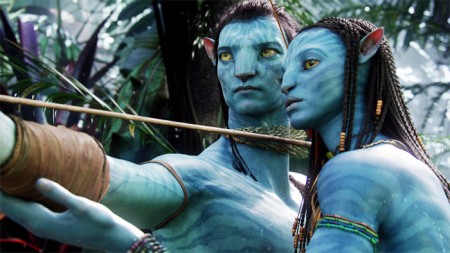 Avatar turns out to be the one about the white guy who gets mixed up with Noble Savages and likes them so much he goes native, right before the big battle. So no surprises about the plot. But what about the totally immersive game-changing 230-million-dollar 3-D animation/live-action digitized supersensory orgasmatron of a revolutionary media experience, you ask?
Eh, it was all right.

How much you admire it depends on how you like your sci-fi fantasy worlds. I like them less pastel, I admit. Writer-director-producer-imagineer James Cameron has come up with Pandora, a planet so nice and floral and pretty it looks like one of Walt Disney's Silly Symphonies. This planet is populated by the Na'vi, a tall, slender, cornflower-blue people who are just as pleasant as the landscape. They've got a few trappings of ferocity, a knife here, a bone through the nose there, an occasional snarl, but as a rule they keep busy communing with Mother Nature and praying that the violent gearhead "sky people" will go find themselves another planet to colonize.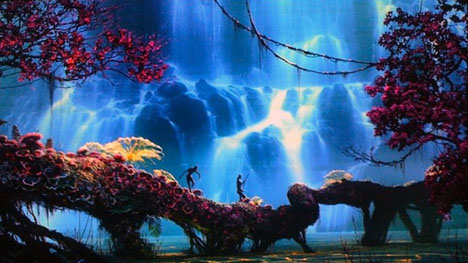 The big battle they finally get into? Eh, it was all right. It's your basic bow-and-arrow v. high-tech weaponry fight, and we know from history how that generally worked out. Only this ain't history.
For history rendered CGI-tastic, you go to Red Cliff, the monster hit in Asia that didn't make much of a splash here. They sent over the short version, which runs almost three hours, around the same length as Avatar. They figured we couldn't handle John Woo's five-hour vision of the 3rd century Han Dynasty war between the emperor and the warlords (a war that every Chinese kid knows about, supposedly, though it was all news to me). I could've handled it; I could've seen your five hours, Woo, and raised you ten. Oh, the reds and blacks and golds, the cool armor and topknots, the horses galloping, the tall flags flapping, the naval battle at night with fire as the primary weapon! That's the stuff!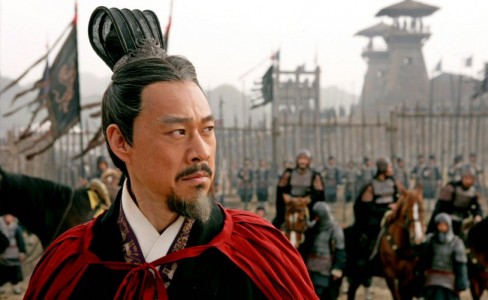 Admittedly John Woo's homosocial tendencies, fixating on the love of the guys for each other and posing them practically nose-to-nose to emphasize it, can get a little embarrassing for Americans. But if you get past that, it's all blood and glory and battle tactics. And the people look great. Male, female, old ones, young ones, middle-aged ones, they're all beautiful and interesting-looking. The star, Tony Leung, isn't even handsome, but he's got this wonderful, intelligent, melancholy expression that's worth more than all the handsome there is.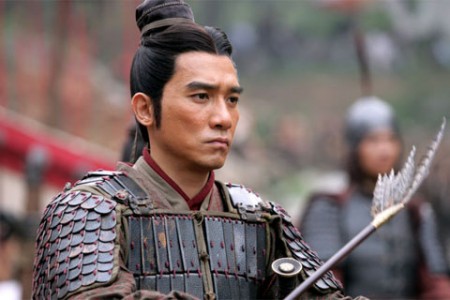 Avatar has lead actor Sam Worthington, which might not seem like much at first glance. He's the stolid guy who stole Terminator V from Christian Bale, and he works the same stolidity trick here with the same miraculous effect. Quiet, unassuming, able to say hideously embarrassing lines with so little inflection you're not sure you heard him right, it's amazing what he can get away with as Jake Sully, a paraplegic Marine who revels in restored physical life as a half-human half-Na'vi hybrid. Sully's planted among the natives through the nefarious schemes of a creepy corporate honcho (Giovanni Ribisi) and a maniacally tough military officer (Stephen Lang), and over the objections of an acerbic scientist (Sigourney Weaver). He meets a hot Na'vi number named Neytiri (Zoe Saldana) who teaches him the mystical Na'vi ways, and you know the rest.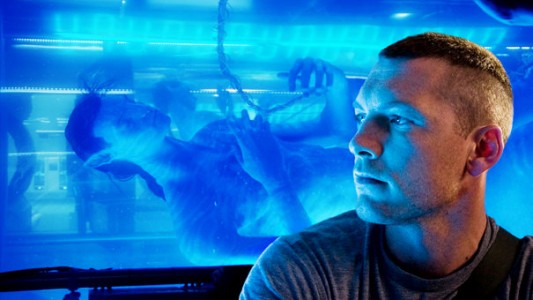 Other than Worthington, they're all acting up a storm in that genre-film way, each constantly underscoring his or her primary characteristics. Sigourney Weaver is introduced climbing out of her bed-pod just like in the old Alien days, but immediately demands a cigarette from an underling, and you know what you're going to get from that moment on: the outspoken, hard-bitten female in command who's mushily moral and femmy underneath. Stephen Lang knocks himself out playing muscled, scarred, square-headed, cold-eyed military might, and Giovanni Ribisi does that mean-weanie thing he was designed by nature to convey. Michelle Rodriguez is one of James Cameron's standard-issue butch female soldiers, though I admit she's good at it.
Worthington is stuck with the worst of all character-types, the Hot Dog, stupid but fearless, refusing to go by the book. But his animal ability to just stand there, or sit there, dignity intact while people around him say and do idiotic things, saves the whole show. The guy has the rock-steadiness of a mule standing out in a field. Not exactly riveting, but still, a pleasure to contemplate.
Speaking of animals, some of the species imagineered by Cameron are good—there's a pack of black reptile-panther-jackal thingies that are worth watching, and the flying griffin-like animals are okay too. I could've done without the Sacred Floating Tassels, but then, that's the whole problem with the movie for me. I hate that Downey-soft spirituality and awed-faces crap that got rolling in American films with E.T., and never stopped. The greatest 3–D effects ever can't compensate for this Tofu World filmmakers are always shoving at us.
When night in the Pandoran forest is rendered in luminescent pinks and blues and purples, looking sort of like those novelty light-up rings people wear around their necks at Disneyland, and this represents the spiritual energy of the planet, and the theater audience is one solid mass of uplifted glowing faces, I'm the one in the fourteenth row frowning in severe disapproval.
Read more: 3-D, action, battle, CGI, James Cameron, John Woo, Sam Worthington, Tony Leung, Eileen Jones, movies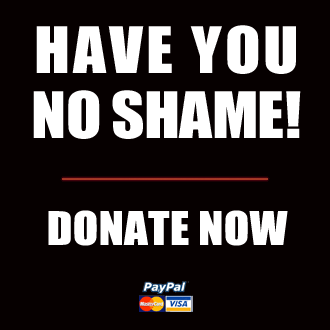 Got something to say to us? Then send us a letter.
Want us to stick around? Donate to The eXiled.
Twitter twerps can follow us at twitter.com/exiledonline