By John Dolan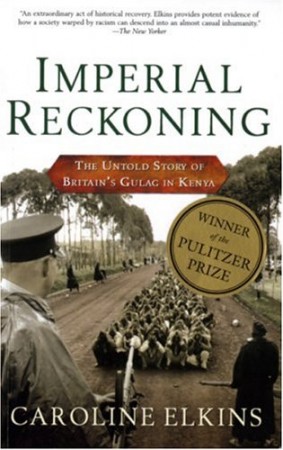 Imperial Reckoning: The Untold Story of Britain's Gulag in Kenya
One of the great mysteries of the twentieth century was the way Britain got away with pillaging nearly every country on the planet without suffering any retribution. I've spent a long, bitter time brooding over this experimental proof that there's no such thing as karma. Among the reasons I've found for this failure to prosecute are the reluctance of the raped to report their sufferings, the stupidity and credulity of American scholars vis-a-vis their Oxbridge colleagues, and the charmed life that seems to reward those individuals and nations lucky enough to lack any vestige of conscience.
But there are simpler reasons, bravely revealed in Caroline Elkins's account of the slaughter of some 300,000 ethnic Kikuyu of Kenya, the torture of hundreds of thousands more, and the internment of the entire Kikuyu population, in mid-20th-century Kenya. As Elkins reveals, the Brits simply destroyed every record of the massacres they could find, and — unlike the French, Germans or other conscience-harried colonials — kept the settlers' oath of Omerta, never revealing what they did to the "Kukes" to anyone except other vets whose anecdotes were as bloody and full of blame as theirs. The difference between the British Empire and other fascist empires is not that these guys were nicer. Nobody who reads this book could continue to believe that, if they were fool enough to believe it beforehand. The difference is that the Brits were good at it, and had no conscience to trouble them. Thanks to that careful incineration of records and highly adaptive national sociopathic disorder, "…there would be no soul-searching or public accounting [in Britain] for the crimes perpetrated against the hundreds of thousands of men and women in Kenya."
The Brits had the perfect timing of the sociopath too, unlike the stubborn French who held on too long in Algeria and Indochina. The white settlers of Kenya felt that, having waded through African blood with the Tories, they were bound by a blood-oath to the incoming MacMillan administration of 1959. The fools didn't even know their own government; as Elkins recounts, "The 'prevailing mood'…was best captured by the remarks of a young Conservative MP who proclaimed, 'What do I care about the f…cking [sic] settlers, let them bloody well look after themselves.' Rather than functioning as a referendum for empire, the general election of 1959 was its death knell." Yup, that's the great thing about sociopaths, their loyalty.
Luckily, when you torture and imprison several hundred thousand people, you can't help but leave a messy paper trail behind you. Elkins uncovers classic blurts of British Imperial discourse that happened to survive the fires, like an early administrator's grumpy concession that he can't afford to wipe out the Kikuyu at the moment: "There is only one way of improving the Waikikuyu, and that is wipe them out…but we have to depend on them for supplies."
If you come from a country invaded by the Brits — and the odds are you do, even if you're from Maryland — then this rhetoric should be familiar to you. I recognize it as a nearly word-for-word paraphrase of Spenser's view of Irish affairs (and T. H. White's, and Trevalyan's…), but I'm sure the same sentiment survives in the chronicles of British civilizers from Myanmar (invaded on a pretext and sacked in the 1880's) to Tibet (invaded, from sheer boredom, in the 20th century, conquered by massacre and deceit, and unacknowledged to this day by British historians).
Elkins's prose, research and conclusions are unimpeachable. Niall Ferguson himself, the most powerful contemporary apologist for Victoria's bloodsoaked, shameless meatgrinder, has admitted that. Finicky r iewers might grumble that Elkins is, if anything, too much the standard American academic historian and could have risked a livelier prose style. But that would have been foolhardy. She had to be as conventional as possible, because the Tories' favorite smearing device is to seize on anything they can call a "factual error" and use it to discredit any text that threatens to reveal their crimes.
One of the most bitterly amusing examples of this in recent history came when reviewers for the Tory rags like Telegraph and Spectator had to review the film Michael Collins. There's a scene in the film where, after Collins's flying squads carried out a brilliant simultaneous hit on 19 British intelligence agents in Dublin, the Black and Tans fired into a crowd of civilians at a Croke Park football match in reprisal. The Tory reviewers discovered through their tame researchers that, whereas in the film, the soldier-executioners drive an armored car onto the pitch, in reality they were on foot. They railed about that mistake for paragraphs.
Of course the incident did indeed happen. Civilians were indeed shot and killed at random by enraged squaddies at Croke Park. But those soldiers were on foot, damn it! That makes all the difference! You can't believe any of it, because the armored car never entered the field of play!
I've read so many of these insane English defenses of sheer racist slaughter that I had lost hope anyone would even try to smack the truth in their smug snouts. In fact, shock is still my strongest reaction to this book: how in God's name did Elkins get it published? How did she get a chair in History at Harvard after publishing it?
My only quibble with Elkins's account is that like most American scholars, she seems to know only her damn "field," African History. She lacks any sense of the stunning parallels between the atrocities committed by the British in suppressing the Mau Mau rebellion and those they used in other 20th c. anti-insurgency campaigns, above all the struggle against the IRA, which taught the rest of us wogs how, by using urban guerrilla warfare, we could kill the squaddies at last.
When Elkins writes, "Mau Mau [circa 1950] became one of the first armed struggles of the twentieth century in which where superior Western firepower was no match, at least initially, for…the insurgents' use of hit-and-run tactics," I want to whisper to her, "Psst, Caroline–check out the Tan War! Read some Rah memoirs like, say, On Another Man's Wound!"
But this neglect of the wider context in no way diminishes Elkins's Homeric achievement. She seems to be one of the very, very few American academics who can play by the horrible rules of that mingy, treacherous guild and still fight the good fight. I can only think of a few others, like Miriam Hanson. They all seem to be women, for some reason. All the brave, smart people I knew at Berkeley flamed out long before they could get anything published. The publication of this book is a monument to something, or proof that there's a second, occluded god who helps us from time to time, maybe the same Promethean who gave us opiates and nukes. Homage to him, her, it or them; and homage in full measure to this brave, straightforward professor, the noble Caroline Elkins, who somehow saw what was in front of her.
And you, the rest of you…one little question: where were you? First, you Brits. Now you know I don't credit you with much conscience, but I do find you smarter, on average, than my ex-colleagues in the USA. Those poor bumpkins don't even start their education till they're 18; what can you expect of them? But you bastards…you knew all of it, didn't you? You knew what Elkins revealed here. Which means you — you VERY plural — were silent, complicit, for fifty fuckin' years. You really are utterly without conscience, are you not?
And you, American academics…aah, fuck it, you hopeless, credulous, overawed AFC slackjaws, it'd be like scolding a pinhead convention.
And you, the rest of you, from Tibet to the Malvinas: you know your country was savaged by the Brits, but you have no way to compare notes with all the rest. That's what we need, a clearinghouse for Survivors of British Empire Rapacity. S.O.B.E.R.. From the Falls Road to Canton, we've got a true reckoning to settle.
Read more: Approved Books, British, British Genocide, Non-fiction, war books, John Dolan, Books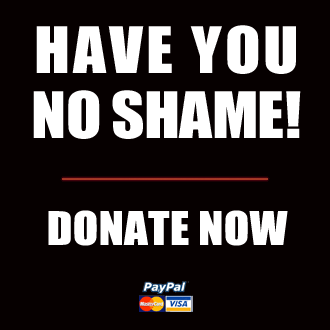 Got something to say to us? Then send us a letter.
Want us to stick around? Donate to The eXiled.
Twitter twerps can follow us at twitter.com/exiledonline